First impression: it's short.
Second impression: it's really short.
Third impression: it's perfect.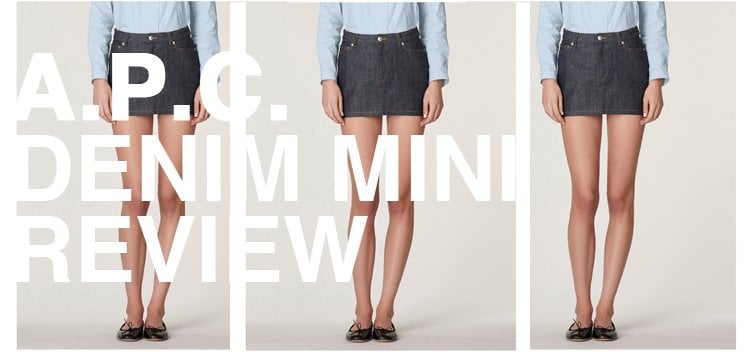 When A.P.C. released their raw denim mini skirt, I didn't think it would actually be that mini.

Their description of the skirt?
Very stiff canvas that wears in over time. Very short cut, slightly flared. High waist.
All of this is very true. Allow me to explain in this review…
SIZING
I'm 5'5.75" and weigh 111-113lbs. I generally take an FR 36, a US 2, or a UK 8-10. You can find more of my sizing reviews here.
However, for A.P.C. dresses & tops, I'm more comfortable in an FR 38.
For jeans/bottoms, I'm basically a size 25 (in Rag & Bone jeans) or a size 26.
My A.P.C. denim mini skirt is a size FR 36.
It sits right at my waist, just below my bellybutton. FR36 is fine, but a FR38 would give me a pinch more room.
However, this skirt is made from 100% cotton, i.e. it's raw denim. This means that overtime it will relax and form to my waist/body more, so that extra pinch of space is encouraged.
But… if you aren't planning on wearing this mini a ton and don't have plans to break it in, as you do with raw denim, then just get your normal comfortable size. If you plan on wearing it forever, like I do, then get a smaller size like I did.
PROS & CONS
Pros
–Price: $120 USD is not a bad price for a mini skirt that will last for as long as this one will. It's a classic style that won't look dated or too young (or too old)… plus it's super high quality…
–Quality: A.P.C. is known for their quality and this skirt is no exception. This review was written in 2016, but in 2018 it is still as solid as when I first bought it.
–Denim Wash: Raw denim is a deep indigo with a beautiful sheen on it. Overtime it will fade though.
–Not Pre-Destructed: No holes, no frayed edges, just a luxe little skirt that can be worn to ~nicer~ places… but also to dives.
Cons
–Stiff: For this skirt, A.P.C. uses their signature raw denim… which means this skirt is a stiff. When I get up from sitting down, it sticks up, stays up and, well, my underwear goes on display. With that said, it still looks great on (just stay standing and try to avoid sitting).
–Might Be Too Short: If you're over 5'6", you might want to consider just how mini this mini skirt is.
It's such a short skirt that you need (read: I need) help making my legs longer.
The A.P.C. denim mini skirt looks best with a mid-heel because of how much it elongates your legs…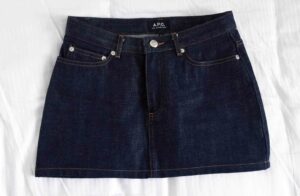 If you're up for the length and wanna dip your toes into the OG ~French cool girl~ brand, ahem, Jeanne Damas is a fan of this skirt, this is the place to start.
A.P.C.'s denim mini skirt is nothing short of perfect.
Available from A.P.C. for $120 USD.
YOU MIGHT ALSO BE INTERESTED IN…