The Caribbean, hot all the time.
Panama, hotter all the time…
For this tropical move — I need a pair of shoes that can be worn to a sandy Sunday lunch just as easily as they can to a Government building…
I've always been a fan of espadrilles. But have never been able to find the perfect pair. I don't love the ones that go across the top of the foot. Also don't love flat ones — I need a low heel to feel my best 😉
After a post about wearing Castañer espadrilles with jeans à la Jeanne Damas/Alexa Chung… I realised my old non-Castañer pair weren't cutting it anymore. The toe came up too high and the laces went across my foot. So, I decided to jump on in and get a pair of real Castañer shoes. I also figured I could write a Castañer espadrilles review for this blog, soo, why not!
I hemmed and hawed over the amount of colours that were available between Matches Fashion, and Net-A-Porter. A bright red or a subtle all cream… Hmm, hmmm, hmmmm.

Note that these contain affiliate links, but I would recommend Castañer espadrilles even if it didn't.
Not being able to shake my five years of NYC dressing, I finally clicked "submit order" on a pair of all-black Castañer espadrilles.
They arrived and I took a big breath in; moment of truth, would they fit?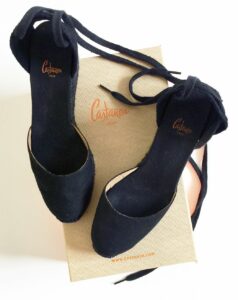 A big "YUP" and exhale.
I ordered a size 39 (that's EU/IT), for reference I'm a 39 in Isabel Marant Dickers, 39.5 in Repetto flats, and 39 in K. Jacques.
There is about 1/4 of an inch of wiggle room. But since Castañer doesn't make half-sizes, I'm happier to go up to a 39 and have a little little bit of room than to have squished toes!
The complete height of this pair (the exact one I ordered), is 6cm from the bottom to the top of the braiding. Castañer espadrilles are available in 6 cm or 8 cm. I was hoping that mine would be 8 cm, because Net-A-Porter said they are 3 inches. But the box says 6 and so does the ruler. Not sure what's going on with NAP, but just judge the picture with your eyes if you order them there — some look like 6cm and others 8cm…!
With that said, I still love them a lot in 6cm. They still elongate my leg. So no harm done. But my next pair, I might try out the 8cm, just for a little fun…! 💃🏻
I only got one blister on the back of my heel when I tied them WAY too tight and walked around way too far. When I loosened it, I had no problem, whatsoever. So just don't be a dope and tie them too tight like me.
The braiding is so tight even after two weeks of non-stop wearing — I actually haven't worn a pair of shoes besides them. The canvas over the toes holds its shape. And the laces haven't gotten pilled (why is pilling such a problem in my closet??).
Their quality is exactly on par with Lanvin, Hermès, or even Christian Louboutin… Which makes sense since Castañer creates the espadrilles for them and 12 other designer labels…
From a light denim skirt (and the Plush Slim Tee from Reformation) to a pair of black (or dark grey) jeans…
Need More Outfit Inspo? Here's How I Wear them…
The all black shows Castañer's openness to pushing the fashion-y boat out of traditional cream/natural colour-wedged espadrilles… Well, so do their fringed ones. And these suede cobalt ones (ugh, the juxtaposition of suede and wicker, be still my heart)…
I love these espadrilles. And I can't say enough good things about them in this review!
If I still haven't convinced you that Castañer is the espadrille to own, be sure to read this article from the New York Times and tell me you aren't totally sold.
TLDR: ⭐️⭐️⭐️⭐️⭐️/⭐️⭐️⭐️⭐️⭐️, the absolute best espadrille to own at a perfect price (hovering around $100USD for a standard pair). The only shoe you need for summer and spring! Comfortable and completely stylish.
If you're curious about my other Castañer espadrilles outfits, check out 9 of my new espadrille outfits here!
For best selection visit Matches Fashion or Net-A-Porter.
YOU MIGHT ALSO BE INTERESTED IN…