My first pair of Chanel ballet flats were purchased in 2008. A graduation present from my parents, they were the classic Chanel two tone light beige with black cap toe flats. My style was very inspired by Alexa Chung that summer.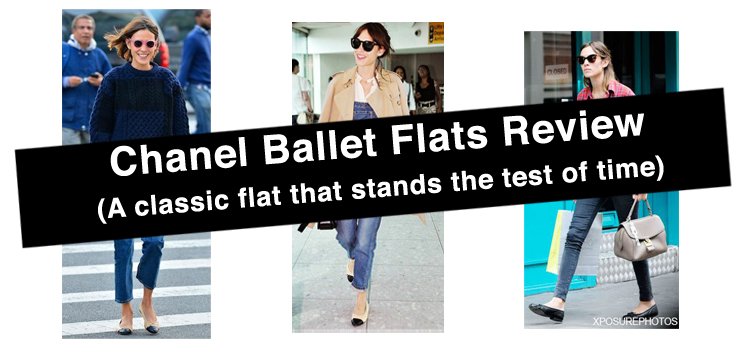 Since then I've added…
-x2 pairs of two tone flats (my first pair had to be replaced, RIP)
-x1 pair of black with patent black black cap toe flats (RIP)
-x1 pair of beige caviar suede flats
-x1 pair of rouge noir patent flats


Five pairs of Chanel flats in 8-10 years (daily usage for a lot of those years)… It's time for my Chanel ballerina flats review!
Let's start with why they're worth it, then move into sizing & prices…
Why are Chanel ballet flats worth it?
Classic
Chanel ballet flats have been popular since 1957, when Audrey Hepburn first wore them in Funny Face. It can be argued that Alexa Chung brought them back to the forefront in 2007/2008. I'll go a step further to argue that Vampire Weekend had a hand in it too with their hipster preppy look. Either way, Chanel ballet flats are a classic and will always be a classic.
Material
Material and color combinations change with each season. But three are always be consistent: lambskin, patent, and quilted. The lambskin is the softest leather you have ever felt. You will be terrified of scratching it, but will soon realise that it's harder to do that then you thought. I'm a clumsy walker and only have a few scuffs after 4 years.
My sueded caviar pair is the most delicate pair I own. Also because they're the lightest cool tan. I live in fear of hurting them. The suede is soft but sturdy.
The patent Chanel flats I have are in my favorite Chanel nail polish color: rouge noir. The shoes look like they have been dipped in that color and then have had the glossiest top coat painted on. They are beautiful and so so sooo shiny. The pictures do not do the color or the gloss justice.
Quality
Chanel ballet flats are quality shoes. You still have to exercise caution. I.E. Don't get caught in a rainstorm like I did (and had to throw them out, they were beyond repair).
After that episode I learned to take precautions. Like getting them re-soled more often, bringing back up shoes in case of rain, and treading lightly. It really isn't that hard to do and you should do that for any expensive shoe. With that said, I had my first pair of Chanel flats for four years, pounded the streets of Montreal, Paris, and New York, and they held up. As you can tell by my photo above, they can look dodgy when they're well-loved. But when you put them on no one can tell… I hope!
Structure
These flats keep their shape and shape your legs. Chanel ballet flats hold your feet together and then make your legs look slimmer. I don't know how to describe it, but they just do! Coco Chanel made two-tone shoes so the light beige part blends into your skin tone and elongates your leg. It works!
And of course, these shoes can be worn in any which way..
You can make Chanel ballet flats suit any style. If your look is preppy, they can be preppy. If your style is laid back, they can look laid back. If your style is 2007-Alexa Chung mixed with Kate Moss and Emmanuelle Alt (like mine), they can get you there.
From 1957 to present day (or in these photos, from 2011 to 2017…), Chanel ballet flats are always stylish. They're easy to wear and the little bow detail ties the outfit together!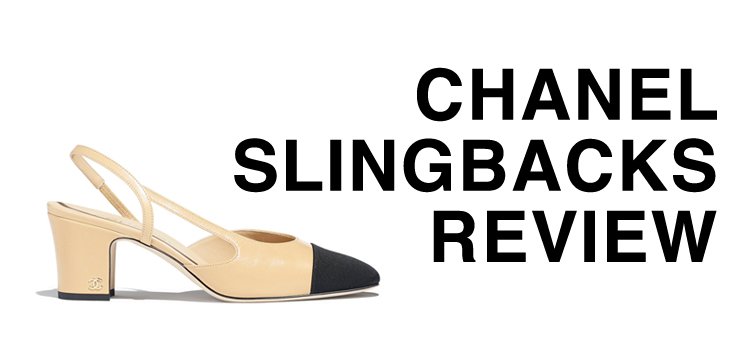 Sizing
Chanel ballet flats' sizing fit true to French size and there is NO difference between materials (although I haven't tried quilted!). In my patent, suede, and lambskin pairs I am a true 39 — which is in line with my Manolo Blahnik BB size, Isabel Marant Dicker size, and K Jacques size. They fit just perfectly and hold their size and shape with each wear. I generally take a FR 39.5 in Louboutins and a US 8.5 in my Nikes. I also have not had problems with blisters in these shoes. But there is a moderate baby toe pinch!
PROS & CONS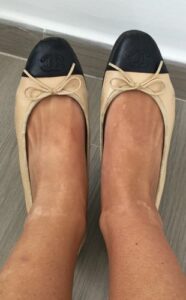 Pros
–Classic: These are never going out of style.
–Sizing: Some brands change their sizing now and then, but my Chanel ballerina flats size has been the same for the past 10 years.
–Structure: I love how these flats are more structured and less floppy. They feel more pulled together and classy as a result.
Cons
–Price Raises: Every year, Chanel raises their prices. Sometimes the price increase includes ballerina flats, sometimes it doesn't. Either way, it's frustrating.
PRICES
Chanel flats are expensive, there's no two ways about it. As of 2018 these ballet shoes run from $750 USD to $995 USD (depending on material).
Classic Lambskin Ballerinas: $750 USD
Quilted Lambskin: $750 USD
Printed Lambskin: $795 USD
Python: $995 USD
You could buy two or three pairs of Repetto flats for the same price… but there is a certain joy in purchasing something so timeless and just oozes quality…
Sometimes Chanel ballet flats are listed on The Real Real, where you can get them for less than retail. The Real Real gives $25 USD off your first order, so it could be worth it if you can find a gently worn pair that you feel confident are authentic…
(This is an affiliate link, but I've shopped with the Real Real many times and would recommend them even if it wasn't.)
That joy that you get when you wear your Chanel ballet flats for the first time, you can't put a price tag on it.
These flats are so well made and structured that they are worth it over and over again.
In fact I'm beginning to think I need to replace that black and patent pair, hmmm…
---
---
YOU MIGHT ALSO BE INTERESTED IN…
TLDR: ⭐️⭐️⭐️⭐️⭐️/⭐️⭐️⭐️⭐️⭐️
Expensive, but if you can swing it, go for it. The way they shape your feet and legs are unbeatable.
For price details visit Spotted Fashion. And to purchase, visit your closest Chanel boutique.