On March 10th 2015, an unexpected force was launched into the fashion world: the revamped Chanel slingbacks.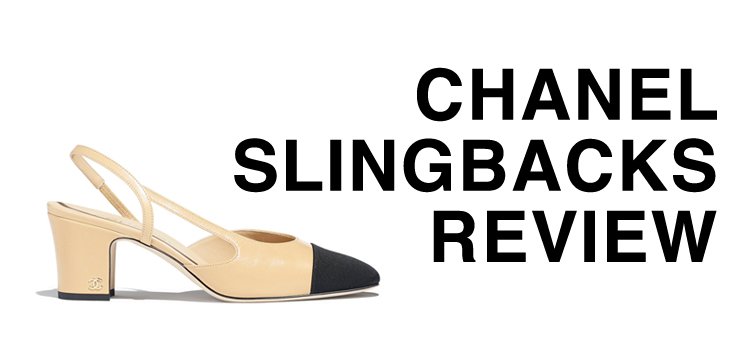 Either in leather or suede, every model during the 97-look long Fall/Winter show had one thing in common; their two tone Chanel slingbacks.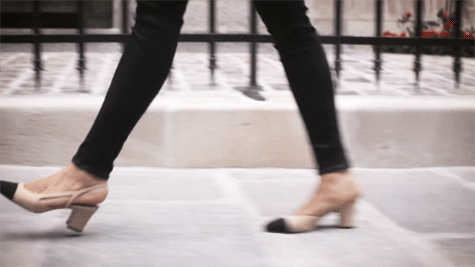 A simple beige body with a black capped toe, they literally on every single model's feet.
The slingbacks enhanced the romance of the show's ode to the beautiful French brasserie. You could instantly imagine yourself prancing around Paris in 1957 (the year the first pair of two-tone slingbacks were created by Gabrielle Chanel).
When the photos loaded on my screen, I knew this was a shoe I had to have them…
CHANEL SLINGBACKS REVIEW
CHANEL SLINGBACKS SIZING
Chanel slingbacks fit true to size.
My Chanel ballet flats are all a 39 and my slingbacks are also a 39. From my Hermès Oran size to Manolo Blahnik BB size, you can find more of my detailed designer shoe reviews here for sizing comparison.
For USA size references, my Stan Smiths are an 8 and my Nikes are a 8.5… and if it helps you at all my foot itself (from the tip of my big toe to the end of my heel) measures 23.5 cm or 9.25 inches.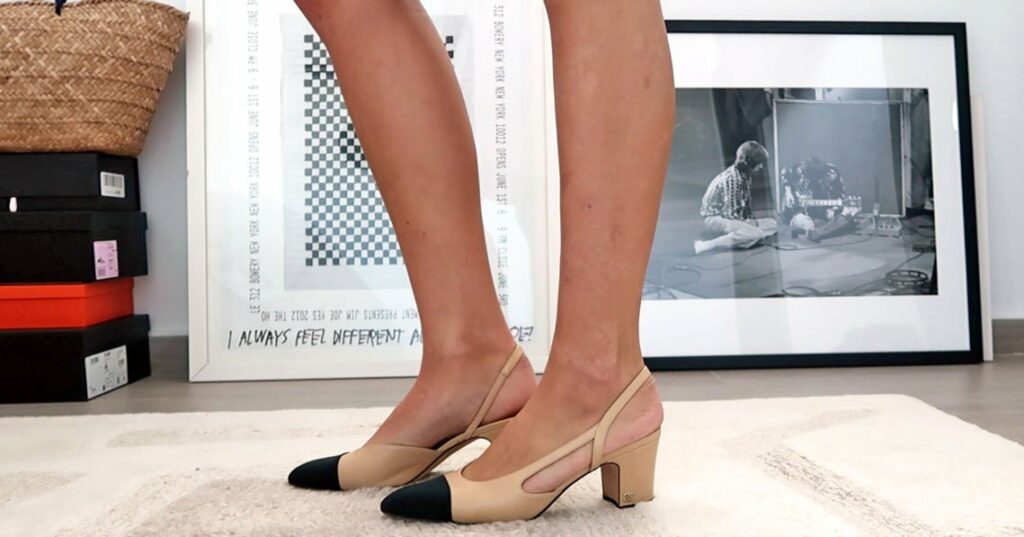 The best part of these Chanel slingbacks is the 2.5" heel.
I love my Chanel ballet flats, but sometimes I want more… and that heel delivers it.
Sure, the slingback is fun! The subtle CC on the edge of the heel makes them delightfully understated. The supple beige goatskin just beckons your feet and lengthens your leg… but that extra 2.5 inches…
That extra bit of heel makes them just perfect. The beige combined with the mid-heel elongates your legs and gives you that extra boost of confidence to stroll into any "it-café."
Chanel slingbacks also have a little elasticated band on the side to make them easier to walk in and to make them fit perfectly.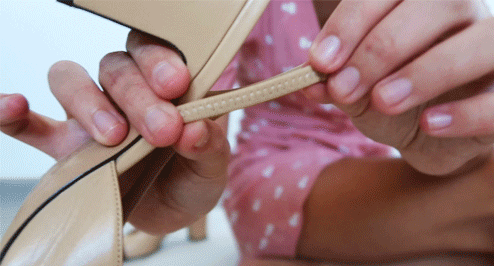 ---
CHANEL SLINGBACKS PRICE
As of 2018, Chanel slingbacks cost $875 USD. In early 2017, they started at $700 USD. Price hikes are real, so if you've been thinking about them, it's better to buy them sooner rather than later.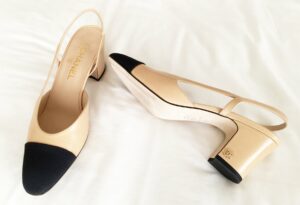 There is no price difference for different materials. Their flocked calfskin is just the same price as the classic beige & black goatskin pair.
They're expensive shoes, but in the past few years, when Balenciaga's knife boots or Le Spec's Lolita sunglasses have come and gone, Chanel slingbacks have proven to last.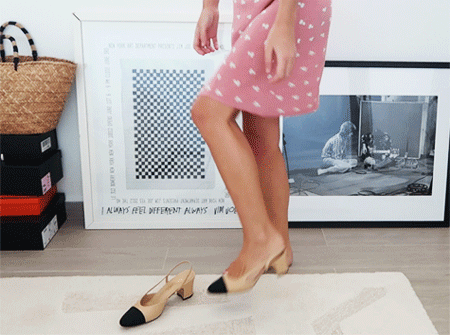 ---
Chanel Slingbacks Outfits
… as seen on my Instagram — super humble.
---
PROS & CONS
Pros
-Classic
-2.5" Heel
-Super soft goatskin (don't worry, it doesn't scratch totally easily, just exercise normal shoe caution)
Cons
-That click-clacking noise sure gets old when you're going down a long flight of stairs… but that's the only con I can think of.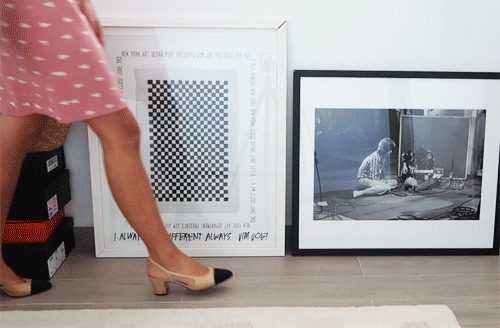 ---
Close to 60 years after Coco Chanel created the first simple two-toned slingback, it's finally time to say it… 

Move over Chanel ballet flats, there's a new classic Chanel shoe in stores.
For details and availability, visit your nearest Chanel boutique.
Alternatively, sometimes folks list their slingbacks on The Real Real where you can grab them second hand if you feel comfortable that they're authentic. Fake Chanel slingbacks do exist, so exercise caution!
Let me know in the comments if you have any questions or concerns about buying a pair — I'm always happy to talk shop!
YOU MIGHT ALSO BE INTERESTED IN…