It's never crossed my mind to spend more than $26 on a pair of flip flops. Rubber Havaianas do the trick and last for years…
But then I saw two pictures of Kate Moss in the 90's and decided that I needed a pair of leather flip flops.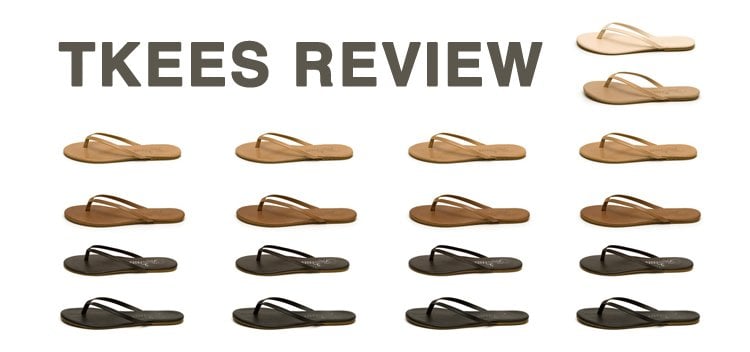 My sister has seven pairs of the same TKEES in her closet. She hoards them because she's scared that they're going to stop making them and because they break often… but she still loves these flip flops.

With her vote of obsession and those Kate Moss photos on my mind, I decided to give these $50 USD flip flops a try.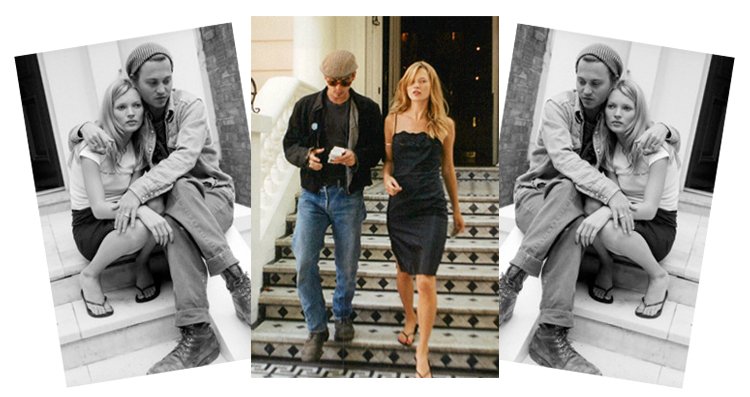 I bought TKEES Liners flip flops in Sable/black (20% off with a Shopbop "sorry we took so long to ship your last order" code) and TKEES Gemma slides in Coconut Cream/white (10% off with Revolve's "sign up to our mailing list" code).
Let's review these sandals' details…
TKEES SIZING
If you're between sizes, size up for TKEES flip flops.
I'm a 8.5 US in Nikes and 8 US in Stan Smith Adidas. In Isabel Marant Dickers, Chanel ballet flats, and K. Jacques sandals, I take a FR 39.
In TKEES' Liner flip flops I took a US 8. They are a pinch too small… I should have sized up to a 9.
However, in TKEES' Gemma sandals I took a US 8 and they fit just fine. This is likely due to the fact that they're slip-on sandals instead of flip flops (i.e. your toes don't have to line up with the thong part).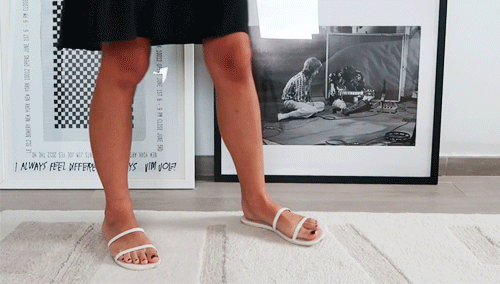 TKEES QUALITY
TKEES flip flops are poor quality.
There are no two ways about that. I assumed my sister goes through so many because she wears them hiking, but really, they snap easily… even if you're just suburbia bound.
I wore my Liner flip flops for a month, doing light walking (i.e. to the car, to the grocery store, etc…), and one day while I was sitting on the bus, the thong strap snapped. I had my Chanel flats in my bag to change into when I got to my destination, but if I hadn't, I would have been walking barefoot.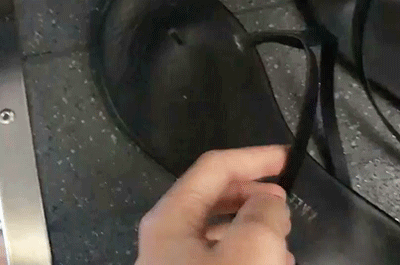 Not cool.
TKEES also cannot get wet and should not be worn under extreme conditions (i.e. sea coastal hikes).
While a still-wet-from-the-ocean-going-to-the-car foot is fine, don't wear your TKEES in salt water… or for walking long stretches on the beach.
I wore my Gemma slides to a beach restaurant and got sand in them. In theory, this should have been fine. I've gotten my black K. Jacques sandals sandy plenty of times and nothing happened. In practice, the grit of the sand sandpapered the leather in spots. The white is now coming off in parts.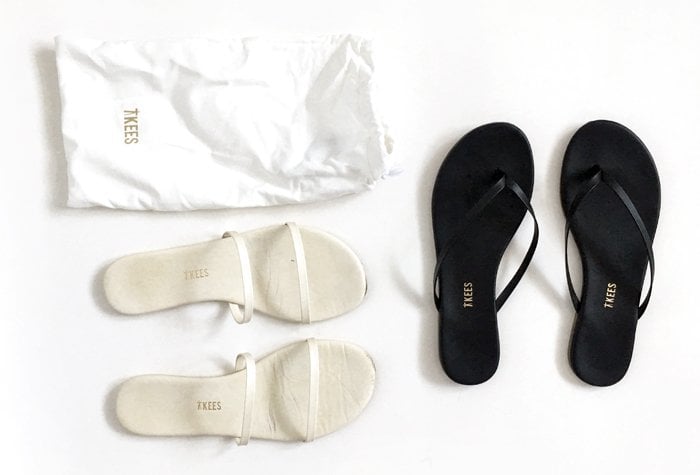 PROS & CONS
Similar, But Probably Better Quality…
Pros
-Light Weight & Non Bulky
–No Shoe Box: I like that TKEES packs their flip flops in a material dust bag. It makes it so convenient to throw 'em in your suitcase.
Cons
–Poor Quality: Your flip flop's strap really shouldn't snap after gently wearing them for a month.
–Uncomfortable Straps: Blisters will happen at first.
–Not Waterproof: Getting your TKEES wet will loosen the glue & cause the sole to split.
–Not Sandproof: The grit of the sand could rub off the color of the leather.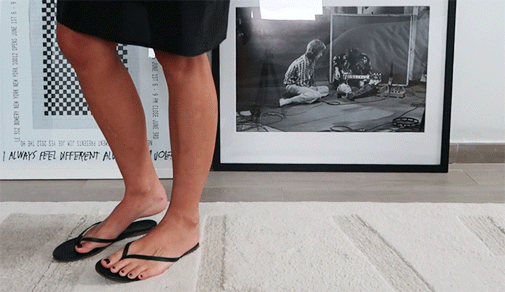 While these sandals offer a solution to my fashionable flip flop dilemma, they do not solve my fashionable good quality flip flop problems.
My sister still swears by her TKEES flip flops, but I'll just keep searching for a pair of sandals that fits the bill.
If you have any questions about how hard I was walking or if you're still considering them and want to ask about sizing, let me know in the comments below!
You can buy TKEES from a wide range of retailers from Shopbop to Net-A-Porter.
Alternatively, you can purchase directly from their online store.
This page uses affiliate links!
TIPS
–Shopbop has a bi-annual 15-25% off everything sale in the early Spring & Fall. This is a great time to save on basics like TKEES.
-Revolve's 10% discount for new list subscribers is also a good way to save $5 on these sandals.
–TKEES' website also offers 20% off for Cyber Monday.
YOU MIGHT ALSO BE INTERESTED IN…