In the early 2010's, you could not pry a button down shirt from my Chanel Rouge Noir dipped claws.
To say I loved them would be an understatement.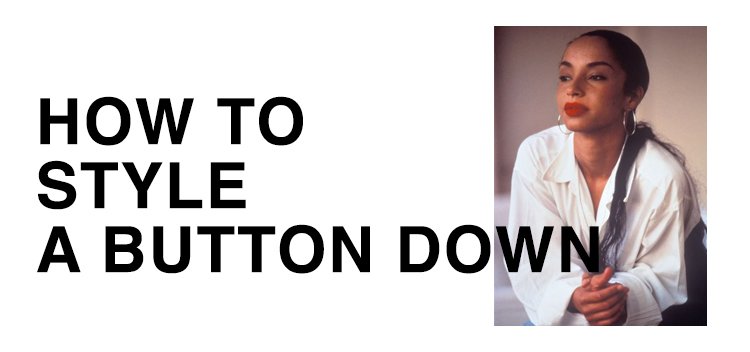 Almost 10 years ago, I had two internships — one that turned into a "real" job.
A "real" job where I was forced to interact with "real" adults — like producers, executives, and executive producers.

Now? I work from home.
Do I still wear button downs to work (i.e. the kitchen table)? Yes, a love like that doesn't suddenly die…
From your "real" job to your kitchen table, here's how to style a white button down shirt with 8 real outfits…
---
First thing's first: literally roll up your sleeves.
You basically want your sleeves to say "let's get down to business," but in a relaxed kitchen table business way.
If you roll your sleeves up just right, like this:
It'll totally give off a business feel, but like business lite, and totally work for work.
How many buttons to leave undone?
As long as your bra doesn't show, leave them undone as much as you feel comfortable with.
I'm partial to the first two buttons undone for work, but three for the evening.
To Tuck or Not To Tuck?
Really depends on the look. Some outfits look better with a French tuck (i.e. half tuck), others look better with a full tuck.
Generally speaking, some sort of a tuck will always look great.
Here's how I do the French tuck:
… but, if you're a bit of a rule breaker, screw it.
Leaving your shirt totally untucked gives it a whole 90's vibe.
What to Wear With a White Button Down Shirt
Basically any bottom will work with white button down shirts.
Denim shorts
Denim shorts look exceptionally cool and a button down will elevate how casual they are.
Jeans (Mom jeans, skinny jeans, flared jeans, whatever…)
Button downs also class up denim.
If your company lets you wear jeans to work (mine did), it also makes a pair of simple jeans look more business-like.
Nice trousers (i.e. work pants)
Obviously these will work for work with a button down.
If you want to go for silk pants, it'll also add a great effect for evening outfits.
Maxi skirts
Channel a Carolyn Bessette-Kennedy (or Carolina Herrera) and wear your button down with a maxi skirt in the evening.
Belts
Belts are annoying (or am I just lazy?).
Constantly having to loop them through five belt loops can get old fast.
… but, if you're going to tuck in your shirt, a belt can pull your outfit together.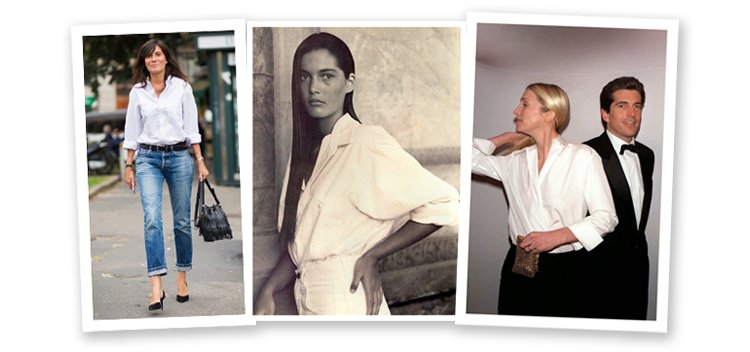 ---
White Button Down Shirt Outfits
The button down I'm using for most of these outfits is J. Crew's Classic-Fit Boy Shirt in cotton poplin. You can find a full review on it here.
I'll also use Everlane's Oversized Poplin Button Down in an outfit or two — you can find my review here.
Classic white button down shirts really don't have to be super expensive, either of these shirts cost from $60-69.50 USD.
BUTTON DOWN SHIRT DAY OUTFITS: AKA DECENT-ISH FOR WORK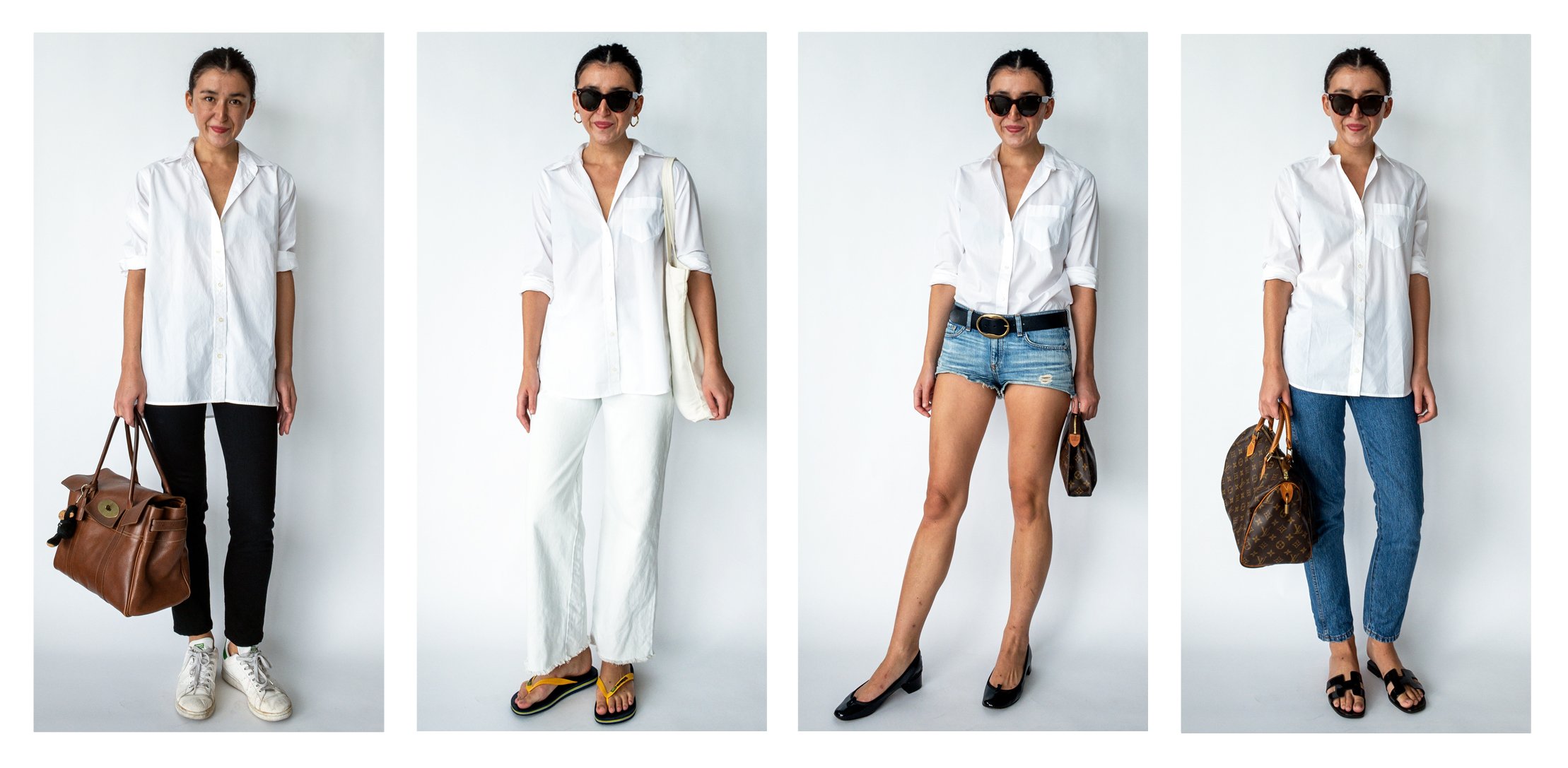 Left to Right: Everlane shirt with Rag & Bone cigarette jeans, a Mulberry Bayswater, and Adidas Stan Smiths; Re/Done white jeans with Celine sunglasses, Jennifer Fisher x Goop hoops, a tote bag from my hairdresser (Shizen in Brooklyn), and Havaianas; Rag & Bone shorts with Celine sunglasses, an Isabel Marant belt, a Louis Vuitton clutch, and Repetto Camille flats; Re/Done jeans with Celine sunglasses, a Louis Vuitton Speedy, and Hermès Orans.

If you work in an office that allows you to wear denim, these outfits will totally work.
These button down shirt outfits are clean and polished, but still give off a bit of an irreverent air (even though "you still care about your job!").
Tuck in your shirt for your normal business days (and belt it!) or leave it untucked for more casual days.
… but leave the denim shorts for the weekend, unless you're allowed denim shorts at work (I wasn't).
How to Wear a Button Down Shirt At Night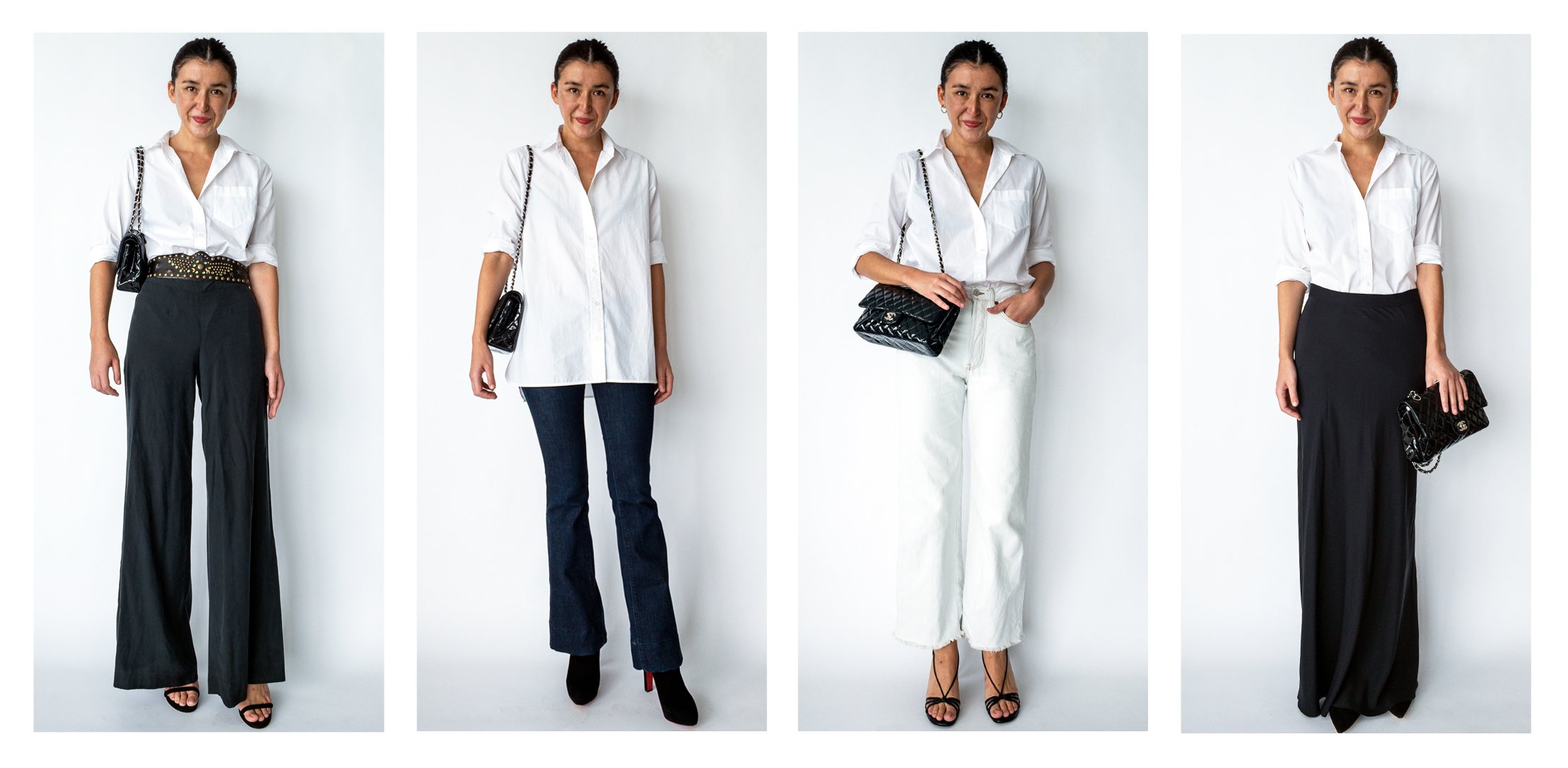 Left to Right: Erin Wasson x RVCA trousers with a Kate Moss x Topshop belt, Isabel Marant sandals, and a Chanel bag; Everlane shirt with J. Brand Lovestory jeans, Christian Louboutin boots, and a Chanel bag; Re/Done white jeans with David Yurman hoops, Saint Laurent Kate sandals, and a Chanel bag; Elizabeth & James skirt with Manolo Blahnik BBs, and a Chanel bag.
Generally speaking, you want a more clean and pulled together look for night outfits. So, a totally tucked in look works best.
In two of these outfits, we play off the casual cotton poplin with silk bottoms to make the shirt look more luxe.
The drama of a silk bottom means that we keep everything else simple with plain shoes and a neutral bag.
The two denim outfits also need to maintain a clean look — everything else should be polished to get that balance.
---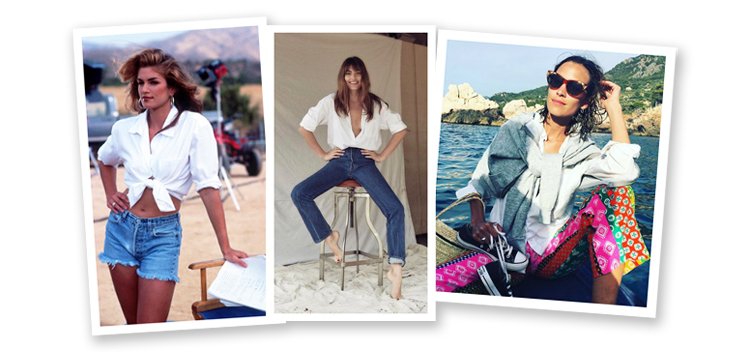 You can totally wear a button down shirt to work and still look cool.
Try rolling up your sleeves and experiment with tucking it in or leaving it untucked.
You don't have to break the bank for a classic button down shirt.
… all you need to do is break how you approach styling them.
If you're stuck for some great button down shirt options, here are a few:
Note: newinspired uses affiliate links which costs you nothing… but means a lot to me. When you use these links, the money newinspired earns gets reinvested in blog content. Absolutely nothing on newinspired is "gifted," I purchase each item with my own money. Affiliate commissions are used to purchase new items to honestly & thoroughly review. If you found this review helpful, consider using them to support newinspired.
---
YOU MIGHT ALSO BE INTERESTED IN…