"I just wanted to be one of the Strokes, now look at the mess you made me make."
-Arctic Monkeys – "Star Treatment" (2018)
In 2004, the arguable (mainstream) peak of the Strokes, I bought my first pair of high top Converse from Urban Outfitters.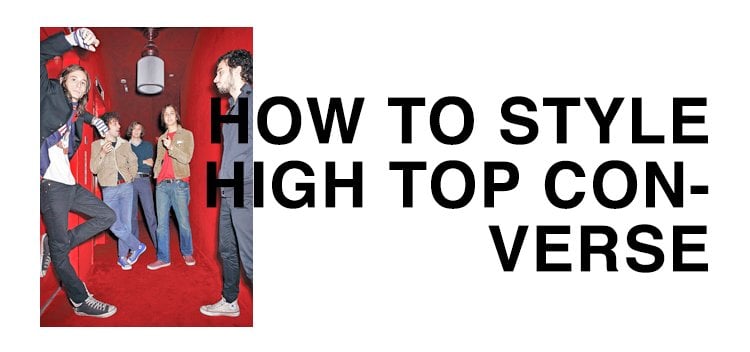 12:51 was (and still is) my favourite song — despite being 13 and having no clue what it was about.
High top Converse were (and still are) my favourite shoes — despite being 13 and having no clue how to style them.
"Well, that was a long time ago" and I've finally figured out how to style my high top Converse so they don't look like a mess…

---
What Tops to Wear with High Top Converse
Let's start off easy. Like when we styled mom jeans, basically any top will work with your Converse outfits.
A plaid button down, a silk cami, and even a white t-shirt… any top looks good with Chuck Taylors because Converse are such convertible shoes.
Depending on the bottom you choose, either tuck in your shirt… or just schlub it up and let it hang out. It really depends how tight your bottoms are.
The tighter your bottoms, the looser your top can be. The looser your bottoms (that sounds weird), the tighter your top can be.
It's all about balance.
The only top that looks slightly out of place is a ~going out~ top. You know those ones that you reach for when you tell your girlfriends you're going to wear a "nice top" and jeans for your night out? But even then, with the right attitude you could make it work.
---
What Bottoms to Wear With High Top Converse
This "how to" is for high top Converse specifically for a reason. Bottoms and dresses can get tricky to style with Converse.
You'll want to play with proportions so that your legs look as long as possible. Let's go through some types of bottoms that work well with high top Converse specifically and why.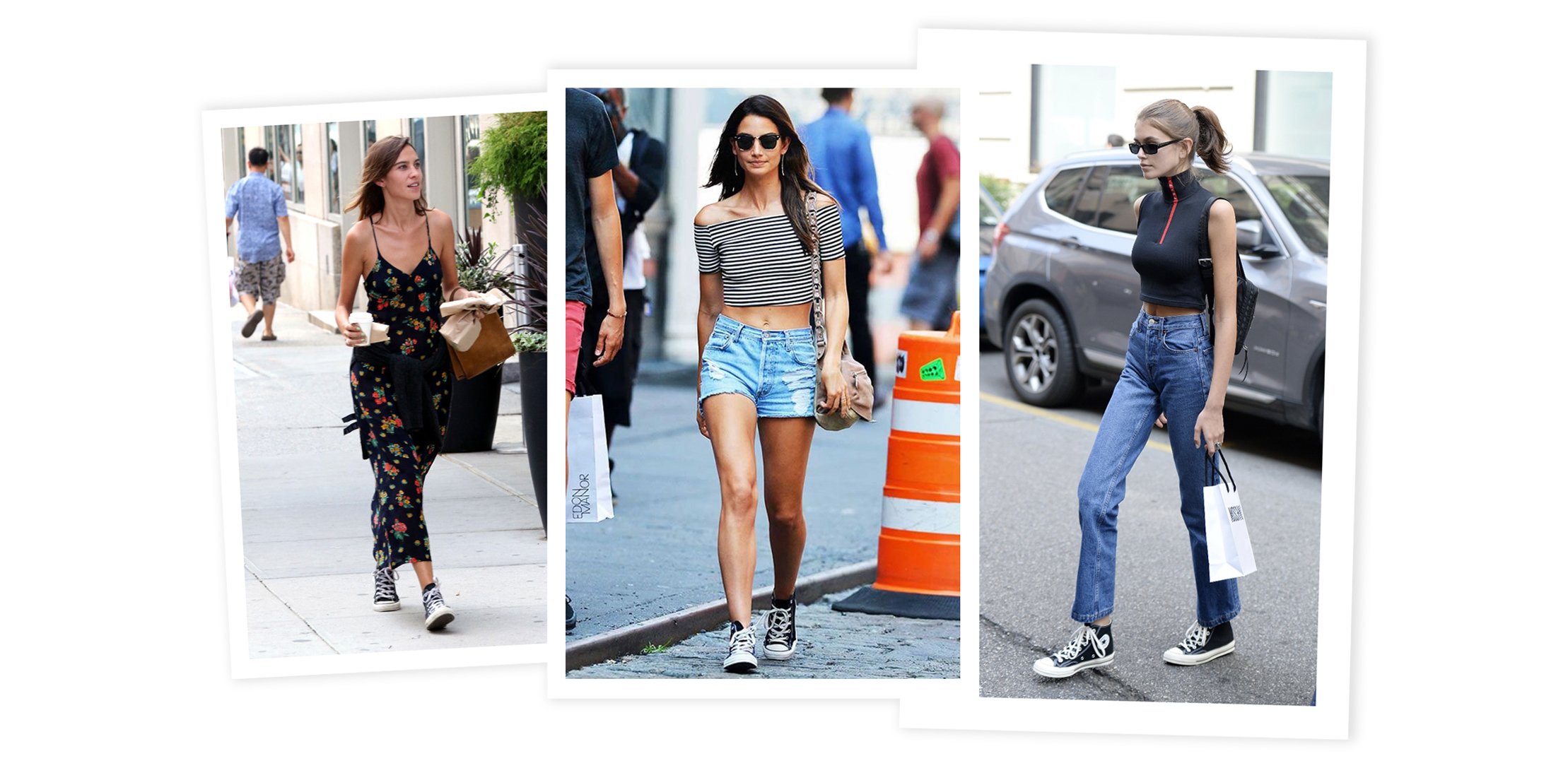 How To Wear High Top Converse with Shorts
Here shorts means denim shorts.
A pair of high waisted denim shorts tricks the eye into thinking that your waistline is higher than it is, which in turn makes your legs look longer than they are. Because the hem is rolled up at an angle on most high waisted shorts, it makes your legs look even longer. Due to the optical illusion, you can basically wear any top, including looser tops, because your high waisted denim shorts are working overtime for your legs.
With that said, you can still pull off high top Converse with a pair of mid-rise denim shorts. It's better for these shorts to wear a top that's more fitted so that your body looks more streamlined.
How to Wear High Top Converse with Jeans
High rise "mom jeans" look the best with high top Converse.
… especially the kind that lightly flare out at the bottom and are a little cropped, but unfortunately I don't have that kind of pair.
You want them to be high waisted due to that whole proportions thing.
When your perceived waist line is higher, your legs will look longer and offset the higher perceived ankle line that the high tops give you.
High Top Converse and Skirts
Skirts is where high top Converse styling starts to get tricky.
For me, the general rule of thumb is to stick to mid-shin length skirts or maxi skirts. A denim mini skirt works, but any other type of mini skirt (ex, flouncy ruffled mini skirts) reminds me of middle school… and I didn't like middle school.
---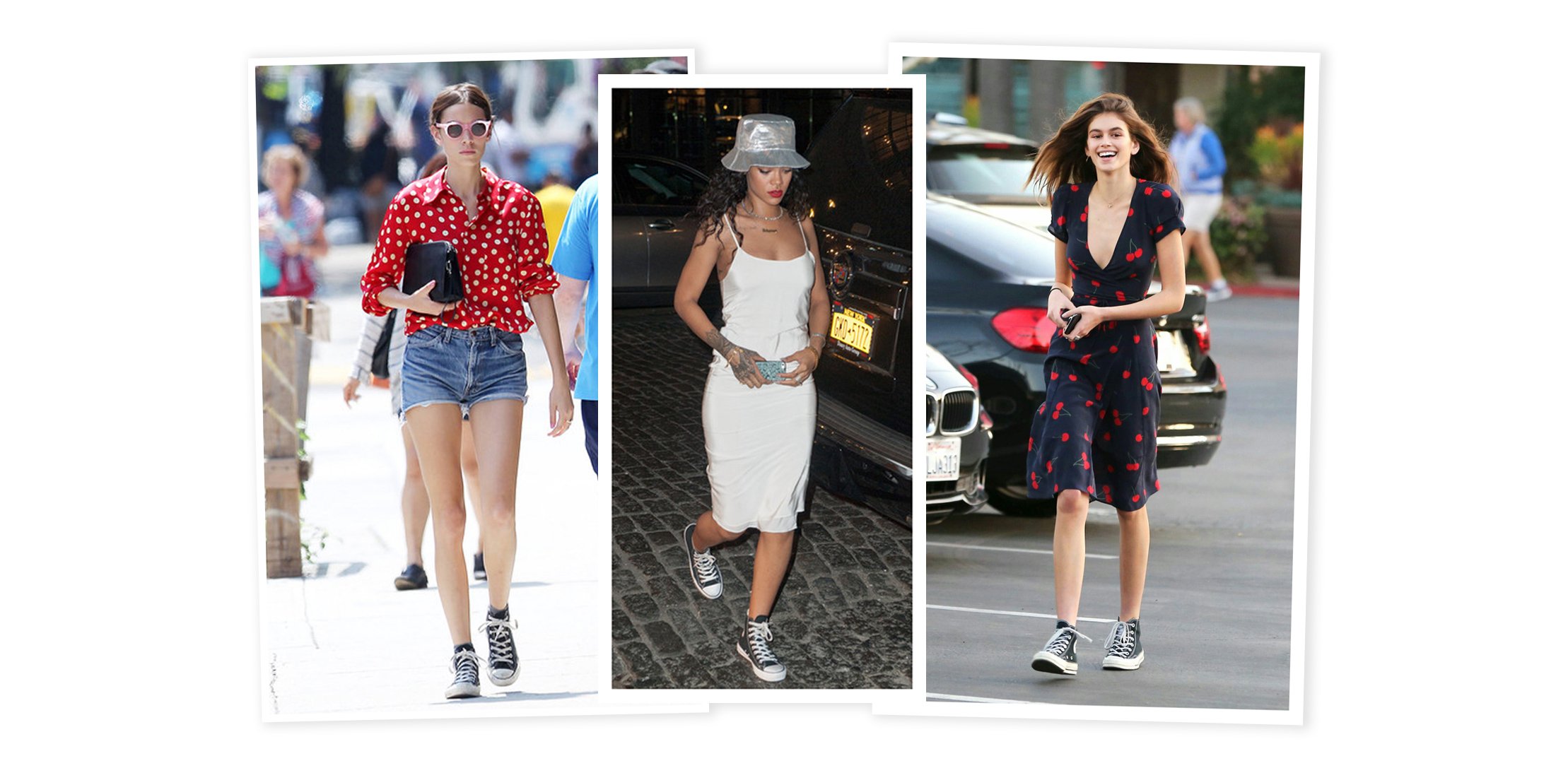 What Kind of Dress to Wear with High Top Converse
Like skirts, dresses are also tricky.
My legs don't go on for miles, so super short dresses are out of the question. These sneakers with a mini dress will make my legs look even shorter than they are.
The best kinds of dresses to wear with high top Converse are midi-dresses and maxi dresses. No matter your leg length, these dresses balance out the high top and serve to make your outfit look non-chalant and cool.
---
HIGH TOP CONVERSE OUTFITS
Note: In all these outfits I'm wearing CDG Play x Converse high tops.
They are a women size US 8, my other shoe sizes run:
-Adidas Stan Smiths, US 8
–Chanel Shoes, 39
–Golden Goose, 39
–Hermès, 39
–Isabel Marant, 39
–Manolo Blahnik, 39
-Nikes, US 8.5
–Repetto, 39.5
High Top Converse Summer Day Outfits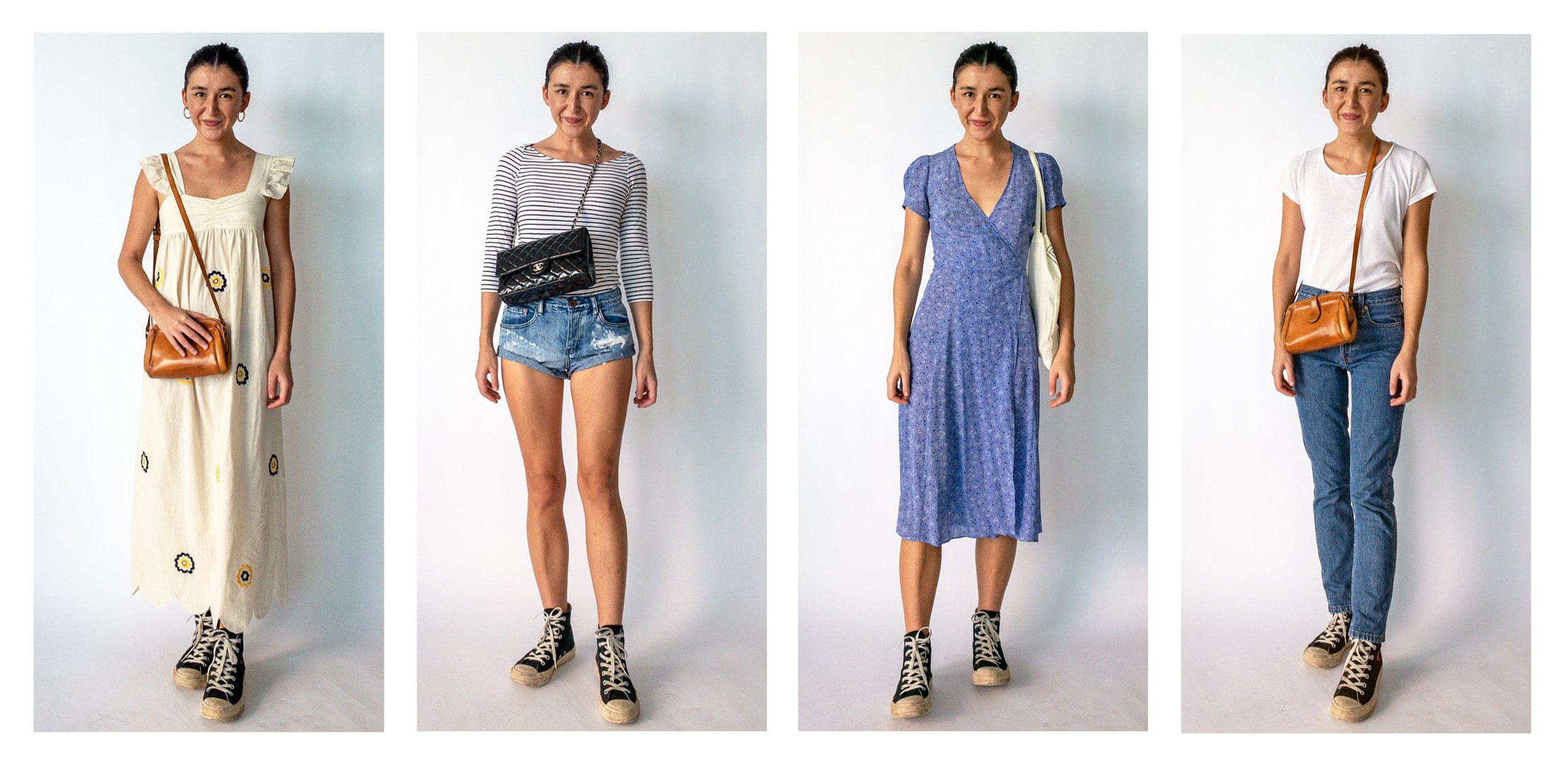 Left to Right: ALEXACHUNG dress with Goop x Jennifer Fisher hoops and a vintage bag, Top from Aritzia with One Teaspoon Bandits and a Chanel bag, Réalisation Par Teale Dress with a Rouje tote bag, Rockins T-Shirt with Re/Done Jeans and a vintage bag.
With these high top Converse day outfits, we're playing with proportions.
The midi-to-maxi length dresses offer just enough ankle so we see that you're 1- wearing Converse and 2- not totally hiding your legs.
Since these high-waisted denim shorts are a little bulky, I opted for a tight long sleeve… and the same goes for the mom jeans — a tucked in white t-shirt makes the outfit more streamlined.
SUMMER NIGHT OUTFITS
Night time doesn't change anything when it comes to getting the proportions right.
With "bigger" bottoms, like the floral trousers and paisley skirt, I wear a tight black tank top to streamline the outfits.
The rest, I opt for all black to get a (somewhat) slimming effect.
With the knee-length slip dress, I also added earrings to draw attention up… and because they're cute.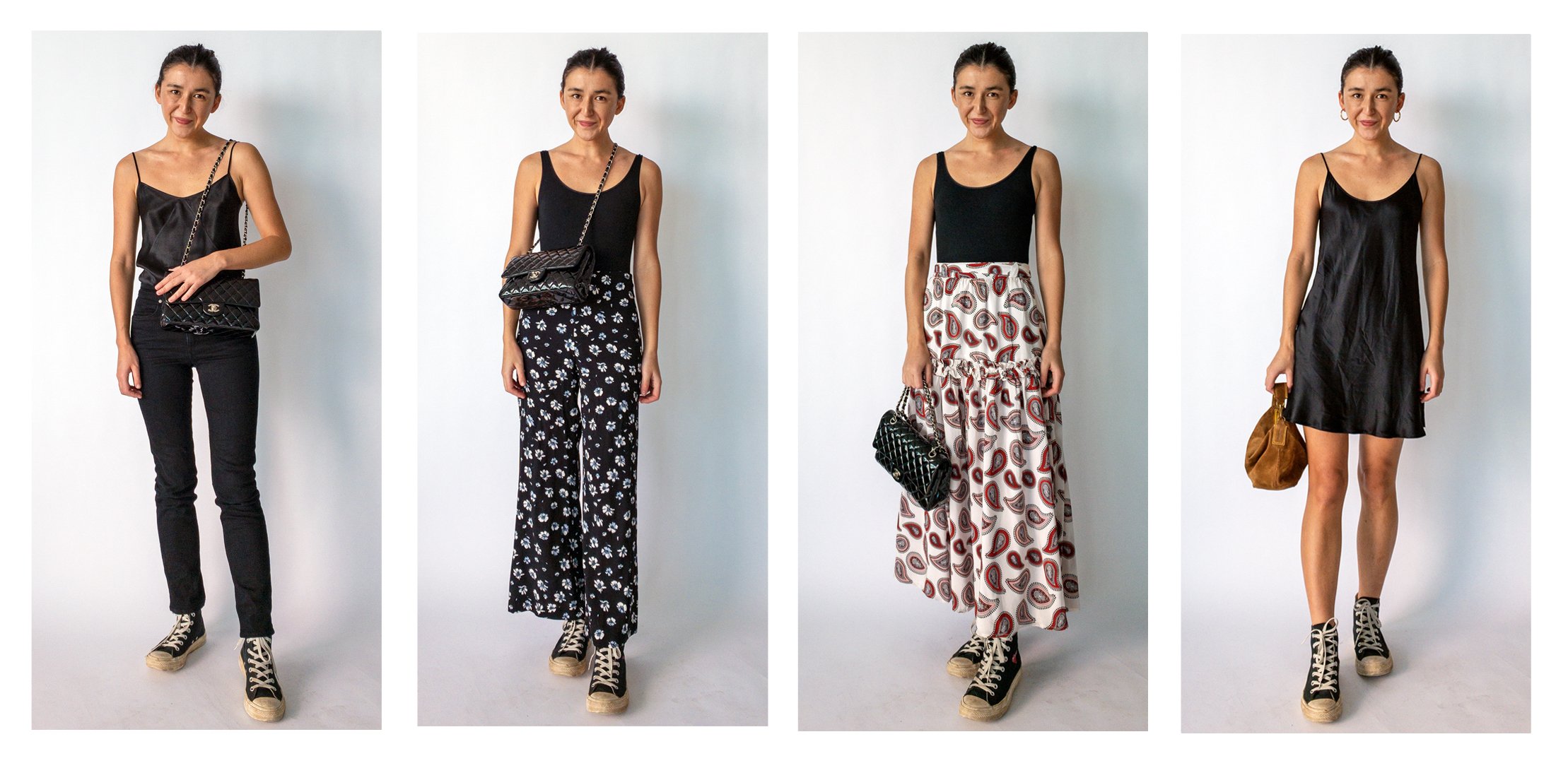 Left to Right: T by Alexander Wang cami with Rag & Bone jeans and a Chanel bag, Wolford Jamaika bodysuit with Rouje Gino trousers and a Chanel bag, Wolford Jamaika bodysuit with a Dodo Bar Or skirt and a Chanel bag, La Perla slip with Goop x Jennifer Fisher hoops and a Miu Miu bag.
---
"Am I wrong?
Don't sing along with me."
-The Strokes, "Between Love & Hate" (2004)
Just because this is how I wear my hightop Converse, doesn't mean that how you wear yours is "wrong."
We're all (mostly) free to wear whatever we want, however we want.
At the end of the day, looking cool and stylish is all about attitude and confidence.
… I mean, just look at the Strokes.
Any high top Converse styling questions? Feel free to ask away in the comments below.
Note: These are affiliate links which cost you nothing… but means the world to me & newinspired. When you use these links, the money newinspired earns gets reinvested in blog content. Absolutely nothing on newinspired is "gifted," I purchase each item with my own money. Affiliate commissions are used to purchase new items. If you find this how-to helpful, consider using the links to support newinspired.
---
YOU MIGHT ALSO BE INTERESTED IN…