I hate when people caption their photos on Instagram, or whatever the latest social media is, with…
"You can't sit with us."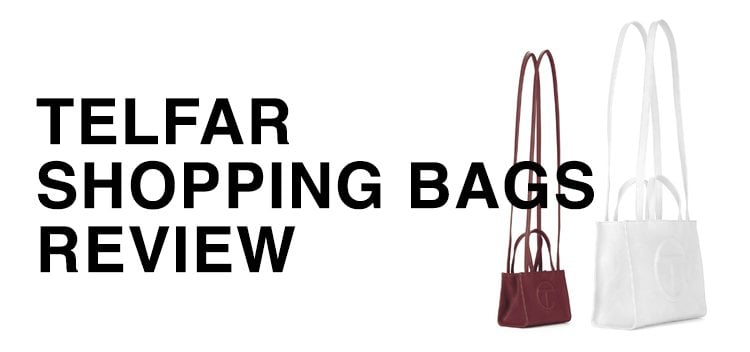 1- That's not even the best quote from Mean Girls.
2- Why do you want to make other people feel bad?

Honestly, that caption feels noxious and obnoxious.
Then there's this brand called Telfar — ok saying "this brand" is unfairly underplaying them because Telfar Clemens (of, well, Telfar) won the CFDA/Vogue Fashion Fund in 2017, designed uniforms for White Castle employees the same year (and donated the proceeds from it to bail funds), was nominated for a CFDA Award for Accessory Designer of the Year in 2019, won a CFDA award for Accessory Designer of the Year in 2020, regularly does drops that benefit important projects, is self-described as a "genderless, democratic, and transformative brand," and is just an all around champion for all things right & fair — their message is…
"Not for you — for everyone."
Now, that feels like a rush of fresh air that I can get behind (or in front of).
Six years late to the Telfar bag party, I set a series of alarms on each morning of the drops and bought 2 Shopping Bags — one small and one medium. Here's what they are like..
Telfar Bag Size & Comparisons
You probably all ready know this, but, Telfar's shopping bags come in 3 sizes.
Small
Small's dimensions: Height 4 3/4″, Width 6 5/8″, Depth 3 1/8″, Drop 21″
For a closer look, here's how the Small Oxblood looks on me (I'm 5'5.75" and I swear that .75" matters…).

Medium
Medium's dimensions: Height 10 3/4″, Width 15″, Depth 5″, Drop 21″
… and the Medium White Shopping bag looks like this on.

Large
… and large is: Height 14 1/4″, Width 19 1/4″, Depth 8″, Drop 21″
Fun Fact: The sizes are all modelled after Bloomingdale's shopping bags sizes.
In the Financial Fashion Times, Telfar Clemens explains…
"When I saw people carrying a shopping bag during the holidays, specifically the Bloomingdale's one, I was like, 'Wow, they look so good. They just went shopping— look at the smile on their faces.'"
These shopping bags totally put a lasting smile on your face.
---
What Fits in a Small Telfar Bag?
Here's what's in my Small Shopping Bag…
Between the "The #1 Lipstick You Need" or "13 Signs He's Not That Into You" articles, at some point, every magazine offers this tip: keep your essentials in a pouch to transfer from your day bag to night bag. While those articles & magazines are mostly filled with dribble, I follow their advice and keep my essentials in a pouch so I can transfer bags easily.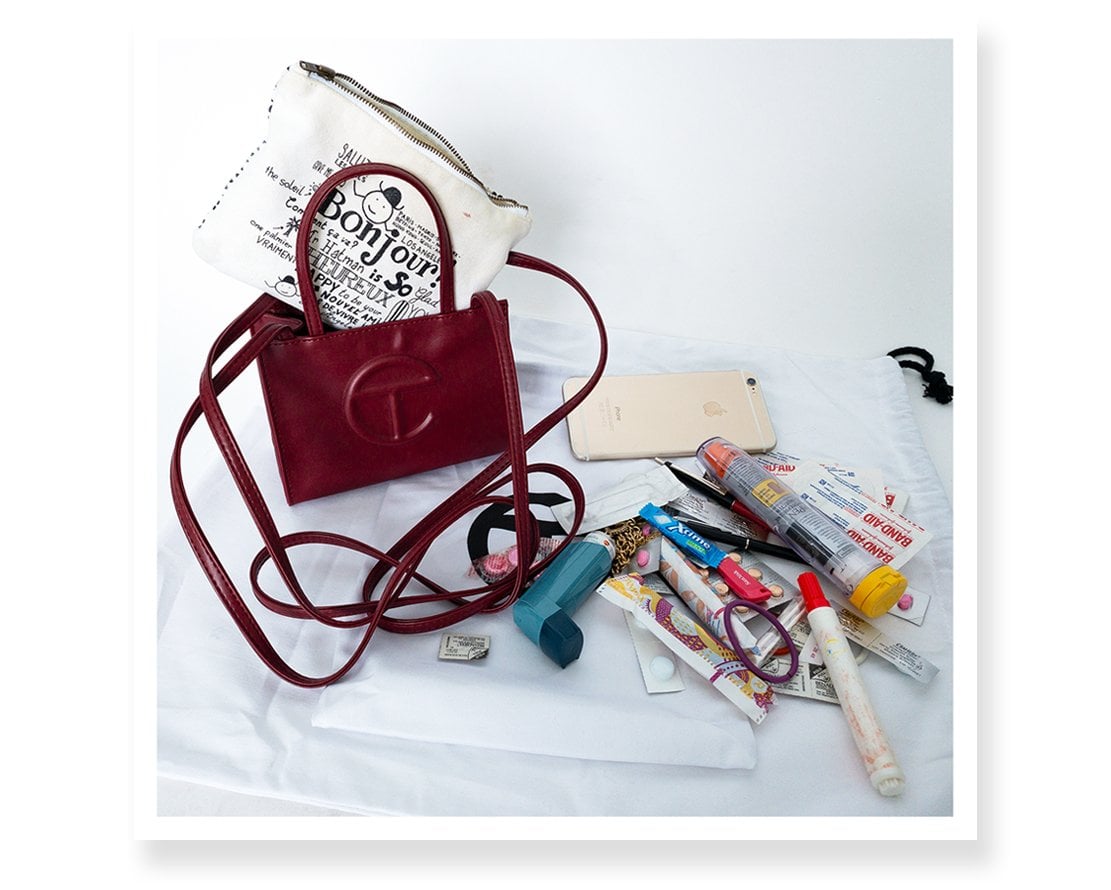 … and that pouch that has all the essentials, fits perfectly in the Telfar Small Shopping Bag.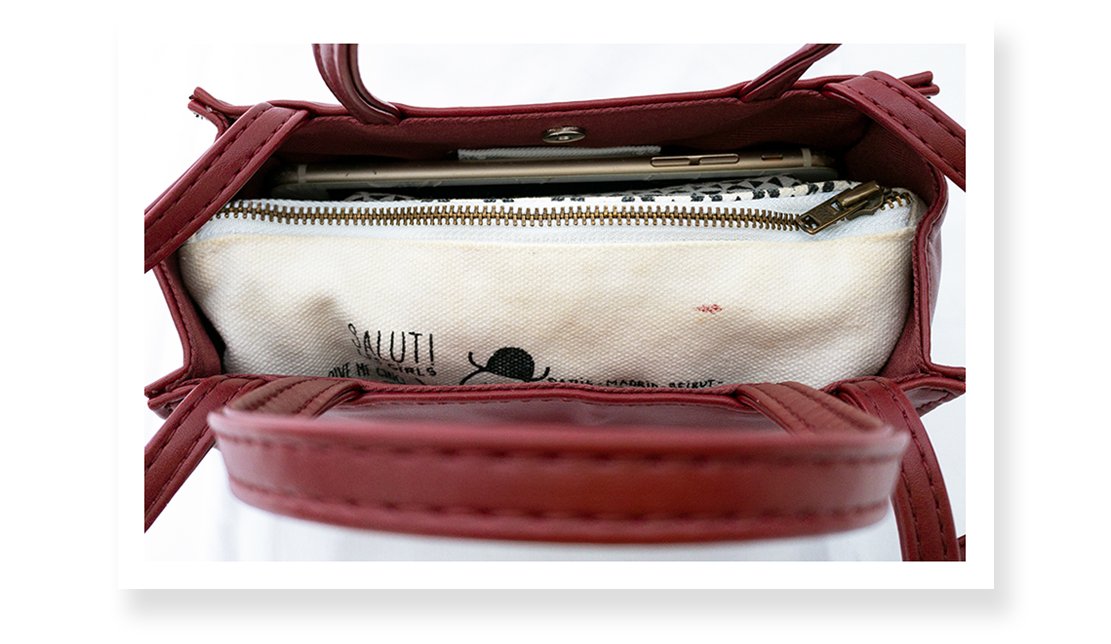 ---
What Fits in a Medium Telfar Bag?
A 16" MacBook Pro fits (almost) perfectly in the Medium Shopping Bag.
Normally, because of the magnetic closure, I'd be nervous about having my laptop in there. Apparently though, computers that have an SSD are fine to put near magnets. If you're nervous, check what kind of laptop you have before putting it close to the magnet.
Here's what can fit in a Medium Shopping Bag for day-to-day purposes: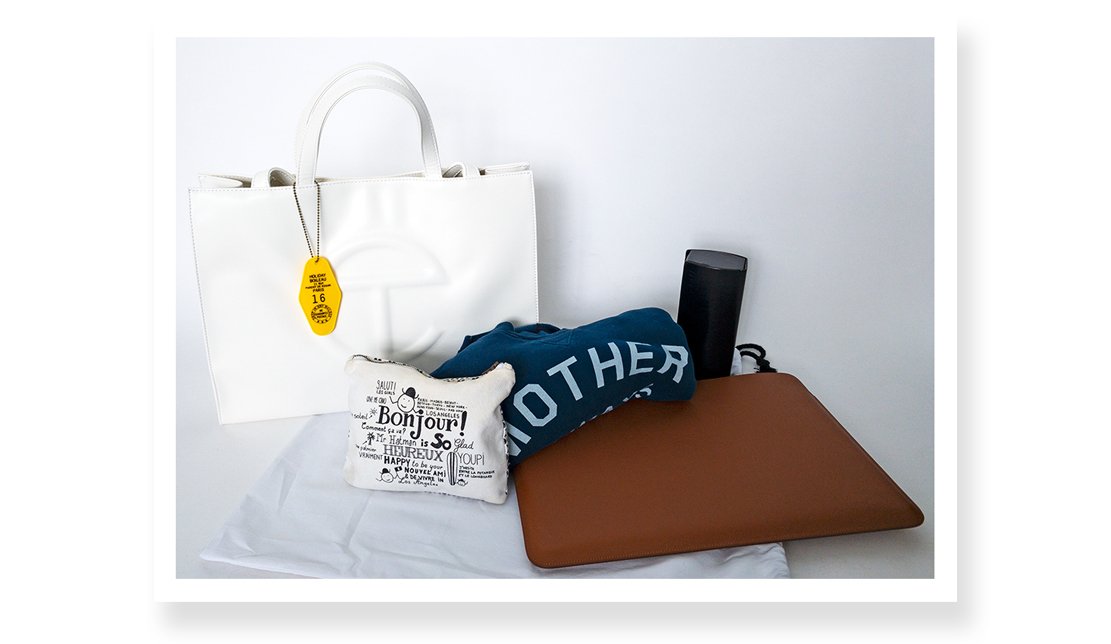 Laptop, essentials pouch, sweater, and sunglasses case.
When you've got your laptop and whatever else in there, I'd suggest carrying it by the handles because it's a little heavier.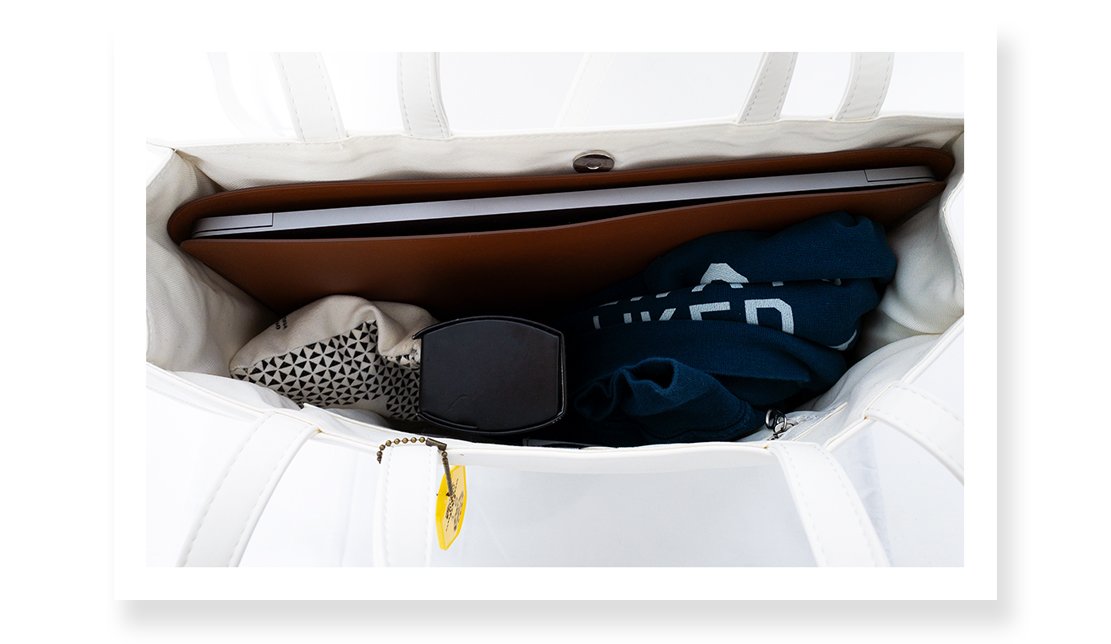 If you're decent at folding, you can also use it as a weekend bag: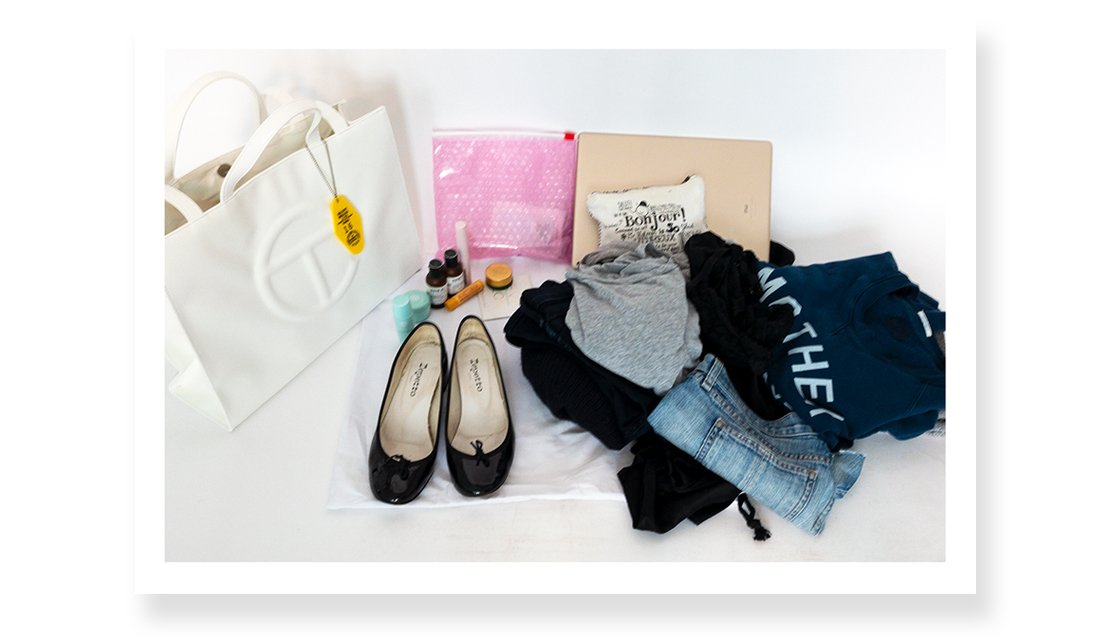 x2 tops, x3 underwear, x1 shorts, x1 pair of jeans, x2 sweaters, x1 slip dress, x1 pair of shoes, makeup case, x1 iPad.
The shoes will pop out and the bag won't be able to totally close, but it still works…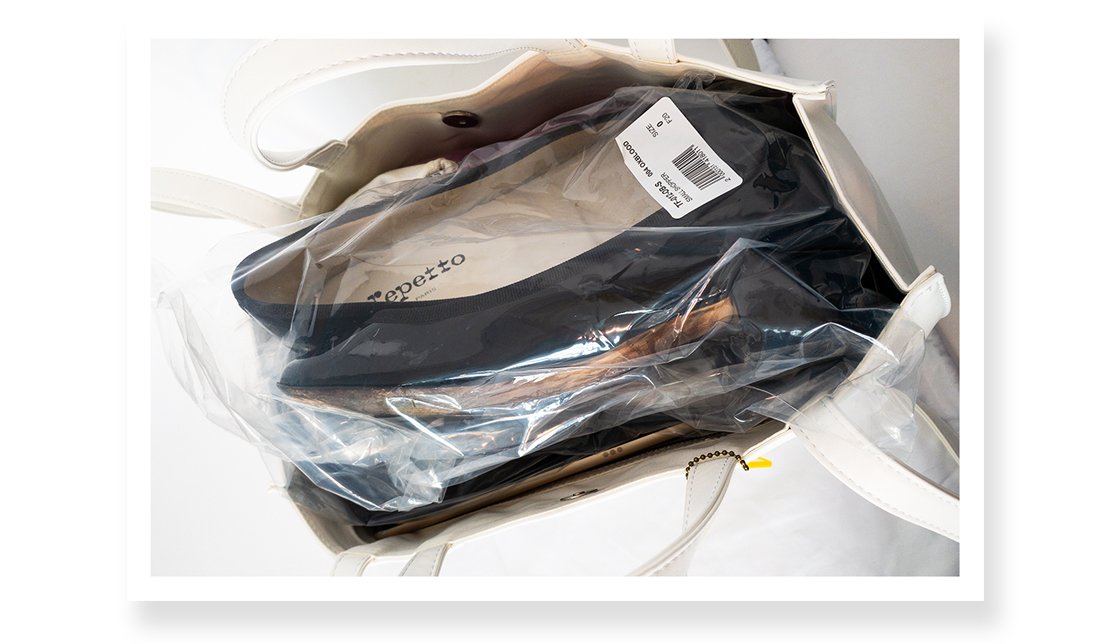 ---
How I'm Styling These Bags
Anyone and everyone can style their Telfar bag in any way they want.
As a result, I'm staying true to me and wearing them how I wear everything else…
Small Shopping Bag Outfits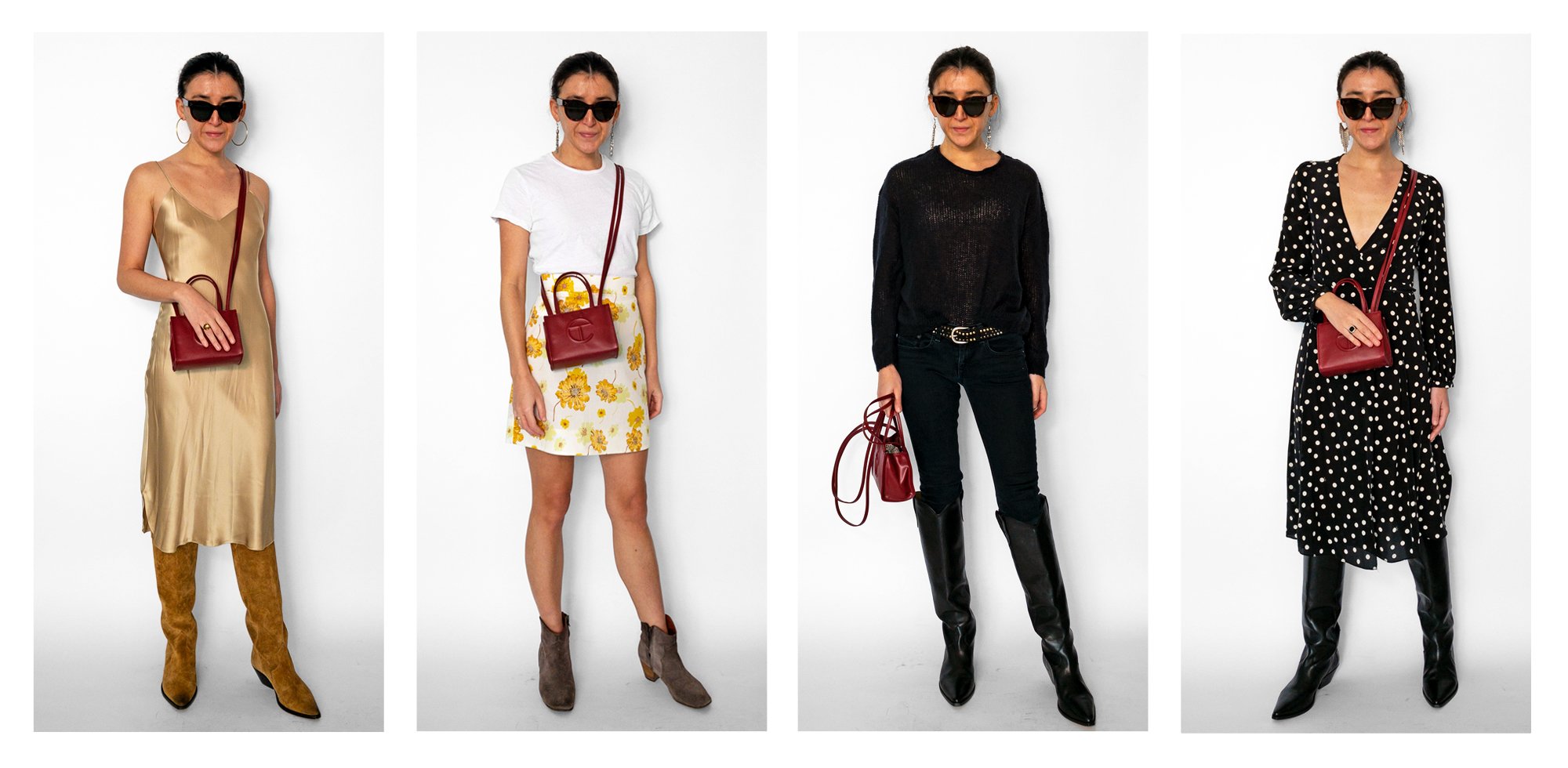 Left to Right: Nili Lotan slip dress with vintage earrings and Isabel Marant Denvee boots; the Vampire's Wife skirt with a Re/Done 1950's t-shirt, Isabel Marant x H&M earrings, and Isabel Marant Dicker boots; James Perse sweater with Rag & Bone skinny jeans, Isabel Marant x H&M earrings, Isabel Marant Devis belt, and Isabel Marant Denvee boots; Réalisation Par Violette dress with Isabel Marant Freak Out earrings, and Isabel Marant Denvee boots.
Medium Shopping Bag Outfits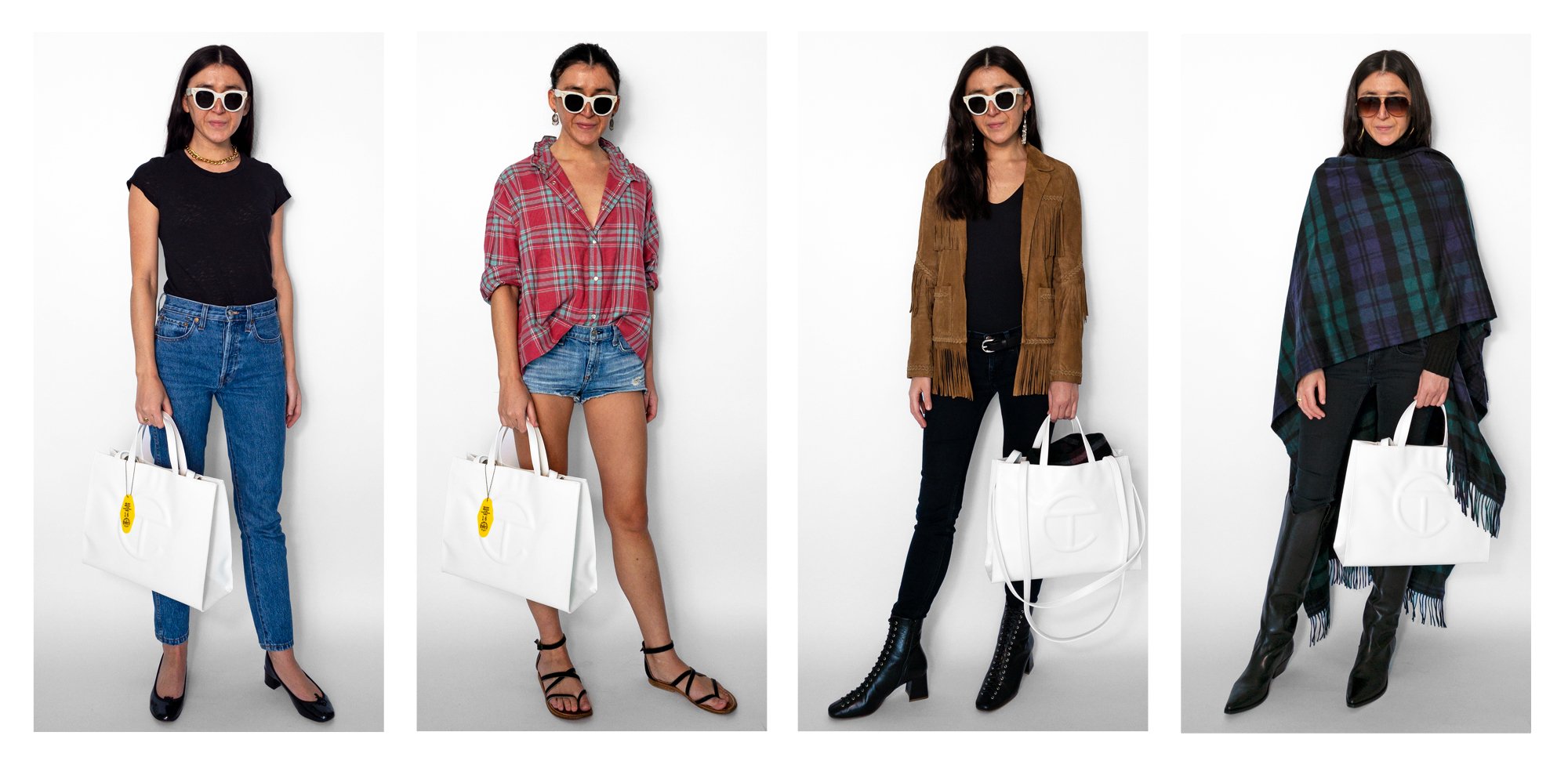 Left to Right: Rag & Bone t-shirt, Re/Done jeans, Dorsey necklace, and Repetto Camille flats; Isabel Marant Étoile Ilaria shirt, Rag & Bone shorts, vintage earrings, and K. Jacques Epicure sandals; Everlane bodysuit, Kate Moss x Topshop fringe suede coat, Isabel Marant x H&M earrings, Isabel Marant Zap belt, Rag & Bone skinny jeans, and By Far Becca boots; Nili Lotan Atwood turtleneck, Rag & Bone skinny jeans, Johnstons of Elgin wrap, vintage ring & hoops, and Isabel Marant Denvee boots.
---
How to Clean Your Telfar Bag
All Telfar Shopping Bags are 100% vegan leather.
To clean them, they officially recommend…
-Clean with cool water and gentle diluted detergent. Use a soft white cloth to gently remove marks.
-Do not wash in a machine or bleach
-Do not dry clean
It's important to only use water and diluted detergent with a soft white cloth to wipe the PU surface clean. Avoid using strong detergent that could bleach or damage the PU surface and avoid using any heat sources on the bag.
This could be considered sacrilege, but, Panamá, where I live, is under a pretty strict lockdown and I don't want to leave my house that often and I certainly don't want to take a handbag with me… but I wanted to see how easy it is to clean a Telfar bag — so, I took a dirty sandal and stamped (OK, more like smeared) it on the bottom my white Telfar bag.
… but, I'm also lazy and don't want to mix detergent & water, so I used an unscented baby wipe to clean it.
The marks totally came off and the vegan leather looks like new.
---
I love these bags… but you know what I like more? Telfar's entire spirit.
Before it-items were produced on a mass level, but priced for the 1%, and brands basically bought out Coachella, fashion was a space for everyone to be themselves. It wasn't just about buying $3,800 "new" Bottega bags or $429+ tickets to a "concert" solely for the ~Instagram post~. People had a playful, and mostly non-pretentious, open mind to what style and fashion meant — it wasn't just for The Plastics who could afford it.
To me, Telfar represents everything that was exciting about fashion in the beginning (OK, my interest in fashion's beginning, so I mean from like 2004-2009). When you'd have to get on a waitlist for a Jeremy Scott x Longchamp bag or Chanel Jade nail polish… when strangers on the street would hand out compliments on your outfit or ask how you got your mint green lacquered paws on that bottle of nail polish.
Maybe I'm simply stuck in nostalgia, or maybe I'm merely feeling malice for what Instagram/social media has done to the fashion scene, or worse, maybe I just sound like the girl who doesn't even go here, but Telfar is an incredibly inclusive brand in the fashion world.
… and their bags are so fetch.
Telfar Shopping Bags are available in drops from shop.telfar.net, the small bag retails for $150 USD, medium is $202 USD, and large is $257 USD. Sign up to their newsletter or follow them on Instagram to find out when the next round will go on sale.
Worldwide shipping (duties & taxes included!) is also available — my bags arrived directly to Panamá via DHL a week after they were shipped.
Alternatively, you could buy one secondhand from Vestiaire Collective or The Real Real, but honestly, re-sale prices can be so inflated and you don't know for sure if it's a replica… plus, I think it's more exhilarating to get one from a drop.
Note: newinspired uses affiliate links which costs you nothing… but means a lot to me. When you use these links, the money newinspired earns gets reinvested in blog content. Absolutely nothing on newinspired is "gifted," I purchase each item with my own money. Affiliate commissions are used to purchase new items to honestly & thoroughly review. If you found this review helpful, consider using them to support newinspired.
---
YOU MIGHT ALSO BE INTERESTED IN…