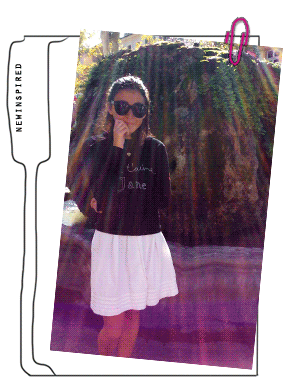 Name: Y.E.
Instagram: @newinspired
Location: The smallest Caribbean island and Panama
Favors: Isabel Marant + Étoile Isabel Marant (especially Isabel Marant SS13!!!), Rag & Bone jeans, Kate Moss Topshop (forever combing eBay for more), and whichever white t-shirt is freshest
She Says: "I don't know what I'm doing…"
Summer Style Summary: A mashup of Emmanuelle Alt mixed with Kate Moss and a dash of Alexa Chung from 2007 for good measure. Plus some Isabel Marant never hurt anyone…

I've never thought of myself as a particularly summery person.
Fall has always been my favourite season. Everything about fall is dreamy — the crunch of leaves on the sidewalk, cable knit sweaters, the snap of black tights… It's the dreamiest season.
Imagine my surprise when I got caught in an endless summer.
How does a city girl, whose wardrobe is basically all black jeans and Isabel Marant Dickers, adapt to the jungle climate of Panama and the desert dryness of the smallest Caribbean island?//How does her wardrobe adapt to this new climate?? What happens to her Bella Freud sweaters???
Finding a balance to my new summer fashion style is going to be tricky.
Because wearing a Balenciaga moto jacket to a beach bar is (apparently) ~weird~…
How do I find my new cool summer style without compromising my integrity?
How do I integrate my favorite celebrities' summer style into my own?
My MO for dressing has always been wear what you feel comfortable in and what makes you feel the most comfortable. Pre-heat, when I lived in New York City for five years, that meant skinny jeans, boots, and a white t-shirt. I felt comfortable, confident, and cool in that uniform. But that doesn't fly here.
How do I find a new summer uniform that makes me feel 💯 again?
With this summer fashion style blog, I'm going to try to navigate summer fashion do's and don'ts and write reviews on my favourite new summer style finds along the way. Side note: super cringy and generic paragraph, but I just wanna get that out there so we all know what to expect.
Let's see what happens…
With any luck, I'll get newinspired and my style will end up like one of these summer fashion style girls 💁