Dearest readers, it is with regret that this author informs you that they were late to the party ball. However, it is with good reason that they write to you now. Bridgerton has wholly captured this author's heart. If this was the Regency period, and social season, this is what this author would buy to set the ton abuzz…
Item(s): Ladies first…
1- The Real Flower Company, Cream and Ivory Pick of The Day
2- Black Halo, Reggi Dress
3- Alice + Olivia, Rosalyn Tiered Maxi Dress
4- Agua by Agua Bendita, Embroidered Puff Sleeve Linen Maxi Dress
5- Loretta Caponi, Stefania Maxi Dress
6- Dôen, Lupine Broderie Anglaise Maxi Dress
7- Georgian Era Diamond Dangle Earrings
8- Cornelia James, Severine Opera Gloves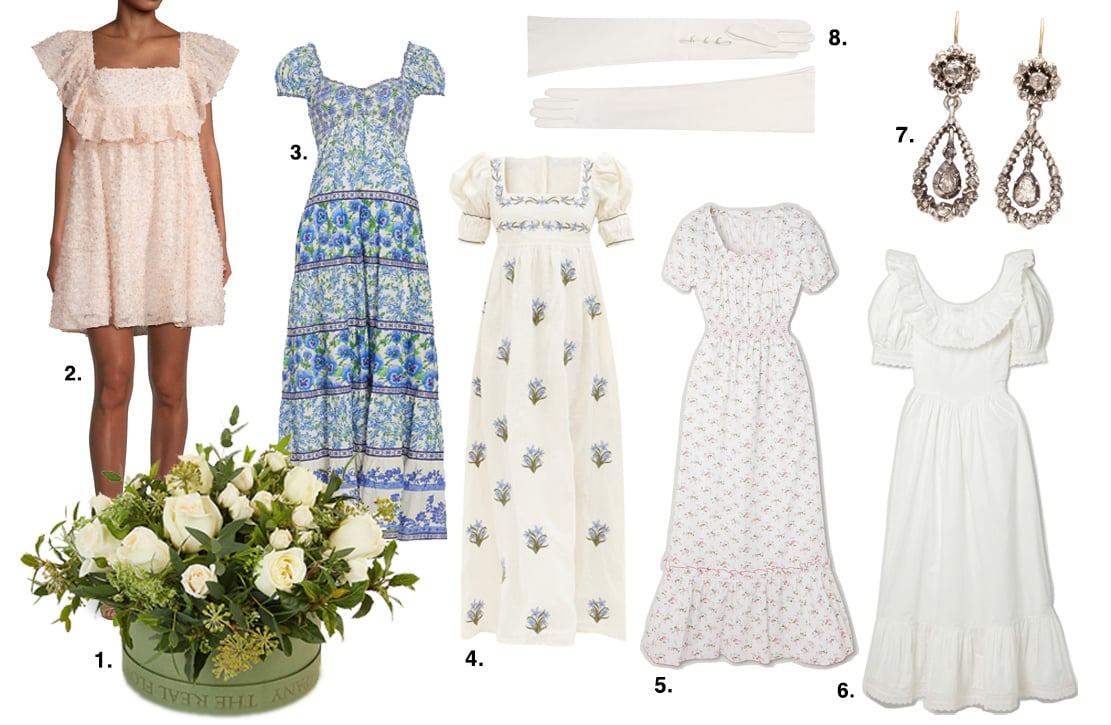 Reason(s):
1- Aside from the costumes (and character plots), the abundance of flowers captured my imagination. These are quite pretty and elegant, just like the Bridgertons.
2- It was tough to find a long dress with floral appliqués, however, for a contemporary take, this dress from Black Halo is perfect.
3- An Aubrey Hall appropriate dress — perfect to wear while you best the Bridgerton boys in pall-mall.
4- Probably the best dress to take a promenade in.
5- This Loretta Caponi dress looks more like a night gown in today's day and age, and maybe then it would be considered that as well, but it's cute.
6- Leave it to Dôen to make Bridgerton-y dresses…
7- Do you think someone would wear these earrings on a walk? I would.
8- A true lady requires a pair of opera gloves — and what better than a pair from Cornelia James, who has a Royal Warrant Appointment from Her Majesty The Queen.
Item(s): Now onto the gentlemen ladies who'd like to emulate the gentlemen's style…
1- Nili Lotan, Paris Cropped Pants
2- Ralph Lauren, Velvet Tailcoat
3- Ruslan Baginskiy, Embellished Felt Hat
4- Georgian Era Chandelier Earrings
5- The Flower Company, Romantic Juliet Bouquet
6- Hermès, Dressage Stick
7- Georgian Era Ring
8- Ralph Lauren, Tailcoat Blazer
9- Ralph Lauren, Riding Pants
10- Hermès, Jumping Boots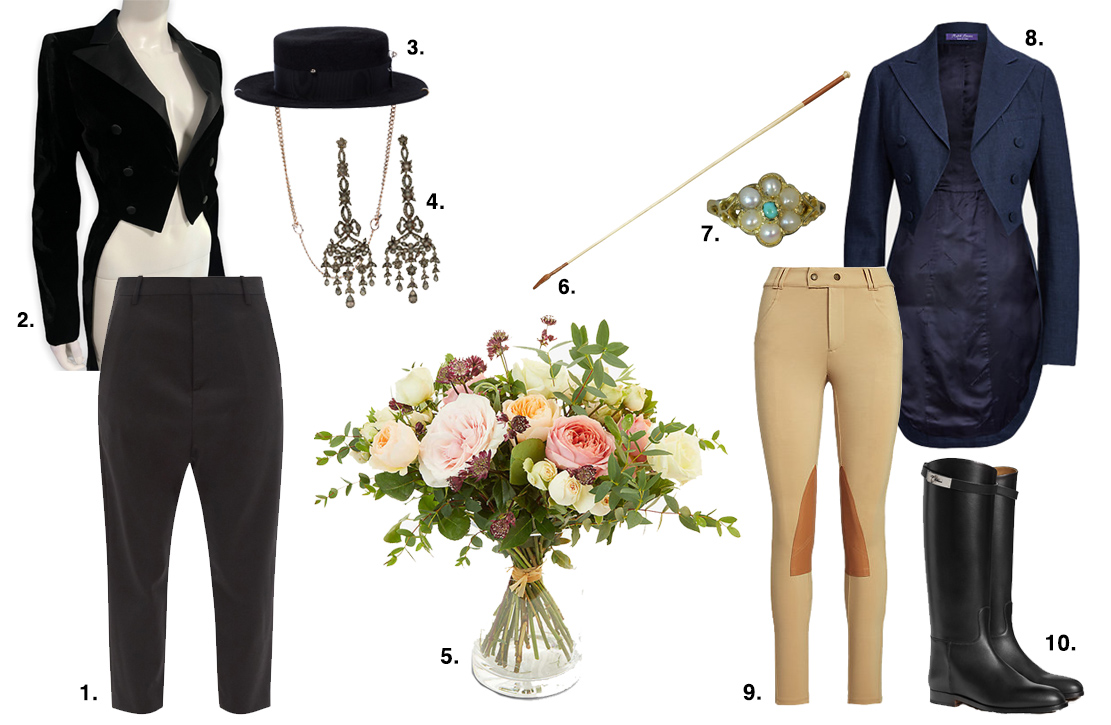 Reason(s):
1- The wide hip space in Nili Lotan's Paris trousers remind me of breeches.
2- Velvet tailcoats only, please — I swear, they are my favourite part of this show (after the Duke and Daphne's tension and Anthony and Kate's denial of their love).
3- A more modern take on the top hat that won't fall off your head at the ball.
4- Georgian era chandelier earrings (c. 1830) that are fit for a Bridgerton ball… or, jeans and a t-shirt ~200 years later.
5- While I was watching, I kept thinking about how everyone's breath must have smelled and then thought they likely smelled too. So flowers were/are definitely a necessity to mask any odours.
6- Only the best dressage stick for the Bridgerton brood…
7- Doesn't this 1820's ring remind you of Anthony's engagement ring?
8- Perfect promenade jacket.
9- Do they wear riding pants when they go for walks? IDK, but I still like the combination against the blue jacket.
10- These boots look great for horse-related activities or strolls around the park.
---
Honestly, I'm surprised that a- I got into Bridgerton and b- thoroughly enjoyed it.
… but, I'm not surprised that I enjoy Penelope's delicate floral appliqué dresses and Colin Bridgerton's blue velvet tailcoat jackets more than anyone else's costumes.
Are you a bigger fan of the Regency cap sleeve dresses or the dapper tailcoats?