Hiding any bias I might have to Étoile Isabel Marant (and Isabel Marant) is useless.
At this point it is clear: I (like many, many others) have a total dedication to Isabel Marant.
I'm totally not an Isabel Marant robot (well, I'm not an Isabel Marant robot most days). But I do sprinkle a lot of her clothes, accessories, shoes, and even those tote bags you get with a purchase into my day-to-day looks…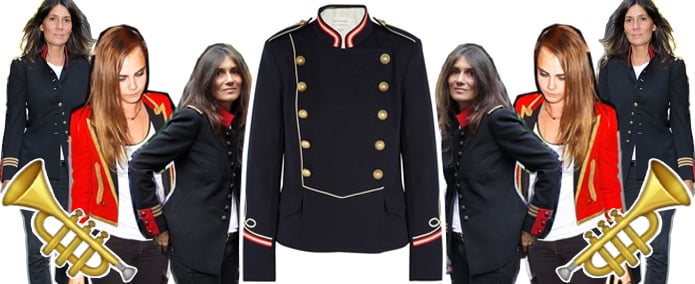 Now, this is totally unbiased, this new Étoile Isabel Marant naval inspired military jacket from net-a-porter, it is pretty much all I need in this world. That and maybe the 2016 Chanel mules… And if we're making a list, why not add a tall, dark, and handsome man? I'm getting carried away.
Do you remember The Libertines' album, Up The Bracket? And the music video for the titular song?
From 2004-2007, the height of my obsession with The Libertines, the red military jacket was the goal. Perfectly polished brass buttons, strong shoulders with epaulettes, and a piped cording all around… Ahhh, to dream! Especially when the Stella McCartney x Gap Kids version sold out in seconds (and still goes for $300 USD+ on eBay).
This new Étoile Isabel Marant Milford jacket, it ticks all the boxes:
Fulfill 2003 Pete Doherty dressing dreams? ☑️
Potential Emmanuelle Alt inspired outfits? ☑️
Get to indulge my Isabel Marant obsession? ☑️
With a jacket like this, you can wear the simplest outfit with it. Look at Cara Delevingne's outfit. Or Emmanuelle Alt's…
Both women know where the power of a military jacket lies: in the restraint you can show while styling it. White or black t-shirts and a simple bottom and shoe… The military jacket takes centre stage.
The Étoile Isabel Marant Milford jacket is available on net-a-porter.com for $665 USD.