Name: Isabel Marant and Étoile Isabel Marant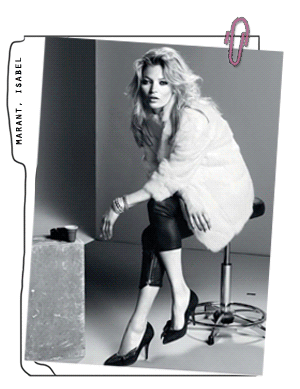 Founded: 1994
Instagram: @isabelmarant
Location: Paris
The Look: An inherently-stylish Parisienne look; a modern-day nomad, but always where she needs to be, this girl has memory-box full of backstage passes and tokens from around the world
Fundamental Fashions: Cowboy-street boots (Dickers), wedge sneakers (Bobbys and Becketts), the over-sized pea coat, a toned-down yet still a statement belt, and printed jeans
Style Summary:
Season after season, in true Isabel Marant fashion, Isabel turns out hit after hit. With a following that includes top models Kate Moss, Gisele Bündchen, and Lily Aldridge, and under Emmanuelle Alt's (from 2007-2011 Alt styled the brand) guidance; it is no wonder Isabel Marant (the brand and woman) is as inimitable as it is.
Isabel Marant was founded in 1994. Six years later, Isabel added Étoile Isabel Marant as Isabel Marant's diffusion line. The two labels compliment each other and allow for mixing and matching. Both share a laid back sense of chic cool with contemporary French cuts. Add in pieces from her line with H&M from 2013 and you have the perfect Parisienne wardrobe without having to leave one fashion house.
It's a one-stop shop where you don't run the risk of looking ridiculous when you wear it head to toe. The personality that Isabel Marant has injected is plenty, but she leaves just enough room to let you add your own dream-self to the outfit…
Talking about the dream Isabel Marant woman, Isabel said to RUSSH Magazine (article oddly since removed from the internet):
I think it's just a woman who wants to have a strong personality but without being totally dressed up, who wants to be different but in a discreet way. And she's usually a rather active, entrepreneurial woman, who needs to feel good in her clothes without trying too hard.
Isabel Marant's fashion makes you feel like that ridiculously cool Parisienne who sits in cafés in the middle of the afternoon. With the zip of a boot, you're a super cool rock star's girlfriend, or at least you feel like one. You might be in the middle of nowhere, but you could swear you're somewhere far away. Isabel's labels balance making a statement and being simple. She gives you direction with embellishments and embroidery, but there's room for who and what you want to portray with her fashion at the end of the day.