Everyone has that one piece of jewelry that makes an outfit go from a 7 to a 10.
Well, everyone but me. At least that's what it feels like.
Kendall Jenner has those intricate body bracelets, Kate Moss has her ear full of rings, and Lily Aldridge has those delicate necklaces.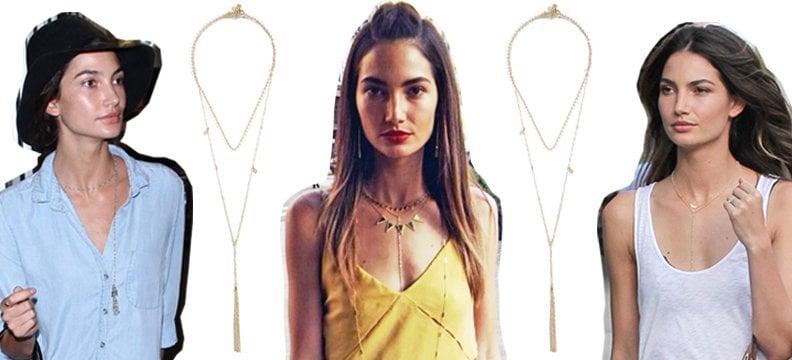 Since I only spend maybe four days out of the month in a bathing suit (Mikoh if I'm having a good day), the Kendall body bracelets are a waste of time. The first (and last) time I had my upper-ear pierced it got infected. Badly. I got put on anti-biotics, took out the earring, and then wondered why I just wasted $250 on the stupid thing. So no, I no longer want an ear filled with jewelry like Kate Moss'. But that simple long necklace like Lily Aldridge? I'm intrigued.
Net-A-Porter received this gem from Isabel Marant. Groan, more Isabel Marant on this blog. But what can I say I'm obsessed. Always have been, always will be. Especially with SS13, ugh Hawaiian Elvis, could anything be better? In between scouring The Real Real (just purchased my first piece from them, so excited to see how accurate they were) or eBay, I have to fill my Isabel Marant time somehow and that's with the new arrivals…!
Anyways, back to this necklace. It's basically perfect. The price is a pinch steep for non-"real" jewelry. But it is gold plated and it is two necklaces in one… And the details on the smaller chain give it so much character, while the tasteful tassel on the longer one adds a tier of intrigue.
Some people (ahem, Alexa Chung) might argue that some brands (and clothes) like Isabel Marant do all the hard work for you. This necklace could be an example of that. But I don't agree with that (plus, Chung was talking about a red blouse). Sure, Isabel Marant has given you exactly which necklaces you should wear with it. But she only takes you that far. It's still up to you to style it with your everyday or night looks (without coming off as a total Isabel Marant clone).
Let's turn to Lily Aldridge (who wears Isabel Marant like no other) for how to style a long necklace like this. Lily is arguably the master of taking a super simple outfit and making it something special. She has a knack for bringing a garment to life. Maybe what they need is a radiant smile and not a long Isabel Marant necklace… In any case, I can't purchase a new smile but I can purchase a necklace!
Lily has the confidence to wear the long delicate tasseled necklace during the day with a simple outfit; a button down and jeans or even a white tank top and jeans. And she knows that it brings a subtle shine to it. Then at night, a plunging neckline brings the necklace to centre stage.