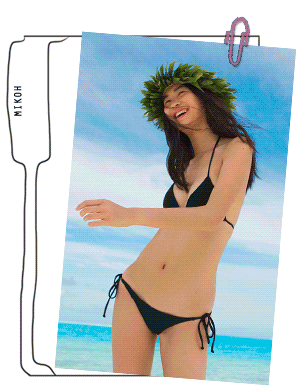 FOR MY MIKOH SWIMWEAR REVIEWS, CLICK HERE
Name: MIKOH
Founded: 2009
Instagram: @mikoh
Location: Long Beach, California
Fans: Gwyneth Paltrow, Rihanna, Lily Aldridge, and basically every Sports Illustrated swimsuit model
The Look: Laid back, but luxe. The Mikoh girl is a refined beach babe who knows that the secret to happiness is the sea, vitamin D, and a proper fitting bikini
Fundamental Fashions: Tight bikini tops like the Banyans, barely there bottoms — see the Dreamland bottoms, the Santorini one piece, and the Cardiff hooded caftan
Summary:
A fresh transplant to the Caribbean/Panama, finding the best bikini (and coverups) brand has been one of my top style priorities. Buying them has always been like pulling teeth to me. Too tight, too loose… Nothing fits my frame how I want it to.
My sister, an avid amateur surfer stumbled upon Mikoh mid-2011. She ordered a few pieces of Mikoh's swimwear and instantly fell in love. All pieces are seamless and hardware free, so they're as tight as they come e.g. there won't be any slippage or fallout when you're swimming, surfing, or sunning (like me).
Mikoh was started by two sisters, Oleema and Kalani Miller. Raised in Orange County (the real O.C.), these girls know swimwear. And beach style.
For super simple swimwear, these suits have so. much. style. The strappy backs and long stringed sides… Swimsuits come in a base range of shades from "night" (black) to "plumeria" (a yellow/green) and about four different blues in between. New colours and prints are added each season — with most of the prints coming from the sea (e.g. whitewater, cowry shells, leopard sharks, etc…).
But, it's hard to put your finger on the exact Mikoh vibe. We know that it's luxe. Like a "wear your Cartier Love bracelet with it" kind of luxe. We know that it's cool. Like a "always ready for a weekend getaway" kind of cool. We know that it's laid back. Like a "I woke up like this" kind of laid back. And we know that it's simple. Like a "build your outfit on top of it, but you can still wear it alone" kind of simple.
Mikoh's simplicity (and cool laid back luxe vibe) gives a foundation to make your own mark. The swimwear and cover-ups (everything from rompers to the dreamiest hooded caftans (in black or white so they don't detract from your bikini)) are cut so they look perfect alone, but still ready for the next level with a few carefully chosen accessories. Add a pair of aviators to a white suit like Gwyneth Paltrow or gladiator sandals to a white flowing cover-up dress like Kourtney Kardashian and you're beach ready.
The greatest testament to the perfection of Mikoh swimwear? Every year for the past five years one part of Sports Illustrated's swimsuit issue has remained the same (other than Kate Upton): Mikoh swimwear featured on the models. If that isn't proof of Mikoh's desirability (both to men and women), I don't know what is…