When I lived in the New York, I only needed a bathing suit for a handful of weeks throughout the year.
Investing in multiple pieces of swimwear did not matter to me.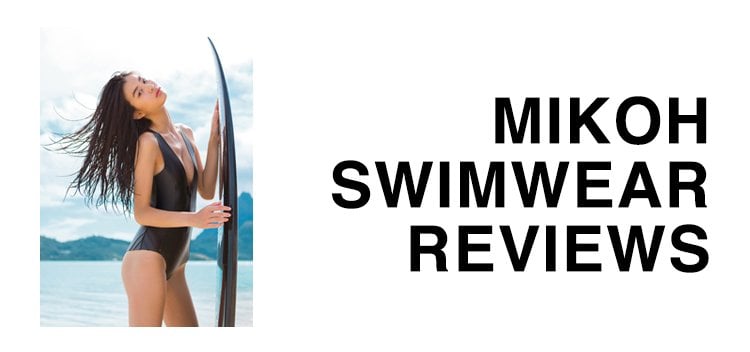 A recent move brought me back "home" to the Caribbean and all of the sudden, sleek swimwear became an essential.
My sister raves about MIKOH and well, your older sister always knows best, right?

Right.
… and so, my MIKOH obsession began.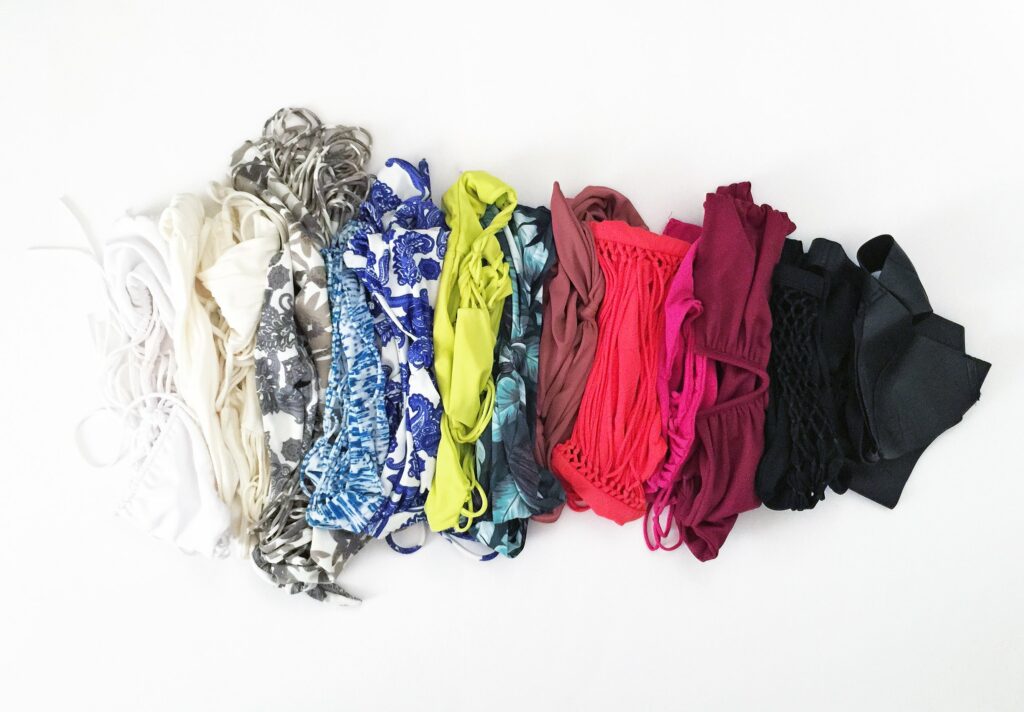 MIKOH is the only swimwear brand that has checked off everything I need in a bathing suit… which is why I've ended up with so many.
–Fit: Most people make the mistake of ordering a bathing suit that doesn't fit them properly — my ideal bathing suit can flatter my flatter bum and lift up my smaller chest. ✅
–Look: Needs to be cute, duh. ✅
–Quality: Has to withstand the saltwater, sun and sunscreen. ✅
In these reviews, I'm going to cover all the bases.
To compare how these suits fit on me, I'm 5'5.75" and weigh from 111-113lbs.
… and for reference, in other swimwear brands I take:
–ACACIA, size XS for tops and medium for bottoms
–Matteau, size 1 for top and 2 for bottoms
–Solid & Striped, size S
My clothing sizes run:
-US 2, in HVN or Reformation
-Small, in t-shirts
-UK 6-10, in ALEXACHUNG or RAEY
-FR 34-38, in Isabel Marant or Rouje
My other denim short sizes run below:
–Acne Studios denim shorts, size 25
–AGOLDE, size 25
–Citizens of Humanity, 25
–Levi's 501 shorts, 26
–Re/Done, size 26
-Rag & Bone Mila shorts c. 2010, size 25
For MIKOH bathing suits, you need to consider that you want the bottoms to be tight (it'll make your bum look better, I promise) and the tops to be even tighter (you'll be amazed how these tops lift).
Generally speaking, I take an Extra-Small (or Small) for tops or a size Medium (or Small) for bottoms.
Mikoh Reunion Top and Mikoh Zuma Bottom
Super sweet top and fully-covered bottoms, what more could you ask for?
Reunion top: When I first saw it I thought it would just snap in half, but it doesn't.
It's the classic bandeau, only the V is way deeper than most. It would look equally amazing on a girl with more cleavage as it does on a less cleavage-y me.
My Reunion top is a size up from the Banyans top, it's a size small. It does slightly slip off when I go swimming. I would consider sizing down, but the small is just so comfortable that I'm not sure if it's worth it for a bit more boost…
⭐️⭐️⭐️⭐️⭐️/⭐️⭐️⭐️⭐️⭐️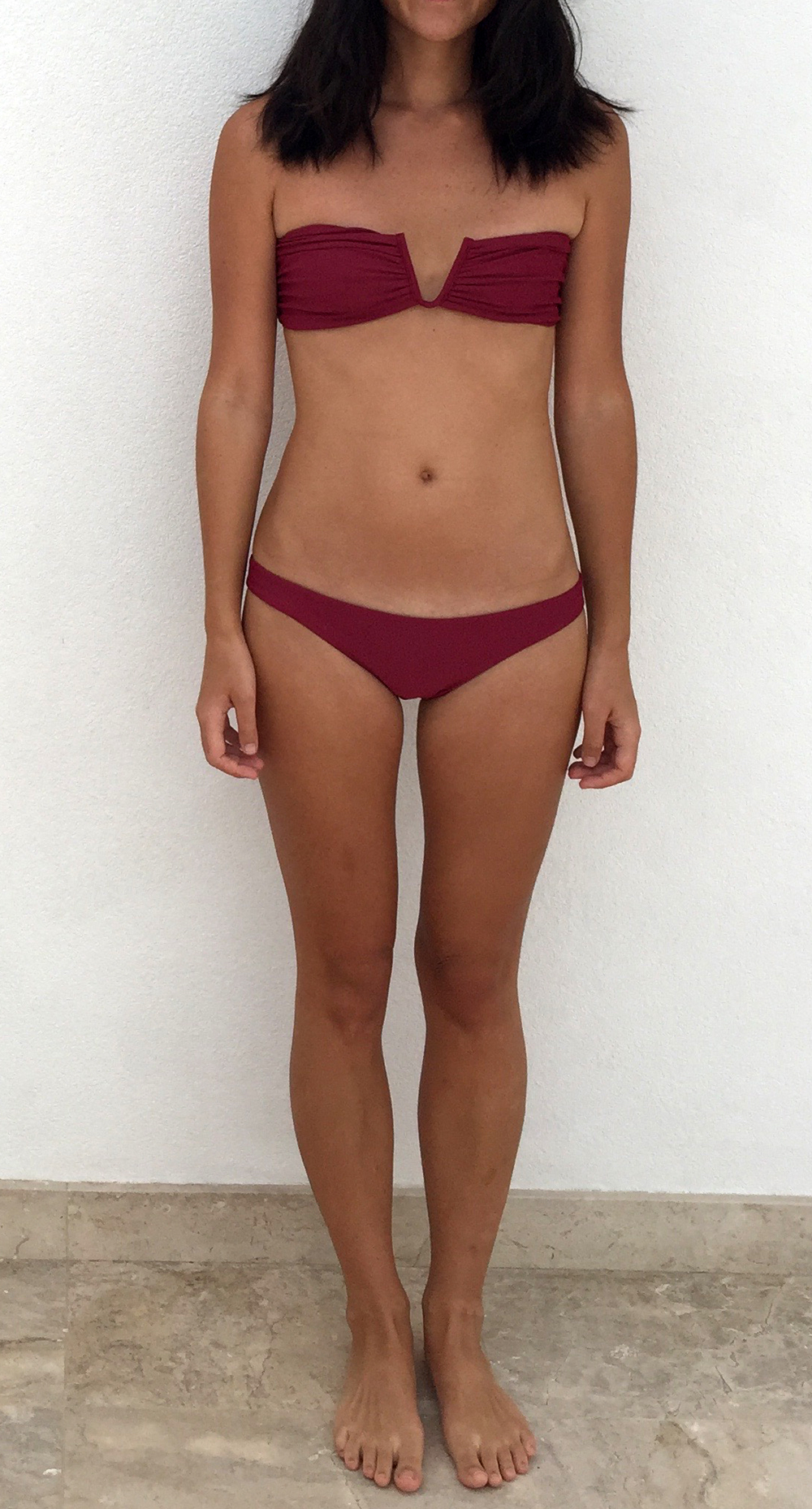 Can we talk about this colour? It's called "pomegranate," it's my second favorite Mikoh swimwear colour. The light burgundy colour adds a light bohemian feel.
Zuma bottoms: I'm shyer when it comes to bathing suits… I've only just started to get comfortable in cheekier ones. These are the perfect bottoms for a little more coverage.
My Zuma bottoms are a size medium, so a size up from my Lanai bottoms. They fit a little bit more snug, likely because they don't have string detailing on the sides. They are so comfortable, do not cling in bad places, and are quite flattering while being modest at the same time.
⭐️⭐️⭐️⭐️⭐️/⭐️⭐️⭐️⭐️⭐️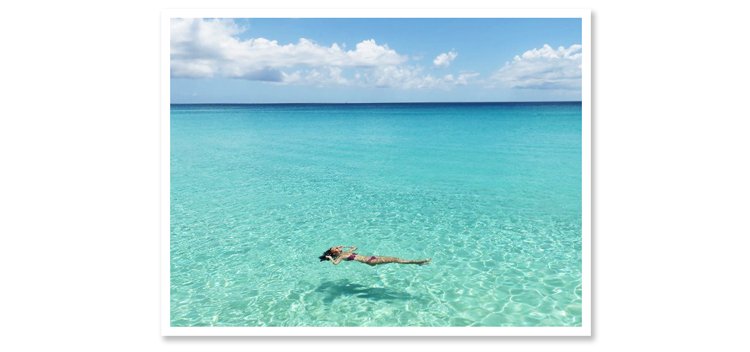 Mikoh Hermosa Top
Hands down, my favourite MIKOH bathing suit top.
A sleek bralette style top, the Hermosa lifts up smaller chests, while the straps ensure that everything stays in place.
I take an extra-small to give me an extra lift.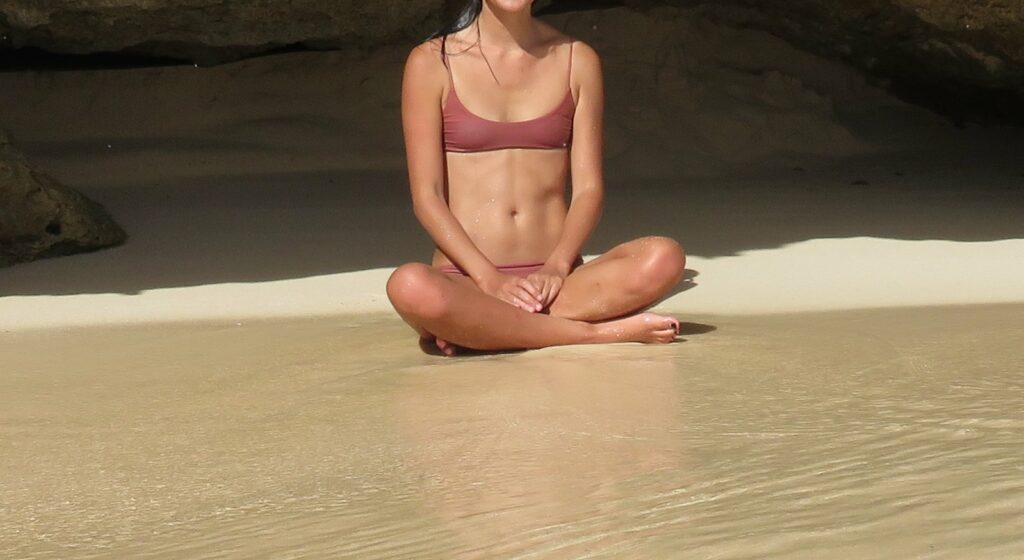 Mikoh Banyans Top and Mikoh Lanai Bottoms
Probably MIKOH's most famous bikini combination and for good reason…
Banyans top: I'm paranoid of weird tan lines, but for this bathing suit, I let it slide. The back of Mikoh's Banyans top, just looks so beautiful. It frames your shoulder blades so beautifully. It also gives your bust an amazing lift, so so sooo flattering for a smaller chest. This one is extra small.
⭐️⭐️⭐️⭐️⭐️/⭐️⭐️⭐️⭐️⭐️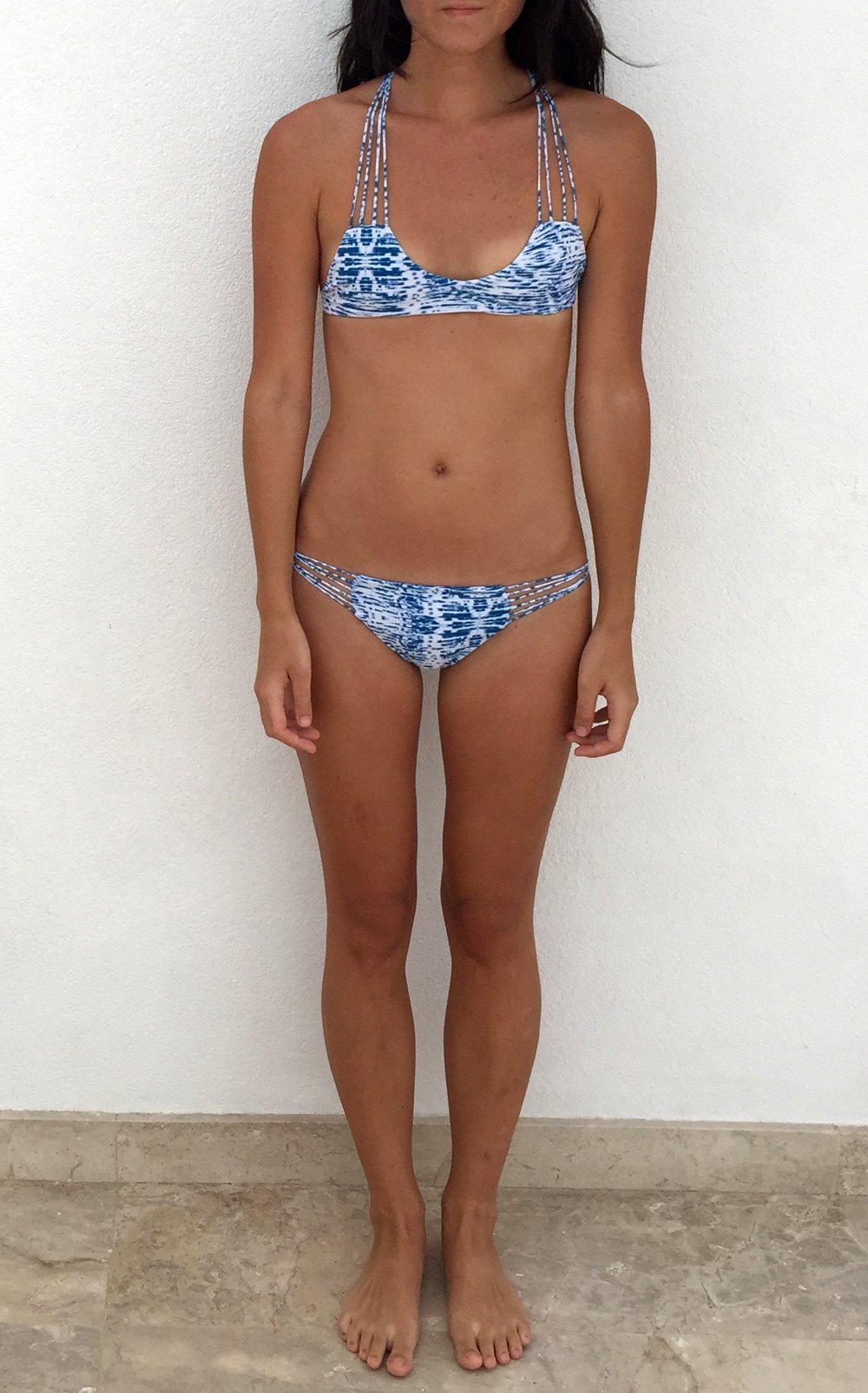 Lanai bottoms: The Lanai bottoms have to be the best out of all Mikoh bottoms. The looped string sides does an incredible job of slimming your hips. The back is cheeky, but because of the stringed sides everything looks good. And the coverage on the front is also just great, nothing to be uncomfortable about. These are a size small.
⭐️⭐️⭐️⭐️⭐️/⭐️⭐️⭐️⭐️⭐️
Mikoh Carmel Top and Mikoh Valencia Bottom
This is my favourite Mikoh colour. "Lychee" is part of their permanent collection. It is unreal. I have never seen a bikini colour that is this beautiful. The colour is this perfect pinky-tan with a cool undertone shade of unreal.
Also unreal is Mikoh's paisley print (photographed below) — so good.
Carmel top: It is a gorgeous top. It's an extra-small because I wanted a little more lift. I have it in a size up and it still looks good… But a size up also slips more easily and doesn't hug things together as much… In either size, I love how this top looks though. You will want to twist the back so that the knot comes out on top though and doesn't dig into your chest. Such a beautiful bandeau Mikoh bikini top!
⭐️⭐️⭐️⭐️⭐️/⭐️⭐️⭐️⭐️⭐️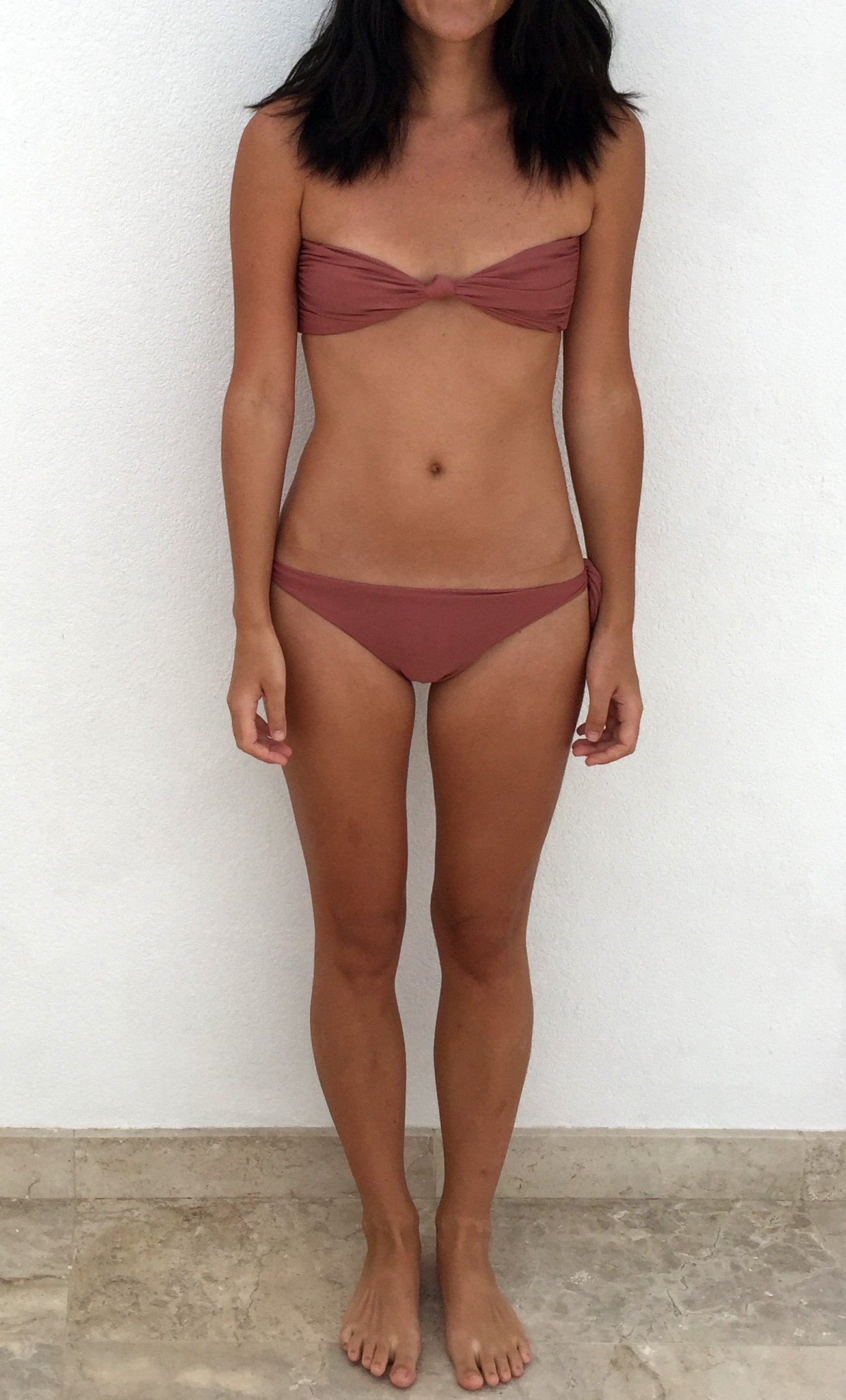 Valencia bottoms: Like the Zuma or Venice bottoms, size up. These are a medium and just right. These are adorable and made to be worn with the Carmel top. The only trouble is that the material is a bit slippery so you have to make sure you got a good knot! Good thing for me, my sailing years come in handy and a tight reef knot makes sure they don't slip. They feel cheekier than the Lanais, but really I think they have the same coverage.
⭐️⭐️⭐️⭐️+.5/⭐️⭐️⭐️⭐️⭐️
(-.5 for knot slippage)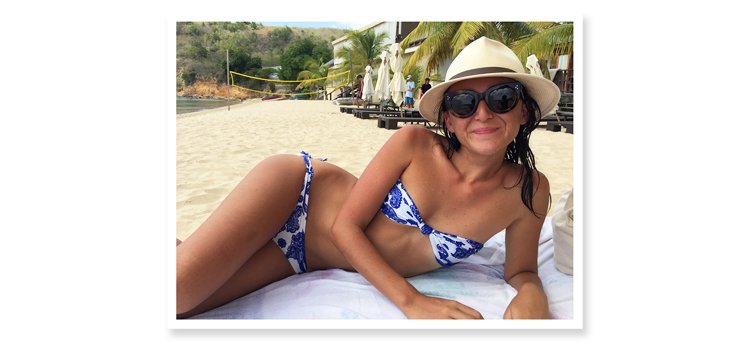 Mikoh St Thomas Top and Mikoh Croatia Bottom
Note: Since discontinued, but it does look almost identical to the Sunset top and Kapalua bottoms. The Velzyland bottoms are also quite similar.
St Thomas top: This is in an extra small and is basically a dream. It stays in place, you can scrunch it up to get more sun, and the back is just beautiful. Also, the bright coral colour is perfect for the Caribbean.
⭐️⭐️⭐️⭐️⭐️/⭐️⭐️⭐️⭐️⭐️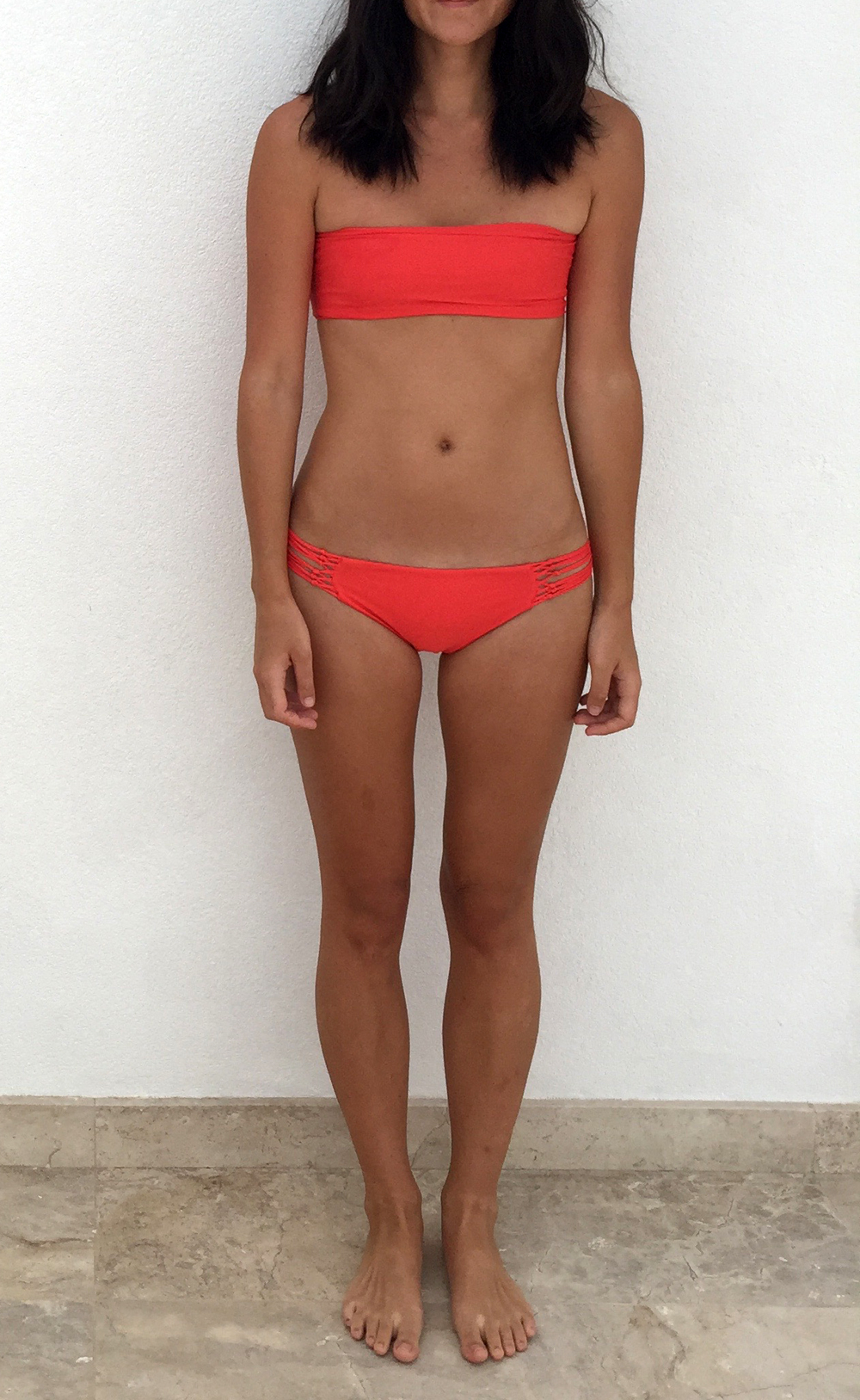 Croatia bottoms: These just feel cool. SO much more string than the looped Lanai ones, these are a size small (perfect size). I don't know what to say other than they just look so cool on… So, they're flattering, comfortable, and cool, what's better than that?
⭐️⭐️⭐️⭐️⭐️/⭐️⭐️⭐️⭐️⭐️
Mikoh Santorini One Piece
Note: Since discontinued,however their Waikele is super similar.
One pieces you always think a bit mumsy, right? Not with MIKOH's one pieces. This Santorini one piece is so elegant and so sexy and so sleek. The front totally covered in a tube top, then the stringed back and then the cheeky bottom, oh it is so beautiful! It just sucks everthing in and flattens it out. It is such a flattering swimsuit. Beware though, it's a lil tricky to get in and out of…! Because of my Yoga with Adriene progress I'm able to contort my body in and out of it. The next Mikoh one piece I buy, I'm definitely sizing up to a size small.
⭐️⭐️⭐️⭐️+.5/⭐️⭐️⭐️⭐️⭐️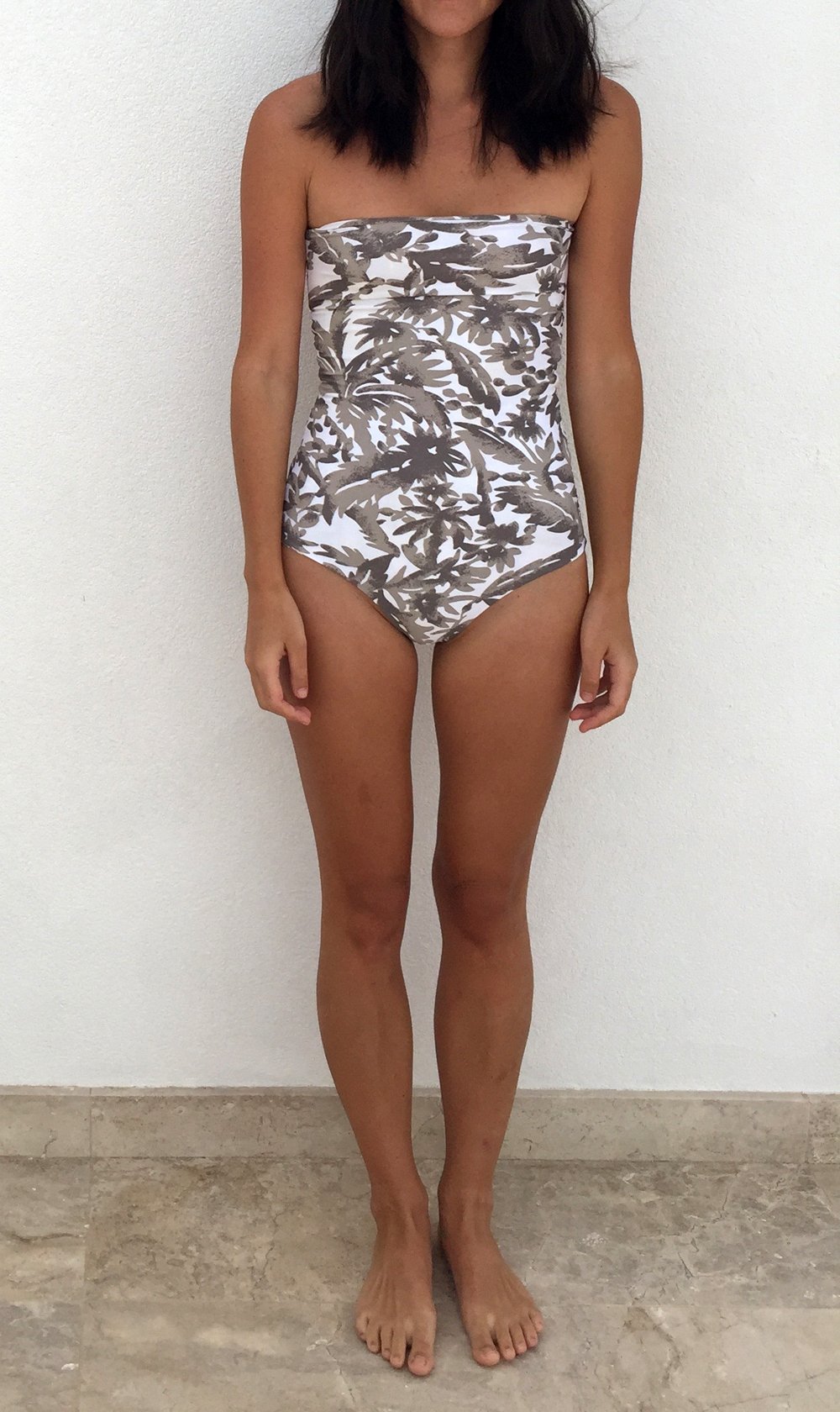 ---
My Sister's Picks
(i.e. the suits she doesn't share)
For the sake of this corner, let me elaborate on my sister. She likes simplicity, she loves to surf, and spends a ridiculous amount of time in the sun and water.
Mikoh's Uluwatu and Maui tops and Mikoh Rockies Bottom
Note: Since discontinued
This is my sister's all time favourite. The combination she wears the most. Actually, she basically lives in it because it's so perfect for her.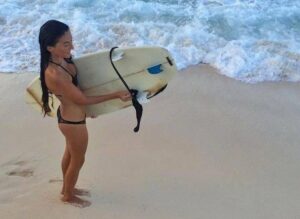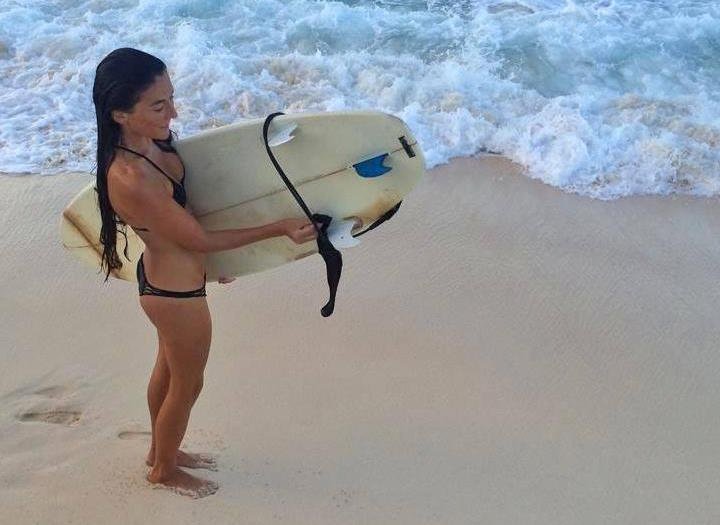 It is also her go-to for surfing. Simple, hardware free, tight, and everything stays in place so she can focus on the waves and get a good tan at the same time.
Also highly recommended from her, the Honolulu top with Praia bottoms. The top is super flattering, like SUPER flattering… Like wow this top works for you. Actually, Mikoh's Honolulu top doesn't just work for you, it puts in over time. Hands down, the most flattering Mikoh swimwear top. The Praia bottoms are definitely not for the faint of heart, they are super tiny, but with the right confidence they look amazing.
---
MIKOH bikinis are expensive, but worth it.
Super flattering cuts, timeless colours, gorgeous seasonal prints, and a cool Hawaiian vibe for everyone.
Counterintuitive, but MIKOH's small & tight cuts make you feel confident and beach ready.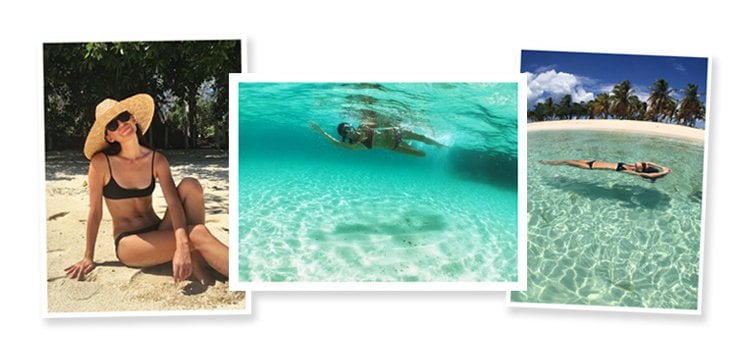 Memorial Day in Montauk to the black sands of Coronado, Panama and a stopover in Anguilla, MIKOH's swimwear works for any beach. They're adaptable. Mix and match tops and bottoms, add some jewelry, wear the coolest sandals, or the simplest ones… These suits let you be in charge.
Available on MIKOH.com or Shopbop for 15% off your first order if you sign up to their mailing list.
Let me know in the comments if you need any MIKOH sizing help or have any questions!
Pro tips:
1- MIKOH sales exist on their website at random times (think: Coachella, Memorial Day, etc…). Ranging from 10-25% off (50% off for Cyber Monday!), sign up to their mailing list or follow them on Instagram to know when the next MIKOH sale is.
2- Consider sizing up for basic (non-detailed) bottoms (that includes the Valencia bottoms) as they can run smaller.
3- For a smaller bust consider sizing down from your normal bathing suit top size for more oomph. But beware, they can be tight. If you size down for that extra lift, you will sacrifice your ability to get in and out with ease…
4- Order from MIKOH's site if you can — they take so much care in their packaging. If you order from MIKOH directly, your bathing suit gets delivered in the cutest little travel pouch (which is meant for transporting your wet bathing suit, but I use for makeup)!
You might also be interested in…