After I first stepped foot off the plane in Anguilla, ready to call it home for the foreseeable future, I realised that there was one thing I did not plan for:
Solid swimwear.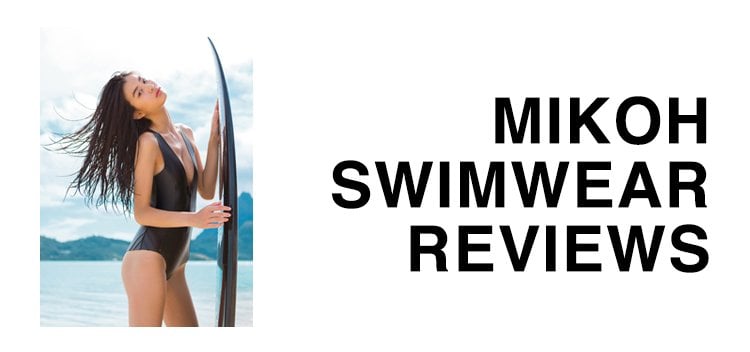 My sister raved about MIKOH bikinis and, well, I do everything she says, so I bought a few too.
… and so, my MIKOH obsession began.
Now, seven years later, MIKOH has changed most of their styles to version 2.0 or have completely gotten rid of various cuts.
Our old favourites, like the Banyan top, Hermosa top, and Lanai bottoms are now long gone…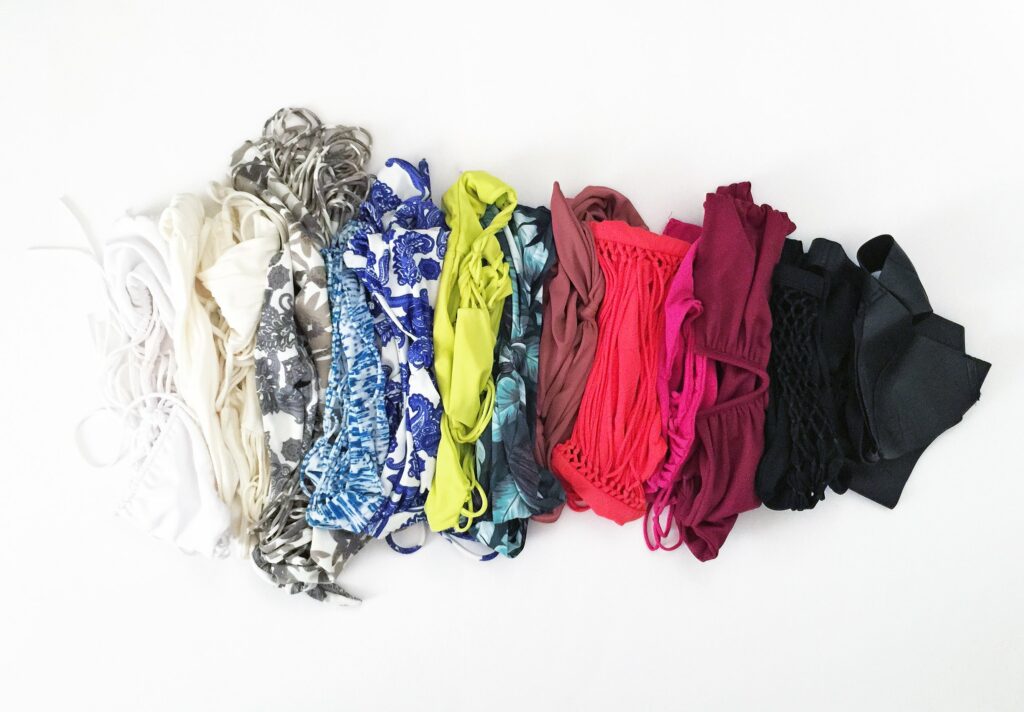 Curious if they were still obsession-worthy, I decided to replace my old swimsuits (most were swept away by Hurricane Irma in 2017 anyways) and test these "new" MIKOH swimwear styles out…
---
MIKOH Swimwear Reviews
To compare how these suits fit on me, I'm 5'5.75" and weigh from 115-117 lbs.
… and for reference, in other swimwear brands I take:
–ACACIA, size XS for tops and medium for bottoms
–Eres, FR 38
–Matteau, size 1 for top and 2 for bottoms
–Solid & Striped, size S
… and you can also find all of the old Mikoh swim suit reviews at the bottom of this page.
For MIKOH bathing suits, and most suits in general, here are two secrets to get the best fit…
–Bottoms should be skimpier and tight: A tighter bottom means no extra material to sag down your bum, and…
–Tops to be even tighter: You'll be amazed how these non-padded tops lift your chest.
Generally speaking, I take an XS (or Small) for tops or a size Medium (or Small) for bottoms.
We'll get into the differences between the 2.0 and 1.0 versions after we go through the new fit…
---
Kumu 2 Top (XS) and Suva Bottoms (S)
My Kumu 2 Top is a size Extra Small and the Suva bottoms are a size small.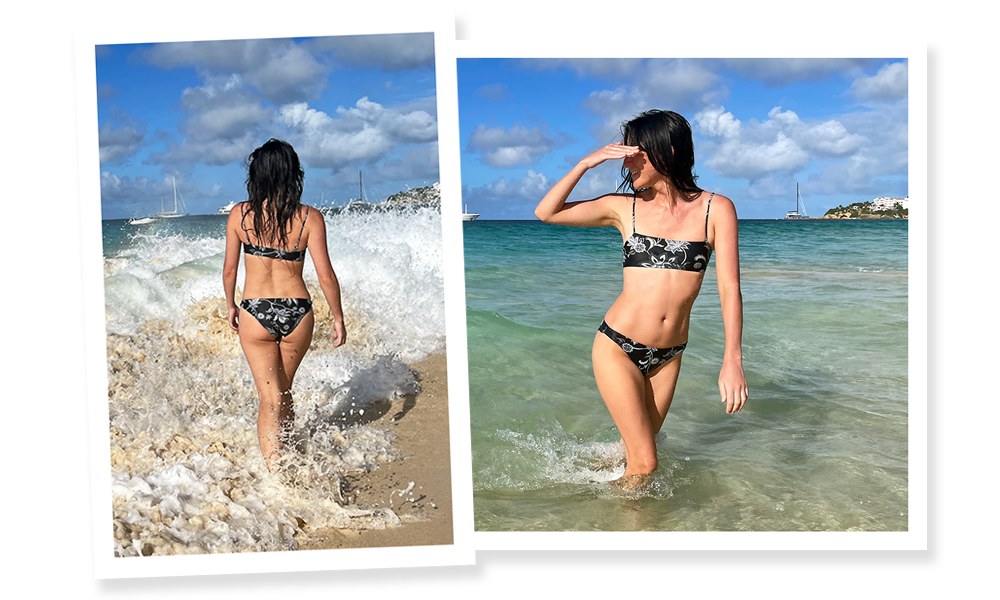 When you compare the Kumu 2 top to Mikoh's old Hermosa top, it's disappointing.
Yes, I saw photos of it on the model, so I shouldn't have been so surprised that the coverage was so… covered, but still.
It's nothing like the Hermosa top and doesn't display any cleavage at all.
---
Takume Top (S) and Miyako Bottoms (S)
This Takume top is a size small, while these Miyako 2 bottoms are a size small.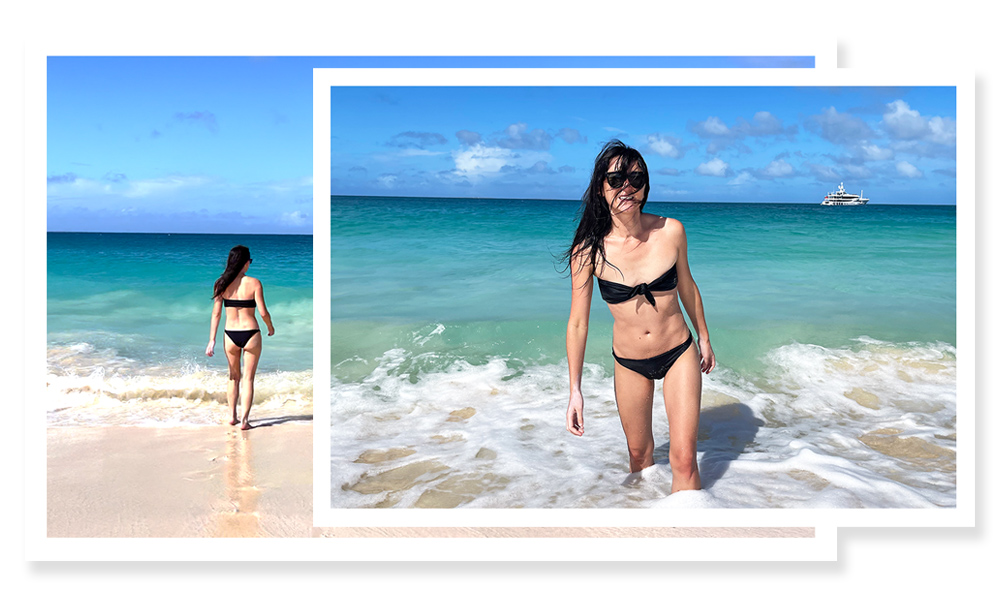 The Takume top is nothing like MIKOH's old Carmel top — it has more material and a knot that you have to tie yourself… which means that it runs the risk of coming undone if you aren't careful.
The Miyako 2 bottoms are standard issue bathing suit bottoms with a slightly skimpier cut.
---
Montpellier Top (S) & Nantes Bottoms (S)
In MIKOH's Montpellier Top And Nantes Bottoms, I took a size Small for each.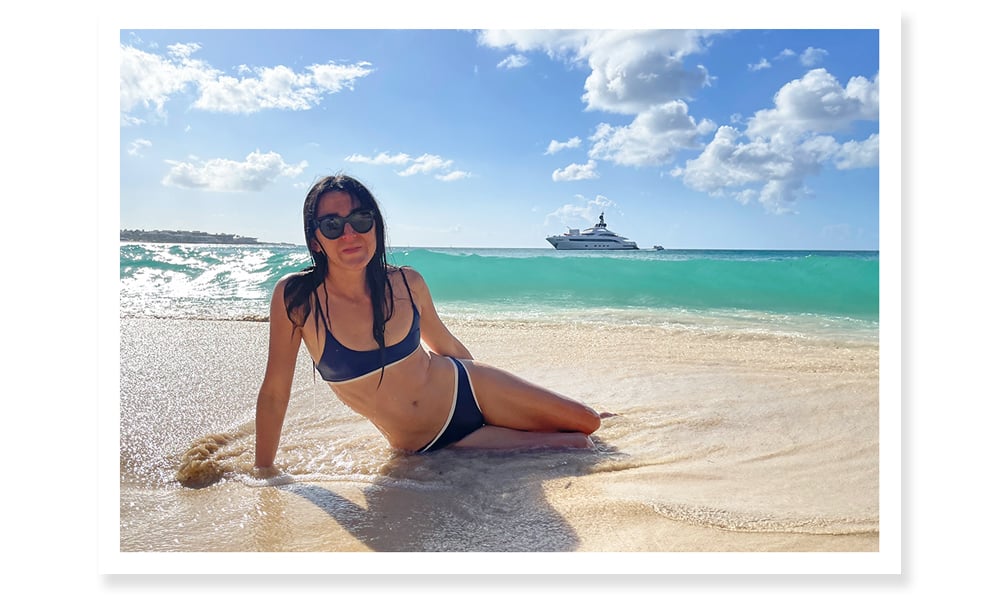 The Montpellier top is the closest thing to MIKOH's old Hermosa top — think of it as doing beach volleyball at Hermosa beach.
With the added white bottom material, it looks super athletic, but there is something that feels super retro French about its aesthetic (and not just the French name).
---
Malta One Piece Bathing Suit
My Malta one piece swimsuit, in Aquarium Checkered, is a size S.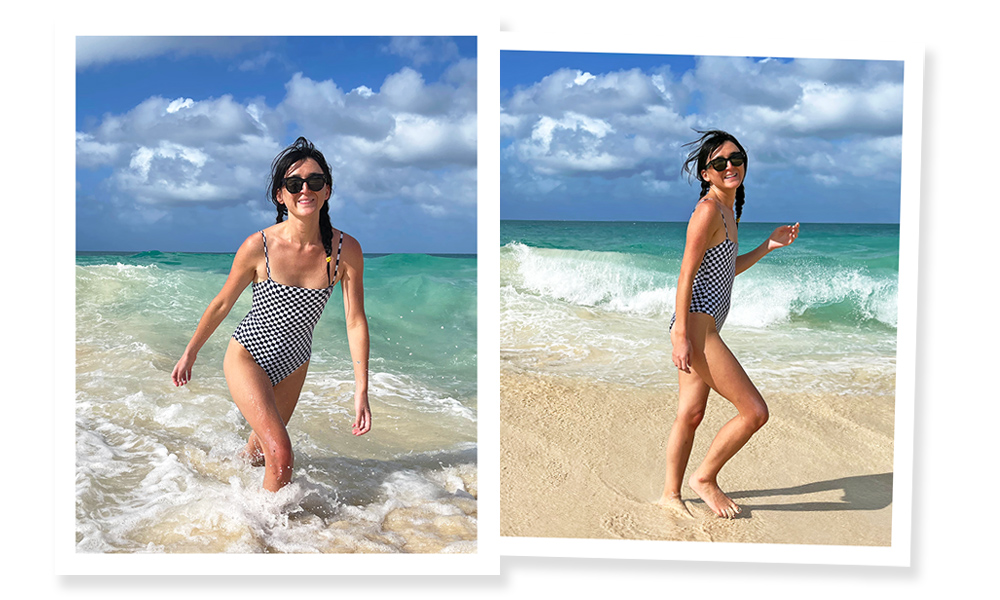 I mean, I just don't think that one piece bathing suits especially flatter me.
My chest is simply too flat to give a Baywatch 90's "ideal" body type of look.
… but, the bum is still skimpy and it's fun to wear.
Just be prepared to have a lot of wax on hand for your bikini region, because the front, like the back, is cut super high.
---
MIKOH Bikini Quality
… or basically, WTF is the difference between Version 1 and 2 of their swimsuits?
MIKOH bathing suits used to be completely seamless.
This meant that the bottoms looked like one piece of material with only one stitch at the crotch.
These days, MIKOH swimsuits are no longer seamless and you can see the stitching on the inside.
In my opinion, this seems likes an easier and less expensive way to manufacture their new bathing suits.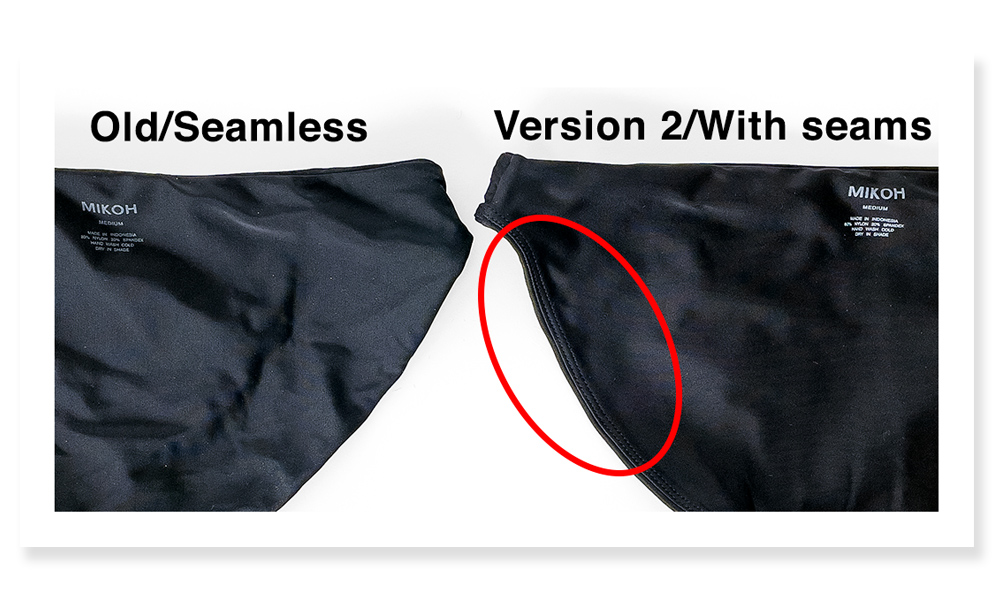 … like, I can't think of another reason why they switched it.
While they still look good on and I haven't had an issue with washing them (yet), they just don't have the same high quality feel like they used to.
---
While the cuts can be more modest now, the colours are still timeless and the suits are still understated.
However, MIKOH bikinis feel like they've gotten more expensive at $124 for a top and $104 for bottoms (so, $228 for a co-ordinating suit).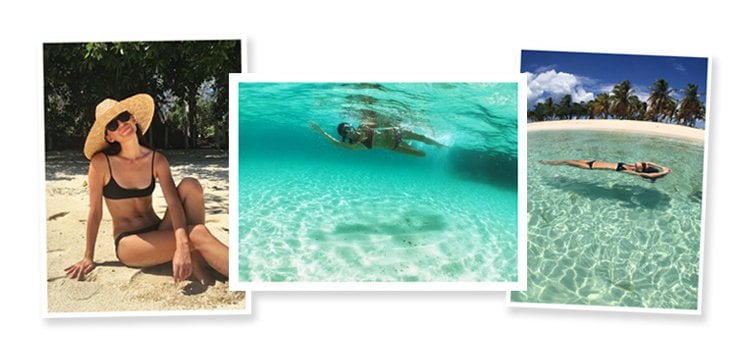 Given that they're no longer seamless and the cuts aren't what they used to be…
They're only "worth it" now if you get them on one of their many sales.
Available on MIKOH.com, Revolve, or Shopbop.
---
You might also be interested in…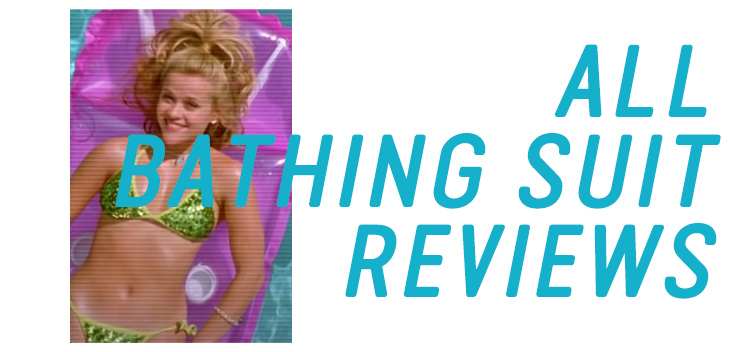 ---
Old Mikoh Bikini Sizing & Thoughts
For posterity, I thought I'd keep all my "old" Mikoh bathing suit sizes and thoughts, but move them to the very, very, very end of this "new" review.
Note: When this review was initially published, for comparison, I weighed from 111-113 lbs, worked out almost every day, and was 25 years old (saying this, because, yeah, as we get older our bodies change a bit and that's totally normal).
Mikoh Reunion Top and Mikoh Zuma Bottom
Super sweet top and fully-covered bottoms, what more could you ask for?
Reunion top: When I first saw it I thought it would just snap in half, but it doesn't.
It's the classic bandeau, only the V is way deeper than most. It would look equally amazing on a girl with more cleavage as it does on a less cleavage-y me.
My Reunion top is a size up from the Banyans top, it's a size small. It does slightly slip off when I go swimming. I would consider sizing down, but the small is just so comfortable that I'm not sure if it's worth it for a bit more boost…
⭐️⭐️⭐️⭐️⭐️/⭐️⭐️⭐️⭐️⭐️
Can we talk about this colour? It's called "pomegranate," it's my second favorite Mikoh swimwear colour. The light burgundy colour adds a light bohemian feel.
Zuma bottoms: I'm shyer when it comes to bathing suits… I've only just started to get comfortable in cheekier ones. These are the perfect bottoms for a little more coverage.
My Zuma bottoms are a size medium, so a size up from my Lanai bottoms. They fit a little bit more snug, likely because they don't have string detailing on the sides. They are so comfortable, do not cling in bad places, and are quite flattering while being modest at the same time.
⭐️⭐️⭐️⭐️⭐️/⭐️⭐️⭐️⭐️⭐️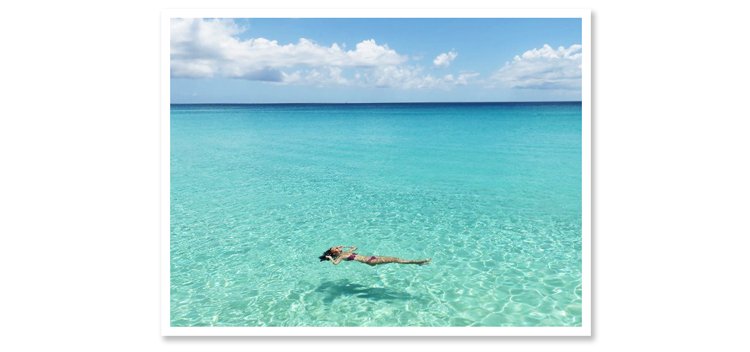 Mikoh Hermosa Top
Hands down, my favourite MIKOH bathing suit top.
A sleek bralette style top, the Hermosa lifts up smaller chests, while the straps ensure that everything stays in place.
I take an extra-small to give me an extra lift.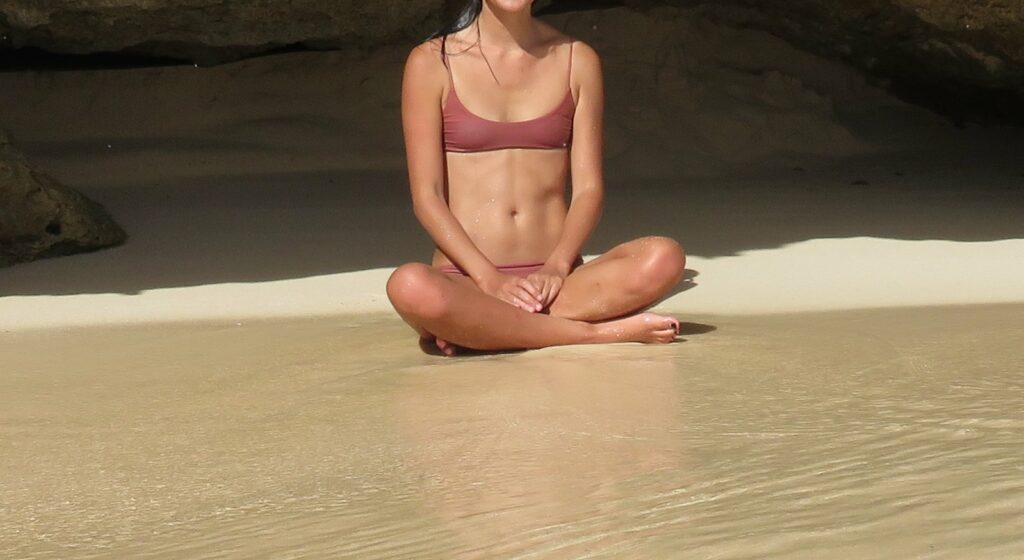 Mikoh Banyans Top and Mikoh Lanai Bottoms
Probably MIKOH's most famous bikini combination and for good reason…
Banyans top: I'm paranoid of weird tan lines, but for this bathing suit, I let it slide. The back of Mikoh's Banyans top, just looks so beautiful. It frames your shoulder blades so beautifully. It also gives your bust an amazing lift, so so sooo flattering for a smaller chest. This one is extra small.
⭐️⭐️⭐️⭐️⭐️/⭐️⭐️⭐️⭐️⭐️
Lanai bottoms: The Lanai bottoms have to be the best out of all Mikoh bottoms. The looped string sides does an incredible job of slimming your hips. The back is cheeky, but because of the stringed sides everything looks good. And the coverage on the front is also just great, nothing to be uncomfortable about. These are a size small.
⭐️⭐️⭐️⭐️⭐️/⭐️⭐️⭐️⭐️⭐️
Mikoh Carmel Top and Mikoh Valencia Bottom
This is my favourite Mikoh colour. "Lychee" is part of their permanent collection. It is unreal. I have never seen a bikini colour that is this beautiful. The colour is this perfect pinky-tan with a cool undertone shade of unreal.
Also unreal is Mikoh's paisley print (photographed below) — so good.
Carmel top: It is a gorgeous top. It's an extra-small because I wanted a little more lift. I have it in a size up and it still looks good… But a size up also slips more easily and doesn't hug things together as much… In either size, I love how this top looks though. You will want to twist the back so that the knot comes out on top though and doesn't dig into your chest. Such a beautiful bandeau Mikoh bikini top!
⭐️⭐️⭐️⭐️⭐️/⭐️⭐️⭐️⭐️⭐️
Valencia bottoms: Like the Zuma or Venice bottoms, size up. These are a medium and just right. These are adorable and made to be worn with the Carmel top. The only trouble is that the material is a bit slippery so you have to make sure you got a good knot! Good thing for me, my sailing years come in handy and a tight reef knot makes sure they don't slip. They feel cheekier than the Lanais, but really I think they have the same coverage.
⭐️⭐️⭐️⭐️+.5/⭐️⭐️⭐️⭐️⭐️
(-.5 for knot slippage)
Mikoh St Thomas Top and Mikoh Croatia Bottom
Note: Since discontinued, but it does look almost identical to the Sunset top and Kapalua bottoms. The Velzyland bottoms are also quite similar.
St Thomas top: This is in an extra small and is basically a dream. It stays in place, you can scrunch it up to get more sun, and the back is just beautiful. Also, the bright coral colour is perfect for the Caribbean.
⭐️⭐️⭐️⭐️⭐️/⭐️⭐️⭐️⭐️⭐️
Croatia bottoms: These just feel cool. SO much more string than the looped Lanai ones, these are a size small (perfect size). I don't know what to say other than they just look so cool on… So, they're flattering, comfortable, and cool, what's better than that?
⭐️⭐️⭐️⭐️⭐️/⭐️⭐️⭐️⭐️⭐️
Mikoh Santorini One Piece
Note: Since discontinued,however their Waikele is super similar.
One pieces you always think a bit mumsy, right? Not with MIKOH's one pieces. This Santorini one piece is so elegant and so sexy and so sleek. The front totally covered in a tube top, then the stringed back and then the cheeky bottom, oh it is so beautiful! It just sucks eveyrthing in and flattens it out. It is such a flattering swimsuit. Beware though, it's a lil tricky to get in and out of…! Because of my Yoga with Adriene progress I'm able to contort my body in and out of it. The next Mikoh one piece I buy, I'm definitely sizing up to a size small.
⭐️⭐️⭐️⭐️+.5/⭐️⭐️⭐️⭐️⭐️
---