"Too late."
Hands up if you've yelled it before…
Or at the very least thought it. Loudly.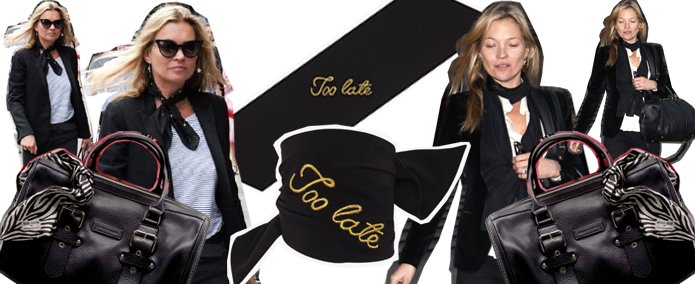 The very basis of fashion is expressing yourself. Either in a slight nod to your mood through blues and blacks. Or in an explicit show through a statement piece like this Saint Laurent silk cuff.
These kinds of pieces, in my opinion, are prime examples of how fashion is art. While I was a student at the Fashion Institute of Technology we had wide debates over if there was a line between fashion and art. If I could go back — I would use this Saint Laurent "Too Late" embroidered cuff to prove my point. But I can't. It's too late (see what I did there?).
I love contemporary text art — Ed Ruscha, Tracey Emin, Jim Joe… My favourites. Especially when it's embroidered. The Tracey Emin embroidered napkin is pretty much my dream. As much as I would love to wave this flag (or cuff) in the face of the man who didn't care about me via my handbag, I think this could look quite good framed in my living room (or bedroom, let's be honest — I still live at home). It would add an unexpected dash of character. An extra point of intrigue.
At 15.6 inches, I'm not sure if you could even tie it on your neck. And around your wrist? I don't love that. But a bag? Yes, so Kate Moss. Remember when she used to tie scarves around her bags?
Each bag from her 2010 Longchamp collaboration had a zebra print scarf ready to be tied to the strap. Even before (and after) that, Kate Moss would add a scarf to an outfit or handbag for an instant free spirit who doesn't care if someone is "too late" vibe.
So there we go, the Saint Laurent "Too Late" cuff two ways: either a piece of art for your home or a piece of art for your purse (or wrist).
Available for a $185 USD pre-order on ysl.com