Ever since my husband and I got married, I've been asking him if we can have another wedding and looking for more wedding dresses — these are some of the dresses I'd want to wear if/when we get married to each other again…
Item(s):
1- Zandra Rhodes, Vintage Tiered Dress
2- Christian Dior, Vintage John Galliano Bias Cut Gown
3- Zimmermann, Rhythmic Tulle Gown
4- Monique Lhuillier, Tulle Dress
5- 1930's Vintage Dress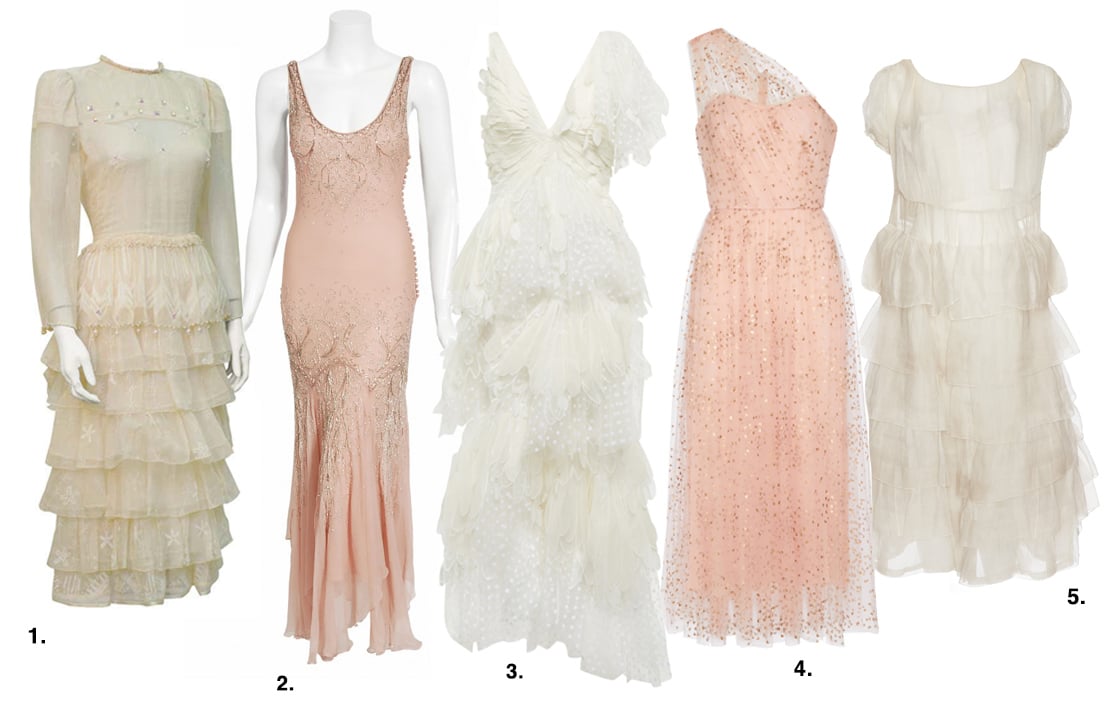 Reason(s):
1- Between the embroidered collar, sequin embellishments on the chest, and little drops of faux-pearls at the first tier, it's a classic Zandra Rhodes dress. Did you know that the Olsens collect Zandra's kaftans? This could be your (and my) first of many…
2- This dress is in my opinion, what inspired Kate Moss' wedding dress. Both by John Galliano, both bias cut gowns, and both totally stunning. Timeless Vixen is probably my favourite vintage dealer — the owner replicates vintage fashion campaigns with her pieces, you can tell how much she cares for each piece she sells.
3- Zimmermann really took a page out of Zandra Rhodes' book for this dress with the illusion of falling petals around the dress. It is the epitome of an etherial wedding dress.
4- You don't have to wear a classic white wedding dress. This Monique Lhuillier dress has gold hearts all over the blush netting and to quote Taylor Swift, "I once believed love would be (burning red), but it's golden."
5- Vintage Molly Goddard — if Molly Goddard made dresses almost 100 years ago. You'd need a slip to wear under this one, but it's so cool.
---
There are, like, 38 other dresses saved for my future second wedding (vow renewal sounds silly, I want another real wedding!) to my husband.
DM me on Instagram if you want some links for the other dresses that I'd wear if I were getting married to my husband again.
Which of these dresses would you say "yes" to?