That perfect white (or black) t-shirt…
The ultimate foundation to a perfect outfit.
I briefly forayed into the Reformation's basic t-shirts. But they failed to impress. So it was back to the drawing board.
I racked my mind for t-shirts in the past that I've loved. And one brand came to mind: Rag & Bone.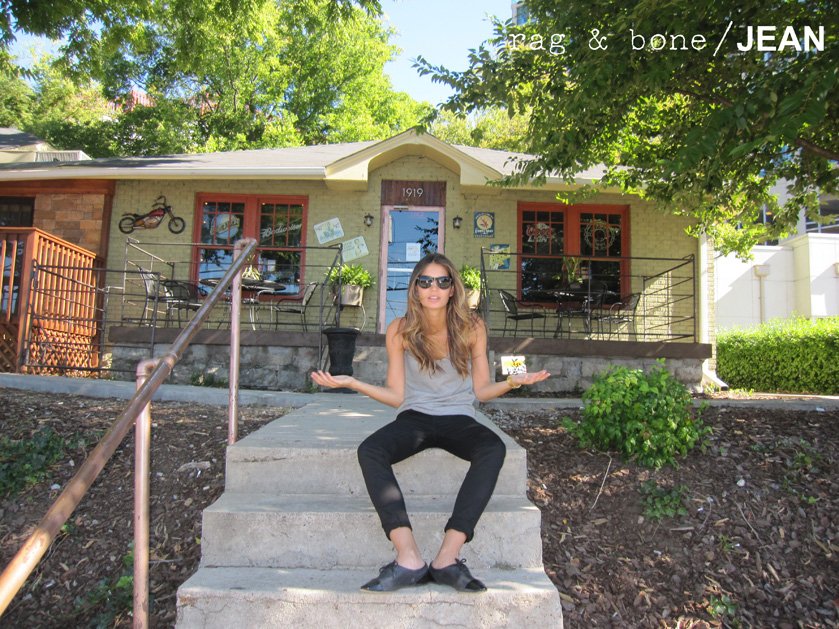 I fell in love with Rag & Bone after this DIY ad series with Lily Aldridge. And if it ain't broke, don't fix it!
Only in this case, my white Rag and Bone t-shirt (four years old with lots and lots of wear to its defense) was actually broken. Two holes to be specific.
So, I decided to fix it and buy two new "The Classic Tees" (formerly known as the "Basic Brando Tee") from Rag & Bone/JEAN.
They're pricey shirts, $80. $80 is a steep price for a basic t-shirt. The first Rag & Bone "Brando" that I got was a 30% off sale from Barneys. If you're patient, these will go on sale. So many sites have those 25% off site-wide sales and that is the perfect time to jump.
But Shopbop was randomly (after a quick search it looks like Rag & Bone might be fading out the Brando/Classic tee, so that would explain it) having 20% off the Classic Tees, so I jumped again.
After four years of an old Rag & Bone t-shirt, boy does it feel good to have a new one.
Rag & Bone makes one of the best t-shirts on the market…
The cotton is soft
After multiple washes, the softness does fade, but they still feel good to wear
The fit is loose but not too loose (no total boxiness).
Hate tight t-shirts, but also hate boxy ones. There's a balance between the two and Rag & Bone's The Classic Tee finds it.
The length is perfect
There's none of that "just above the waist" nonsense. The length is perfect. There's enough room to wear it anyway you want… Un-tucked, tucked in, or knotted on the side!
Rag & Bone's classic t-shirts have a bit of texture to them with diagonal sheer lines mixed in that makes them stand out a bit more. Is that a bad description? Maybe Shopbop's description can help better: "Diagonal slubs give a jersey tee a subtle hint of texture, and whipstitched seams add a homespun feel." Hopefully that clarifies it 😅
And while I can't confirm, I am willing to bet that strategy this minimizes pilling.
James Perse tee's and longsleeves are also amazing, but overtime they pill/show wear. And not that kind of cute wear where it looks rustic/deliberate.
Rag & Bone/JEAN does simple cool like no one else.
All you need is a pair of jeans and, a Rag & Bone t-shirt (white or black), and you can let what you wanna project take centre stage.
And that's really what style is all about isn't it?
You wearing the clothes, not the clothes wearing you.
TLDR: ⭐️⭐️⭐️⭐️⭐️/⭐️⭐️⭐️⭐️⭐️ Best basic t-shirts — note that white isn't a solid white, it does show texture, but I like that so it isn't an issue.
That texture and the stitching at the bottom gives these basic t-shirts a rock and roll vibe.
YOU MIGHT ALSO BE INTERESTED IN…