To make this Isabel Marant Dicker boots review simple, they have yet to disappoint me.
Isabel Marant Dicker boots first came onto the scene in 2009/2010. I purchased my first pair of Isabel Marant Dicker boots from La Garçonne in 2011. Actually, at first I purchased a pair of Isabel Marant Dicker boots dupe. But the moment I put on the dupes, I knew I needed the real deal.
I am a self-confessed Isabel Marant addict. That sounds silly. And annoying. But it's true — I absolutely adore everything Isabel Marant. I obsessively try to collect her entire SS/13 collection (more on that here and here). But Isabel Marant's Dicker boots were the start for all that. They opened the floodgates and are solely (GET IT) responsible for my personal style — both my summer style and my fall style — today.
Over five years, I've collected three pairs. One is suede taupe (2011), suede black (2012), and the last, a middle-aged-brick red leather (2013). I'm currently waiting for the perfect pair of suede camel Dickers to add to my collection.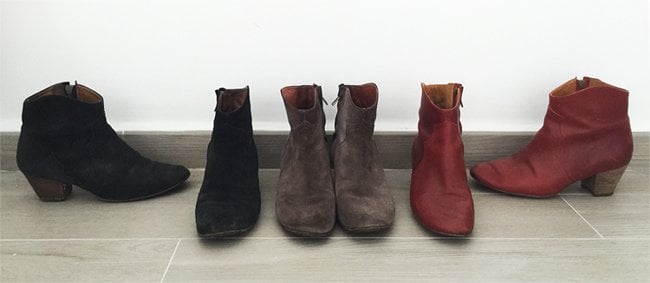 I have never felt more myself in a pair of shoes, let alone a pair of boots. Aside from maybe Charlotte Olympia cat flats. But those are now a bit dated. Come to think of it, I got my cat flats the same year as my first pair of Dickers… I still wear my Dickers, but the cat flats are on the shelf.
Isabel Marant Dicker boots have staying power after five years (or seven years if you count since they came out). That says a lot. You can still dress them up, or dress them down. Wear them in the fall or wear them in the summer. Dickers are the perfect convertible boot that make my summer fashion style that much cooler.
Here's my Isabel Marant Dicker boots outfit highlight reel from 2011-now…
Please don't make fun of 1- my iPhone 4 quality and 2- the bathroom mirror pictures.
You can wear Isabel Marant Dicker boots anytime of the year. I've even worn the black suede pair in light rain and the lightest LIGHTEST NYC snow. I never sprayed them. I have only had them resoled once.
The Dickers have a 2.5 inch heel, which is the perfect heel height. I used to wear them in my office all the time because they weren't a sloppy flat boot. The heel gives them distinction. It makes you feel kind of powerful even.
I prefer Isabel Marant Dicker boots in suede. I got blisters the first time I wore the leather Dickers. The last time I wore them (two weeks ago), I surprisingly didn't, but I was only walking around a pet store…
ISABEL MARANT DICKER BOOT SIZING
Isabel Marant Dicker boots run true to French size.
I take a 39 in Dickers, 39 in K Jacques, 39.5 in Repetto, 39 in Chanel flats, and a 39 in Hermès Oran sandals.
Between suede or leather, there is not a big difference in sizing. Because leather is stiffer than suede, it will be a pinch tighter, but not enough to size up to a 39.5 or 40.
The suede Dickers are so soft and I definitely recommend them over leather. Red leather is too much fun though (I take the same size in leather as in suede for Dickers) and they were on sale, I couldn't resist. They're still so cool.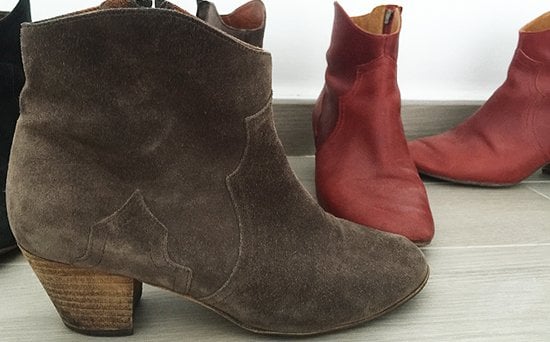 Speaking of soft, the CUSHIONS OF THESE BOOTS. The cushions in Isabel Marant Dickers are unlike any shoe or boot you have worn. You know how you think that pair of Uggs that you totally don't wear (ok, maybe only on snowy days) are the most comfortable boot ever? No, Isabel Marant Dicker boots are the most comfortable boot you will wear. Even with that 2.5" heel. Over the years the cushion will mold to your foot and it will be the most beautiful feeling in the world when you put them on.
In 2011 I was in the biggest dressing slump. But that 2.5" heel and soft suede lifted me out of that fashion rut. I don't want to sound dramatic, but Isabel Marant Dicker boots totally reinvented my personal fashion style. They inspired me to dress better. They translated how I felt inside and how I wanted to dress. They made (and still make) me feel like the coolest version of myself. They give me so much confidence, because I know that I am properly conveying who I am through these boots. (OK, that was dramatic, but it's true!!)
To this day, there is NO BETTER outfit, no outfit that makes me feel more ME, than a skinny jean, white tshirt, and a pair of Isabel Marant Dickers. That outfit will always make my heart sing.
Everyone should have a pair of shoes that makes you feel that way.
SAFE. COOL. And the best YOU. ?
I use affiliate links, but even if I didn't I would still recommend Dickers. They're just the best!
You might also be interested in…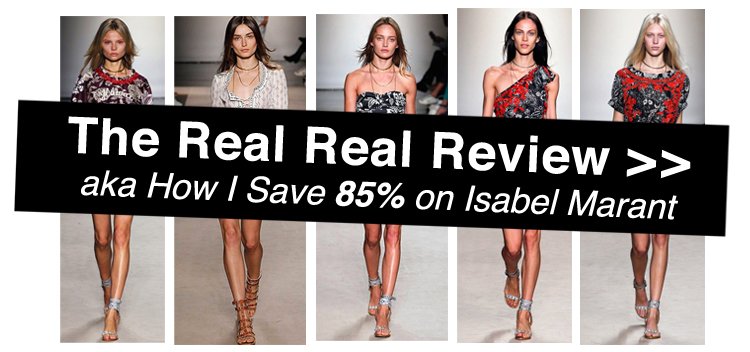 The TLDR of this Isabel Marant Dicker boots review:
⭐️⭐️⭐️⭐️⭐️/⭐️⭐️⭐️⭐️⭐️, The coolest, most comfortable, and best boot you will ever purchase. Worth the price tag over and over and over again. Isabel Marant, thank you for making the best boot.
Isabel Marant Dicker Boots are available for $634 USD via net-a-porter.com
For more Isabel Marant inspiration… ?