That perfect white (or black) t-shirt… the ultimate foundation for a perfect outfit.
I briefly tried Reformation's basic t-shirts… but they failed to impress.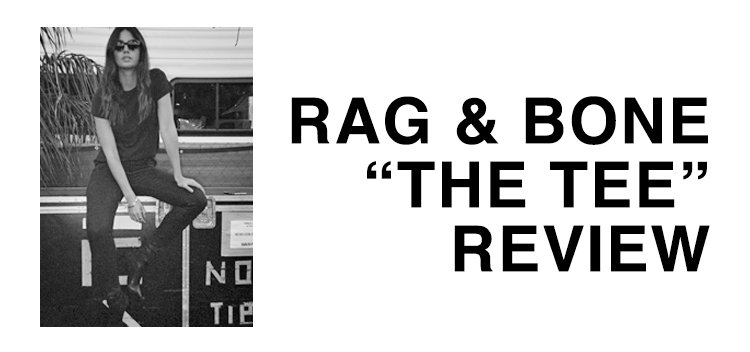 In 2011 Rag & Bone did a DIY ad series with Lily Aldridge. I'm obsessed with her style… and then became obsessed with Rag & Bone's jeans and t-shirts.

… and if it ain't broke, don't fix it!
Why try the rest when you know the best?
Let's get into this classic t-shirt.
RAG & BONE T-SHIRT SIZING
For reference's sake, I'm 5'5.75" and weigh 115-117 lbs.
My sizes run below:
–Réalisation Par, XS or S
–Rouje, FR 34-36
–Reformation, US 2 or S
–ALEXACHUNG, UK 8
… and for t-shirt's sake, James Perse I take a size 1.
I have two sizes of the current 2018/19 "The Tee." (In 2016, Rag & Bone changed their classic t-shirt to this relatively heavier (but still light) model.)
Note: In these photos I'm wearing Rag & Bone's Cigarette jeans, you can find their review here.
As you can see, the red size small below fits perfectly.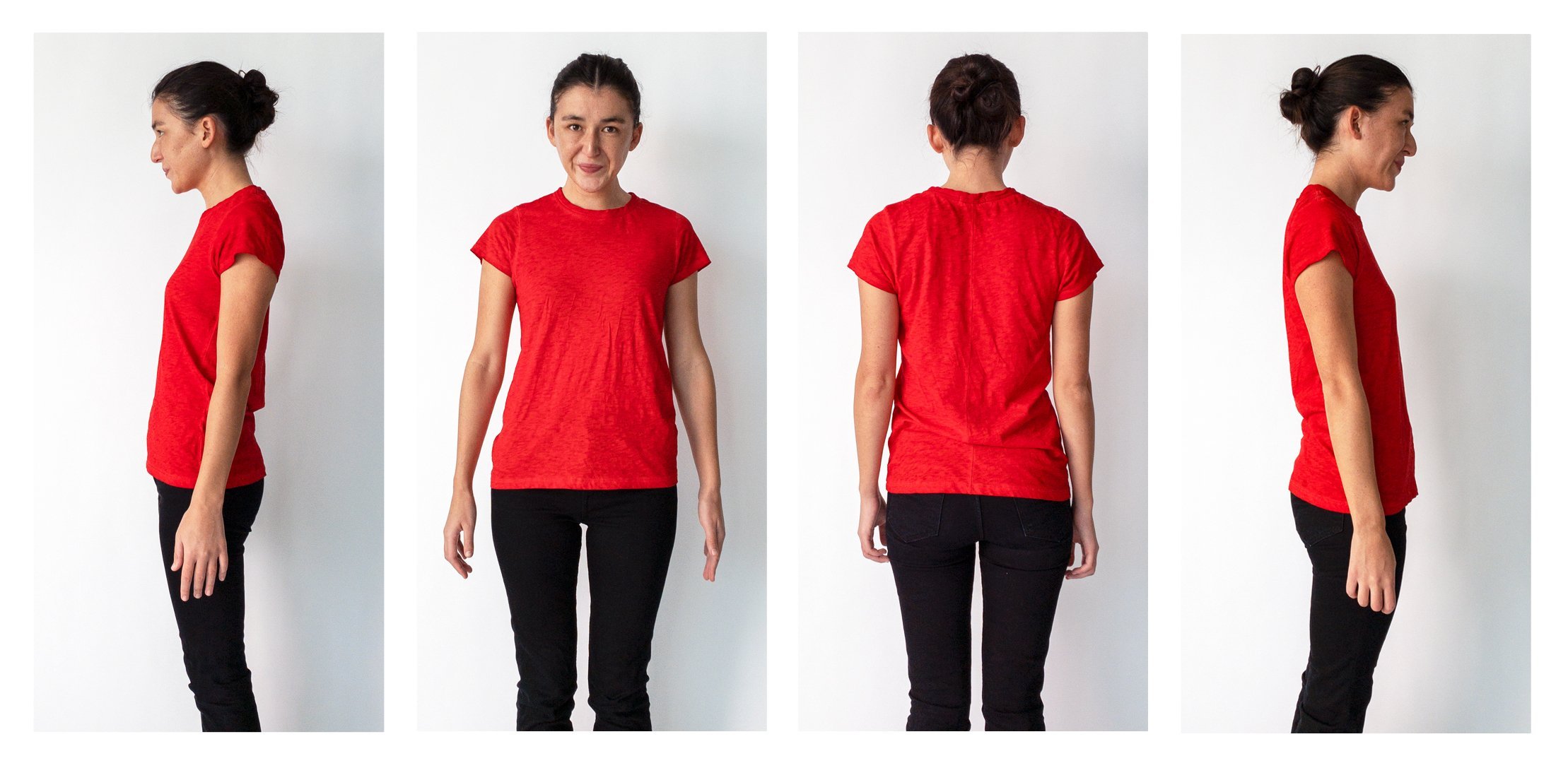 The shoulders are basically in line with mine and the body fits closely, but still has space. Also, these are high waisted jeans and the t-shirt lands basically at the top of my hips — none of that midriff funny business.
… on the other hand, the black size medium is a size up and looks like it's a size up.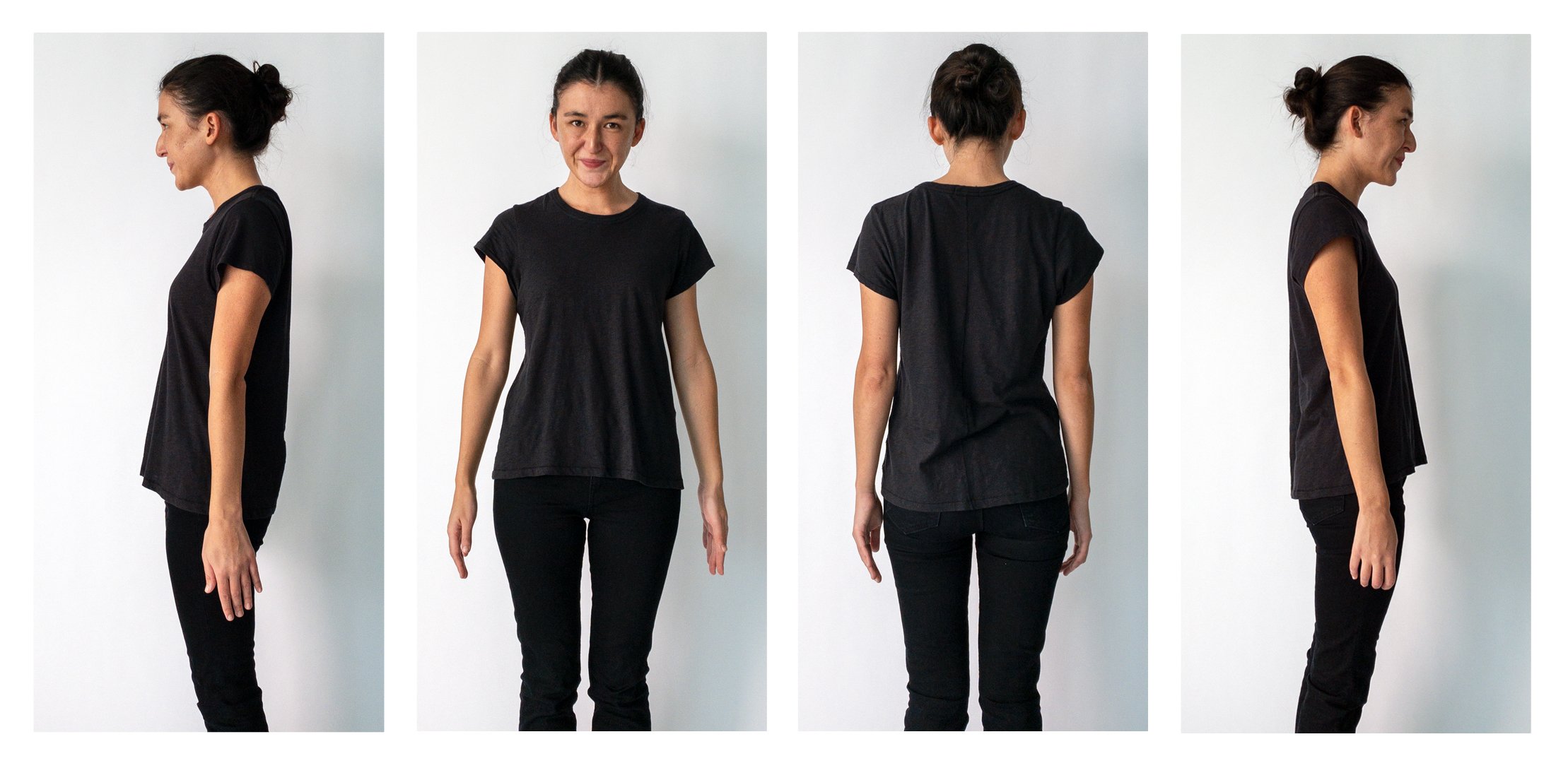 The shoulders are slightly larger than where my shoulders are, the body is quite loose, and it's longer.
A size up isn't the end of the world. If the tee is on sale and they only have a "medium" left, I'd get it… but a size small does fit better.
---
RAG & BONE T-SHIRT QUALITY & PRICE
Whether it's the pre-2016 model or the post-2016 model,Rag & Bone makes one of the best t-shirts on the market…
Again, this particular one is the current one in stores.
"The Tee" has a relatively heavier feel than the original version's, but at 100% Pima cotton, it's still light and breathes. It is so soft and somehow doesn't pill — even after hundreds of machine washes.
I only needed a new Rag & Bone t-shirt after the one I got in 2011 got a hole in it… this was after five years of wearing it almost every day.
It's so lightweight (while feeling and being quality) and casual (yet able to look ~fancy~) that it makes me want to wear it every day. Actually, I almost do…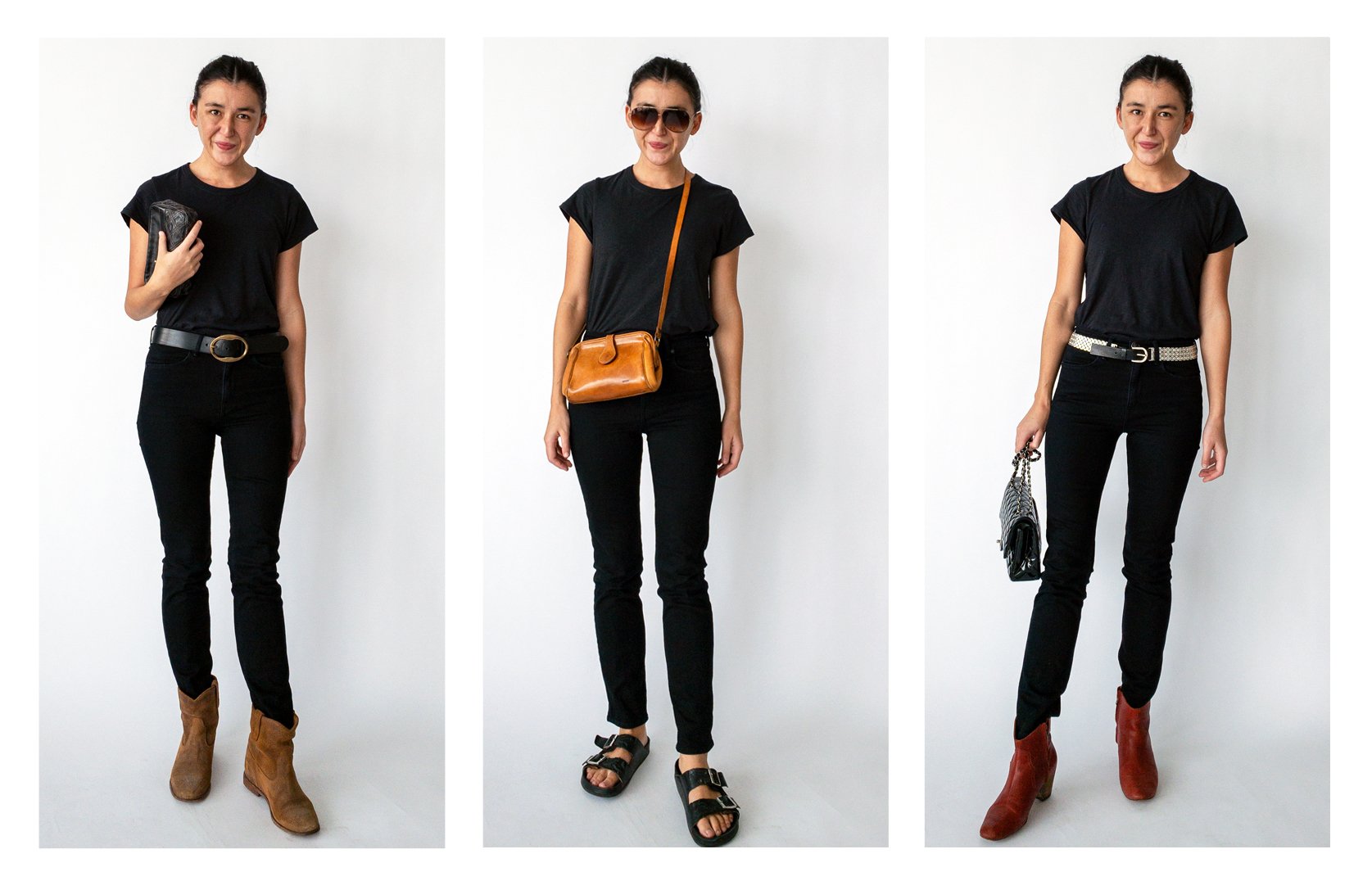 Left to Right: Marc Jacobs makeup bag as a clutch with an Isabel Marant belt and Isabel Marant Cluster boots, Dita Condor sunglasses with a vintage bag and Isabel Marant sandals, Chanel bag with an Isabel Marant x HM belt and Isabel Marant Dickers.
For all of its pros, this simple t-shirt comes with a high price tag: $90-$95 USD.
But if you think about it: 1- how often do you find a t-shirt that you just love?, 2- how often do you wear t-shirts? and 3- how often do you have to replace your t-shirts?
You can find it on sale in seasonal colours though. Even then, you can get lucky and find it in the classic colours (like white, black, and grey) on sale.
You can also find "the Tee" in classic colours at Neiman Marcus. You can save 15% off your first order when you sign up for their mailing list.
Alternatively, Shopbop also has "The Tee" and you can also save 15% off your first order by signing up to their newsletter.
The Outnet also has a reliably great selection of Rag & Bone t-shirts on sale…
---
PROS & CONS
Pros
–100% Pima Cotton: 100% here for natural fibres… especially for t-shirts. Rag & Bone's cotton is especially comfortable.
–Made in Peru: Peru probably has the best cotton in the world and is known for their production of quality cotton clothes.
–No Pilling: "Look ma, no pills!"
–Colors Don't Bleed & Take A While To Fade: … but I still wash my red t-shirt separately.
–Quality: These t-shirts last a long time.
Cons
This is that favourite t-shirt I re-buy year after year… if I had a "con" about it, I would have stopped buying them years ago.
---
Rag & Bone does simple cool like no one else.
You can be rock 'n' roll Lily Aldridge cool… or whoever or whatever when you're in a pair of jeans and a simple t-shirt.
That's really what personal style is all about, isn't it?
You wearing the clothes, not the clothes wearing you.
Check 'em out from any of these retailers…
Note: These are affiliate links which costs you nothing… but means the world to me & newinspired. When you use these links, the money newinspired earns gets reinvested in blog content. Absolutely nothing on newinspired is "gifted," I purchase each item with my own money. Affiliate commissions are used to purchase new items to honestly & thoroughly review. If you find this review helpful, consider using them to support newinspired.
---
YOU MIGHT ALSO BE INTERESTED IN…