Name: Bella Freud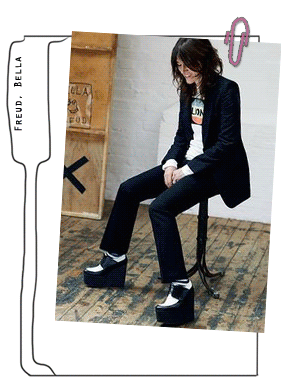 Founded: 1990
Instagram: @bella_freud
Location: London
Fans: Kate Moss started it all, Sam Taylor-Johnson, Alexa Chung, Camille Rowe… Basically just about any fashion girl (or boy) with exceptionally good taste
The Look: Mod overtones with reggae undertones while a punk record blares in the background
Fundamental Fashions: The 1970, Je T'Aime Jane, Ginsberg is God (Godard is Dog on the back!), and The Last Poets jumpers
Style Summary:
To understand what exactly Bella Freud fashion is, you have to know the history behind two of her most famous jumpers.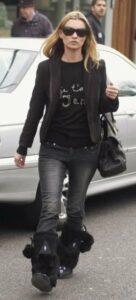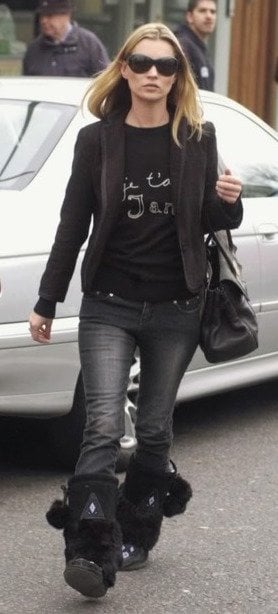 For example, the Bella Freud Je T'Aime Jane sweater was born after a slight misunderstanding:
"I received a message on my voicemail from the agent of the legendary Jane Birkin saying 'Jane has heard about your Gainsbourg is God jumper and loves it'. I had made a jumper with Ginsberg is God written on it. What to do? I decided to make her a jumper in the style of a schoolgirl's dedication to her heroine: Je t'aime Jane with Gainsbourg is God on the back back, and Serge on the sleeve – where the heart is."
The happiest mistake makes the sweetest sweater — at least for Bella Freud!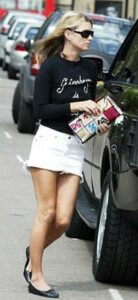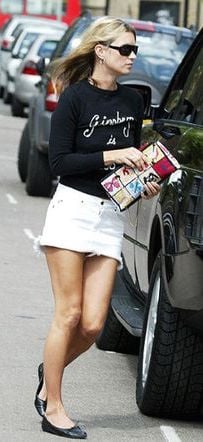 Here's the story behind the Bella Freud Ginsberg is God sweater, because obviously, Bella Freud can tell the story behind her fashion better than I can:
"I made a short film with John Malkovich called Hideous Man about Beatnik girls waiting around at a club for their favourite poet to arrive for a reading. I wanted the leader of the group to wear a jumper showing her devotion to literature and art, a bit like a band t-shirt. I was throwing out names with my assistant, and Ginsberg is God tripped lightly off the tongue. 'But what about Godard is Dog, I mean God?' she said. Godard is Dog is what is written on the back of the jumper."
Basically Bella Freud's most famous jumper (okay, maybe the most famous after the 1970 design — but this one was the first sweater I was exposed to via Kate Moss in 2005. Oh I wanted it badly but couldn't find it!) was created for basically a poet's fan (groupie?) to wear while waiting for him to arrive for a reading (not concert)… A fan shirt for a beatnik poet… Let me say that again…
A ? fan ? shirt ? for ? a ? poet.
It's based off of an Eric Clapton shirt from the 70s that said "Clapton is God."
Isn't that the most genius, hilarious, and adorable thing ever?
And this begins my summary for Bella Freud's fashion.
The whole Bella Freud vibe can be a bit hard to put your finger on. Yes, the jumpers are very beautiful and so easy to wear. They're undeniably chic and can be worn on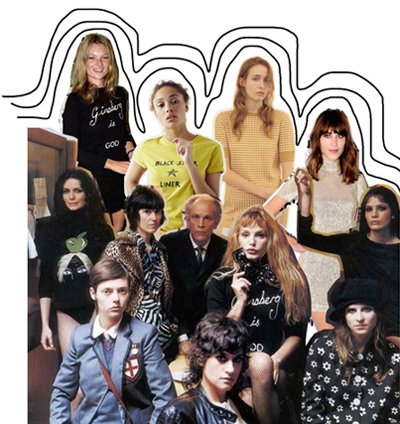 uptown girls and downtown girls alike. But how they work with the rest of her collection, that's where the fun begins. The theme of the jumpers set the tone for the whole collection. How they tie into everything is what makes me so obsessed.
The Bella Freud London look reminds me of a friend of mine.
She is obsessed with 1960s/70s England, Patti Smith, and all things punk. She's the first to make a joke and the quickest to laugh at one. She wears her heart on her sleeve when it comes to the books and music she loves. She gets excited and doesn't hide it. She isn't afraid to be herself and let that self loose.
Suzy Menkes says of Bella Freud fashion:
"Wearing a plain sweater with the words "The last poets", she (Bella Freud) manages to capture the free-wheeling artistic spirit of the Seventies without a fringe, a flared trouser or a platform-sole sandal in sight."
That to me is the Bella Freud vibe. A kind of 1960/70s, excited, but irreverent, and ready to go feeling. It's knowing when to take a stand for something. It's expressing how you feel and what you think. It's actually caring about something. But while all that is going on, being totally playful and relaxed about it and not taking it (too) seriously. Even if you don't totalllllllly understand the sweater, it's like a piece of fine art: open to your own interpretation
Whether you're taking that stand through what's written on your jumper or a well-tailored blazer, Bella Freud's fashion gives your look extra depth.
Take a trip over to Bella Freud's website and explore all the clothes you could ever want… And pillows… And candles… And even a "Ginsberg is God" throw (top of my dream list)!