11 years ago, I found a picture of Kate Moss wearing a white denim skirt, a pair of black flats, and a jumper (sweater) that said "Ginsberg is God." I wracked the internet trying to find out everything I could about that jumper. It turns out it was by the same London designer that also made the white crochet dress that Kate wore (and I also couldn't find): Bella Freud.
In 2009, four years after seeing that fateful photo, it finally happened for me. I received my first Bella Freud jumper. It wasn't the "Ginsberg is God" jumper, but the one that said "Je t'aime Jane." A beautiful toast to the love between Jane Birkin and Serge Gainsbourg. As an ardent Jane Birkin fan, I was over the moon with it.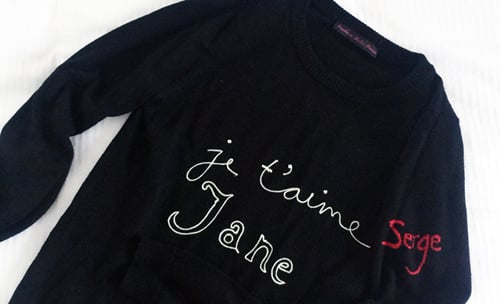 I love this sweater more than anything. And that's not just me being hyperbolic for the sake of this Bella Freud jumper review. It has become a bit of a treasure for me. Especially because it has the old Bella Freud old logo on it and "Serge" is written in red vs on the new one, "Serge" is in white.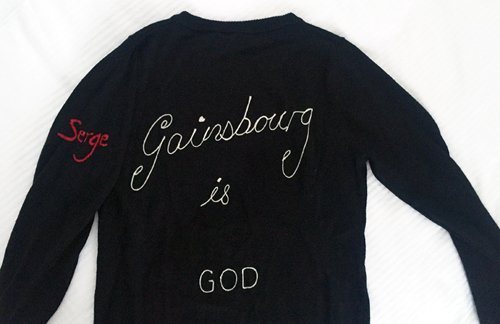 Like my Isabel Marant Dickers (purchased a year later), my Bella Freud Je t'aime Jane sweater has yet to go out of style.

And like my Dickers, you can wear Bella Freud sweaters year round — yes, even in the summer!
In the fall and winter, I used to wear my Bella Freud jumper with jeans. Now that I'm in an endless summer? I style these sweaters in the summer with denim skirts, like Kate Moss.
Need Outfit Inspo? Here's Another One…!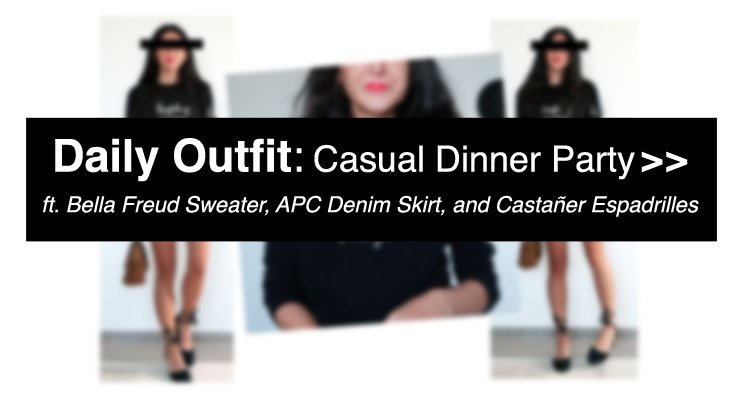 Bella Freud's sweaters are made out of 100% merino wool, so they breathe. But you have to be careful of pilling. Pilling is the bane of my closet and happens with every. single. sweater. I own. After seven years, my sweater has barely pilled.
BELLA FREUD SIZING
Both my Bella Freud jumpers are a size medium.
I'm a UK 8-10 and in Rouje or Isabel Marant I take an FR36-38… In t-shirts, like my Rag & Bone one, I take a size small, but I like a bit more room in sweaters, so I always size up.
Bella Freud's size medium is perfect for me. I have room to feel cuddly, but it also looks somewhat snug.
Last Christmas, my mum surprised me with my second Bella Freud jumper. One that says "Fairytale of New York," "Punk" with a red star on the back, and of course the greatest reason why she knew I needed it, "KM" on the sleeve. My favorite Christmas song meets my favorite model meets one of my favorite designers meets my favorite material — this one is 100% cashmere. The best part though? 100% of proceeds went towards Save the Children! A luxurious gift that benefits a wonderous charity. Perfect.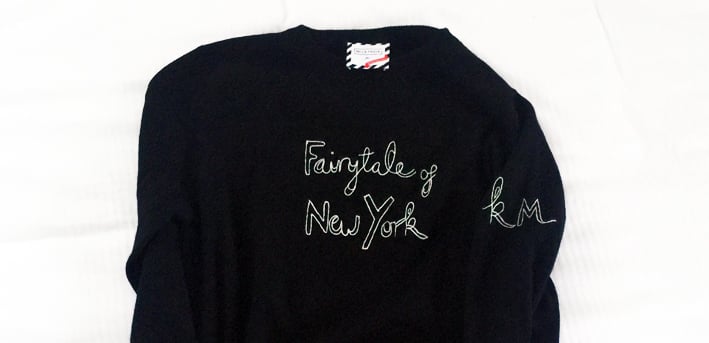 Bella Freud jumpers are expensive, averaging around $400 USD.
But every now and then you just have to think about it…
Would you rather buy x2 high-street cashmere sweaters that will probably fall apart quickly (I'm looking at my black cashmere JCrew sweater that I wore ONCE and it got a hole) or one Bella Freud sweater that you'll adore forever and create/equate beautiful memories with?
For me, they feel like a beautiful piece of wearable art… similar to my treasured Tracey Emin napkin. My two Bella Freud jumpers say something that resonates with me. So they are worth it over and over again.
If you connect with what's written on the jumper, jump and get it. You won't regret it.
TLDR: ⭐️⭐️⭐️⭐️⭐️/⭐️⭐️⭐️⭐️⭐️
Wonderful jumpers/sweaters, the merino wool is as soft as the cashmere. Throw them on like an Astor Place punk with a moto jacket and last night's eyeliner or style them with Manolos like an uptown girl. They work for everyone.
For best selection of Bella Freud jumpers visit her online store.
Bella Freud's sweaters sometimes get listed on The Real Real, where you can save money by buying it secondhand. The Real Real offers $25 off your first purchase too!
(This is an affiliate link, but I've shopped with the Real Real many times and would recommend them even if it wasn't.)
The Je t'Aime Jane sweater is available for £290

And the Fairytale of New York has been re-released and available for £290