15 years ago, I found a picture of Kate Moss wearing a white denim skirt, a pair of black flats, and a jumper (or sweater) that said "Ginsberg is God."
In 2019, it's super obvious who designed it.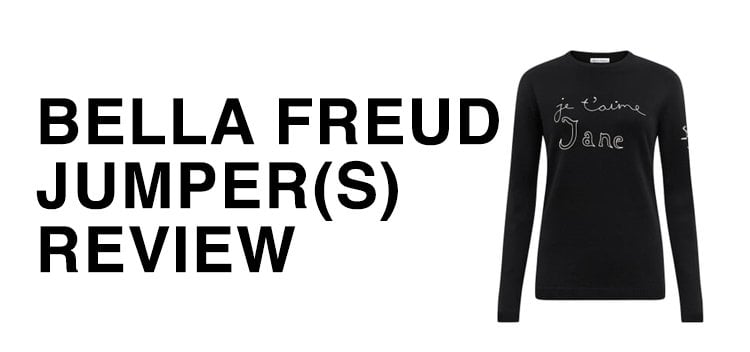 … but 14 years ago? No idea.
After scouring every issue of any British fashion magazine I could get my paws on and every forum I could possibly search… nothing.
Years later, when the prized jumper popped up on Net-A-Porter, it turned out that jumper was designed by none other than Sigmund Freud's great granddaughter, Bella Freud.
… and now those jumpers are everywhere.
---
BELLA FREUD JUMPER SIZING
I'm 5'5.75", weigh 116-118 lbs and am around 32A.
I give this information because sometimes it's helpful to gauge your size against.
My other sizes run below:
-US 2, in HVN or Reformation
-Small, Rag & Bone T-Shirts
-UK 8, in ALEXACHUNG
-FR 34-36, in Isabel Marant or Rouje
All three of my Bella Freud sweaters (cashmere or wool) are all a size medium and run true to size.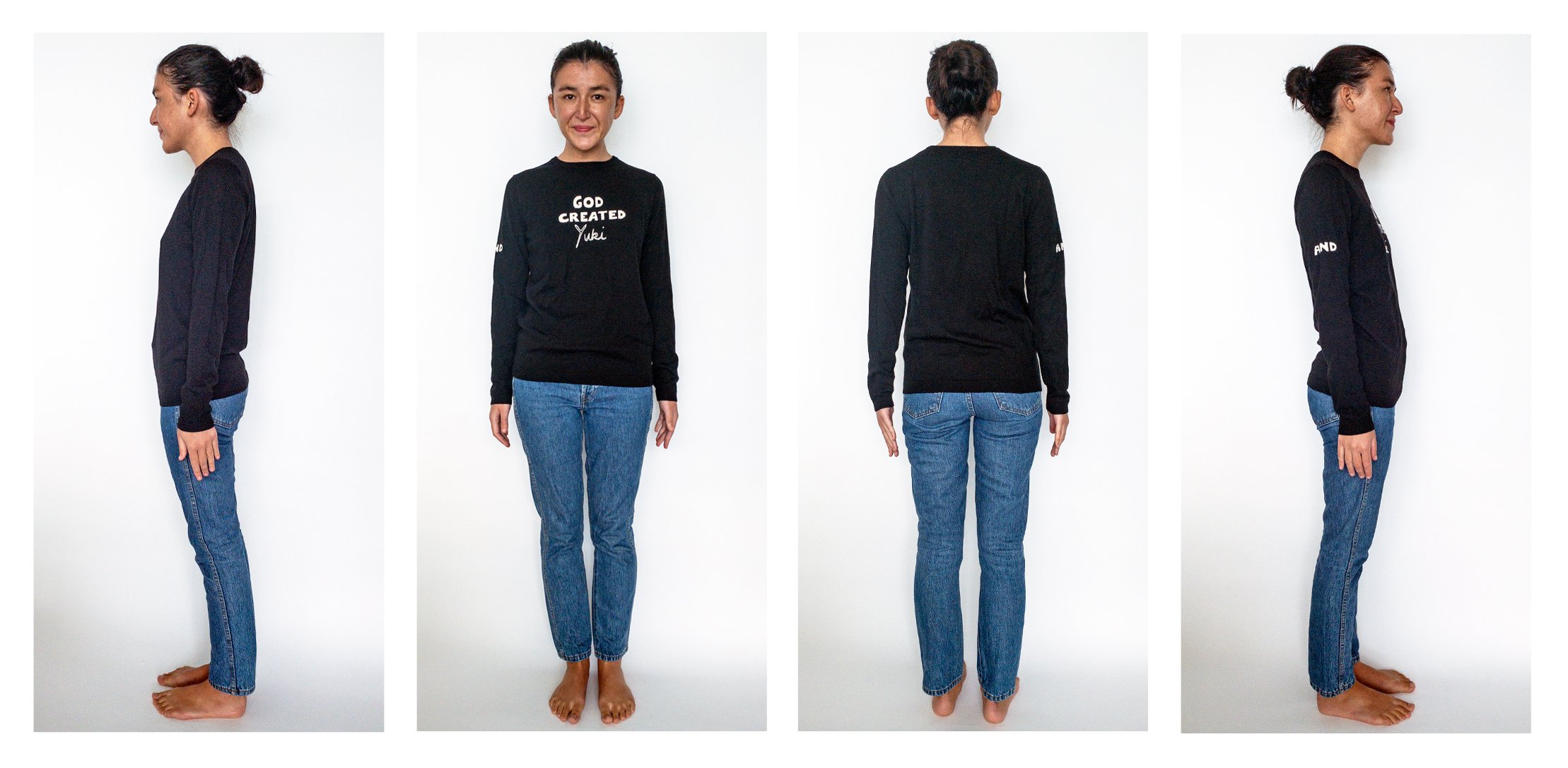 Bella Freud's size medium is perfect.
It's slightly oversized, but not too big.
There's room to feel cozy, but it still hugs my frame.
---
ARE BELLA FREUD JUMPERS WORTH IT?
Bella Freud jumpers are expensive, averaging around $400 USD.
Would you rather buy one high-street cashmere sweater that unravels quicker than you I would in a session with Sigmund Freud?
… or one Bella Freud sweater that you'll adore forever and create & equate beautiful memories with?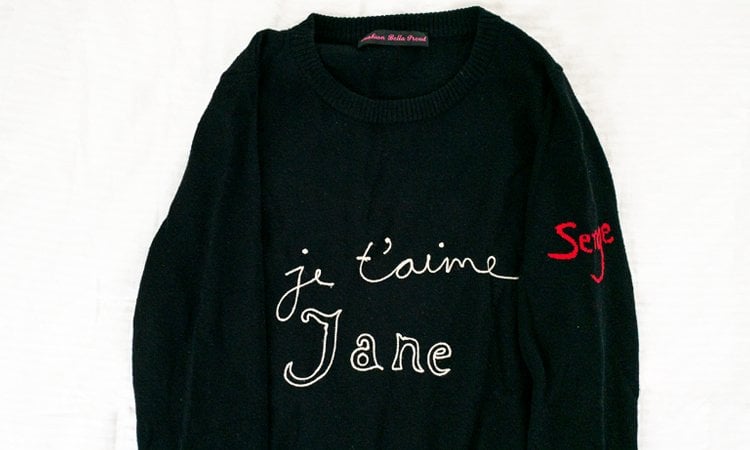 Bella Freud's jumpers feel like a beautiful piece of wearable art… similar to a treasured Tracey Emin napkin that sits in my closet, unused — but in this case, I can actually wear Bella's sweaters out.
All three of my Bella Freud jumpers say something that resonates with me.
From my first "Je t'Aime Jane" sweater to my "Fairytales of New York" jumper, which I got the Christmas after my heart got broken from leaving the only city I've ever felt at home in (also, my 2nd favourite Christmas song), to my "And God Created…" sweater that was customized by Bella with my name…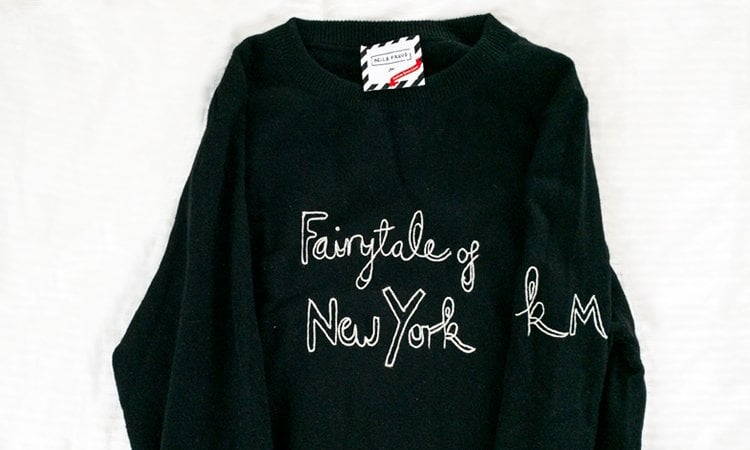 … if you connect with what's written on the jumper, jump, and get it.
You won't regret it.
---
PROS & CONS
Pros:
–Sweetest Sayings
–Natural Materials: Yes, some brands make their sweaters out of polyester or rayon. Bella Freud's are all merino wool or cashmere and as a result they're…
–Super Soft: These sweaters don't require a break-in period, they're as soft as they'll ever be when you first receive them.
–Timeless: Only one, the "1970," has a date on it… but even that sweater is timeless to be fair.
Cons:
–Beware of Pilling: This can happen with any sweater, no matter the price. You just have to be careful not to let canvas totes rub too much on them and store them properly (I use Ziplock bags because I'm precious with her jumpers).
---
Now with the "Je t'Aime Jane" mystery sweater that Kate Moss wore so many years ago solved, I can rest easy.
I found it.
… and along the way, I've found other Bella Freud sweaters that j'aime adore just as much.
For best selection of Bella Freud jumpers visit Matches Fashion or Net-A-Porter or Bella Freud's own direct store.
Note: newinspired uses affiliate links which costs you nothing… but means a lot to me. When you use these links, the money newinspired earns gets reinvested in blog content. Absolutely nothing on newinspired is "gifted," I purchase each item with my own money. Affiliate commissions are used to purchase new items to honestly & thoroughly review. If you found this review helpful, consider using them to support newinspired.
YOU MIGHT ALSO BE INTERESTED IN…