Check out my personal review of Castañer Espadrilles here!
There are two women who can wear espadrilles like no other: Alexa Chung and Jeanne Damas.
Alexa and Jeanne's styles are pretty similar. Both pull strongly from the 1960's — ok, by 1960's, I mean pull from Jane Birkin's greatest hits (and b-sides). And they have British and French (like Birkin) undertones that make them inherently cool.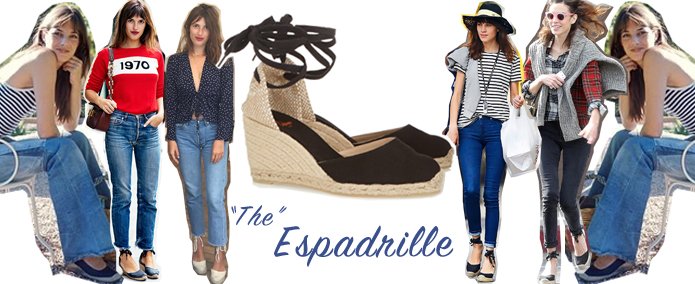 Sure, anyone can wear espadrilles when the temperature heats up. It's not that hard. All you need is a pair of shorts and a top. Or a cute sundress and that's it. The espadrille makes the outfit. No fuss, no muss.
But when the spring air turns and you get a slight gust of winter, what do you do? Do you retire your espadrilles for the week? Or do you persevere and say "it's May dammit, I'm wearing my spring shoes!?"
According to Alexa Chung and Jeanne Damas' style, you should hold your ground and pair those shiny new espadrilles with jeans.
Here's the problem though. What kind of jeans do you wear espadrilles with? It's taken me some outfit risks and deep assessments of cool-girl style to figure this question out.
I've experimented with vintage (ok purchased in 2007 — basically vintage at this point) J Brand flared jeans and I've tried with my trustiest Rag and Bone skinny jeans.
Which worked better? The skinny jeans.
With flared jeans you don't get to see the best part of the espadrille — the ankle tie! They looked awkward because you could only see half of the shoe and then some string crossing my foot. You gotta show the string and shoe off like Jeanne and Alexa do.
So crop or cuff that jean like Alexa Chung and Jeanne Damas.
Net-A-Porter has a new arrival of Castañer wedge espadrilles today (edit: basically all the good ones are now sold out!). These tick off all the espadrille need boxes: 1- an array of colours, 2- a solid wedge (3 inches!) and 3- the tie at the ankle and not over the foot.
When considering Castañer espadrilles keep in mind that these are what K.Jacques is to boho sandals or the moto jacket is to Balenciaga. Yves Saint Laurent had Castañer design the first espadrille (wedged) for him in the 1960's. So, these basically have the YSL stamp of approval for 1/5th of the price.

Note that this contains affiliate links, but I would recommend Castañer espadrilles even if it didn't.
For best selection visit Matches Fashion or Net-A-Porter.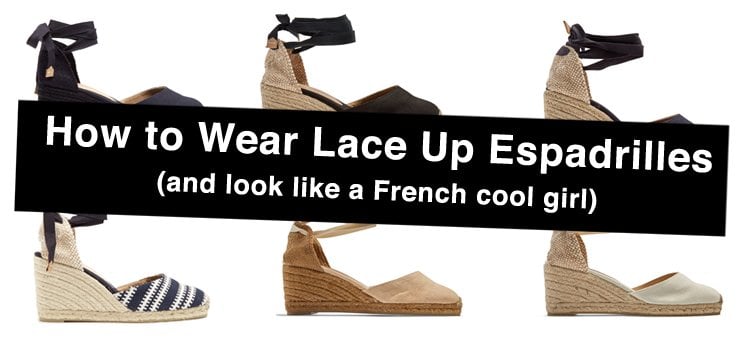 For more ideas on how to wear espadrilles, check out this post with 9 outfits for day AND night!??