Item(s): Face Cream, Face Cleanser, and Sacred Mist from Cosmoss, by Kate Moss.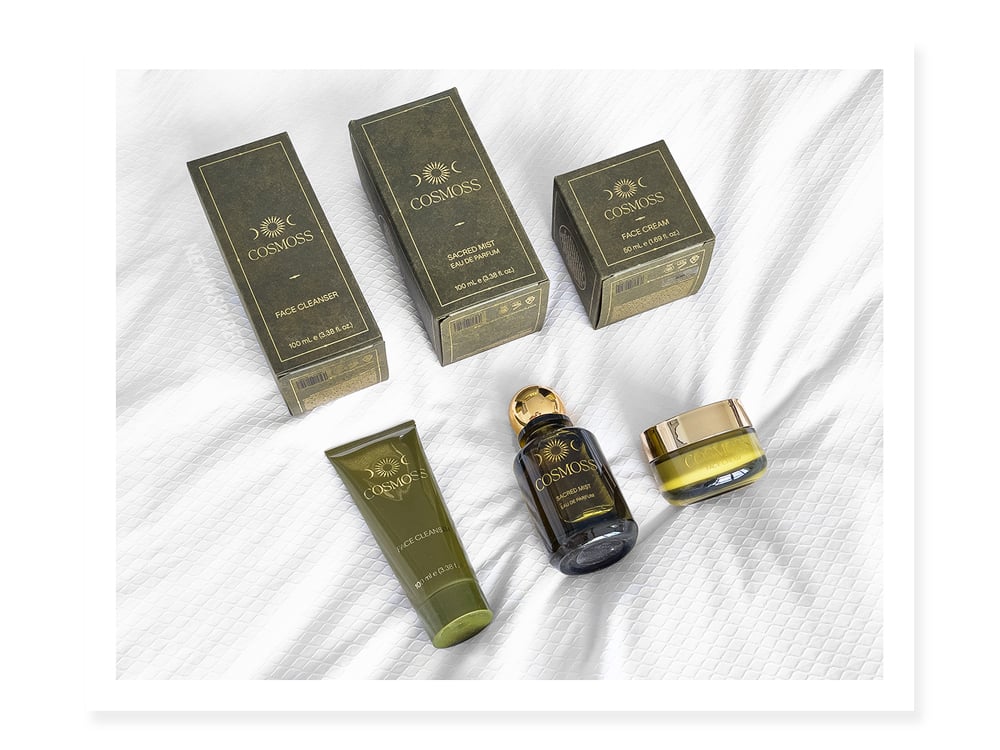 Reason: Cosmoss is Kate Moss' inaugural wellness line!
Most of the ingredients are either moss extract (Cosmoss/Kate Moss, get it?) or CBD (which is snake-oil imo).
… but, I bought it because of Kate Moss.
As a fan for almost 2 decades, it'd feel weird not buying whatever she's directly selling.
Let's start with the Sacred Mist (i.e., her fragrance)…
I thought this would be a face mist, but, it's an Eau de Parfum.
Cosmoss' Sacred Mist is a quick departure from 2007's "Kate Moss" Fragrance.
Where that perfume smelled like a clone of Stella by Stella McCartney (young and floral), it's tough to compare Cosmoss' Sacred Mist to any other fragrance — and not just because it's a "Sacred Mist."
The bottle itself has a heavy and quality feel.
… but, if we're being honest, it feels like a more mature fragrance that's not for me at this point in my life.
That's fine, because scents are personal preferences and while I might not be into it, it could smell divine on (and to) someone else.
Cleanser
Cosmoss' face cleanser has a light texture with a light fragrance that's likely based off the Sacred Mist (although to me, the face cleanser smells cleaner and less overwhelming).
It's a lovely addition to your morning or night routine, and like the Doré cleanser, I use a muslin cloth to wipe it off for a more exfoliating wash.
The Cosmoss face cleanser does seem to have a brightening effect when my skin is looking a little dull.
Face Cream
This Cosmoss face cream is richer and more heavily scented than the face cleanser.
The texture is relatively light (so not a thick Crème de La Mer), but super hydrating.
… but, after applying, I feel like it's in my mouth and have to immediately brush my teeth to get rid of the taste.
---
After using the Cosmoss cleanser and moisturizer on a regular basis for the past ~3 weeks, I have noticed that my skin looks brighter.
As well, my face has probably never felt this soft before.
… and maybe some of my forehead wrinkles have relaxed.
Who knows for sure if it's for real or a cosmical Cosmoss illusion, but either way, if you're a Kate Moss fan with disposable income, it's worth trying it out.
Cosmoss is available from, well, Cosmoss or Harrods.
Cosmoss is now available in unscented formulas!
(Note: I didn't want to try ingestibles, like Cosmoss' teas or the Golden Nectar, because I like mint tea and don't need a £20 tea obsession… nor do I want to ingest oil Nectar on a regular basis.)