Note: Yuki here — my friend Emerald has written for newinspired before and she's back at it again with this review on Réalisation Par's Scarlet dress…
The Scarlet slips into 90's nostalgia with its purple leopard print, taking us on a trip along memory lane.
The distinctive print is a twist on the classic animal pattern with its purple and light blue tones.
Instantly reminding me of a favorite childhood jumper in said print and colourway which accompanied many a primary school day. Except this iteration is a lot more slinky and grown-up.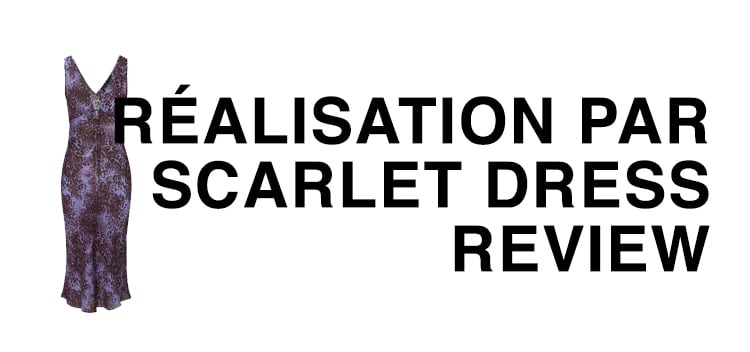 Réalisation Par has done it again and created another seductive slip dress, cut on the bias, to highlight every curve.

Ever the sentimentalist I had to grab a hold of this number.
Without realizing it Réalisation Par had stirred my sartorial schmaltz and pulled on my heart- and pursestrings.


---
Réalisation Par Scarlet Dress Sizing
In general my sizing can vary from FR 36-38.
Usually I will order a US 6 for Reformation.
My height is 5'7" or 170 cm.
I ordered The Scarlet in Medium.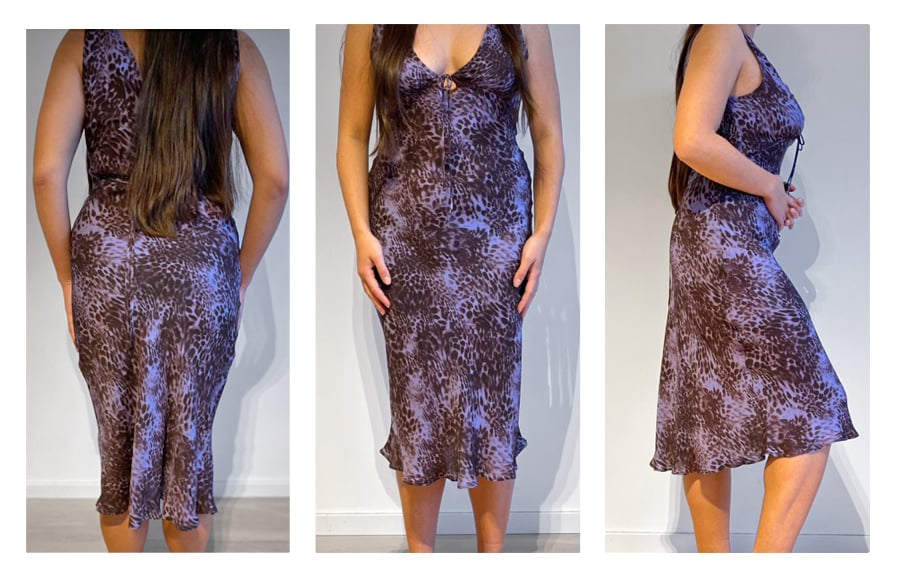 The sizing is accurate and you can check a detailed size chart with garment measurements on Réalisation Par's website to see which size would suit you best.
The brand does recommend you to size up when you are between sizes or have a larger bust.
The neckline, with its plunging neckline, is very seductive. And with its keyhole feature, the Scarlet dress is not entirely undergarment friendly.
There is an adjustable tie detail at the neckline in the front and an adjustable tie at the back to perfect the fit.
---
The Scarlet dress could easily star in one of those 90's films I would watch as a kid, sitting on the couch in front of the TV, and imagining my future self wandering around Notting Hill (or any other film setting featuring a young Hugh Grant).
The silky fabric packs easily and is perfect to accompany you on a getaway city trip.
In fact, I did just that and road tested it during my first night for dinner and drinks while I was visiting friends in Vienna.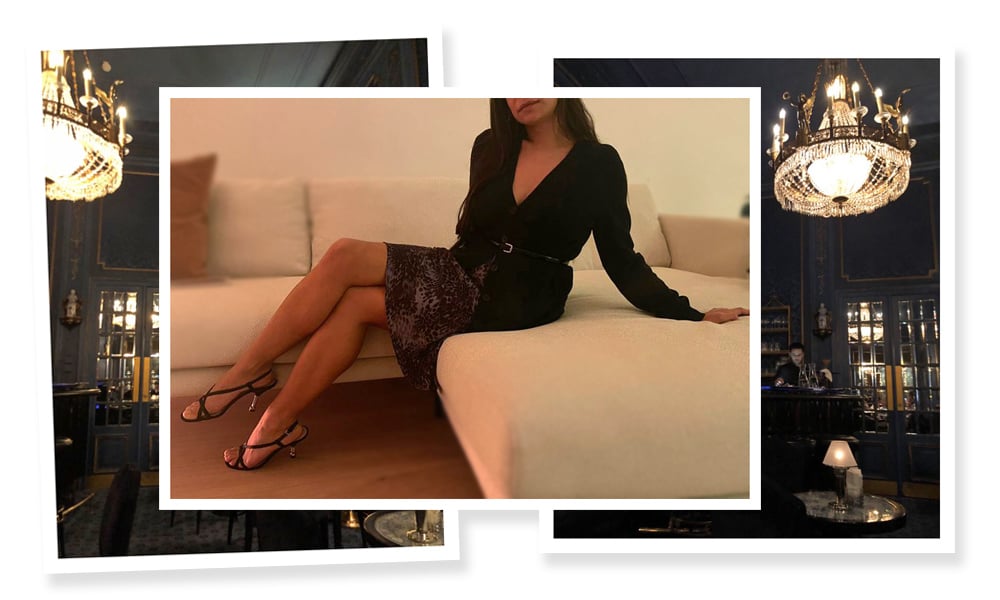 Photos c/o Emerald Liu

(Hot tip: reserve a seat at Hotel Sacher's iconic Blaue Bar. With its matching color scheme you'll feel right at home while sipping some of their classic cocktails.)
In case you would like to dress more modestly the Scarlet pairs beautifully with a navy wool sweater or cardigan. In case of chilly weather, tights and knee-high boots work wonderfully well.
Cue autumnal strolls in the park, observing the changing foliage.
Despite its flamboyant pattern the dress is surprisingly versatile and easy to style.
Don on a beat-up leather jacket for Kate Moss vibes or combine with an elegant strappy heel to channel Liz Hurley.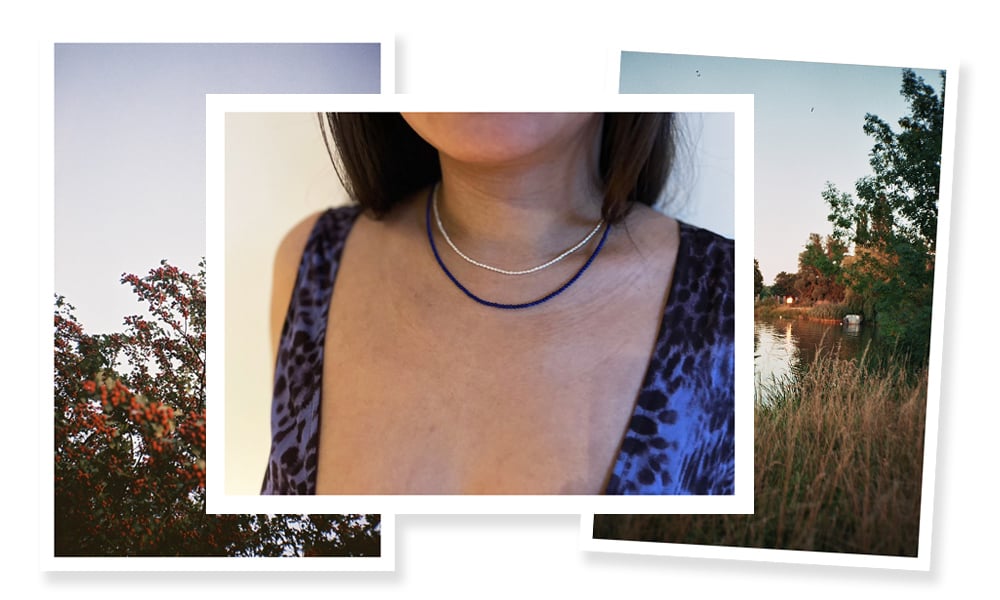 Add a freshwater pearl or lapis necklace and a baguette bag and you're good to go!
Charming, nostalgic, and not entirely practical but sensual nonetheless… The Scarlet can transport you to a cinematic realm.
---
Pros
–100% Silk Jianhong Crepe
–Pattern
–Selecting on region: I ordered from Europe and did not need to pay extra tax and duty fees upon receipt.
–Beautiful and practical complimentary tote bag: In case one should wish to opt in for one.
-Does not crease easily
Cons
-Sheer
–Thin fabric: This could mean it could be prone to tearing in the future.

–Packaging: The item arrives in a plastic foil wrapping, which does feel a bit cheap considering the price tag.
–Cut: According to the website the dress is bra-friendly, but in reality it would be tricky to find
undergarments compatible the deep keyhole feature. Aside from this the V-neckline is indeed very plunging, so it is not for the fainthearted!
Note: I ordered the dress during one of Réalisation Par's flash sales.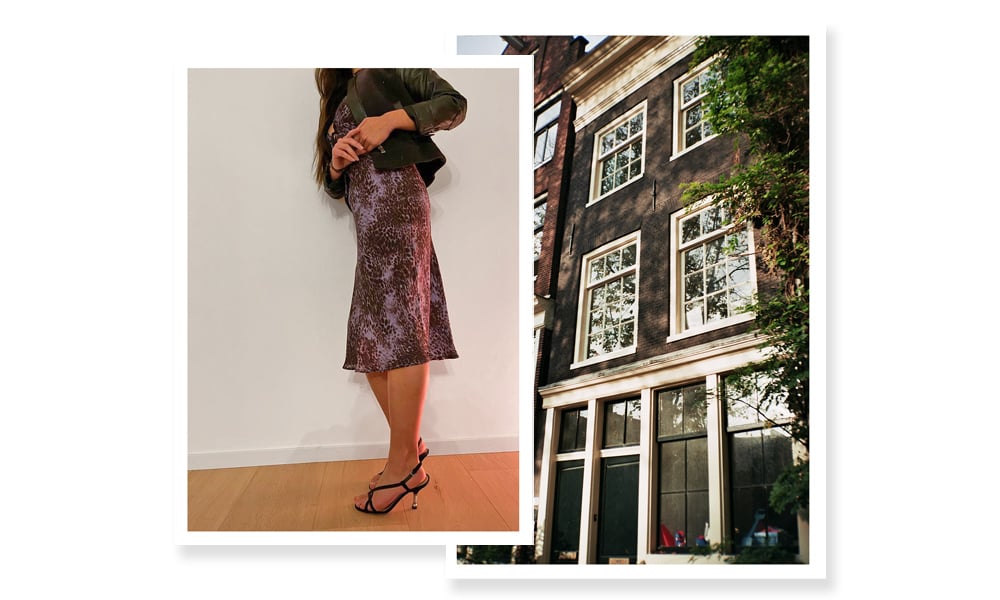 ---
When in a sultry state of mind just slip into the Scarlet dress.
Feeling more demure?
Throw on a cashmere over this mid-length number and you're ready to head out the door. Either way the dress sets you in a nostalgic mood. 
The Scarlet dress, in Purple Leopard, is available for $225 via RealisationPar.com.
You might also be able to find it on the Real Real, where you could save money and the environment by buying it second hand.

About Emerald: A self-confessed Italophile with Sino-Belgian heritage. Loves to write about architecture, literature, art, and geek out on old movies. Previous writings have appeared in The Millions, Drawing Matter, Far-Near, and more. When not jotting down words you can find her hiking, making up too detailed travel itineraries, or sketching. You can find more of her travels on Instagram.
Note: newinspired uses affiliate links which costs you nothing… but means a lot to me. When you use these links, the money newinspired earns gets reinvested in blog content. Absolutely nothing on newinspired is "gifted" or sponsored, I purchase each item with my own money. Affiliate commissions are used to purchase new items to honestly & thoroughly review. If you found this review helpful, consider using them to support newinspired.