… for those of us tired of carrying impractical wicker baskets.
Item(s):
1- Nannacay, Amy Bag
2- JW Anderson, Knitted Shopper Tote
3- Lele Sadoughi, Daisy Pouch
4- Rag & Bone, Addison Mini Shopper
5- Stella McCartney, Mini Falabella Crochet Bag
6- Alanui, White Sand Island Tote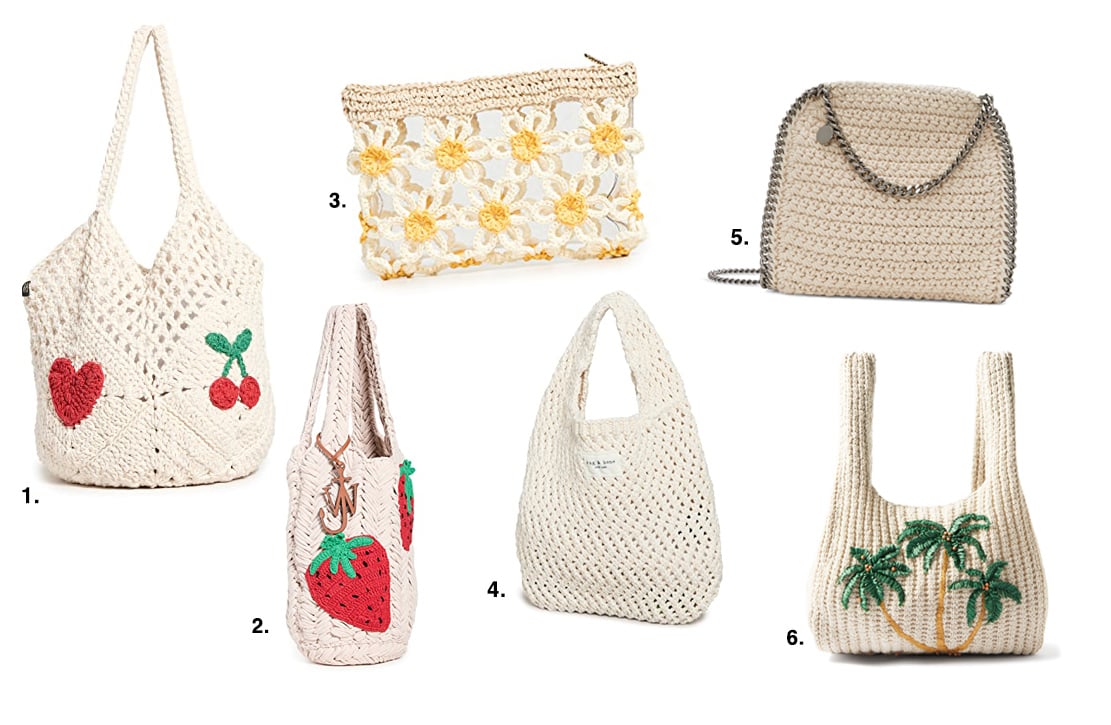 Reason(s):
1- A crocheted heart and cherry on a crocheted tote — what could be more up my alley?
2- Nothing says "summer" like berries from the farmer's market… and in this case, strawberries.
3- It looks like these crochet daisies are adhered to a vinyl clutch, so you get the best of both worlds by showing off what's in your clutch (literally) and your love for fresh flowers (totally assuming you also dig fresh flowers!).
4- OK, this is clearly my favourite pick since I've referenced it before. It's just so minimal and cool.
5- Love when designers play on their classic handbags. For this one, Stella McCartney puts her sustainably stylish stamp by making her Falabella out of crochet.
6- Alanui is so damn cool, but their sweaters are so damn expensive. While also pricey, this tote is way more summery than a heavy knit cardigan — even if the sweater also has palm trees on it.
---
Which would you pick?
Are you also into ditching the basket bag and going for something softer, like a crochet bag?