With wedding season around the corner, these are my picks for the ol' "omg I have too many weddings coming up and don't want to buy 7 different dresses" problem.
The key for these dresses is that they're all understated, yet classically stylish.
Follow my principles on "How To Wear One Dress to 10 Weddings" and you can wear any of these dresses until all your friends are done getting hitched…
Item(s):
1- Caroline Constas, Bel Dress
2- Zimmermann, Wrap Dress
3- Molly Goddard, Ellen Dress
4- G. Label, Maas Slip Dress
5- Norma Kamali, Round Neck Dress
6- HVN, Kacey Dress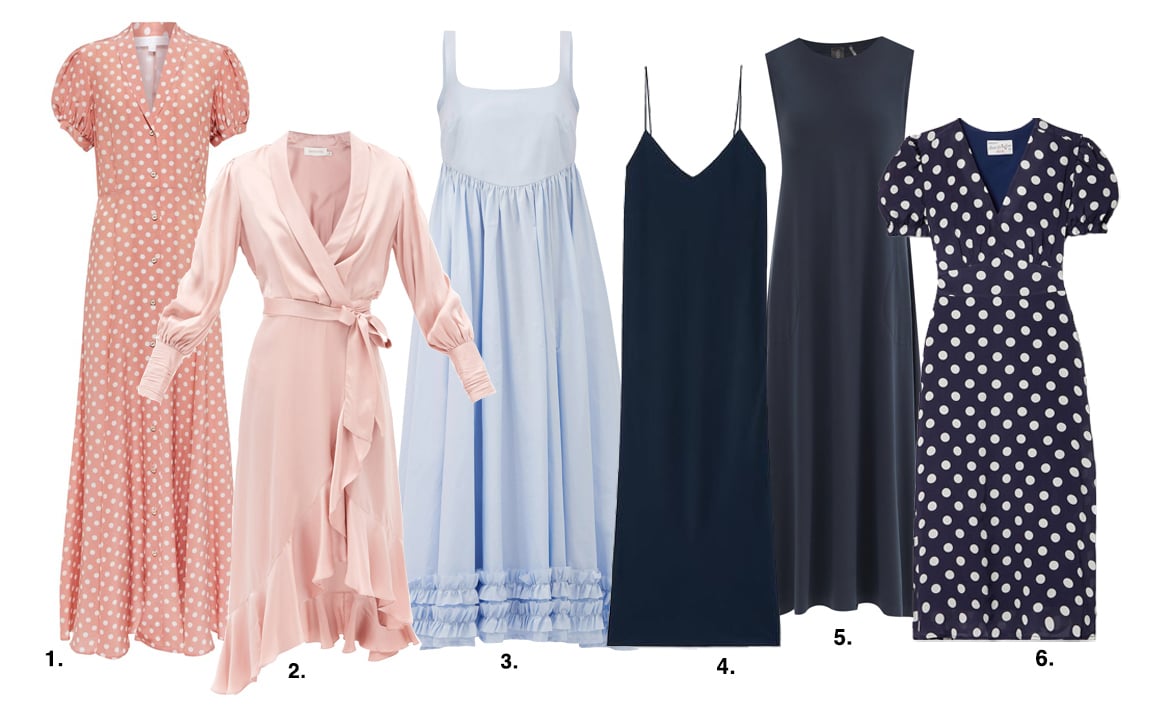 Reason(s):
1- You know how much I love a polka dot dress, let alone a 100% silk maxi dress polka dotted dress. Dress this Caroline Constas dress up, down, and around.
2- Maybe this dress isn't the best wedding guest dress pick. Maybe it is too memorable. Maybe it is too pretty… but does that matter?
3- Be the brides' "something blue" — please note that I pluralized "bride."
4- You and your friends might all 90's babies, so pick this classic 100% silk slip dress to show your allegiance to the best decade to be born in (okay, that could be debatable).
5- Its midnight blue colour coupled with simple silhouette can be dressed up or down with ease. At $117 USD, this Norma Kamali dress could very well be the workhorse that'll see you through wedding season… and it has pockets.
6- OK, maybe this dress wouldn't work for a black tie wedding… but, you can try HVN's Cristina dress instead. Swap out the belt for a black one (or red or even a metallic one!) and with a pair of heels it'd be totally appropriate to wear.
---
If you're looking for something a little more unique…
This dress would also be amazing to wear — Dôen had a similar dress at one point and I absolutely love finding the original vintage inspiration for different designers. It's a little too much of a statement to wear to another wedding, but it's beautiful.
This vintage dress is also A+ as a wedding guest dress, and Kate Moss based one of her Kate Moss for Topshop dresses on it!
Which of these dresses would you wear over and over again to your friends' weddings?