Monday: Since I'm absolutely incapable of lying, I have to admit that this is an older outfit from a few weeks ago from when I went to scope out new Chanel shoes with my mum.
Still worth sharing since these SLVRLAKE London jeans are A+… love an off-white pair of jeans, although I was in the process of stretching them out at the time so they look a little tight.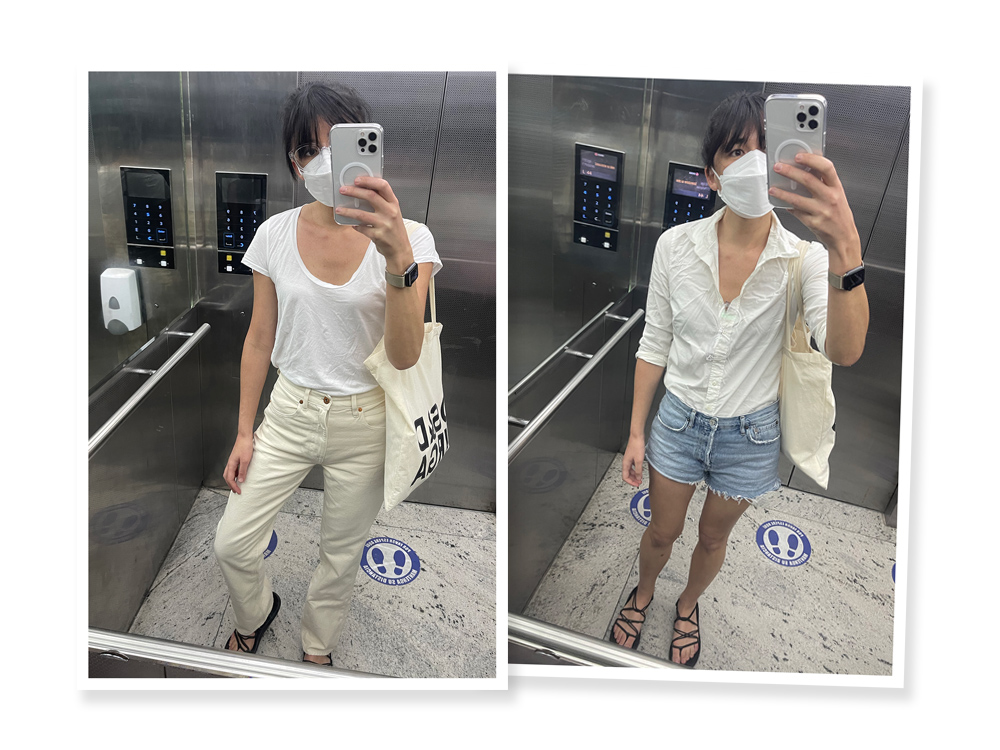 Left: James Perse t-shirt with SLVRLAKE London jeans in Ivory and my trust Teva Voya sandals; Right: AGOLDE Parker shorts with a super old J. Crew button down and the same Teva Voya sandals.
Wednesday: Wanting to stretch our legs, my husband and I took a little trip to the mall to have lunch. We ended up trying a new-to-us restaurant, Paladar, which is not new at all tbh — it was fine, but I got a stomach ache after finishing his steak/cheese sandwich and french fries (I had steak kabobs for those wondering).
Friday: My husband and I went to the mall since it was a day off, but everything was closed.
Well, "everything" meaning the Nespresso store and Riba Smith (the grocery store), so we grabbed a quick lunch at Popeyes instead (I had chicken nuggets with tartare sauce). Again with the SLVRLAKE London jeans, they're just really low-key cool looking, you can find my full review on 'em here.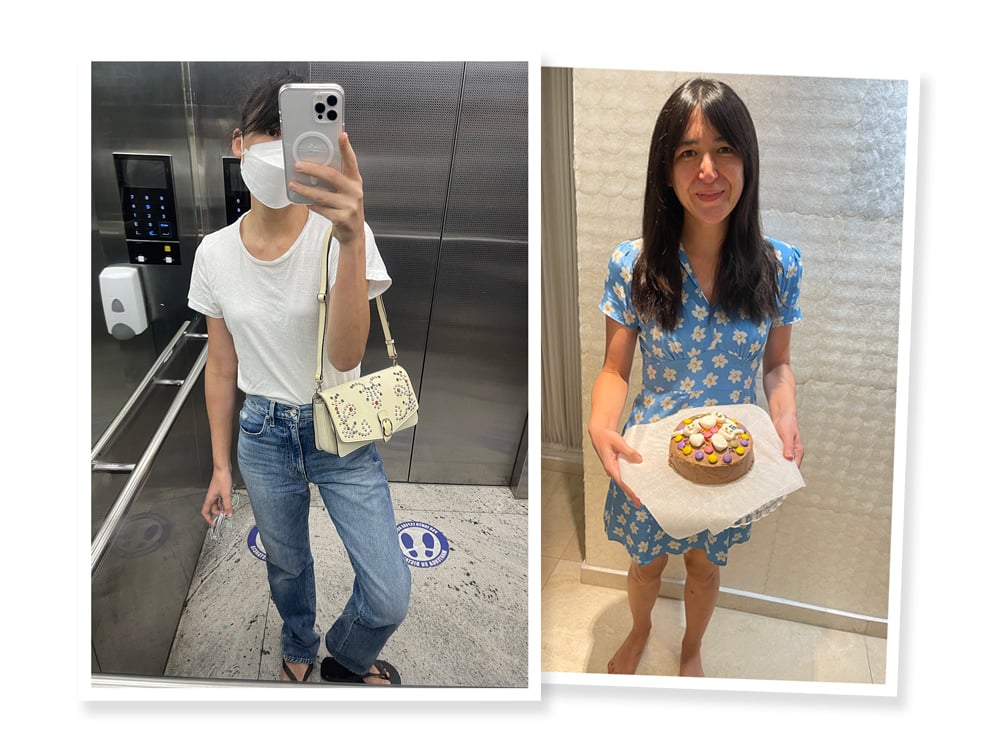 Left: SLVRLAKE London jeans with a Re/Done t-shirt, Havaianas flip fops, and an Isabel Marant bag; Right: HVN mini Morgan dress with our Bunny Day cake.
Sunday: Easter Sunday!
This year, we diverged from our usual ham with scalloped potatoes, peas, and my mac salad for Easter and instead made lamb with potato gratin (recipe from the Balthazar cookbook (or here that I followed to a tee, except for using an 8×8 dish instead) — so good and let the record show that my love for Balthazar has been since 2006 and that DeuxMoi did not "make me do it"), creamed spinach, and roasted cauliflower (my new-to-me trick is to blanch them before roasting to get a soft interior with a crisp exterior).
Every year my mum judges a Bunny Cake competition for an old friend's family, this year my husband and I were also inspired to make our own Bunny Cake. My mum made the cake, he made the frosting, and I made the marshmallow bunnies.
This HVN dress that I grabbed from The Real Real felt Easter appropriate since the flowers sort of look like eggs and the light blue is pretty Eastery… also, Selena Gomez wore the Nora version of this dress at Coachella way back when and it's Coachella weekend — but that's a deep-cut reference and not the main reason why I wore it.
---
What did you wear this week?