"Move to the Caribbean," they said.
"You'll spend less money on clothes," they said.
Six new Acacia Swimwear bikinis later… Are "they" sure?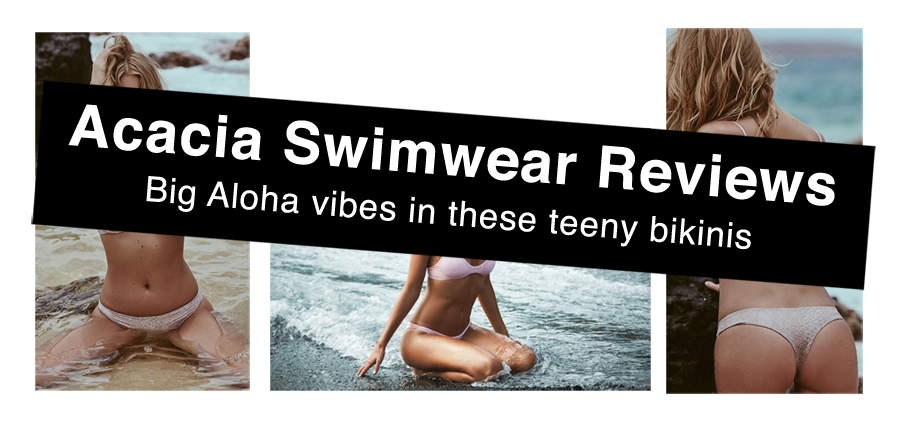 Acacia's vibe is total Hawaiian cool girl.
You kinda feel Blue Crush-y when you're wearing Acacia — like cool and ~local.~
… and also Kate Bosworth-2003 kind of hot.
As a result Acacia is a cult classic among swimwear fans.
It's for a good reason… these swimsuits give you this barefoot, laid back, Hawaiian cool feeling every time you wear them.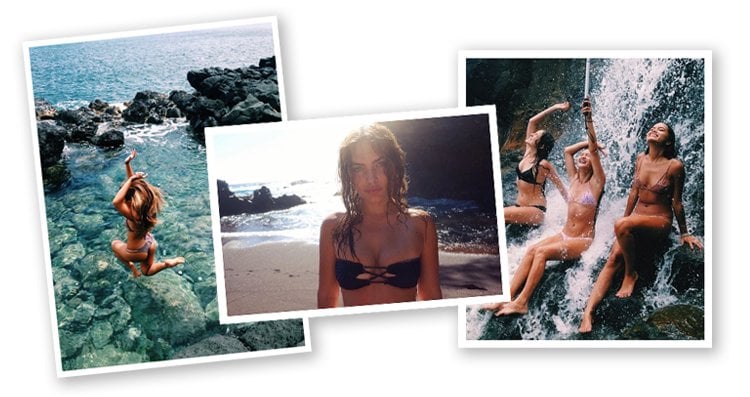 ---
This past year, I've bought six Acacia bathing suits. I definitely went a little overboard… but to be fair I'm spending a lot more time at the beach these days.
In this section, I'm going to show you five of them (the other non-photographed one is the exact same as one of them in a different color): Shaka Top, Waikoloa Bottoms, Manhattan Top, Ho'okipa Bottoms, Jaws Top, and Kauai Bottoms.
I'll try to make these reviews all encompassing: sizing, what I like, what I don't like, etc…
If you want to compare my Acacia sizes and likes/dislikes to another brand, you can find my sizing & thoughts on 15+ Mikoh bathing suits here.
Acacia Shaka Top Review
SIZING
The Acacia Shaka top pictured on me here is a size small. I also have it in extra-small (size P).
Extra-small is definitely a bit smaller and less coverage, BUT it does makes my chest look bigger (you can see it in "plaid" under the Ho'okipa bottom section). The band on extra-small in Shaka is a bit too tight to get in and out of, but it looks good.
Despite getting more lift with an extra-small, I would continue to get a size small because the band is a bit too tight in extra-small.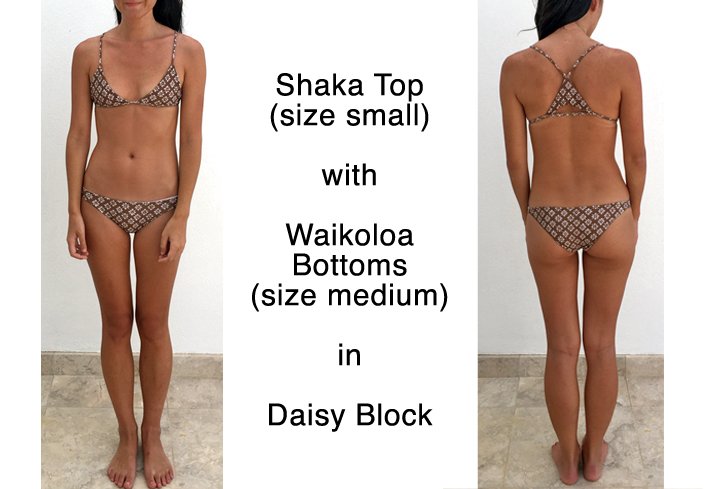 PROS & CONS
Pros: Simple back, simple design
Cons: Not AS flattering as other tops
THOUGHTS
The Acacia Shaka top is basically a sturdy triangle bikini top… but because it doesn't have any strings/ties, it lifts my chest slightly more than a typical string triangle bikini top would. It does the job of being a simple bathing suit top, but it doesn't work over time.
RATING
⭐️⭐️⭐️⭐️/⭐️⭐️⭐️⭐️⭐️
---
Acacia Kauai Bottoms Review
SIZING
My Acacia Kauai bottoms are a size small.
My denim shorts are a size 25 (Acne) or 26 (Re/Done), depending on the make.
The Kauai bottoms make my bum look more full and less flat as a result of being a smaller size.
These bottoms are incredibly flattering.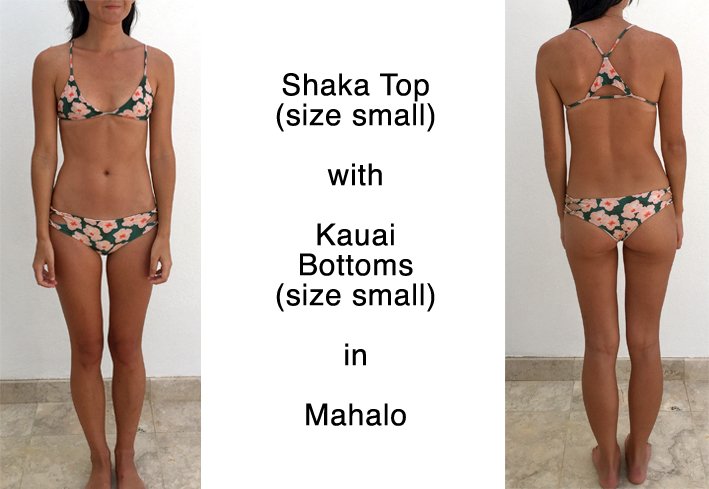 PROS & CONS
Pros: Slims my hips, A+ coverage on the front, no camel toe, basically lifts my bum and makes it looks socially-acceptable
Cons: A little bit of a wedgie, but it's supposed to be like that — note: this wedgie is not uncomfortable
THOUGHTS
Acacia swimwear's Kauai bottoms are basically the best push-up bra for your bum.
The side detailing slims your hips because there isn't a thick material to add bulk.
The back is cut so that it's basically a soft square — this frames your bum and makes it look more round as a result.
In my eyes, my bum is flat, kinda flabby, and definitely dips in at the sides. When I'm at the beach I try and sit down as much as possible so no one has to see it… but not in the Kauai bottom. I'm so happy with how it looks. It pushes it out and plumps it up. I have honestly never felt this good about my bum in a bathing suit bottom. Ever.
RATING
⭐️⭐️⭐️⭐️⭐️/⭐️⭐️⭐️⭐️⭐️
---
Acacia Manhattan Top Review
SIZING
My Acacia Manhattan Top is a size extra-small.
The Acacia Manhattan top definitely feels a little tight in extra-small. But I don't think it looks too tight… My concern is that I wouldn't fill in the darting on the cups if I sized up to a small.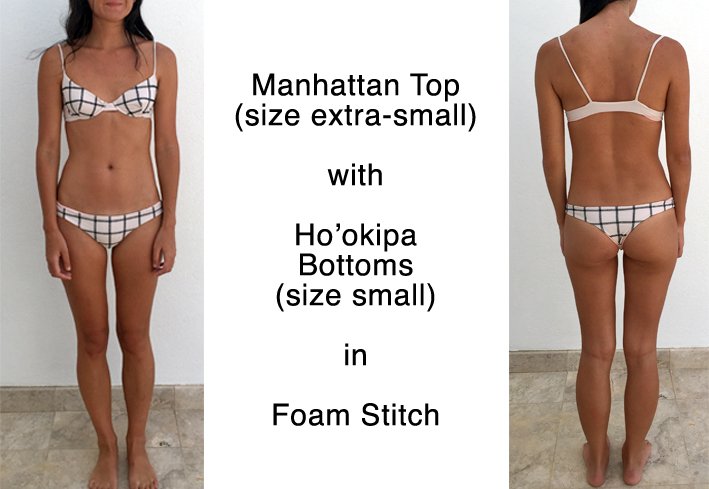 PROS & CONS
Pros: Dainty straps, if you have a good chest it would probably look flatter it
Cons: Darting
THOUGHTS
I've never really been into when bathing suits look like actual bras. So, I'm not a fan of this top in general. I have to mention that there is darting on the cup — which can cause sizing/filling out issues.
RATING
n/a it's just not for me in general, so I can't rate it properly.
BUT it does have that great Acacia quality, so if you like the look and feel comfortable with how it would fit, why not try it!
---
Acacia Ho'okipa Bottoms Review
SIZING
My Acacia Ho'okipa bottoms are a size small.
As I've said take your normal size because you want them to be tight.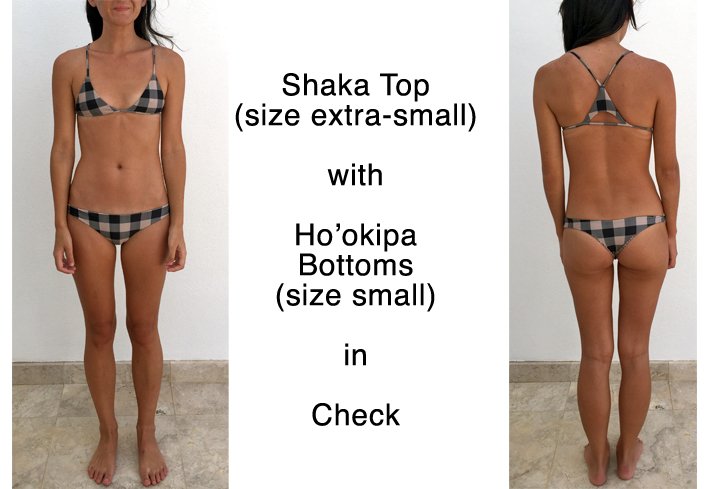 PROS & CONS
Pros: Minimal tan lines, basic bottom, surprisingly good coverage on the front
Cons: You have to be comfortable with the world seeing a lot of your bum
THOUGHTS
Classic swimwear bottoms with lots of bum exposed. I like how the sides don't have a ton of material so it doesn't add bulk to your hips.
Note: Acacia has more bottoms that show more bum and some bottoms that show less bum, these are in the middle in terms of coverage.
RATING
⭐️⭐️⭐️⭐️⭐️/⭐️⭐️⭐️⭐️⭐️
---
Acacia Jaws Top Review
SIZING
My Acacia Jaws top is a size small.
I would continue to take a size small — it still provides a ton of lift/cleavage, but feels more comfortable than an extra-small.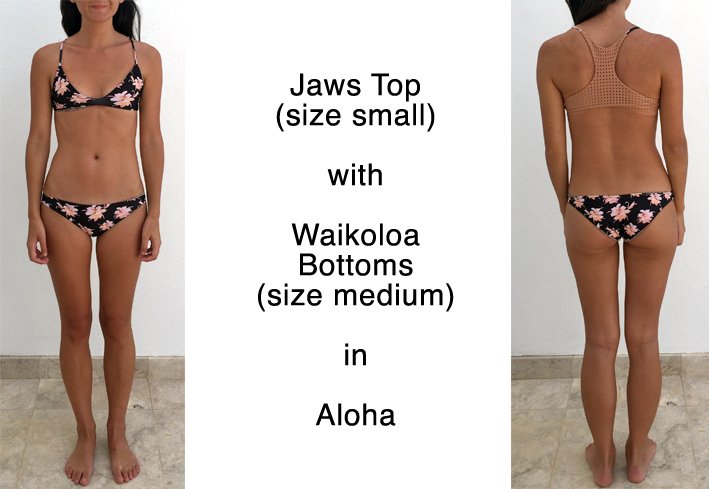 PROS & CONS
Pros: Insane amount of chest lift, basic sporty bralette style
Cons: I don't love the racerback, it's discontinued
THOUGHTS
I really love this top and wish they hadn't discontinued it. It actually makes me look like I have cleavage.
This top WAS perfect for smaller girls. It really pushed things up and still had thin straps.
It provides so much lift and doesn't slip around. You can jump off of jetties and SUP around a bay. The Jaws top holds everything in place and make you look like a Hawaiian beach babe in the process.
RATING
⭐️⭐️⭐️⭐️+.5/⭐️⭐️⭐️⭐️⭐️
I'm doing minus .5 because I don't LOVE the racer back effect — but I also prefer more simple tops… Like their (discontinued) Na Pali top, that I don't have, but would have liked.
---
Some Acacia Bikinis…
These are all from Revolve and you can save 10% off your first order if you sign up for their newsletter.
---
Acacia Waikoloa Bottoms Review
SIZING
My Acacia Waikoloa bottoms are a size medium, you can see them above in the Jaws section.
I purchased these in medium because they were my first Acacia bottoms. If I could do it over again, I would size down to a size small instead.
PROS & CONS
Pros: A bit more coverage in the back, thinner sides so slims your hips
Cons: None
THOUGHTS
I was nervous to dive into Acacia because I had seen from my sister and basically every single Instagram model (and non-model) that these bottoms are not for shy girls (i.e. me). I (try to) do a half hour of yoga and 15 squats/day, but I just can't get a "good" bum.
These Waikoloa bottoms are one of Acacia's more covered bottoms… and they're still relatively skimpy!
RATING
⭐️⭐️⭐️⭐️/⭐️⭐️⭐️⭐️⭐️
---
BONUS: Acacia Swimwear Pareo Review (shown with Shaka Top and Waikoloa Bottoms and Ho'okipa bottoms)
SIZING
Acacia's pareos are big!
PROS & CONS
Pros: It's big, it matches your bathing suit, easy to throw on on your way home, easy to throw in your hair, no scalp burns, AND it can double as a light blanket on an airplane!
Cons: None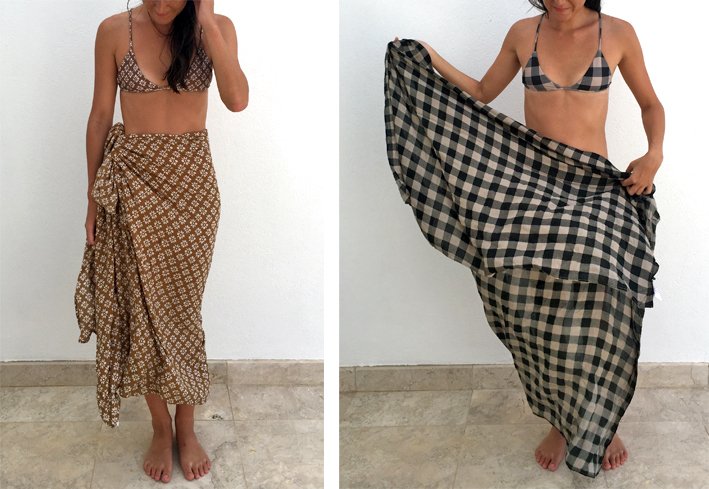 THOUGHTS
I use my Acacia pareos for hair and hiding my bum. Not really for tying in cool dresses or anything… I'll never be someone who can figure that out!
I love the matchy-matchy bathing suit to pareo/head-wrap look so much. It's so 1970s.
I'm not someone who looks like a beautiful, bronzed, beach babe when I emerge from the sea. I look more like a sewer rat who survived a flood. Great mental picture, right? So to hide my gross hair, I tie it up like I would after the shower but instead of a towel I use my pareo! Now that looks good!
RATING
⭐️⭐️⭐️⭐️⭐️/⭐️⭐️⭐️⭐️⭐️


Some ACACIA Coverups…
Don't forget that you can get 10% off your first Revolve purchase.
---
SIZING
Take your true size, don't size up, if you really want to get the most out of your Acacia swimsuit.
Acacia swimwear sizing is meant to be small and tight. Naomi Newirth, owner and creator of Acacia, has figured it all out. For a bathing suit to look A+ on you it has to HUG all the right places and be smaller. Not just sit there like some bathing suits, but actually HUG your body.
I know it's tempting to size up. You think you'll get more coverage and be more comfortable. But after wearing both small and a medium bottoms, a tighter fit is better in the end. Compare the Ho'okipa bottoms vs Waikoloa bottoms on me, someone who does not have a great bum. The Ho'okipa bottoms look better because they're cut smaller and they're also a size smaller (so they're smaller).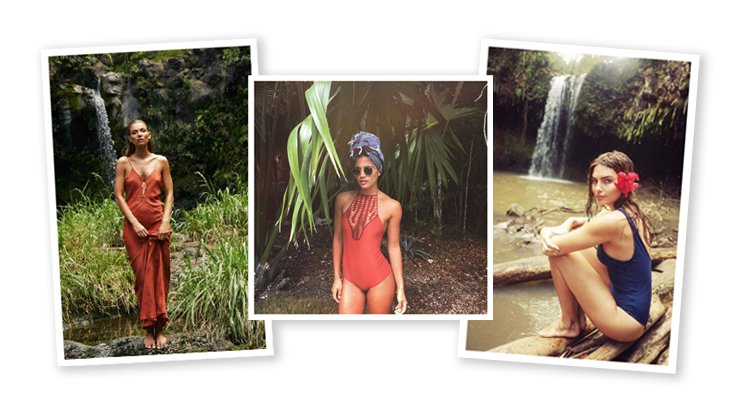 ---
PRINTS
Acacia makes some of the best prints in the entire swimwear industry.
Without fail they sell out their prints season after season. Even during pre-sale. Their prints are total summery, but they aren't completely bright and sunny. They have this slight toughness to them, while being feminine.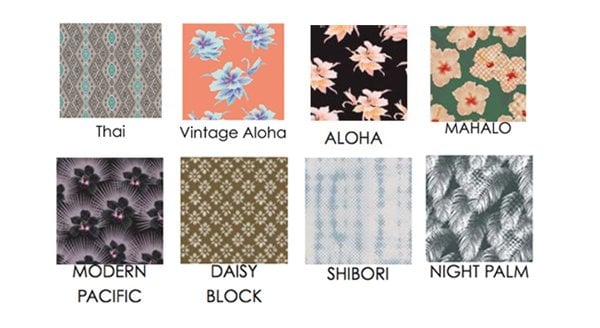 You also get a two for one with Acacia… They're reversible! The front is whatever color or print you ordered and the other side is normally a snake print.
MATERIAL
These bikinis are made out of the softest material you will ever find. It's basically a waterproof cashmere (minus the fluffy fibres, obviously)… It's THAT soft.
The problem with the material being this soft is that you might face pilling, sand, and stitching problems. With any bathing suit (or expensive garment) you do need to exercise caution, i.e. don't sit on concrete, don't purposefully get tons of wet sand on it, etc… I've pilled the seat of an Opening Ceremony x Deyrolle silk dress because I sat on something that I shouldn't have. So it can happen with any delicate garment.


---
SUMMARY
ACACIA SWIMWEAR TOPS
As a smaller girl, I'm struggling to find a top that works well since they stopped making Jaws and Na Pali.
If anyone has any recommendations for an Acacia top for small chested girls, I'm all ears!
Shaka is a good basic top to have. But I would love more of a bralette and non-racerback top…
1,000,000 strong for Acacia bringing back Na Pali (and not just in mesh)?
Let me know if you want to sign a petition in the comments! ?
ACACIA SWIMWEAR BOTTOMS
They're the best.
Acacia's bottom fluffs it up and pushes it out. They put in time and a half to make your bum look good. They really try hard for you, but how confident you feel in them plays a huge part. That's true for anything, the more confident you feel in something the better you'll end up looking.
It might take time to get there, but you will actually start to get comfortable and confident in your barely-there bottoms. It took me about half a year to feel good in them. After wearing them, I now understand the magic behind the brand — they actually end up teaching you to feel like a confident and comfortable woman in your own skin.
TIPS
-If you see a suit in a print you like, buy it fast, it could sell out
(I had to buy my Mahalo suit from three different retailers, and all three pieces sold out from those retailers shortly after)
-Get the matching pareo
-A lot of the retailers, like REVOLVE, take 10-15% off when you join their email list.
-If you live in Hawaii or California, they have sample sales once a year
-Almost every boutique (including acacia.co) gets "exclusives" mid-season, they're old or current cuts in the new prints and are super exciting. Keep an eye on Instagram (#AcaciaSwimwear) for where they are!
Acacia bathing suits and coverups are available from Society Bikini or REVOLVE.
Acacia also has their own e-boutique.
Please be aware that they have a strict ALL SALES FINAL policy.
Note: newinspired uses affiliate links which costs you nothing… but means a lot to me. When you use these links, the money newinspired earns gets reinvested in blog content. Absolutely nothing on newinspired is "gifted," I purchase each item with my own money. Affiliate commissions are used to purchase new items to honestly & thoroughly review. If you found this review helpful, consider using them to support newinspired.
For more details on Acacia swimwear sizing, refer to this handy and accurate chart from Be In The Sea: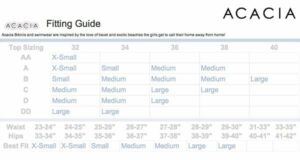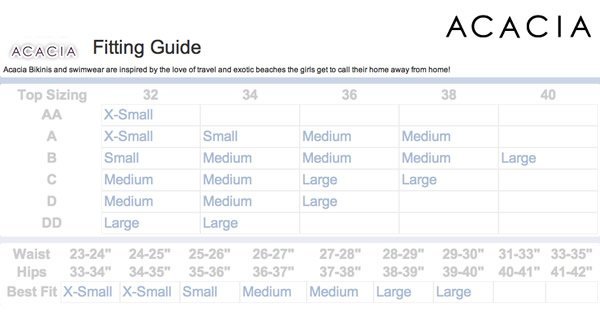 You might also be interested in…