You guys voted on Instagram… and I bought it.
The overwhelming majority of you said you wanted a review on Acne Studio's jean shorts and I am so glad.
… you guys were right — these shorts are surprisingly great.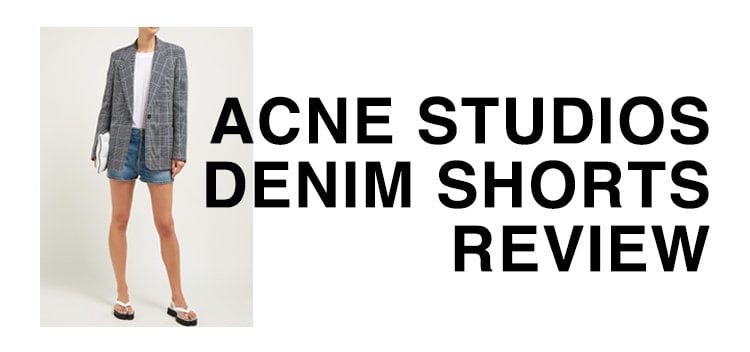 My first & only pair of Acne Studios jeans were bought at the height of my Sofia Coppola obsession in 2010 on The Outnet. They were super ill-fitting, but if they were a Coppola favourite, so be it.

That year I basically had Somewhere projecting on my living room wall on a loop… and drank too much her wine every weekend.
Today, I had no idea what size to order Acne's jean shorts in.
… but I knew that if I got the size right, I could fulfill a lot of my Sofia Coppola sartorial fantasies.
ACNE DENIM SHORTS SIZING
For reference's sake, I'm 5'5.75" and weigh 115-117 lbs.
My other denim shorts sizes run below:
–AGOLDE, size 25
–Citizens of Humanity, 25
–Levi's 501 shorts, 26
–Re/Done, size 26
-Rag & Bone Mila shorts c. 2010, size 25
To be more specific…
My waist: 71 cm (across my belly button)
My hips: 90cm (at the largest point)
MatchesFashion's model wears a size 26, but is it me or do they look a little baggy on her?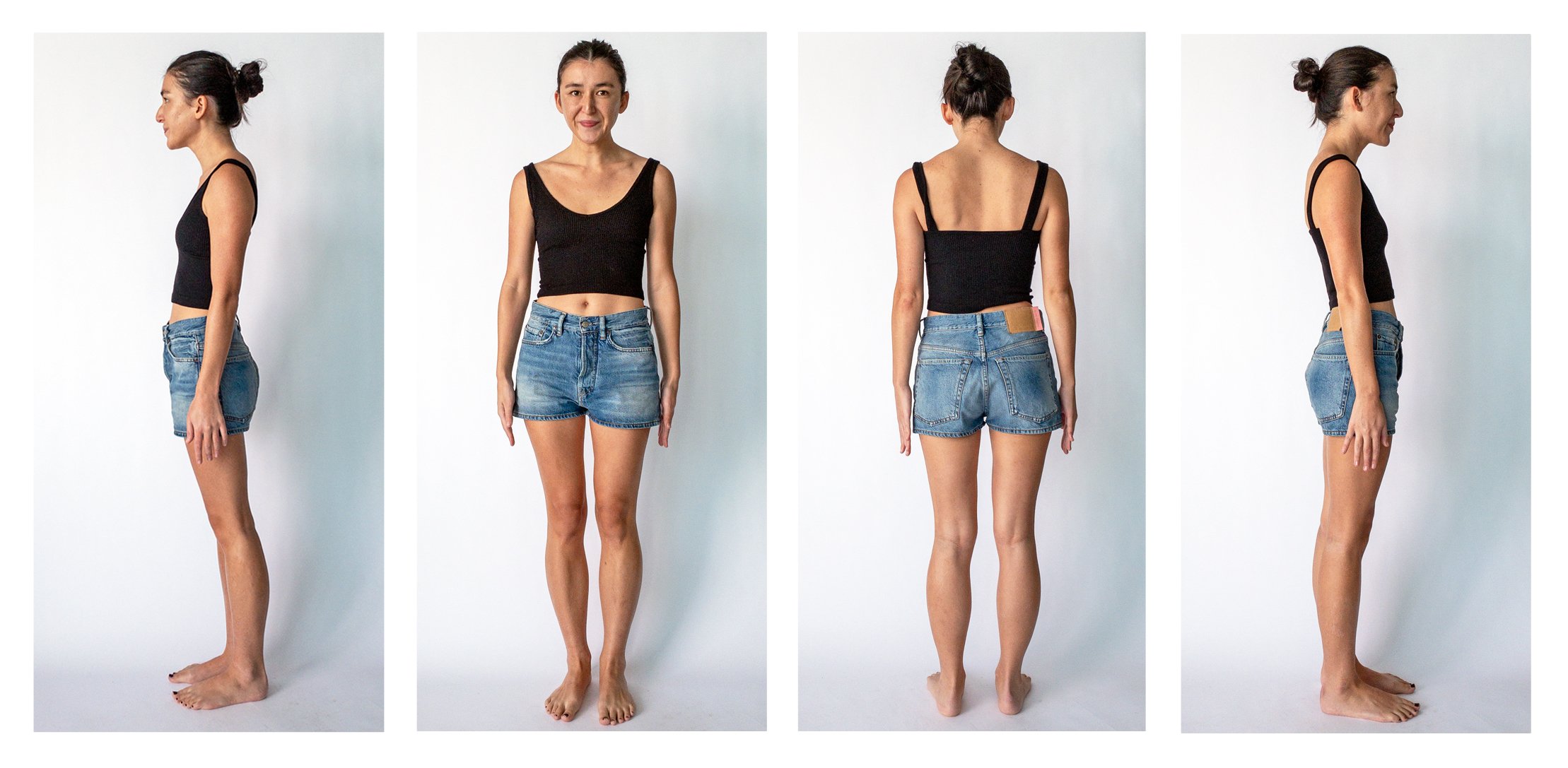 I decided to size down and order these in a size 25.
Acne Studios' denim shorts run true to size. As you can see, the size 25 fits me perfectly and is in line with my other denim sizes.
All buttoned up and they sit below my waist and are not too tight anywhere.
These shorts also do not create that awkard "v-shape" at the crotch (gross, but with mid-to-high ride cut denim, let's be real — it happens).
The wider cut leg openings add a leg slimming effect and add a light 1970's vibe.
---
IMPRESSIONS & QUALITY
Acne Studios' Bia Konst denim shorts are through and through classic denim shorts.
While a destroyed denim short (like my Rag & Bone shorts (c. 2012) that I hoard off eBay) bellows for a beachy boardwalk summer, Acne's shorts offer a more pulled together look.
I style these shorts the exact same way I style my distressed denim shorts in the summer, read: t-shirts and tank tops.
The outfits turn out more refined and a little more nostalgic because of the subtle 70's cut and lack of distress.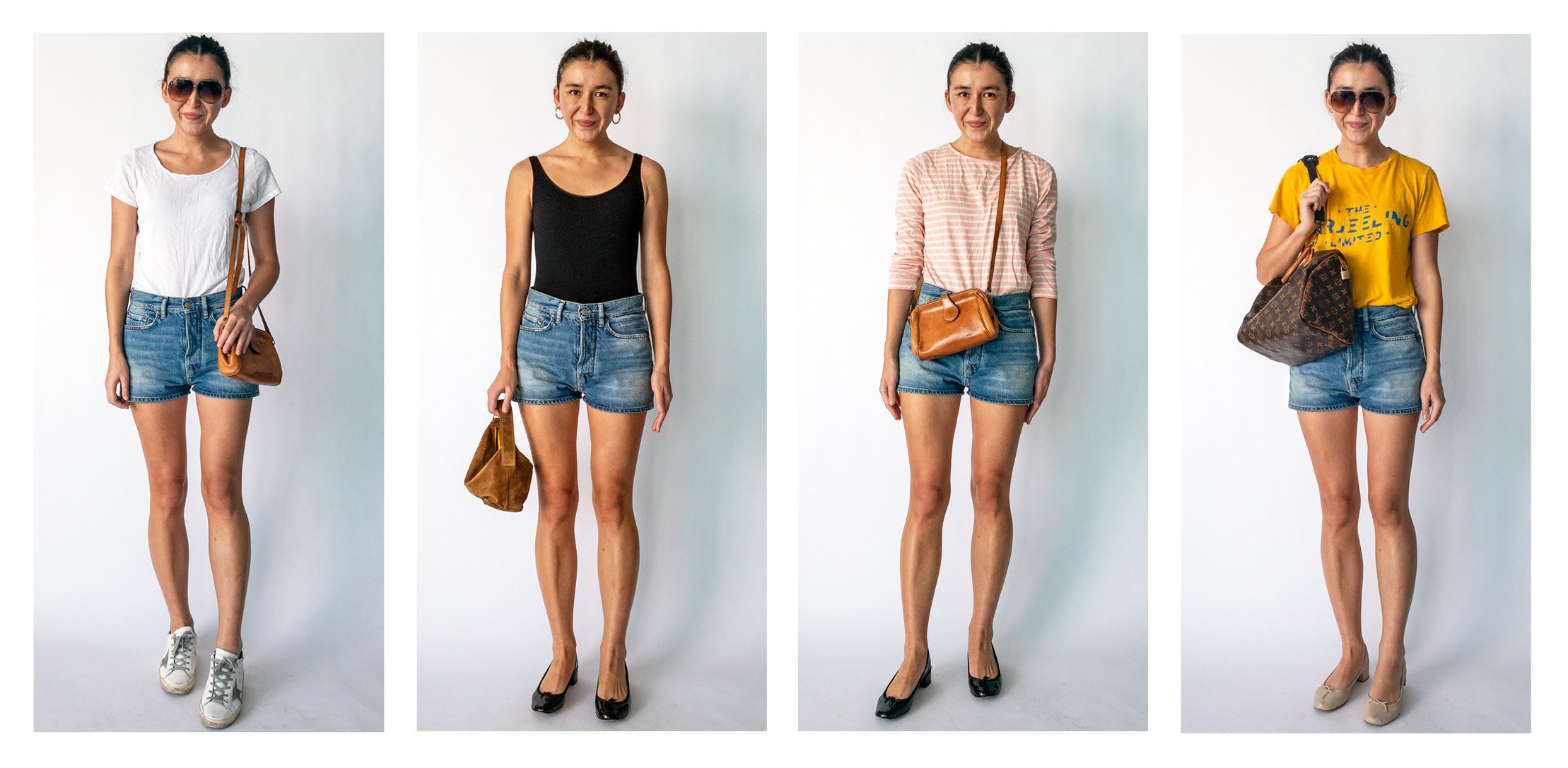 Left to Right: Vintage bag with Dita sunglasses and a Rockins t-shirt and Golden Goose sneakers, Miu Miu bag with Goop x Jennifer Fisher hoops and a Wolford bodysuit and Repetto Camilles, Vintage bag with an APC long sleeve and Repetto Camilles, Louis Vuitton bag with Dita sunglasses and an APC x Wes Anderson tshirt and Repetto Camilles.
… now, imagine if I had that classic Farrah Fawcett kinda hair?
How great would those outfits be???
---
PROS & CONS
Pros
–100% cotton: Don't stretch, but will relax over time.
–Midrise: Not as high waisted as Re/Done jeans, but they sit just below your belly button.
–Big Leg Openings: Adds a slimming effect to your legs.
–Not distressed: It's hard to find denim shorts that are not destroyed. Not being pre-distressed will help extend the lifetime of these shorts.
Cons
–Could kinda look like a skirt: Because the leg openings are so big, it can kinda look like a skirt from some angles.
---
Close to 10 years later, Sofia Blanc de Blanc is still my go-to tipple on the weekend (with a splash of crème de cassis!)… and I still want to be a Coppola.
From the 1990's to present day, Sofia Coppola's subtle style endures.
… and like Sofia's style, the effect of these slimming & stylish shorts won't get lost in translation.
My exact pair are available on MatchesFashion for $210 USD with free shipping.
Or check out these retailers who also have them…
Note: newinspired uses affiliate links which costs you nothing… but a lot to me. When you use these links, the money newinspired earns gets reinvested in blog content. Absolutely nothing on newinspired is "gifted," I purchase each item with my own money. Affiliate commissions are used to purchase new items to honestly & thoroughly review. If you found this review helpful, consider using them to support newinspired.
---
You might also be interested in…