To me, white denim = preppy.
… and not in a good ironic-preppy Vampire Weekend way.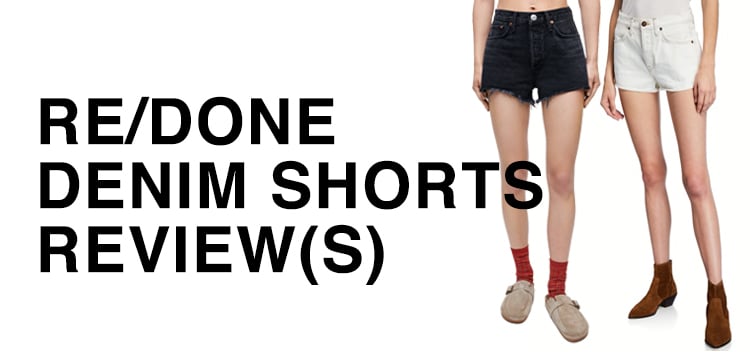 Off-white denim though?
Well, the gloves are off and (all my) wisdom teeth are out.
I'm stronger now, I'm ready for the house off-white denim.
… but, like Vampire Weekend's single, "Step," I can't do it alone.
Enter: Re/Done's Double Needle Western Shorts to help me enter the grownup world of white denim.
With a special guest star of Re/Done's 70s High Waisted Shorts.
---
Re/Done OriginalDenim Shorts SIZING
For reference, I'm 5'5.75" and weigh 115-117lbs.
My other denim shorts sizes run below:
–Acne Studios denim shorts, size 25
–AGOLDE, size 25
–Citizens of Humanity, 25
–Levi's 501 shorts, 26
-Rag & Bone Mila shorts c. 2010, size 25
My latest Re/Done 70's High Rise Shorts, in Broken Black, are a size 26.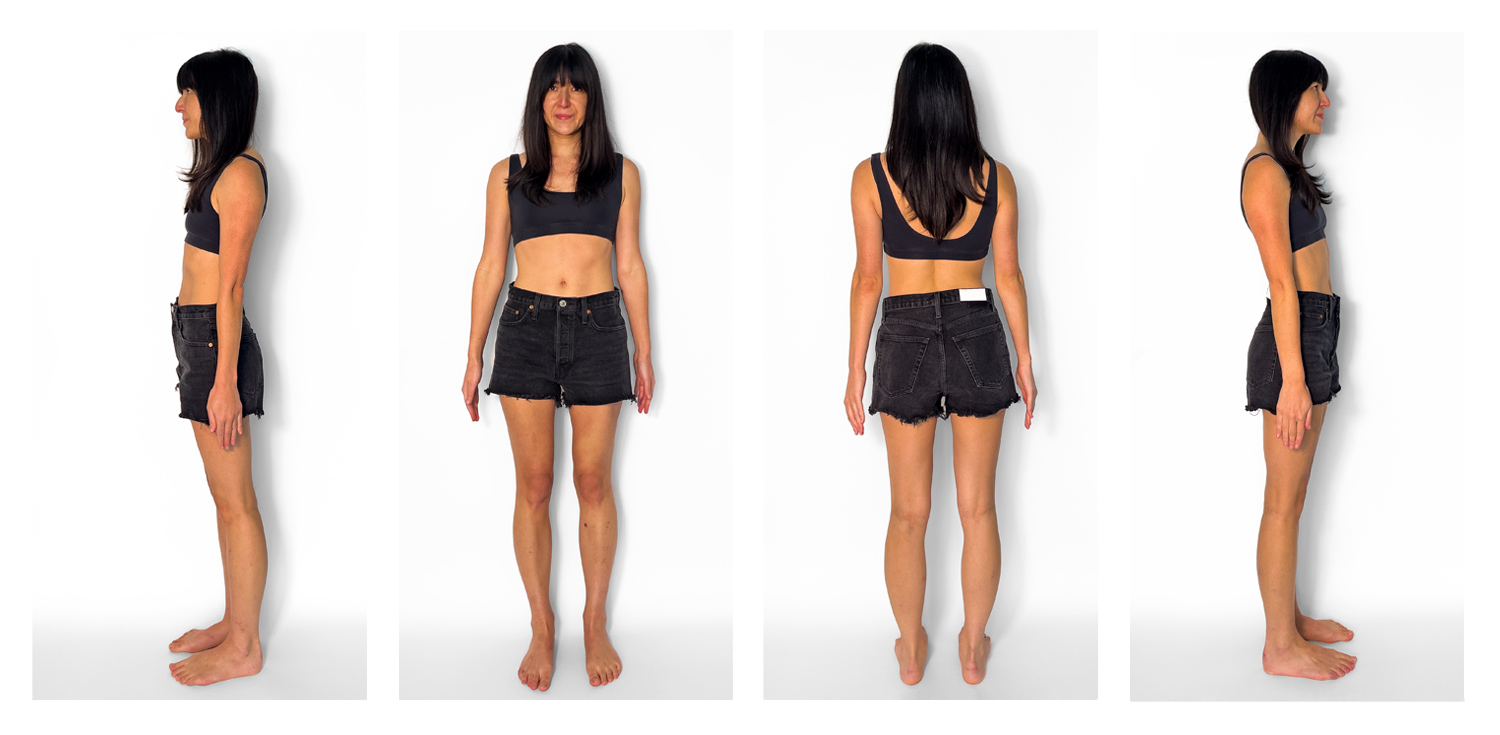 While there is slightly more space in the waist than the Double Needle Western Shorts, I feel like this could still be the right size, especially considering I'm usually a size larger than the models on Shopbop.
They generally feel, and look, kinda large — and definitely do not do any favours for my bum.
For some reason though, despite how large they may feel, Re/Done's 70's High Rise Shorts look pretty good on…
Meanwhile, my old Re/Done's Double Needle Western Shorts, which this review was originally based on, are a size 26 (a size up from my usual Re/Done jeans size).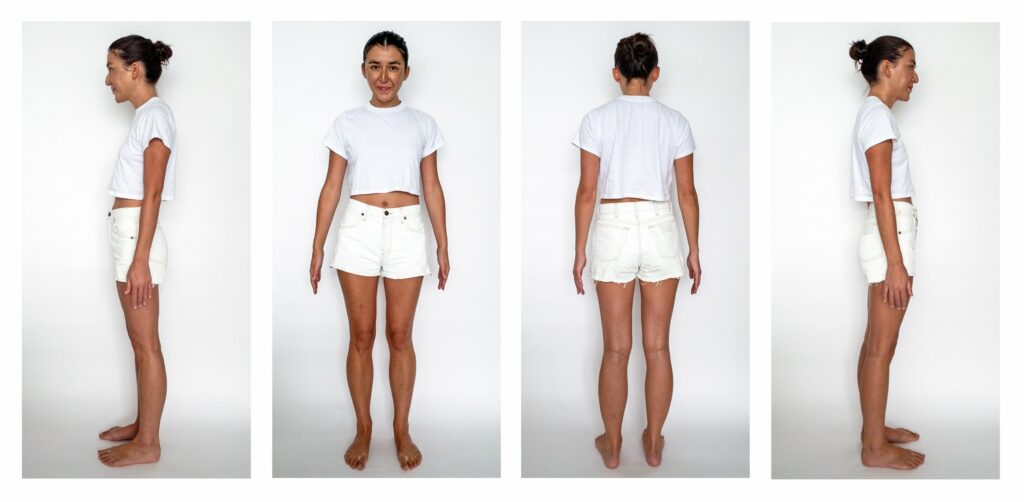 Shown with my xkarla "The Baby Tee."
The size 25 was a little too tight around my hips/waist and as a result gave a slight camel toe effect — no bueno.
While more comfortable around my waist, the size 26 are longer and slightly less flattering to my (flatter) bum.
… but considering that 100% cotton denim is prone to slight shrinking in the wash, a size up is the way to go.
Ultimately, you should go with the size that feels most comfortable on and consider that they might minimally shrink.
Your true Re/Done Originals jeans size is a good place to start, then depending on how those jeans fit, size up or down.
---
IMPRESSIONS
There's no point in poetically waxing on about how much I love the white "Western" shorts.
Instead, I'll just show you a few favourite ways I'll be (obsessively) wearing them…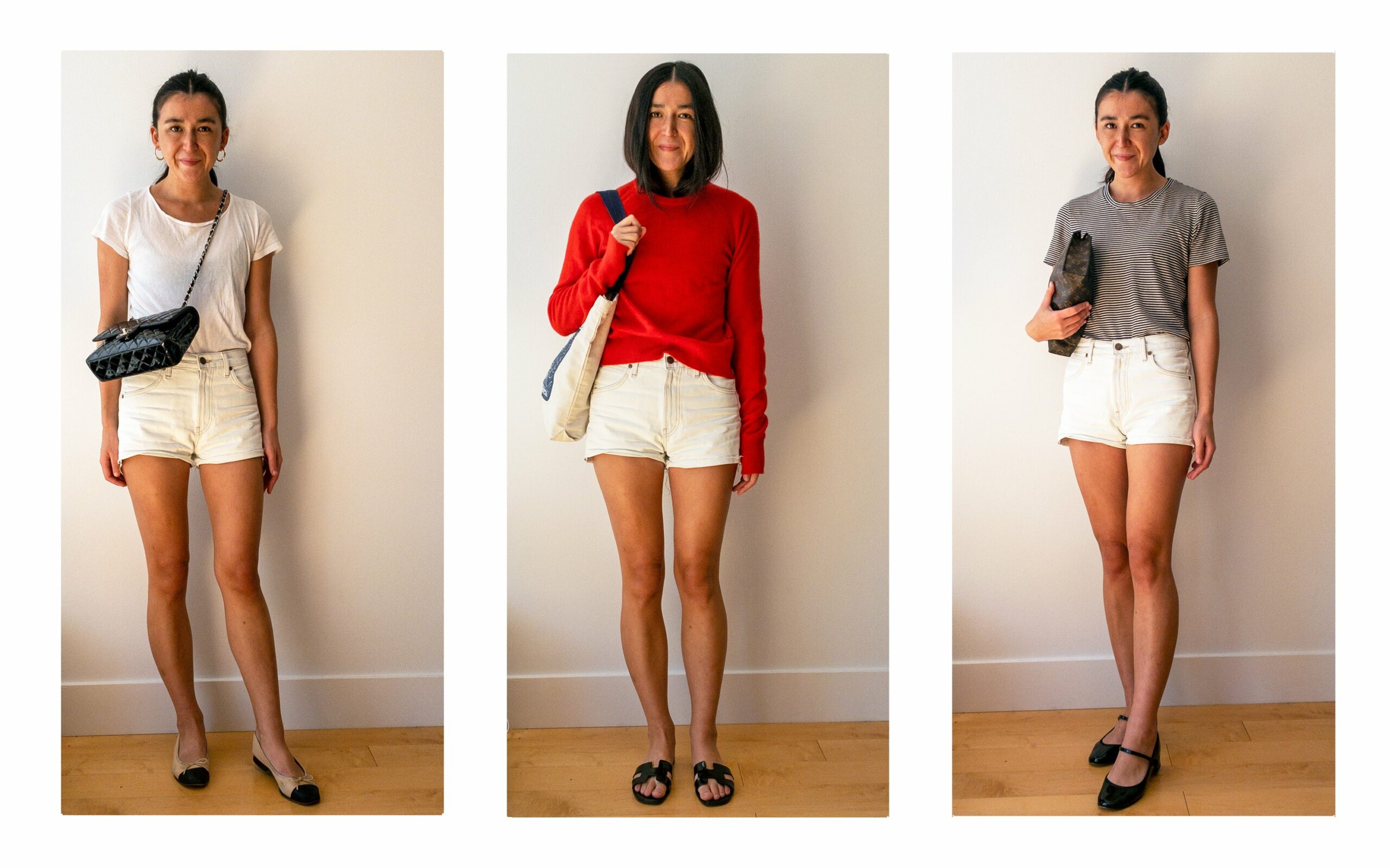 Left to Right: Rockins White T-Shirt with Chanel flats & bag and Goop x Jennifer Fisher hoops, Kate Moss x Equipment Sweater with a tote bag and Hermès Oran Sandals, Calder Blake T-Shirt with a Louis Vuitton Pouch and Repetto Flats.
While I had my white denim shorts worries, they were all assuaged when I realised that it's not about the colour of your denim — it's what you bring to them.
If you want them to be slightly ~subversive~ in them, you can do that.
All it takes is fully understanding what you want them to reflect — totally commit to the ~vibe~ you want.
---
Pros & Cons
Pros
–100% Cotton: While you I might be nervous about shrinking, I do like how they are a bit stiffer.
–Length: Shorts are better shorter and Re/Done's Western Shorts are short.
–Minimally distressed: Not too beat up, but just a little fraying.
–Zip fly: While button flies are no big deal, I do prefer a zip fly — they're just faster!
–Easy returns: I ordered my white pair from Re/Done directly. Their return process was easy (and free) and allowed me to order a size up without any extra wait time… as for my black 70's pair, they were from Shopbop where returns are always simple.
Cons
–Sizing can be tough to get right: I had to order two pairs to be sure.
---
I stand corrected.
Off-white denim, or even white denim, can work.
With Re/Done's (sorry to use this word, but…) hipster edge, these denim shorts get kicked out of Hyannisport and head straight to watch Tame Impala side stage at Glastonbury.
Re/Done denim shorts are available from Net-A-Porter, Revolve, Shopbop, or Re/Done's site, where you can save 20% off with my code, from $185 USD.
Note: newinspired uses affiliate links which costs you nothing… but means a lot to me. When you use these links, the money newinspired earns gets reinvested in blog content. Absolutely nothing on newinspired is "gifted," I purchase each item with my own money. Affiliate commissions are used to purchase new items to honestly & thoroughly review. If you found this review helpful, consider using them to support newinspired.
YOU MIGHT ALSO BE INTERESTED IN…