If you've read newinspired before, you know that there's one topic that I particularly love/hate to talk about:
Vintage Levi's jeans.
Those jeans are extremely elusive and mysterious to me.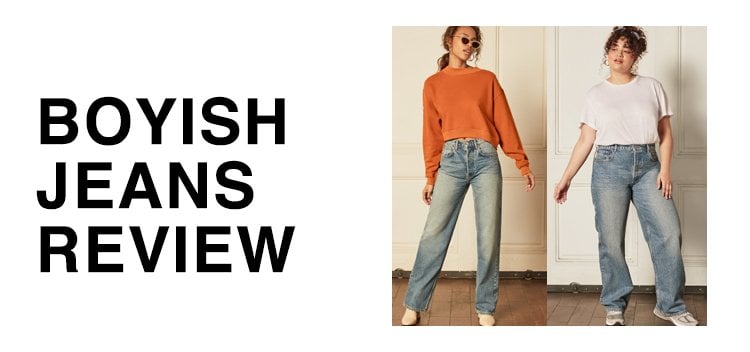 As a result, I'm always after jeans that mimic their style, but don't require the work involved with sourcing and tailoring them.
Enter: Boyish "The Ziggy" Jeans.

With high hopes, that these oversized Boyish jeans could be my low-effort straight leg 90's-esque vintage Levi's, I ordered a pair.
Here's the scoop on Boyish jeans…
BOYISH Jeans SIZING
For reference, I'm 5'5.75" and weigh 115-117 lbs.
For comparison, here are some of my other denim sizes:
–Acne Studios denim shorts, size 25
–APC jeans, size 26
–Levi's, size 25
–Rag & Bone jeans, size 24-26
–Re/Done Original jeans, size 25 (sometimes a 26)
My Boyish The Ziggy jeans, in Footloose, are a size 25.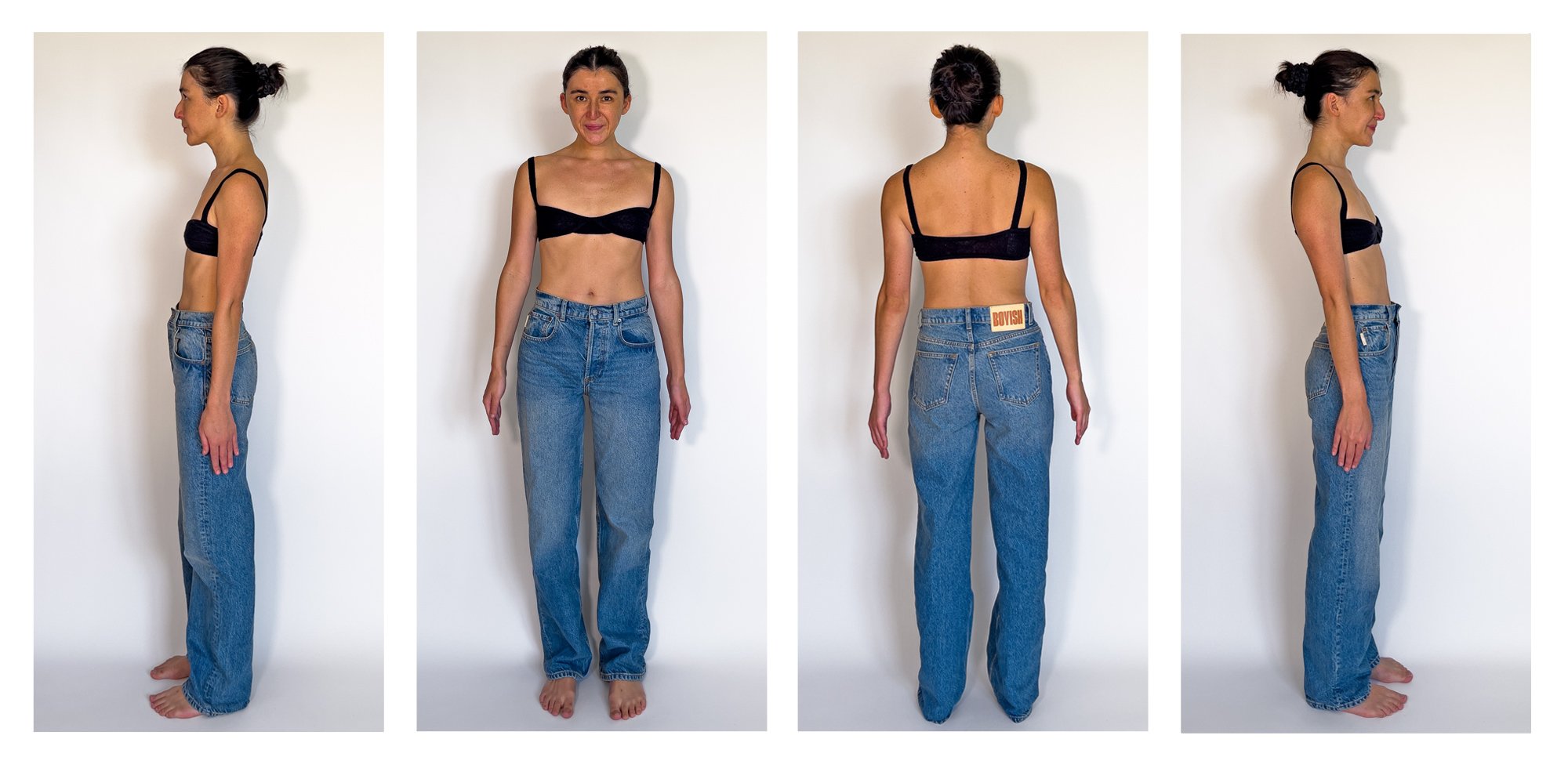 Boyish's size predictor said I would be a size 25-26… and considering that I wanted them to look like they do on the model, I sized down.
As a result, I would definitely say that Boyish jeans run a pinch small.
I'd say they're a pinch small, because the Ziggy jeans give me a slight (and unfortunate) V shape from the front.
---
BOYISH Jeans QUALITY
Let's put Boyish's The Ziggy jeans to a "pseudo-scientific lab report" analysis!
For the sake of fun, this denim series is called the "Denim Dance-Off," because I'm gonna write about everything you wanna know about this pair of jeans and how easy it is to dance in 'em (tbh, this isn't important to me, because I don't dance, I just wanted to make the series an alliteration).
Note: These are my opinions, yours could differ.
1- Do They Flatter Your Bum?
Kind of…
3- How's the Overall Quality of Material?
Boyish Ziggy jeans feel suspiciously soft, but that's because they're made from 17% Organic Cotton/43% Recycled Cotton/40% Refibra x Tencel Lyocell.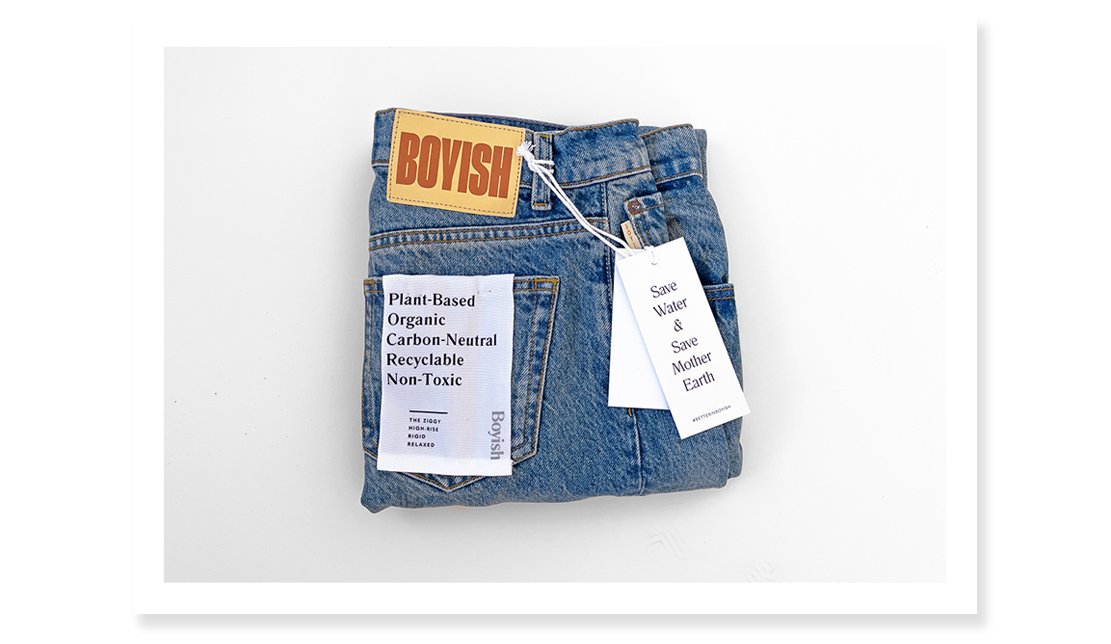 The Refibra x Tencel Lyocell that softens them up and allows them not to feel totally rigid.
5- Can You Dance In Them?
Put on "Footloose" by Kenny Loggins and cut loose in these jeans!
---
PROS & CONS
Pros
–More Sustainable: They really do seem to meet their current sustainable goals and have set a high bar for their future.
–Climate neutral: Sure, they might buy credits to be carbon neutral, but at least they do it!
–Reusable packing box: Love when a brand really sticks to their "sustainability" claims.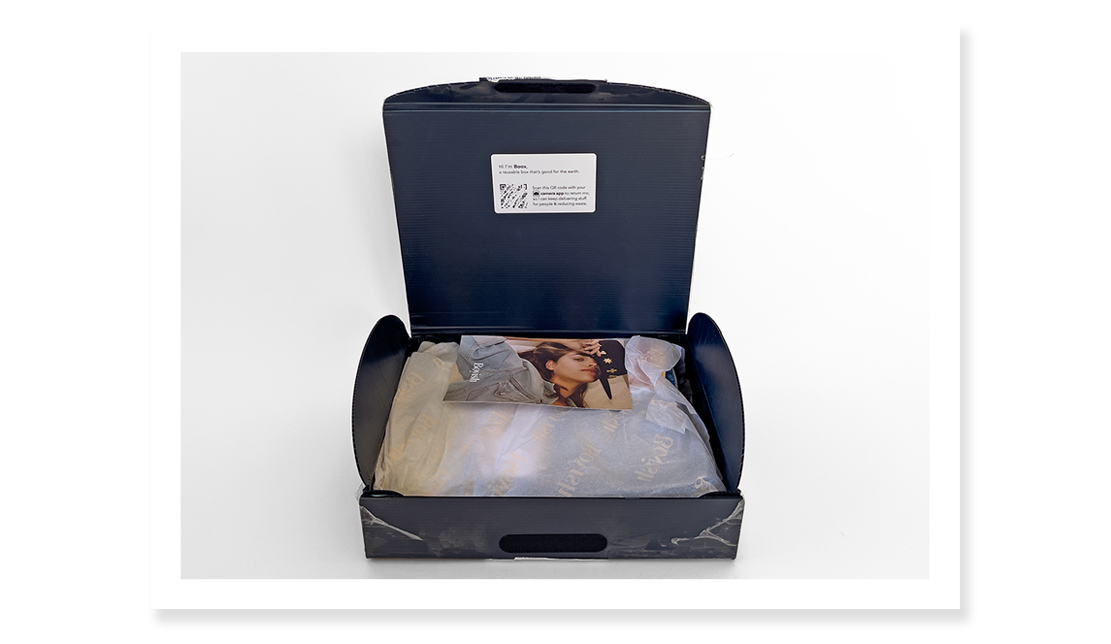 Cons
–A lot of branding: I hate the "Boyish" in big red letters on the outside — but since it's on the back, I guess I don't have to look at it…? There's also a little "Boyish" tag on the right front pockets.
… not a "Pro" or "Con," but just a note that these have a button fly.
---
"Been working so hard
I'm punching my card
Eight hours, for what?"
-Kenny Loggins, "Footloose" (1984)
When it comes down to the perfect pair of vintage jeans, I guess you gotta work hard and go digging for them.
… but, while I'm not obsessed with them, Boyish's jeans are, admittedly, an easier shortcut to that elusive lived-in look and are a relatively OK price.
Boyish jeans are available from Anthropologie, Free People, Shopbop, or Revolve starting at $168 USD.
You can also find them directly from Boyish and receive 20% off your first purchase when you sign up for their emails.
Alternatively, you could be even more sustainable and buy your jeans from The Real Real or Vestiaire Collective.
Note: newinspired uses affiliate links which costs you nothing… but means a lot to me. When you use these links, the money newinspired earns gets reinvested in blog content. Absolutely nothing on newinspired is "gifted" or sponsored, I purchase each item with my own money. Affiliate commissions are used to purchase new items to honestly & thoroughly review. If you found this review helpful, consider using them to support newinspired.
---
You might also be interested in…