From your dad back home in Ohio to the latest it-girl in France.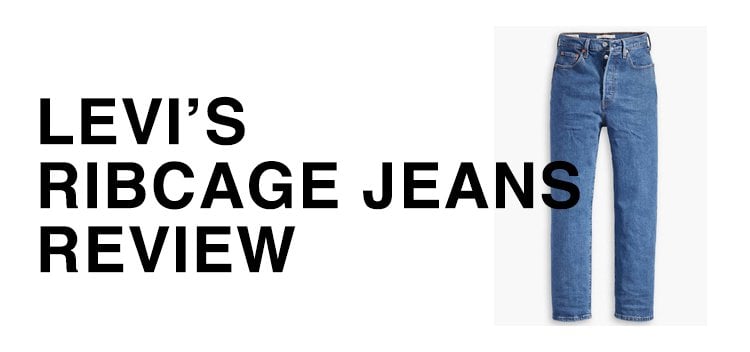 … everyone wears Levi's.
Except for me, apparently.
It makes sense — I'm not your dad and, as hard as I may try, I'm not a French it-girl.

When I saw Levi's Ribcage jeans though, I was like, "hmmm, let's see if I've actually been missing out…"
Levi's Ribcage Jeans SIZING
For reference, I'm 5'5.75" and weigh 115-117 lbs.
For comparison, my other denim sizes run below:
–Acne Studios denim shorts, size 25
–APC jeans, size 26
–Rag & Bone jeans, size 24-26 and a size 25 for denim shorts
–Re/Done Original jeans, size 25 (sometimes a 26)
My Levi's Ribcage Straight Ankle Jeans are a size 25.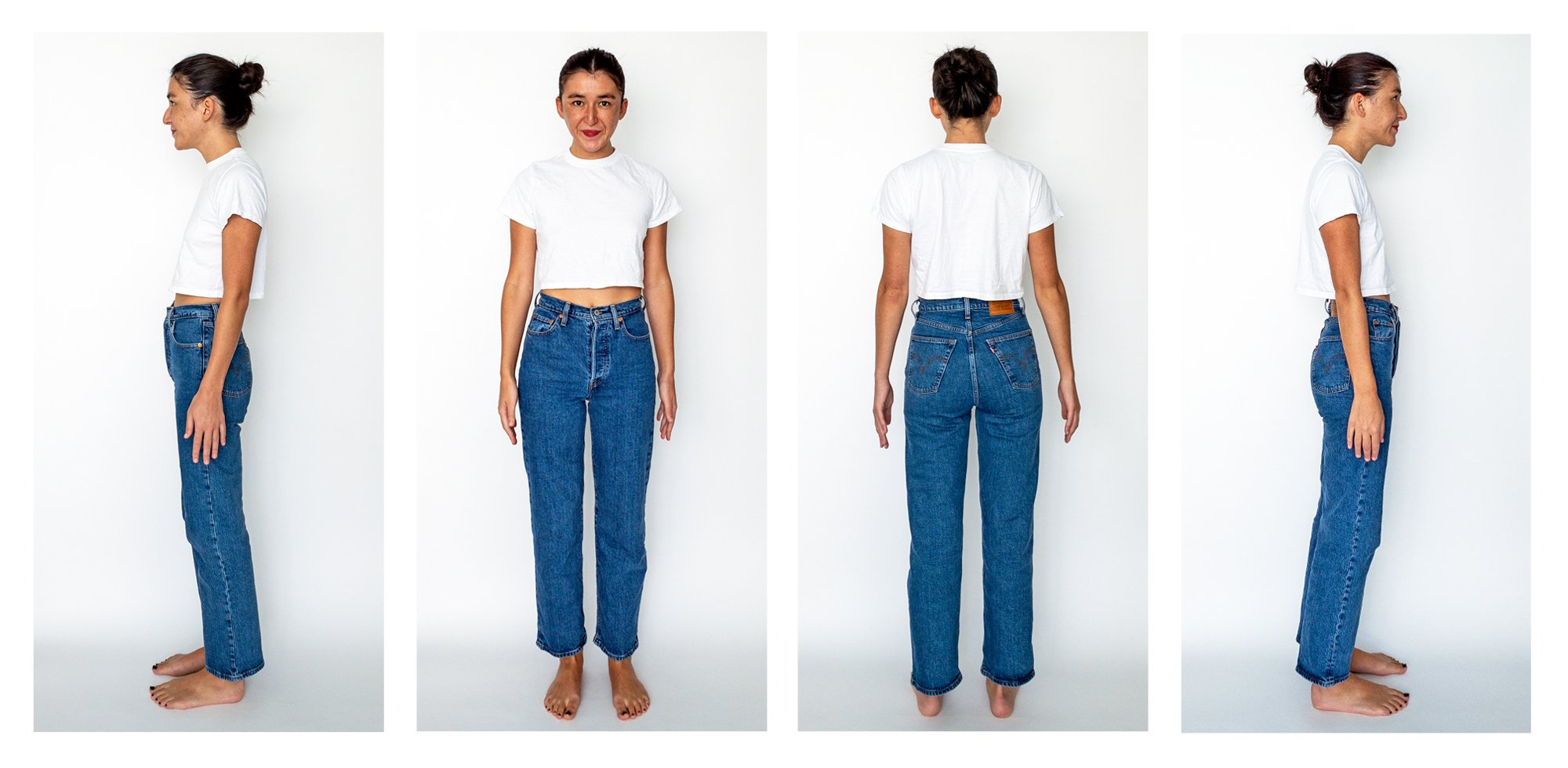 They are tight… like so tight that at first I was like "ugh, I need to exchange these."
… but I'm also lazy and didn't feel like sending them back, so I sucked it (it = my gut) up and buttoned those buttons shut.
I'm glad I stuck with a size 25, because these Ribcage jeans make my waist look slim.
… they also make my bum look quite decent while not giving me camel toe (unlike Reformation's jeans).
They basically cover your entire belly button — so, they're super high rise jeans (11″!).
Perfect for those of us who are into the ~cool mom~ look.
---
Wait, Have You Thought About Levi's Wedgie Jeans?
… because, omg, they are SO flattering.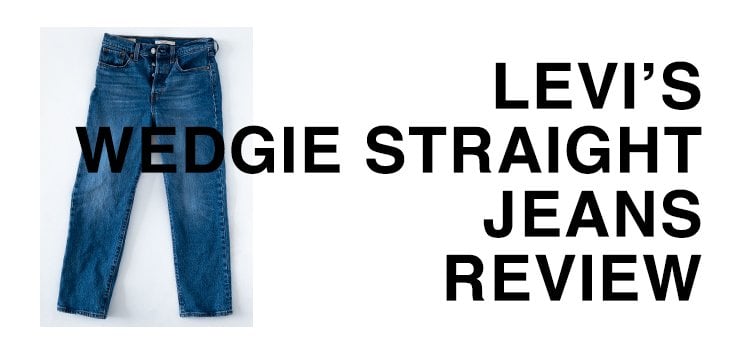 ---
Levi's Ribcage Jean QUALITY
Let's put these Levi's jeans to a middle school "pseudo-scientific lab report" test!
For the sake of fun, this denim series is called the "Denim Dance-Off," because I'm gonna write about everything you wanna know about this pair of jeans and how easy it is to dance in 'em.
Note: This is just my experience, yours could differ.
Hypothesis
OK, so upon initial try on, I hypothesize that…
i- The wash won't wash out while washing (i.e., the color won't bleed in the wash).
ii- The jeans will stretch out a bit during the 5 days of wearing.
iii- The jeans will return to their normal fit after washing (but will not shrink).
Materials
-x1 pair of Levi's Ribcage Straight Ankle Jeans
Method
1- Jeans must be worn for 5 days between 10:00am to 5:00pm.
2- Jeans must be washed on the last day.
To see how the wash holds up and to see if they shrink.
Results
Levi's Ribcage jeans were surprisingly comfortable to wear.
They left marks on my abdomen when I took them off and even though I had to squeeze them on, they were quite comfortable.
… like, it wasn't how when you first wear 100% cotton jeans and you stay still all day because they're so uncomfortable that you don't want to move.
These Ribcage jeans are 99% cotton and 1% elastane — the 99% cotton makes these jeans feel more vintage (i.e., they feel kinda rough)… but they don't have that uncomfortable break-in period (thanks to the 1% elastane).
This pair of Levi's were comfortable right off the bat — and only became more comfortable without losing their tight fit or vintage feel.
… and, after wearing for 5 days, there were only a few loose threads around the fly area.
I washed these jeans in cold water and hung them up to dry. When I tried them on after, they felt a little rough, but they eventually eased up again.
Conclusion
In conclusion, I proved my hypothesis was correct:
i- The wash stayed put while washing.
ii- The jeans only stretched out a bit after wearing (but still felt like they fit quite well).
iii- The jeans returned to their initial shape & feel after washing.
When I want something that has a little more stretch and a little more flare (literally and figuratively), these are the jeans I'll reach for over and over again…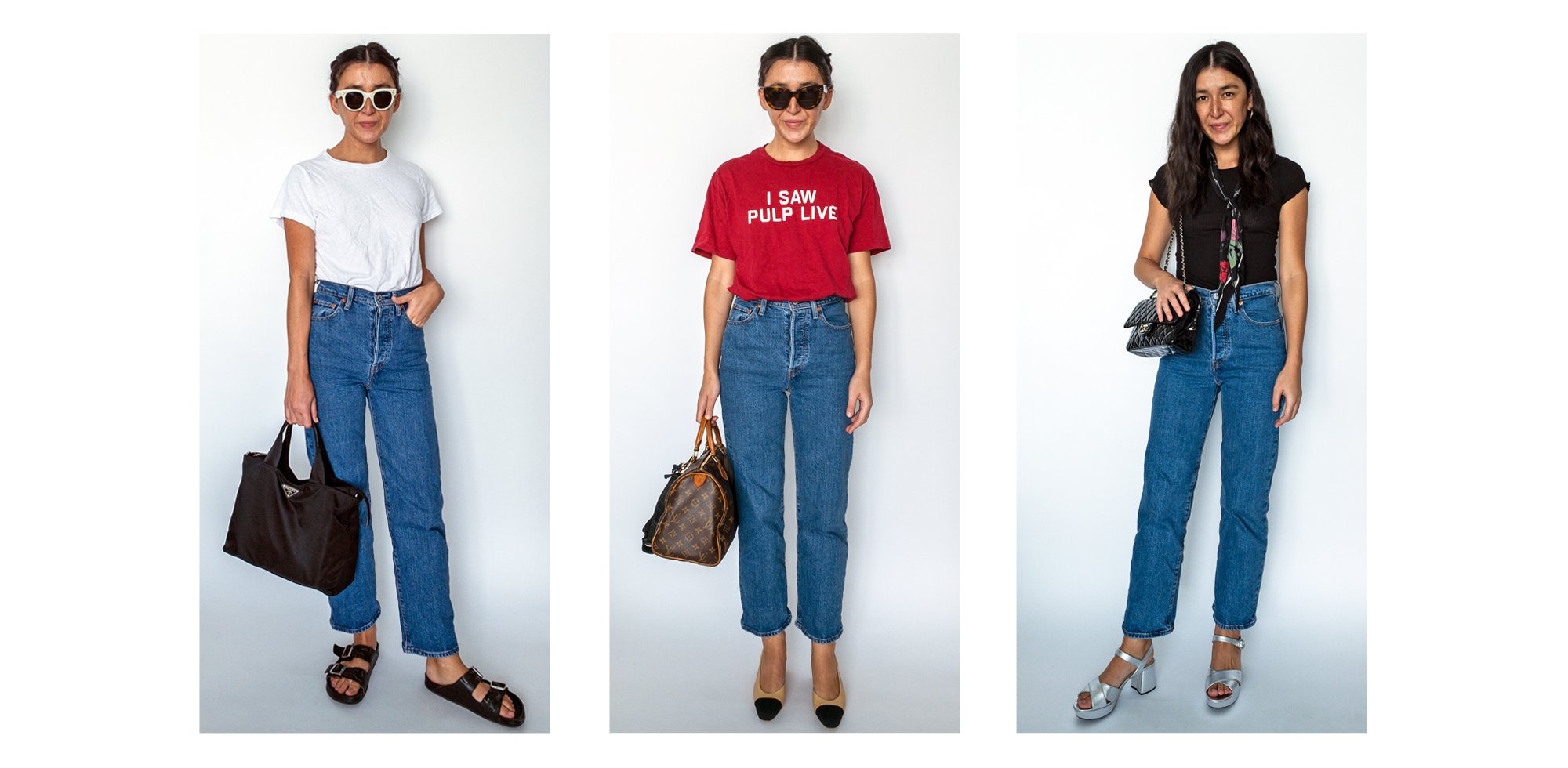 Left to Right: Re/Done "The Classic" white tee with Celine sunglasses, Isabel Marant sandals, and a Prada Nylon tote; Pulp t-shirt with Celine sunglasses, Chanel slingbacks, and a Louis Vuitton Speedy; Calder Blake Lauren t-shirt with Jennifer Fisher x Goop earrings, a Rockins scarf, Prada sandals, and a Chanel flap bag.
---
YOU MIGHT ALSO BE INTERESTED IN…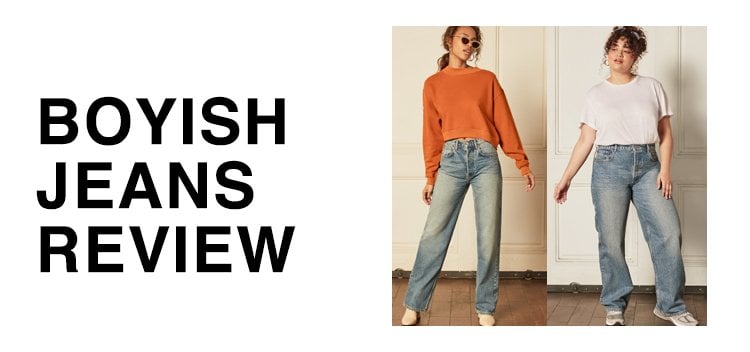 ---
PROS & CONS
Pros
–The wash: The wash, "Georgie," is identical to my Re/Done jeans "SAF" wash (i.e., it's perfect).
–Will fit & flatter your body: Levi's Ribcage jeans will flatter most, if not all, shapes — like I don't have a great bum, nor do I have a super defined waist, and these jeans make my bum look decent and my waist look slim.
–Will not rip: OK, so you can't do Yoga with Adriene in them, but the 1% elastane (the rest is 99% cotton) means that you will be less likely to rip them while bending over — which is important since they're so tight.
–No hemming: If you're shorter than 5'5" you might need to hem them, but for me, at 5'5.75" I don't need to because of the cropped cut.
Cons
–Buttons: There are 5 buttons and boy, it gets boring fast buttoning them up… but, at the same time, I guess it makes them more vintage-y?
---
Levi's jeans always seemed, idk, like 90's, but like, not in the new "cool 90's" way.
… like, you'd be better off buying a pair of Re/Done's vintage Levi's, you know?
But after trying Levi's Ribcage jeans, I'm joining your dad & Amélie (or whoever this week's French cool girl is) in the "Levi's Jeans Fan Club."
… and I'll renew my membership for years to come.
My exact Levi's Ribcage jeans are available from Shopbop for $98 USD. You can find other Levi's jeans from Free People, Levi's, Nordstrom, Revolve, SSENSE, or Urban Outfitters from $98 USD.
Note: newinspired uses affiliate links which costs you nothing… but means a lot to me. When you use these links, the money newinspired earns gets reinvested in blog content. Absolutely nothing on newinspired is "gifted," I purchase each item with my own money. Affiliate commissions are used to purchase new items to honestly & thoroughly review. If you found this review helpful, consider using them to support newinspired.
---
YOU MIGHT ALSO BE INTERESTED IN…