This isn't sponsored, FYI.
… and I make a point of saying that because Mejuri seems to send a lot of jewelry to bloggers/influencers.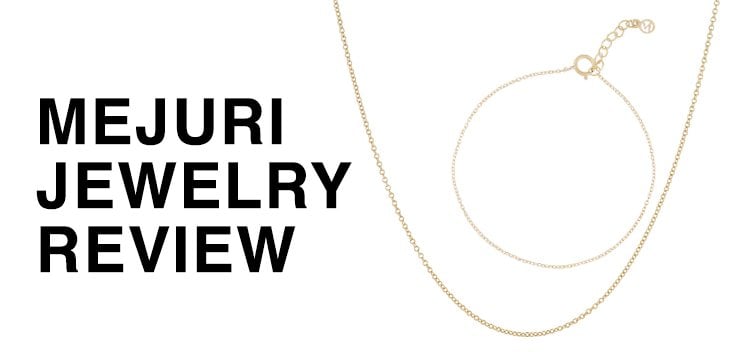 These pieces of Mejuri jewelry that I will review were purchased during their "only sale of the year;" their Black Friday sale (which actually started on a Wednesday, if you want to mark your calendar for next year).

I waited, because like you, I was skeptical.
How is it so affordable for 14kt gold?
Will a clasp just break after a couple of wears?
---
Here's how this Mejuri jewelry review will go:
1- Sizing: So you can see what the drop of a piece looks like.
2- Quality Test: Á la middle school, these mini pseudo- scientific lab reports will focus on wearing the piece for 5-30 days and detail what happened.
3- Impressions: Self-explanatory, but my feelings about it.
---
MEJURI BRACELET REVIEW
This is Mejuri's 14kt Gold Chain Bracelet.
The chain is 6 inches, but can extend to 7 inches — here's how the difference: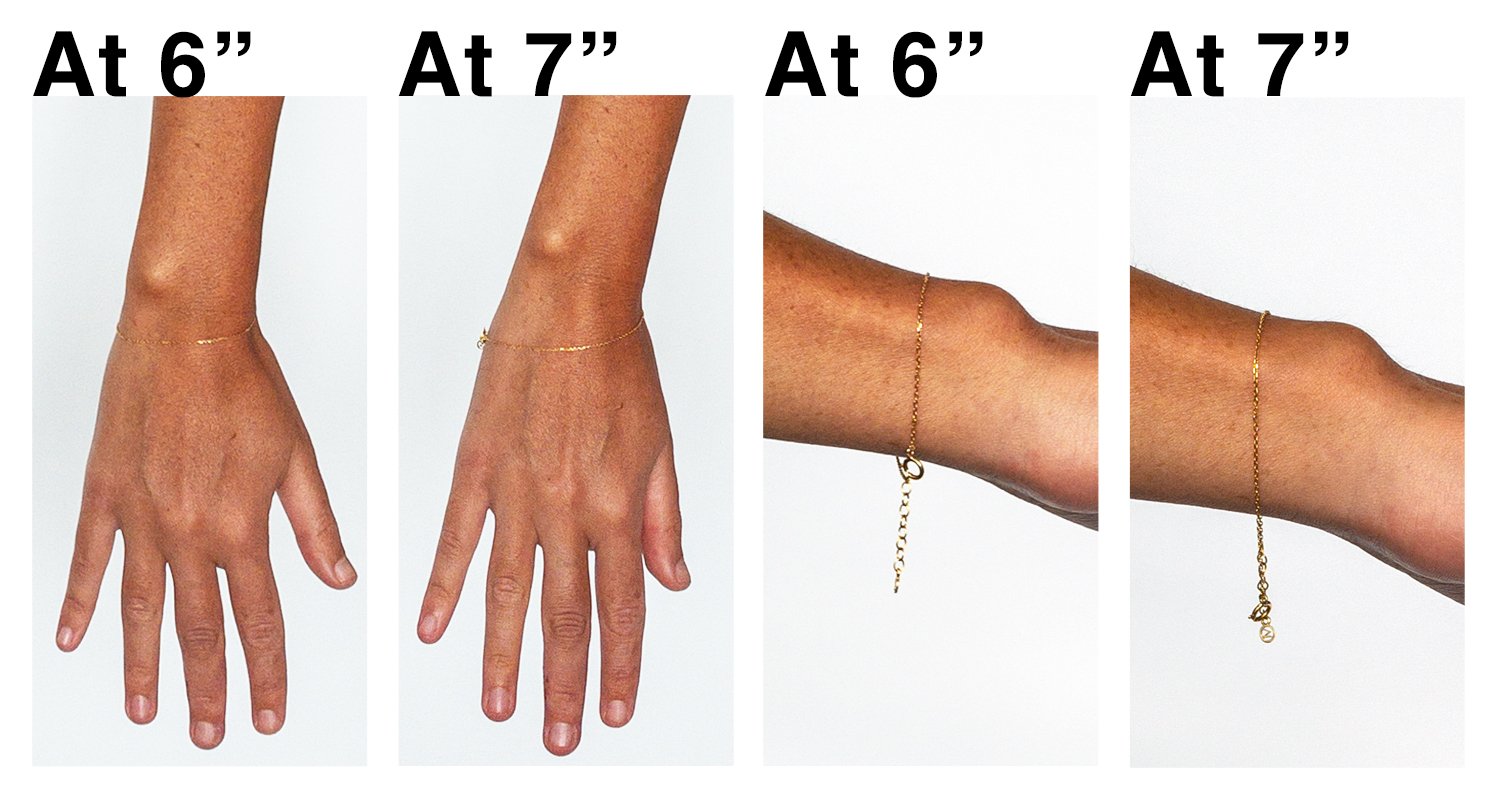 At 7 inches, it does not slip off my wrist.
For comparison, my wrist measures 5.75 inches (or 14.6 cm) according to a measuring tape that's pulled comfortably around my wrist.
Bracelet QUALITY
I'm wearing this bracelet for 30 days all day, every day.
This isn't the type of bracelet that you want to put on & off, so it's important to now if it'll hold up for that amount of time.
From the shower to the ocean, and whatever in between, this will be on me at all times.
Plus, Mejuri says since it's 14kt gold, "it will not oxidize or discolour, so you can wear your jewelry every day, everywhere."
What Happened
After wearing Mejuri's Chain Bracelet for 30 days, there were no issues… at all.
The clasp didn't break, it didn't significantly dull and my wrist didn't turn green (duh, it's 14kt gold).
My biggest complaint was that the little bit of the chain that dangled down kinda got annoying after a while.
IMPRESSIONS
Mejuri says the estimated price for this simple bracelet is $245 vs. they charge $80.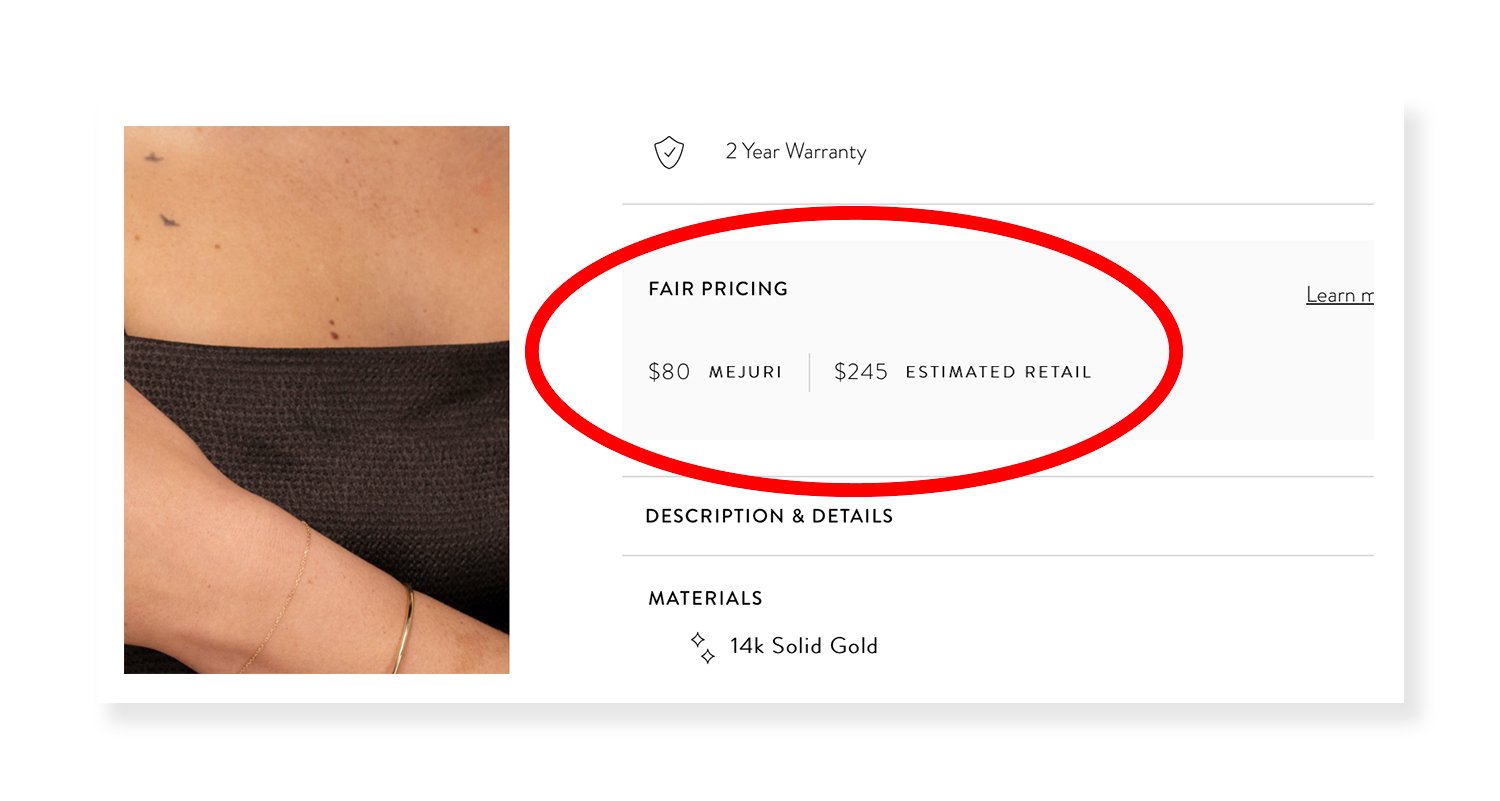 Catbird has a similar (not exact, but similar) 14kt gold bracelet which costs $94.
I'm not sure where their estimated cost came from, because $245 seems a little too high.
… but Mejuri's bracelet costs $80, so it is is less than Catbird's $94 version.
For a simple thin gold bracelet, it's remarkable how much subtle shine it adds to an outfit…
---
MEJURI NECKLACE REVIEW
This is Mejuri's 14kt Gold Chain Necklace.
The chain is 16 inches, but can extend to 18 inches — here's how it looks at 16 inches & at 18 inches: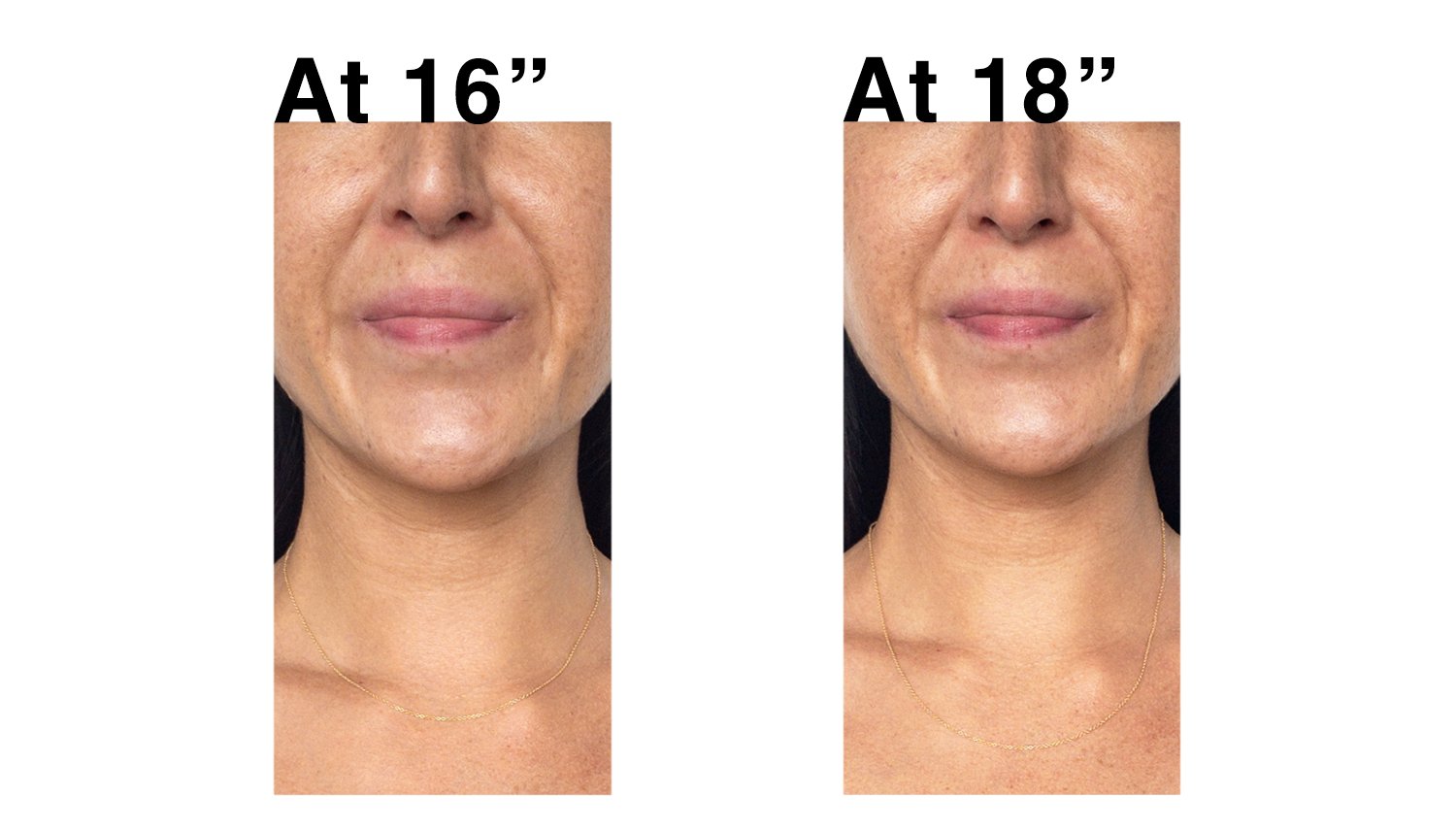 NECKLACE QUALITY
Mejuri's Chain Necklace will be around my neck for 30 days all day, every day.
Like their bracelet, this is also a piece that you don't feel like taking on & off every day.
So, let's test it to the max.
Same rules go re: wearing it in the shower, ocean, to bed, and whatever.
What Happened
Like the bracelet, nothing bad happened with the necklace.
Kind of underwhelming, because I was hoping something interesting would happen that I could write about… but alas, everything was fine.
Is Mejuri Jewelry Worth It?
The estimated price for Mejuri's Chain Necklace is $513 vs. they charge $150.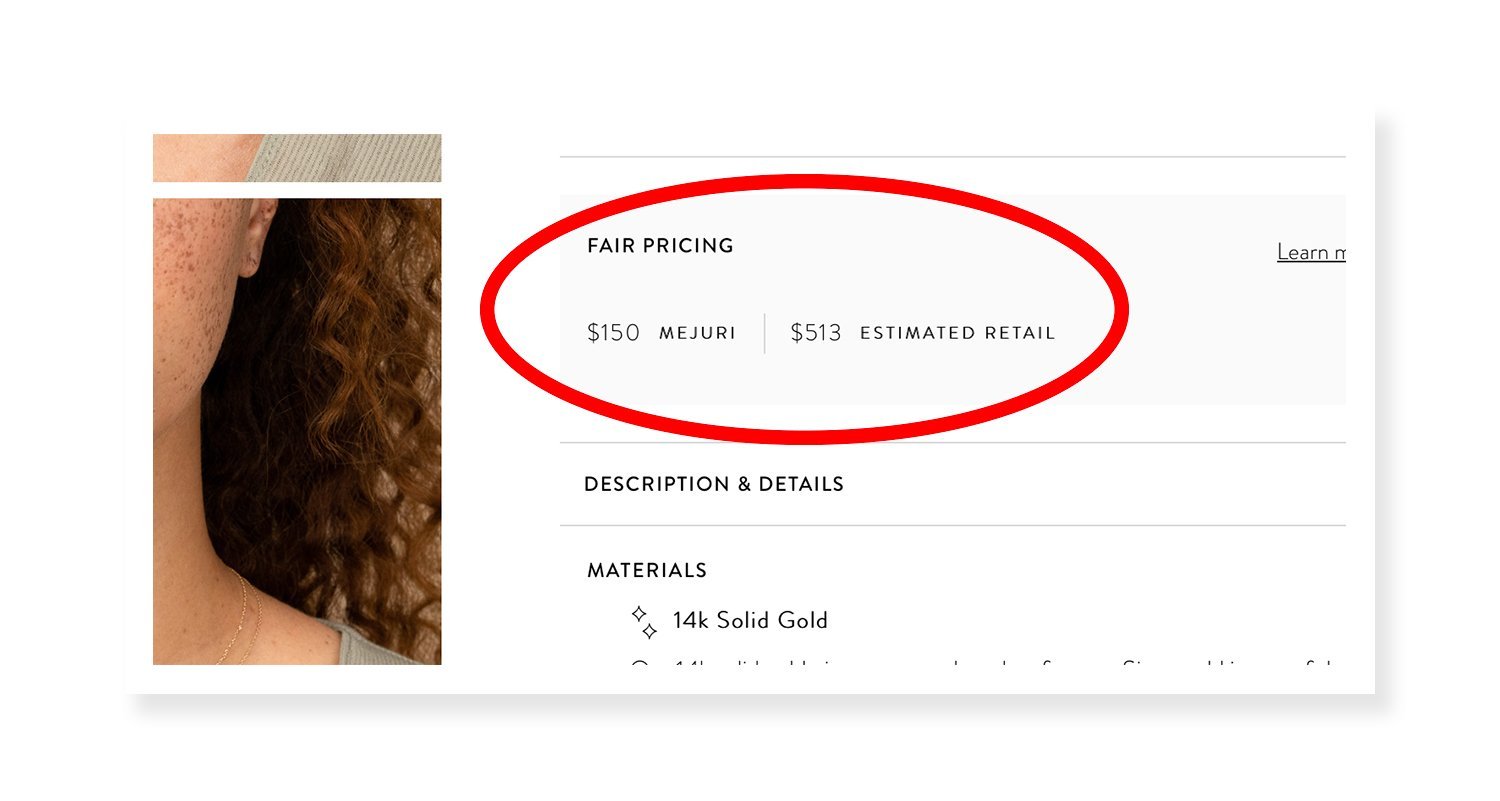 Again, I'm not sure where they got that $513 estimated cost, because…
1- I found a similar 14kt gold chain (20 inches, but can adjust to 18 inches) from Catbird for $118.
2- I found another similar 18kt gold chain from Tiffany's for $275.
So $513 totally doesn't make sense, because even Tiffany's version is less than $513 (and it's 4kts more).
In this case, Catbird's version is $32 less than Mejuri's — so there is a less expensive version available.
In any case, it's basically exactly what I was looking for in a simple chain and I dig it a lot…
---
PROS & CONS
Pros
–14kt gold: At an affordable price — it's basically impossible to find 14kt gold hoops at Mejuri's prices.
–Quality: None of the pieces suffered any damage after significant wear.
–Warranty: 2 year warranty… and it's free!
–Thoughtful packaging: Box is great for giving as a gift and the little jewelry bag is great for traveling.
Cons
–Seemingly inflated "estimated retail" prices: For these pieces, I think I found pieces that were super similar and quite lower priced than the estimated retail prices.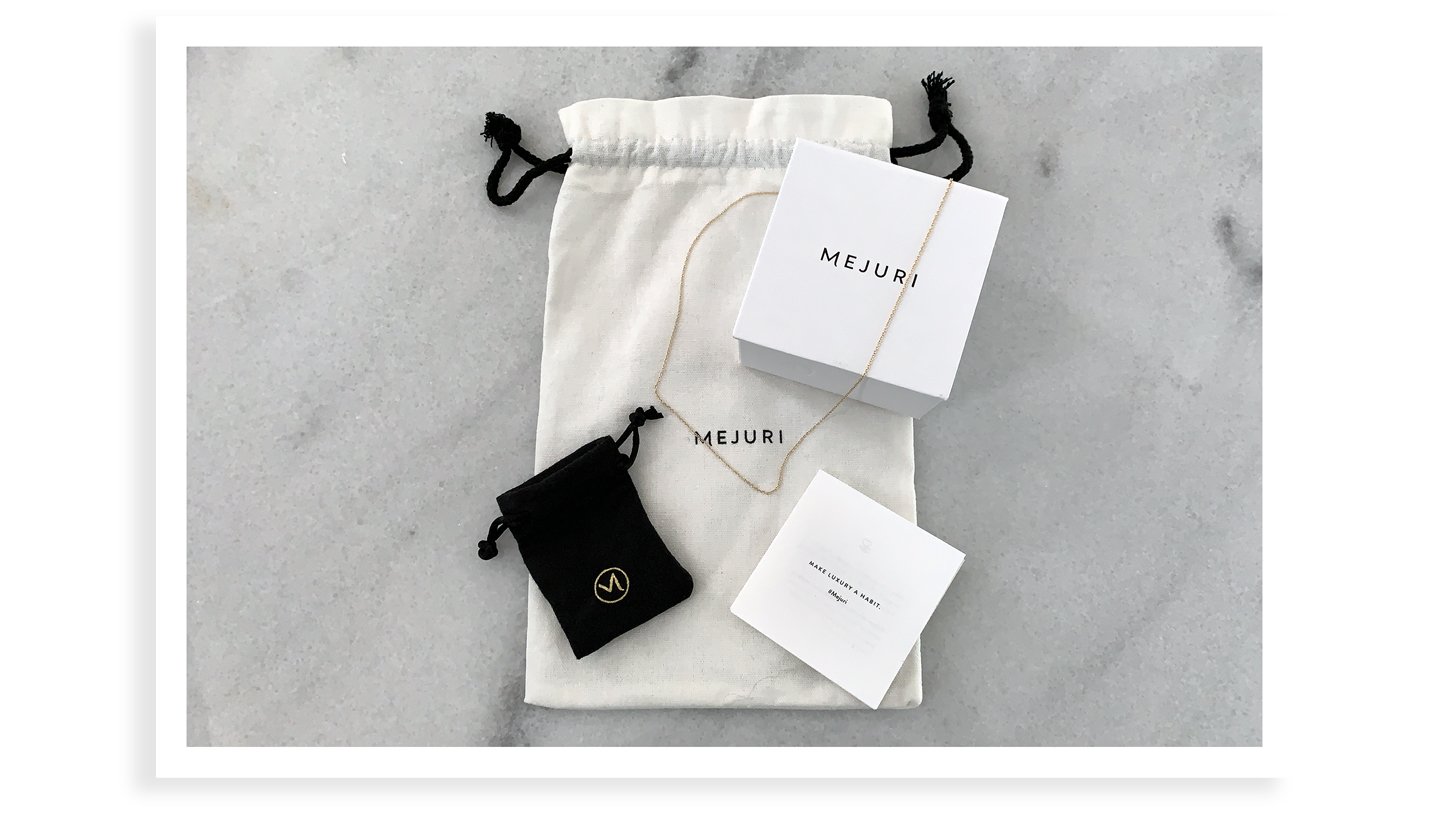 ---
"Is this, like, a Noxema commercial another DTC brand plug or what?!"
Well, maybe & maybe not…
At this point in my life, fine jewelry isn't something that I prioritize — my weakness are shoes.
… but, at the same time it is really hard to find 14kt gold jewelry for less.
… and, like, a simple 14kt chain or bracelet really adds a lot to an outfit.
So, if your weakness is simple & shiny 14kt gold jewelry or you're sensitive to non-gold metals, Mejuri is gonna totally be your newest kryptonite.
Mejuri jewelry is available exclusively on mejuri.com.
---
YOU MIGHT ALSO BE INTERESTED IN…