Rouje's Gabin dress, i.e. the dress that always sells out.
You've seen this dress before… or you've at least seen one of its many dupes.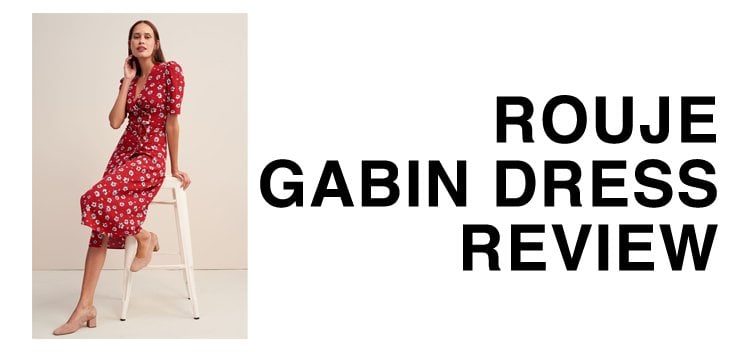 With its five buttons running down the front and a tie closure, the Gabin has been copied many, many, many times since it came out two years ago.
… but the original in 100% viscose is so much better than any replica.
ROUJE GABIN DRESS REVIEW
GABIN DRESS SIZING
In my first Rouje dress, the Matis, I took a size FR 36.
I'm 115-117 lbs and 5'5.75″. I wear an XS in Réalisation Par dresses, US 2 in Reformation, or a UK 8 in ALEXACHUNG's dresses.
For the Gabin though, Rouje's website suggested to size down for a closer fit. They said the model typically wears a FR 36, but in this Gabin, she was in a FR 34.
I listened to their advice and sized down to an FR 34.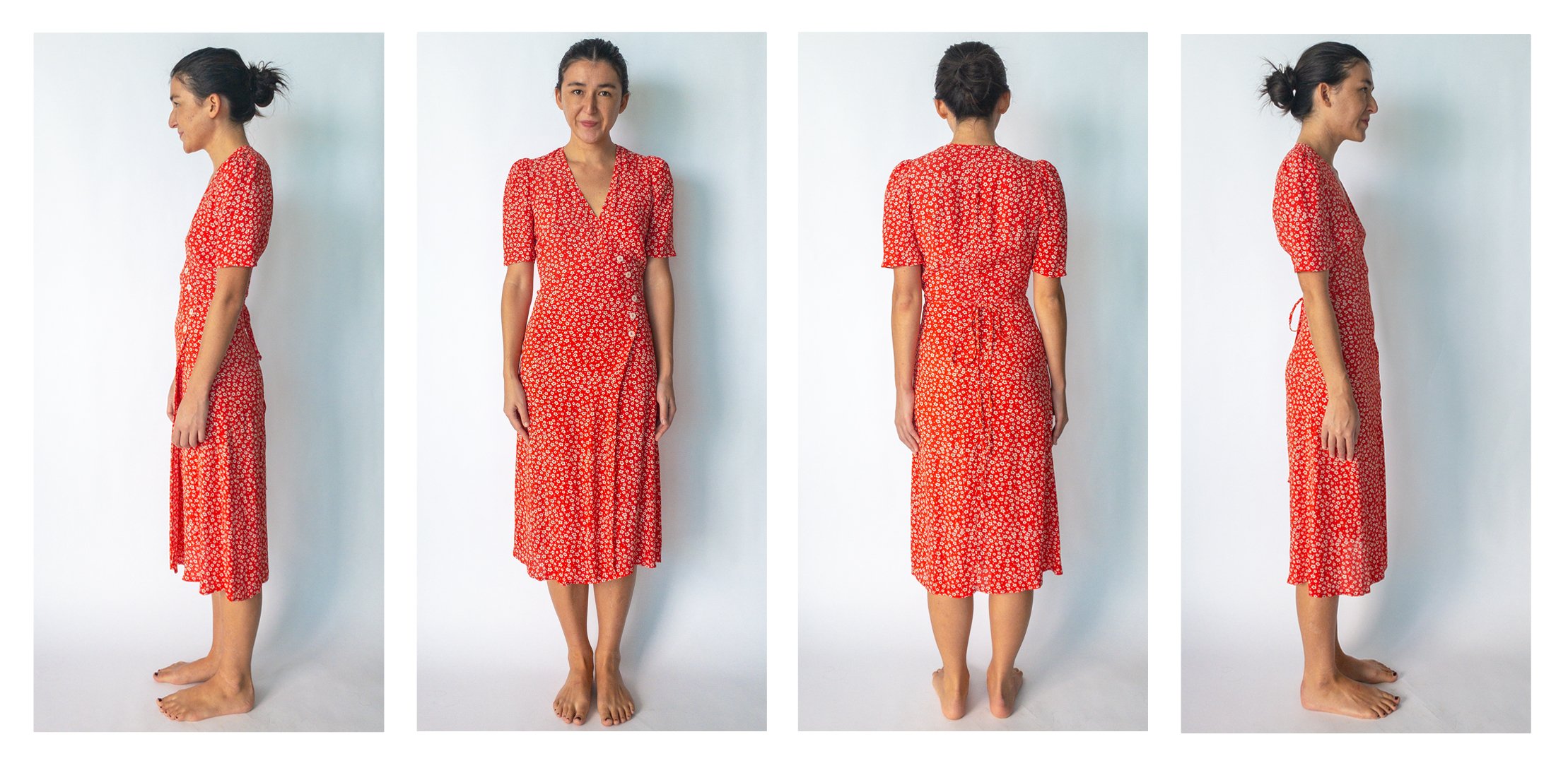 Here's my #1 tip: Do not listen to Rouje's size advice.
Do not size down in the Gabin dress, take your true French size, unless you want a super, superr, superrr close fit. In FR 34, this dress is wearable, but a little tight under the arms… and after a bigger lunch, it feels tighter in the body.
The slight pinch under the arms is similar to the pinch in my Réalisation Par Violette dress.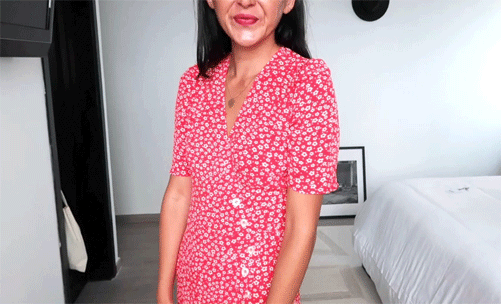 Also, because it's a size smaller, the v-neck is much higher… but this could be a good thing because it makes it bra-friendly.
If you accidentally buy the wrong size, here's the deal with Rouje returns.
The 2019 Gabin is 55% rayon and 45% viscose and I ordered it again in an FR34. I find that it fits slightly tighter across the chest than the 100% viscose Gabin.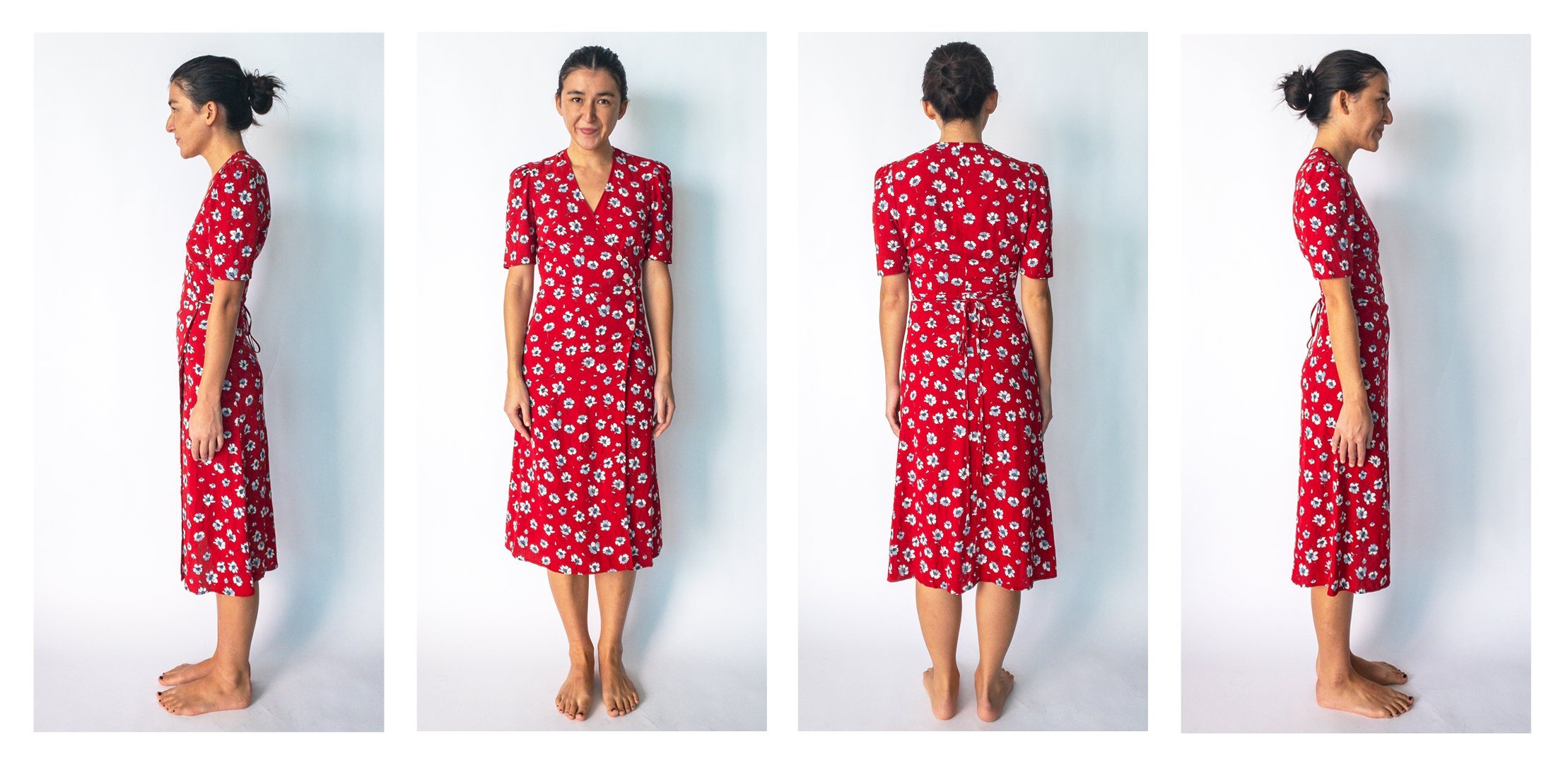 Note: Check what your Gabin is made of before you purchase as there are rayon blend and polyester blend models and they fit slightly differently.
If You Want A Dress That's Similar to the Gabin, but Different
… i.e. a Gabin dress "dupe." If you're into the Gabin, and it isn't sold out, just get the real deal! But if it has, or if you just want a different print, here are a few other options…

---
IMPRESSIONS
This is the dress that you want to wear while strawberry picking… or raspberry picking… or just like any cute outdoorsy activity.
This is the dress you want to wear while drinking rosé in Hossegor… or Montauk… or just like on any sun-drenched outdoor patio.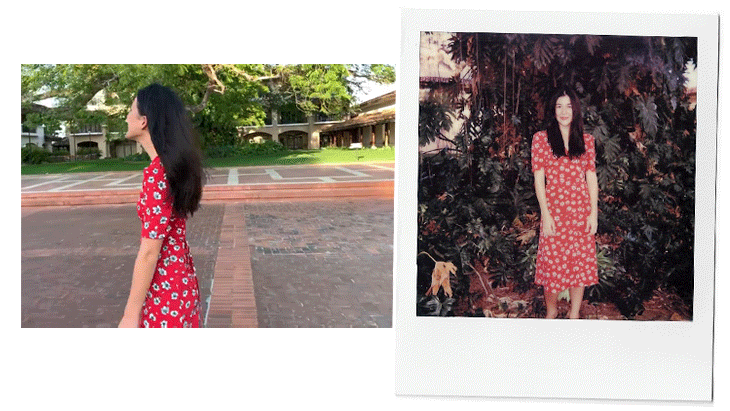 This is the dress you want to wear when you want to look like an imaginary French girl… or an imaginary European girl in general… or just like the most carefree and sweet version of yourself.
This dress is a feeling that only a French girl like Jeanne Damas could capture.
---
PROS & CONS
Pros
–Bra Friendly
–Length: Midi dresses are convertible. You can style them in so many different ways… and you don't have to worry about your underwear showing when you get out of a car — is it just me with that concern?
–Sleeves: The Gabin has the same sleeve style as their Matis dress. I love this sleeves' 1/3 arm length and that they add pads to keep its shape. The pads make it look and feel more retro.
–Gust-Proof: Réalisation Par's Teale midi-wrap dress is a favorite, but it's prone to flying open from a gust of wind. The Gabin's five buttons eliminates that problem and makes it gust-proof.
–Color: A redder coral with a white floral print, this color screams summer.
Cons
–100% Viscose: Like Rouje's Lena and Matis, this Gabin is 100% viscose. Viscose is semi-synthetic and is not great quality. The material is all ready starting to fray at the inside seams. New Gabin dresses are made from 100% polyester or a polyester blend (a similar blend as the Gabinette's, which I didn't like)… I loathe polyester more than Madonna loathes hydrangeas. If you also have strong fabric opinions, make sure to check before you buy.
---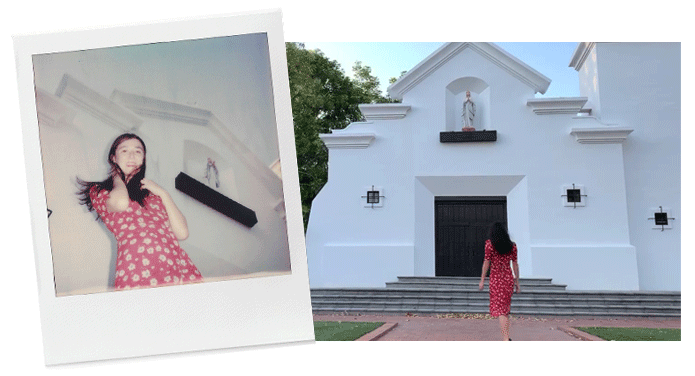 The Gabin wraps all the sweet notions of summer in one dress… and the wrap silhouette ties it all up with a neat little bow.
You're not just buying any dress, you're buying a feeling.
Feel free to let me know if you have any Rouje-related sizing or quality concerns!
The Gabin dress is available exclusively from Rouje for $195 USD.
---
---
Now and then Rouje pieces get listed on
The Real Real
, where you can save money
and
the environment by buying it secondhand. You also get
$25 off your first purchase
.
(This is an affiliate link, but I've shopped with the Real Real
many times
and would recommend them even if it wasn't.)
YES, THERE'S MORE…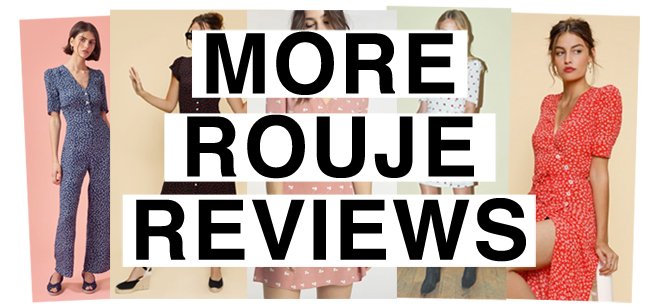 TIPS
-Order fast, the Gabin regularly sells out.
-The Gabin is one of Rouje's classic dresses that is brought back each season.
-Sometimes it pops up on eBay, so set an alert, but be careful of fakes!
-Rouje does not run promo codes, however they have sales during normal seasonal sale times.