After adoring my Matis, Lena, and Gabin dresses… and of course the Lolo jumpsuit… it was bound to happen.
It was only a matter of time that I got a sour cherry.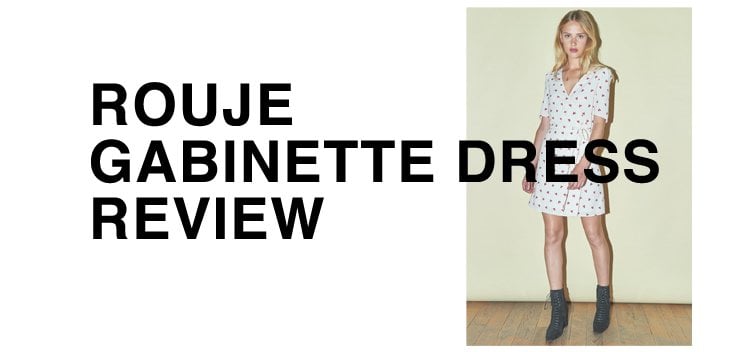 Peak cherry season, for the fruit and the clothing print, is early summer.
… you remember those long sweet days when all you want to do is pop by the farmer's market and grab a bag on your way to the water.

I should have been suspicious that a brand put out a cherry printed dress for fall… but I ignored my suspicions. After the cherry printed HVN slip, glutinous me was ravenous for another cherry dress.
Rouje's cherry printed Gabinette felt less like sweet sunshine pouring on your face and more like the slap of the first winter windchill.
So, I returned it… but before we get into the Rouje return process, let's take a closer look at the Gabinette.
Rouje Gabinette SIZING
I'm 5'5.75" and weigh 111-113lbs (I give this because it might be useful for you to figure out your size). I took the Gabinette in my normal French size, a FR 36.
My Matis, Lena, and Lolo jumpsuit are a FR 36, while my Gabin dress is a FR 34. Because the Gabin was a little tight under the arms and in the body, I decided to size up to my normal size for the Gabinette.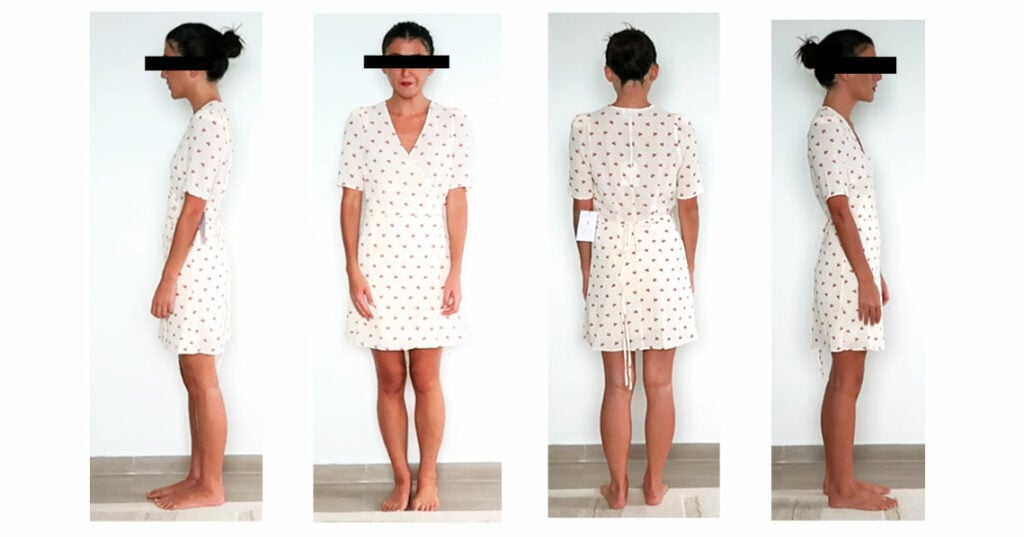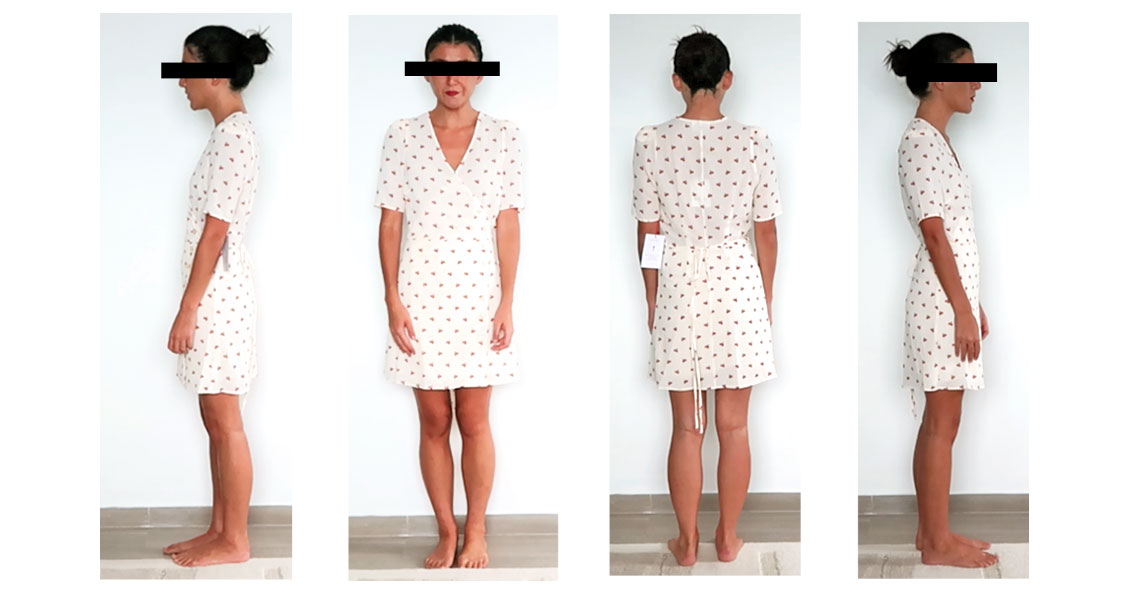 The Gabinette is lined in the bottom, i.e, it has an extra layer of material so it isn't sheer, however the top is not lined.
That extra layer of material, along with the 8 buttons, made the bottom/waist and below portion fit tighter. The bottom fit felt similar to the FR 34 Gabin. However, because it's lined (the Gabin is not) it added some bulk to my waist line.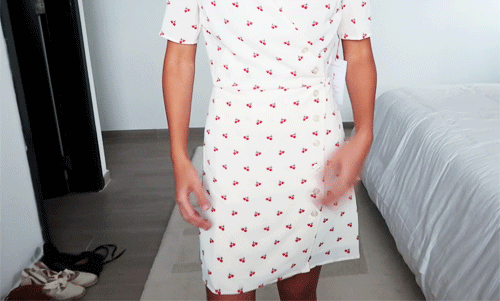 Then there's the top, which was a little too big. Even with a padded bra, it was too big…
So, I was left with two options: shove it in the back of my closet and pretend it never happened or return it. I chose the latter.
There was more than just the size & fit that was wrong. Let's take a closer examination before we get into the return process…
---
HOW ELSE COULD THE GABINETTE IMPROVE?
The Gabinette is 95% polyester and 5% elasthane. This means that the material has stretch to it, but feels rougher (slightly scratchy) on the skin than viscose.
Normally Rouje uses viscose for their dresses… but now they use a polyester blend for their more day-to-day type dresses (like the Gabin).
Polyester? If that wasn't bad enough…
Polyester for $185 USD?? Listen…
A user on Instagram asked Rouje about their polyester use. Rouje replied that this new polyester blend was to help fit more body types and that it can be easily recycled.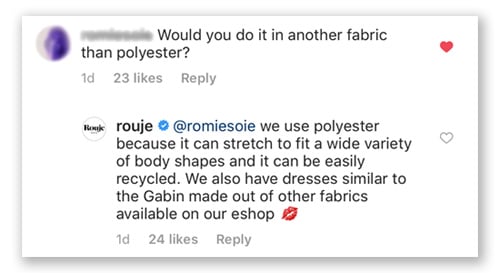 Polyester can be recycled, however the dyes that it requires and the manufacturing process are not environmentally friendly. Perhaps Rouje should use recycled polyester if the environment is a concern… or go back to viscose and expand their size offerings instead.
Environmental issues aside, it's worth noting that polyester isn't a quality material (i.e. it'll tear easily) and traps heat… which for a summer sundress isn't really the best combination.
Basically, a polyester garment is in it for a good time, not a long time… it will make you hot, but will break your heart (when it breaks).
THE COLOR
The "ecru imprime cerise," which in English means "ecru cherry print," is not condusive for a wrap dress.
It's extremely sheer… which is why they lined the bottom half. But they should have also lined the top, because you can see where the material overlaps. This makes for an extremely messy look. It looks careless, but not in a good "I woke up like this" careless way.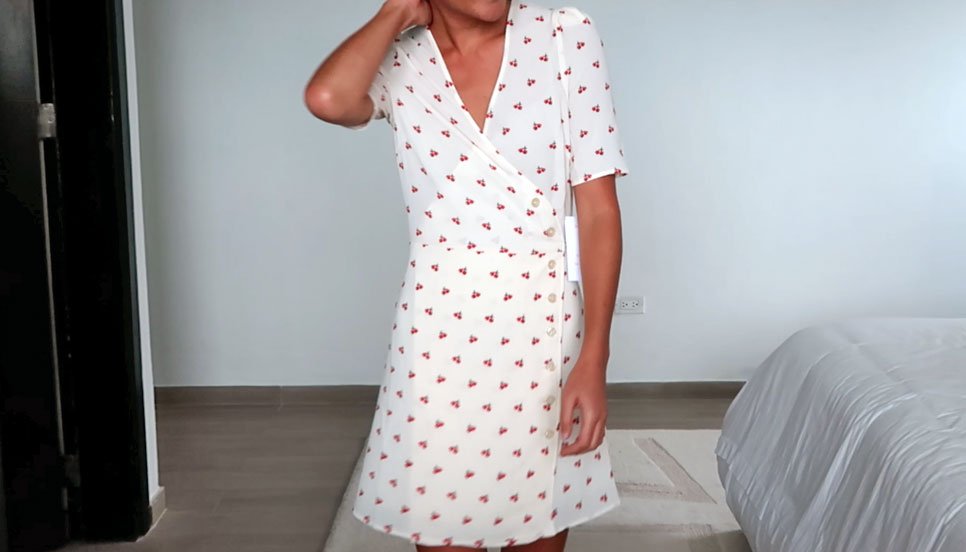 You can see the padding for the shoulders that give that sweet 1930's look, you can see the cherries from the other side, you can see where the wrap comes down inside… you can basically see everything.
---
Rouje's return process is similar to Réalisation Par's or @adenorah's Musier Paris returns.
… in other words, they do not refund your initial shipment cost and they do not provide free returns.
The first step for a Rouje return is to hop onto your online account and request an RMA number. It's an instant process and you'll get it as soon as you click the button. Once you've got it, print out the PDF that they give you and put it in the box.
Note: You have 15 days from when you receive your package to send it back!
I sent my Rouje dress back via USPS because it's cheaper than DHL/FedEx/UPS… I also did not send it back in its original box, because it would have made it slightly heavier and more expensive.
It cost $34.25 USD with the envelope, tracked shipping, and insurance (up to $200 USD), to ship it from California to France.
On September 26th I dropped it off and on October 4th it was received by their team. On October 8th, I received my refund of $185 USD.
When initial shipping costs you $35 USD and returns cost you $34.25 USD, you really have to think "will this piece be right for me?" Otherwise, like me, you'll spend $69.25 USD just to try something on.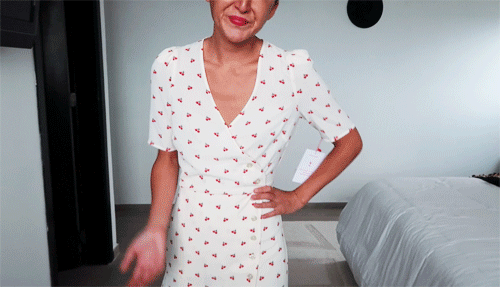 ---
PROS & CONS
Pros
–Bottom Lined
–Print: In theory, it's super sweet, but in reality it's too sheer.
–Extra Buttons: The Gabinette has 8 buttons, which is more than the Gabin and ensures it definitely won't fly open.
Cons
–Fabric: 95% polyester, 5% elasthane
–Color: While the bottom was lined, the top wasn't and that makes for some dodgy lines.
–Fit: Inconsistent with past Rouje releases.
---
While I didn't find the Rouje's Gabinette dress was all that sweet, I would take another bite of the Rouje cherry… as long as it isn't made from polyester.
You can find Rouje on Rouje or via The Real Real or Vestiaire Collective, where you can save money and the environment by buying it second hand.
---
Note: newinspired uses affiliate links which costs you nothing… but means a lot to me. When you use these links, the money newinspired earns gets reinvested in blog content. Absolutely nothing on newinspired is "gifted," I purchase each item with my own money. Affiliate commissions are used to purchase new items to honestly & thoroughly review. If you found this review helpful, consider using them to support newinspired.
---
YOU MIGHT ALSO BE INTERESTED IN…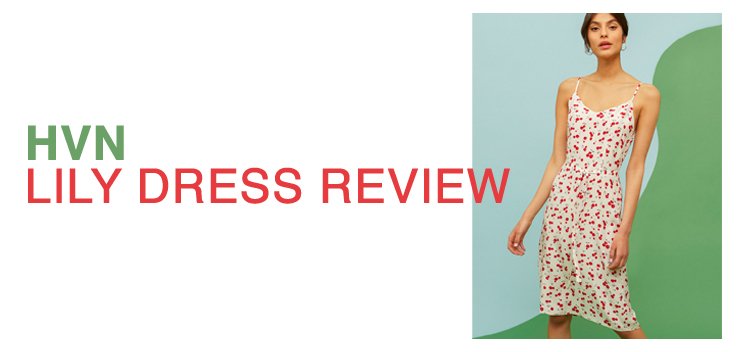 MORE ROUJE REVIEWS…