The Teale is my fifth Réalisation Par dress.
… and it might be my favorite.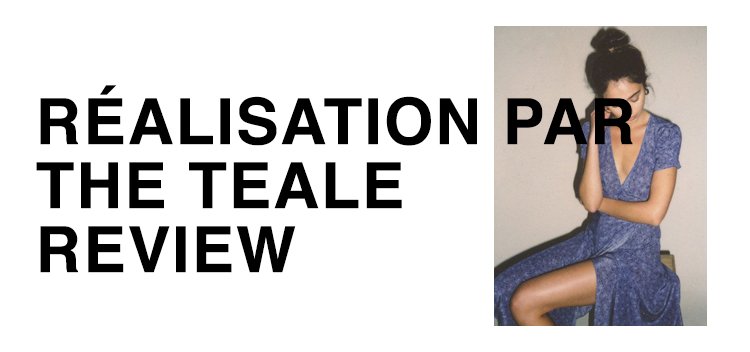 When I get dressed I have two icons in mind: Kate Moss and Lily Aldridge. Their simple but rock and roll style, with Nashville charm and British flare, is my dream look.

To achieve it, I rely on Pinterest and my iPod.
From Gary Clark Jr. to the Stones and the Kills, my "getting ready" playlist goes the extra step to inspire my outfits.
While the Teale might look like a country bumpkin dress on the surface, it has subtle Kate & Lily undertones that a solid mixtape can bring out.
---
TEALE DRESS SIZING
For reference's sake, I'm 5'5.75″ and weigh 113-115lbs.
For Réalisation Par dresses, I've found that the trick is to sometimes order a size smaller than usual. For me that means a size extra-small (XS).
For comparison, mother sizes run below:
-US 2, in HVN or Reformation
-Small, Rag & Bone T-Shirts
-UK 8, in ALEXACHUNG
-FR 34-36, in Isabel Marant or Rouje
The Teale in XS fits exactly how I thought it would: perfectly.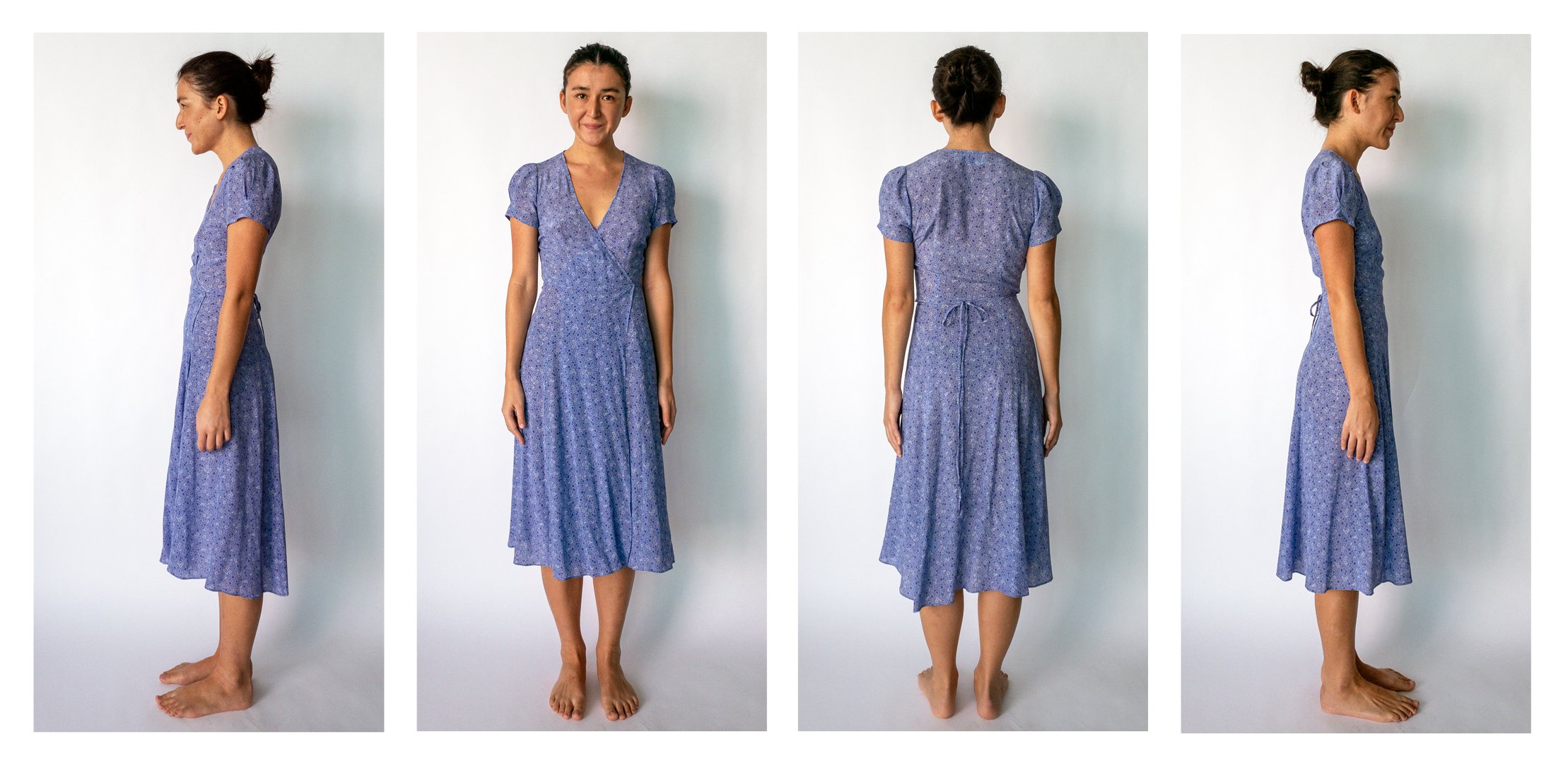 If your abdomen is a little bigger you might want to consider sizing up to make sure that the wrap will, well, wrap well. I've been considering if I should have sized up so the wrap would close a bit better, but if I sized up for the abdomen, the top would likely be too loose.
---
Similar, But Slightly Different Dresses…
---
What Makes The Teale So Subtly Cool
1- It's a wrap
You can strategically show your legs when and where you want to.
2- Plunging neckline
The low neckline is offset by the dress' length, this balance adds mystique.
3- Liberty Print
Purple Haze is Réalisation Par's first Liberty-style print. The smaller floral print is more endearing and reminiscent of days gone by. Liberty prints are quintessentially British and were created by Arthur Liberty (who also created the iconic Liberty department store) in 1875… You've seen this print before on brands from APC to Nike.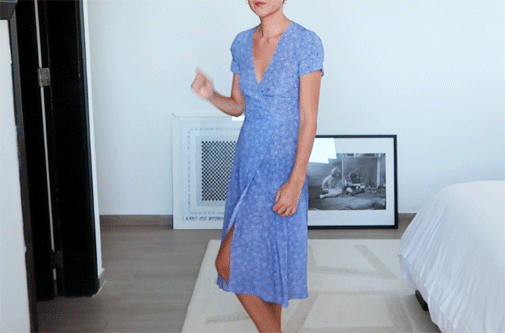 ---
How I'm Wearing My Teale?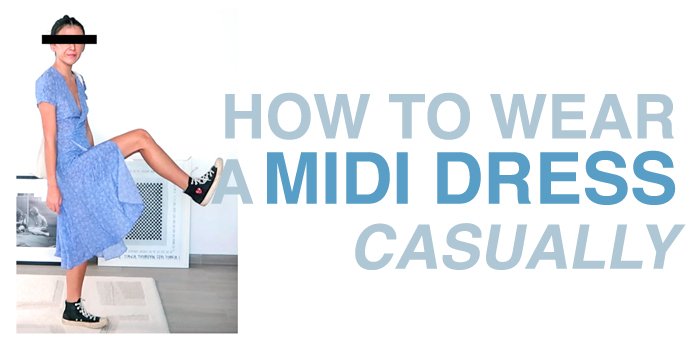 ---
PROS & CONS
Pros
–100% Silk Crepe
–Fast Shipping: Réalisation Par dresses ship from their manufacturer in China. I made my order on the first day of a sale on March 20th, it arrived to my address on March 26th. During sales, try to order on the very first day. Otherwise they're inundated with orders and it'll take way longer.
–Simple Cap Sleeves: They're so sweet!
Cons
–Silk feels kinda thin
–Walking: You will have to hold the sides to keep it from flying up & revealing your underwear if there's a breeze (or you walk briskly). To be fair, everyone can all ready see your underwear though, because…
–See-Through: You can see black underwear through it (skin tone pants don't show though).
–Sleeve tore: About a year into it, I gained a bit of weight and the sleeve tore.
Not a total con, but worth noting: I don't need a bra with my other Réalisation Par dresses and I don't need one with the Teale… but I would like one. This dress isn't lined, falls smoothly, is a lighter color and the silk is thin. As a result, it shows contours more and I would like more definition for my contours.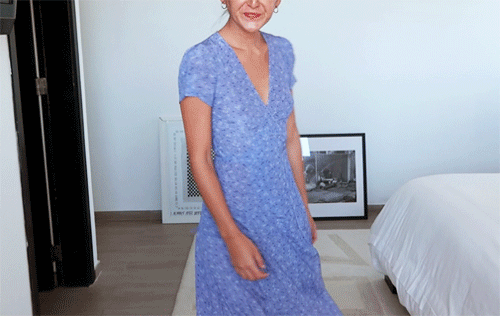 ---
The Teale is somewhere between Belle & Sebastian's Tigermilk and The Rolling Stones' Let It Bleed… It's a dress that "you can lean on."
It has more length, but makes up for it with the plunging neckline.
It's sweet, sunny, incredibly flattering, strategically risky… and (despite a new fear of gusts) it's basically the only dress I'm going to wear this summer.
The Teale dress in Purple Haze is available for $210 via RealisationPar.com.
You might also be able to find it on the Real Real or Vestiaire Collective, where you could save money and the environment by buying it second hand.
If you have any questions, feel free to follow me on Instagram and send me a DM!
---
Note: newinspired uses affiliate links which costs you nothing… but means a lot to me. When you use these links, the money newinspired earns gets reinvested in blog content. Absolutely nothing on newinspired is "gifted," I purchase each item with my own money. Affiliate commissions are used to purchase new items to honestly & thoroughly review. If you found this review helpful, consider using them to support newinspired.
---
TIPS
-Adhesive shapers are recommended, but not totally necessary, for this dress.
-Réalisation Par return process can be a bit annoying, here's what to expect.
-Réalisation Par has flash sales. Watch out for their discount codes via their Instagram or email list. They generally happen ~3 times a year.
MORE RÉALISATION PAR REVIEWS…