A lot of glossy magazines write that midi dresses are "mature."
If you're anything like me, when you see something described as "mature," you run.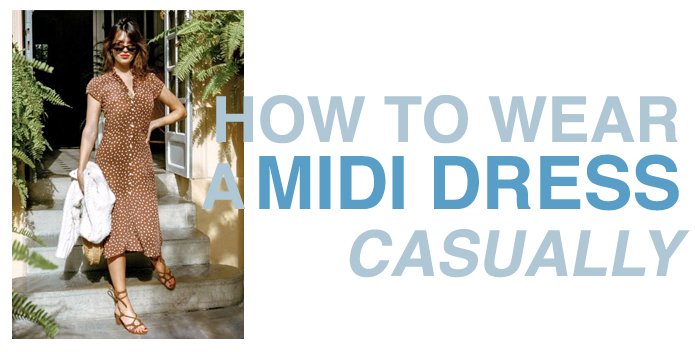 Midi dresses are more reserved than a short sundress, but that doesn't mean they're any less youthful. Midis offer a certain subtlety that a mini sundress can't. That means we can have a bit more fun styling and wearing it.

Let's investigate how to wear a midi dress casually, because, you know, we're young and don't have to be dressy & whatever.
How To Wear A Midi Dress Casually
A midi dress hits your legs mid-shin right between your ankle and knee. This means that for a midi to flatter your shape, it all comes down to your shoes.
But before we get into types of shoes to wear with a midi dress, one key thing to keep in mind is your handbag…
Bags & Midi Dresses
If you're going to wear an across body bag with a midi dress, you will want your bag to drop right where your hips are.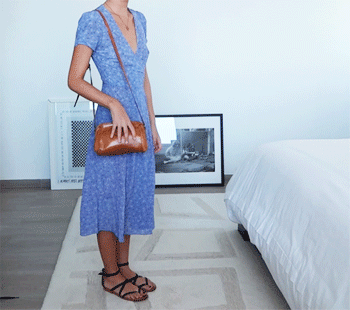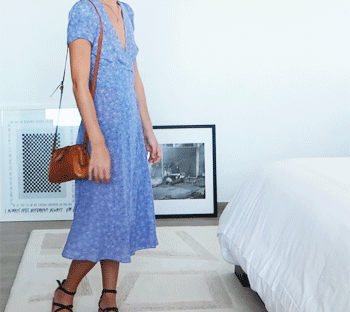 This is to keep the proportions of your outfit in line with the length of the dress.
If your bag is lower than your hips, you're going to look longer, but not in a good way because of how much of your shins are showing/proportions…
Now, back to outfits!
I'm styling all of these midi outfits with the same dress. It's Réalisation Par's Teale in Purple Haze. It's an ideal midi because it has a low chest line (more young) and a slit since it's a wrap (again, more young).
Here are 11 casual midi dress outfit ideas, along with the types of shoes to pair it with!
What Shoes To Wear With A Midi Dress
Midi Dress with Sandals
–Gladiator: If you have longer legs, these are ideal. I'm 5'5.75, so right in between short and tall, and they still work! Mine are K. Jacques Epicure.
–Strappy Sandals: A strappy sandal that doesn't tie at the ankle won't cut off your legs, so they're great for midi dresses.
–Slides: The easiest sandal just made the easiest dress even easier.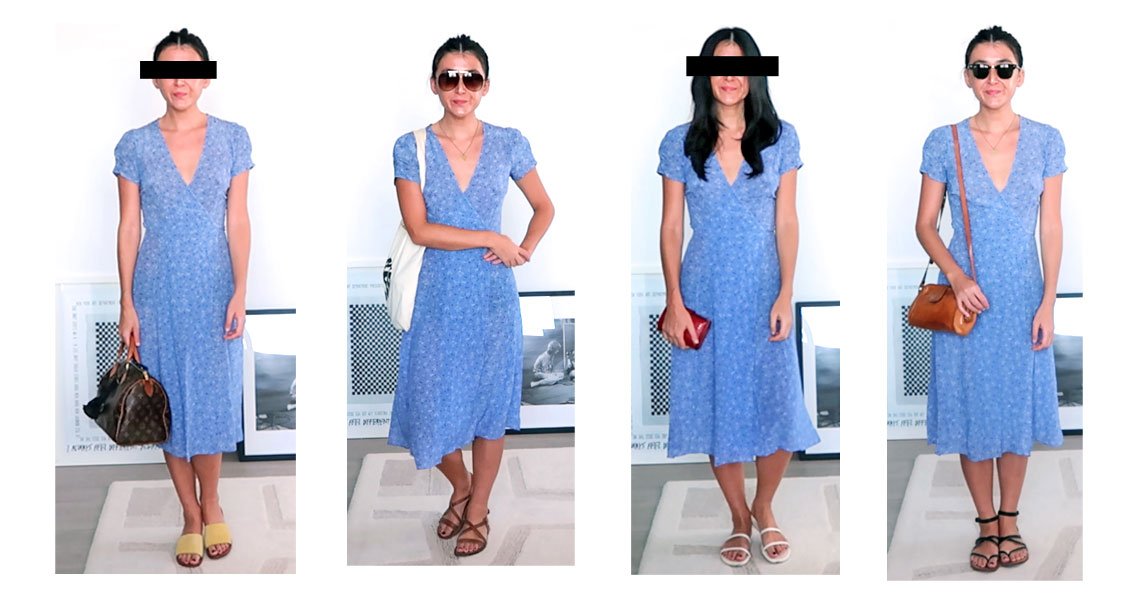 Midi Dress with Flats
Slides might be the easiest sandal to wear with a midi dress, but the ballet flat is the easiest shoe. They require no effort whatsoever. If you want to add a little height, you can grab a pair that have a little heel. My favourite are Repetto Camilles. However, a beige flat can do a lot to make your legs look long — mine are Chanel.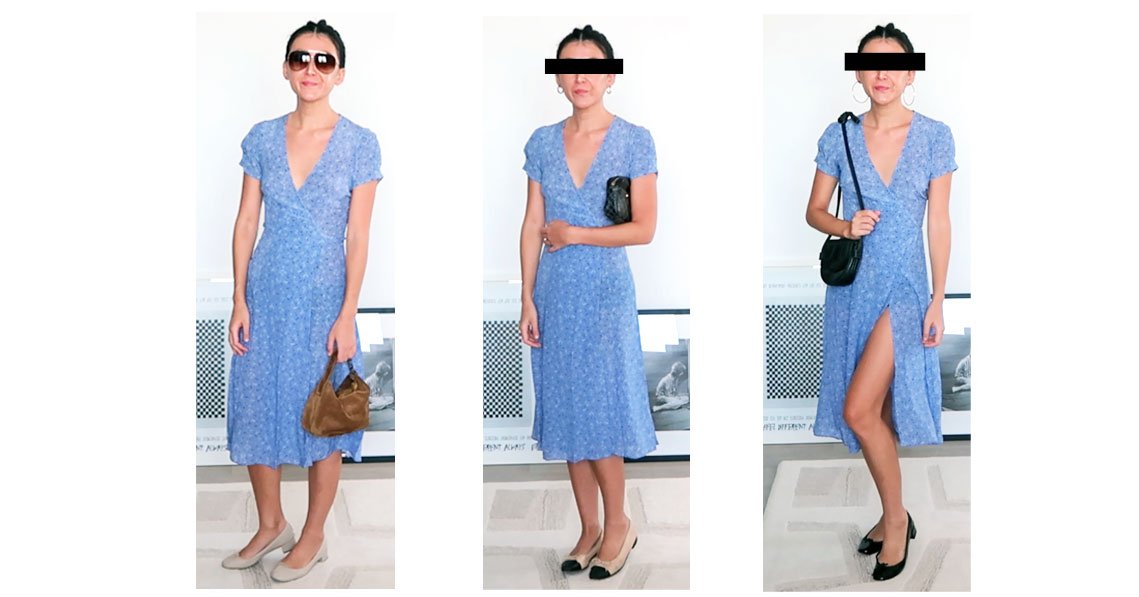 Midi Dress with Trainers
–Converse: Given the choice, I will always vote for high top Converse. Despite their notoriety for making legs look shorter, they work well with midi dresses. You just have to counter it with a bag that plays well with the proportions.
–Stan Smiths: A white sneaker never hurt an outfit…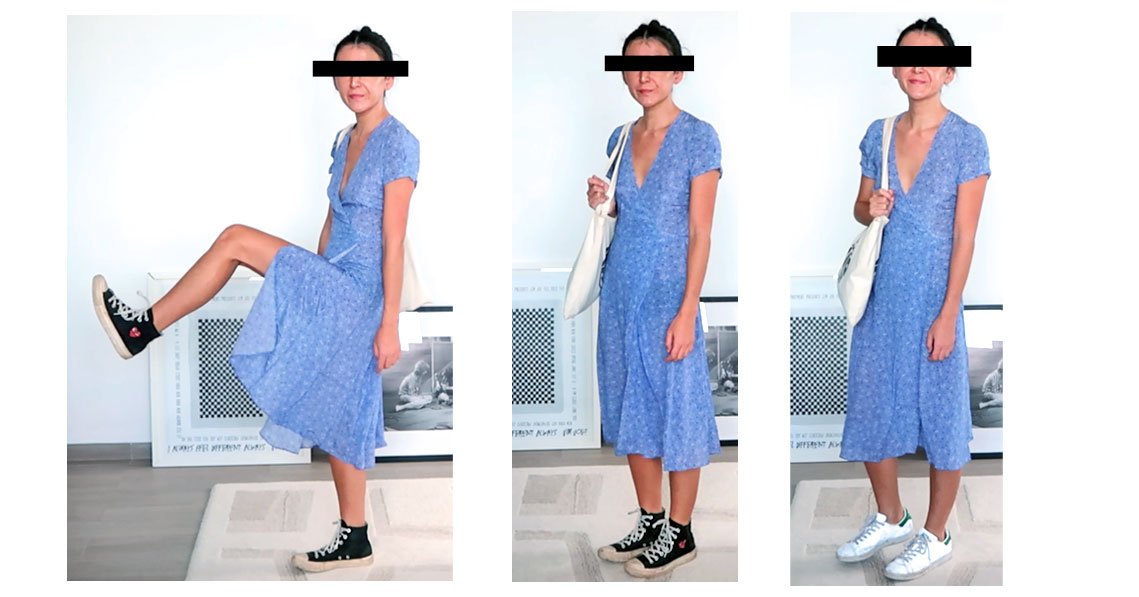 Midi Dress with Espadrilles
Espadrilles are the summer shoe of French It Girls like Jeanne Damas. A wedge espadrille, like these from Castañer (review here), gives you an extra 2.5" of height. Not only that but the way they lace up your leg adds some extra (and subtle) ~sexiness~ to your outfit.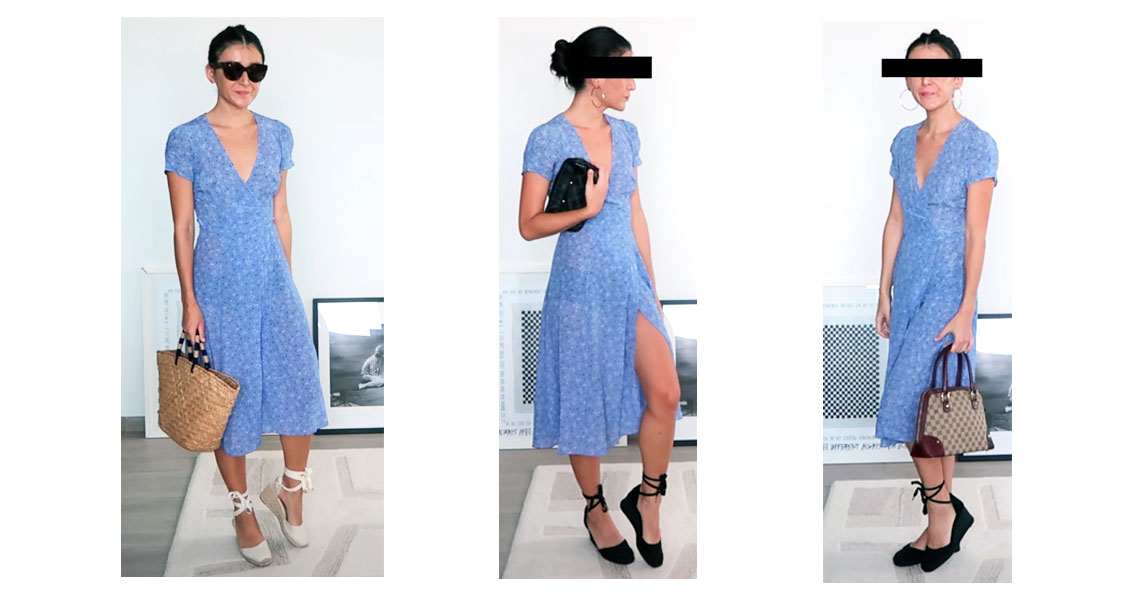 Have fun with your midi dress outfit…
Despite what they say, midi dresses are for the stylish and young!
YOU MIGHT ALSO BE INTERESTED IN…