Polka dots are the unsung hero of all wardrobes.
Stars and stripes get way more playtime than the simple dot.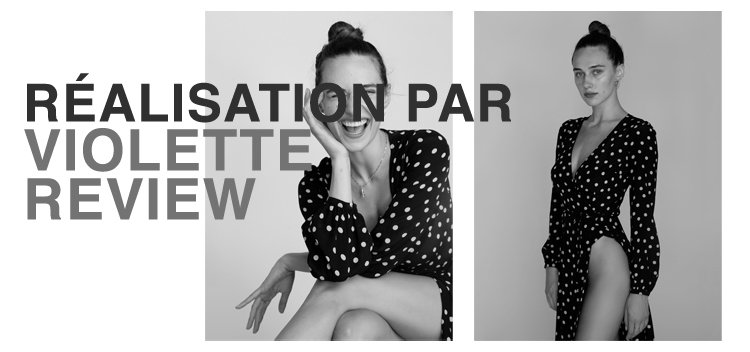 You'd think that with Yayoi being the Instagram moment of the 2010's…

You'd think that with everyone flocking to see Damien Hirst's latest at Art Basel…
You'd think that with the great amount of polka music played on Apple Music… wait, no.
… but in any case, you'd think that polka dots would be more popular.
I'm here to make the case for the black & white polka dot, specifically in the form of this Réalisation Par Violette dress review.
---
RÉALISATION PAR VIOLETTE SIZING
Like most of my Réalisation Par dresses, my Violette is a size extra-small (XS).
I'm 5'5.75″ and weigh 115-117 lbs.
I take a US 2 in Reformation dresses, a FR 34-36 in Rouje, and a UK 8 in ALEXACHUNG.
Looking for Something Similar, but Different?
I was worried that the sleeves were going to be too long. But, the sleeve length is basically perfect. It comes just to my wrists.
Under the arms though is just a little tight. It's weird because my Teale (the short sleeve version of the Violette) does not have this slight pinch like the Violette. It's nothing too uncomfortable and it doesn't look too tight, but I would be curious how a size up would feel instead.
Because of that, I would recommend that you consider sizing up from your normal Réalisation Par size in the Violette.
---
PROS & CONS
Pros
–100% Silk Crepe
–Not See Through: Because it's black it is not transparent.
–Dress Length: The same length as the Teale, which I love.
–Sleeves: Puffy long sleeves on dresses are perfect.
Cons
–Silk feels thin
–Loose/Fraying Threads: This is my 6th Réalisation Par dress and the only dress that was sub-par quality, i.e. there was fraying at the seams. Because I bought the dress on sale, I was given these options:
1. A Replacement/Exchange: You would return the defective item back to our warehouse in LA and provide proof of the return costs which we would refund.
2. A store credit: You would return the defective item back to our warehouse in LA and provide proof of the return costs which we would refund.
3. 15% discount in the form of a refund and you would keep the garment.
–Sleeve Buttons: They're too tight to easily do and undo. As a result, I've encountered some fraying at the button hole due to having to shove the button through. My RIXO Camellia dress also has buttons on the sleeves very similar to the Violette's, but they are easy to do and undo and keep the sleeve just as puffy.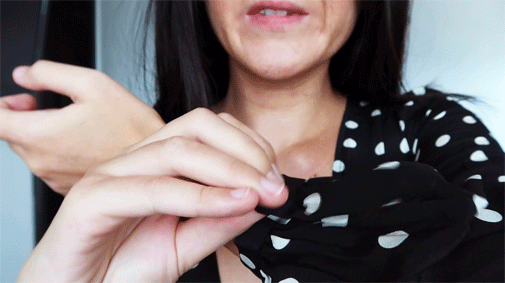 ---
VIOLETTE FOR WEDDING SEASON
Between the polka dots to the 100% silk composition and the demure length, the Violette makes me think of one thing: wedding season.
It's a versatile dress that can be dressed down or up, which makes it absolutely perfect for going to multiple weddings…
---
THE VIOLETTE DRESS' CLAIMS
Let's go through what Réalisation Par says about the Violette…
We love a short dress as much as the next Dreamgirl, but sometimes, you just need a little more…
True! ✅
Short dresses are fun, but sometimes you do just want more length.
Sometimes you just need sexy, simple, entrance-making, wind-catching, jaw-dropping, memory making… you know, more!
True! ✅
This dress is actually all of the above because of how low and long it is.
So we've made it for you. Welcome the Violette, your new go-to for all your go to's.
True! ✅
I'm going to be grabbing this dress a lot. It's best suited for ~fancier~ nights out, but I think it can also work for day-to-day operations…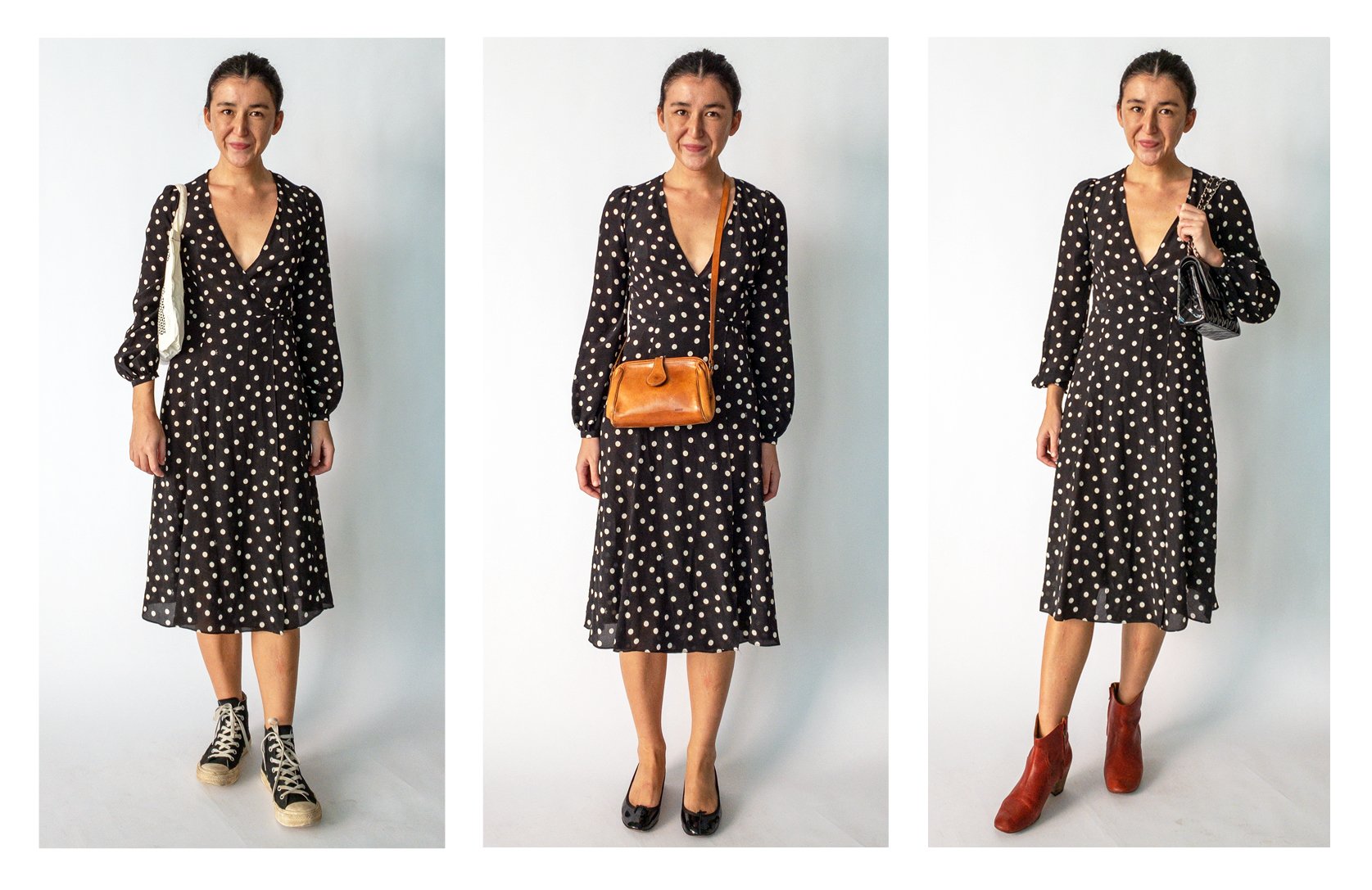 Here are my Réalisation Par Violette dress outfits:

---
MY CLAIMS ABOUT HOW GREAT THE POLKA DOT IS
It's different.
Semi-True ❌✅
Not a lot of folks in the fashion set wear polka dots, so they look different & stand out. However, I feel like that's going to change quite soon and they are about to become the next star print.
It's versatile.
True! ✅
Polka dots are also the most versatile print. The polka dot blends in and looks low-key, but put together. Would you wear a black & white striped dress to a wedding? Probably not, it's too casual.
Late 1960's/early 1970's Vibes
True! ✅
We all think Pucci or paisley psychedelics, but Bob Dylan was out there wearing polka dots!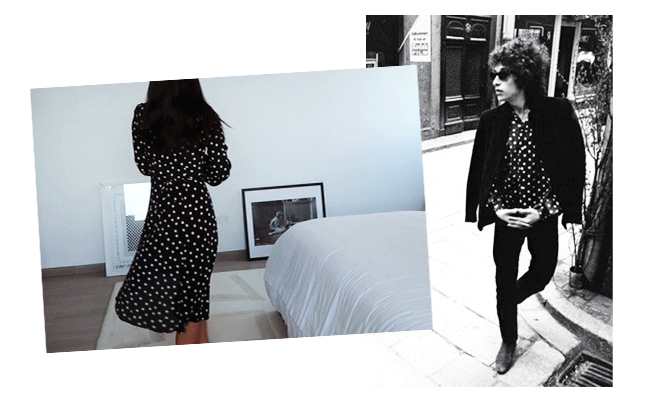 ---
Polka dot print aside, the way this dress moves is reason enough to love it.
It seriously flows, kind of like Blonde on Blonde… wait, no.
This dress is NOT anywhere as monumental or significant as that album…
… but it is pretty spot on.
The Violette in Black & White Spot is available for $225 via RealisationPar.com.
You might also be able to find it on the Real Real or Vestiaire Collective, where you could save money and the environment by buying it second hand.
If you have any questions, feel free to follow me on Instagram and send me a DM!
---
Note: newinspired uses affiliate links which costs you nothing… but means a lot to me. When you use these links, the money newinspired earns gets reinvested in blog content. Absolutely nothing on newinspired is "gifted," I purchase each item with my own money. Affiliate commissions are used to purchase new items to honestly & thoroughly review. If you found this review helpful, consider using them to support newinspired.
---
MORE RÉALISATION PAR REVIEWS…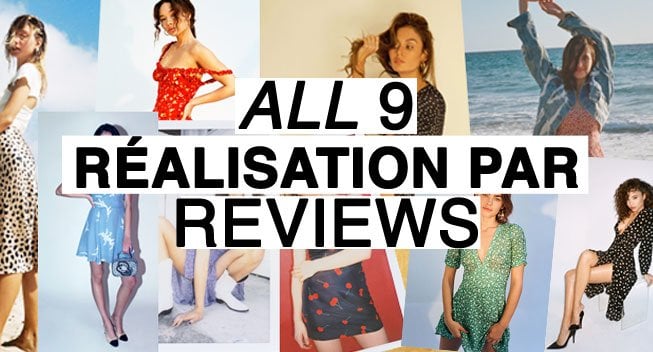 TIPS
-Size up from your normal Réalisation Par short sleeve dress size if you find that your normal size fits super close so you have more space under your arms.
-Réalisation Par return process can be a bit dodgy, here's what to expect.
-Réalisation Par offers discount codes ~x3 a year. Sign up to their mailing list or follow them on Instagram to hear about them.