Hands up if you've spent more than one hour on Jeanne Damas' Instagram.
Hands up if you've spent more than two hours on Jeanne Damas' Instagram.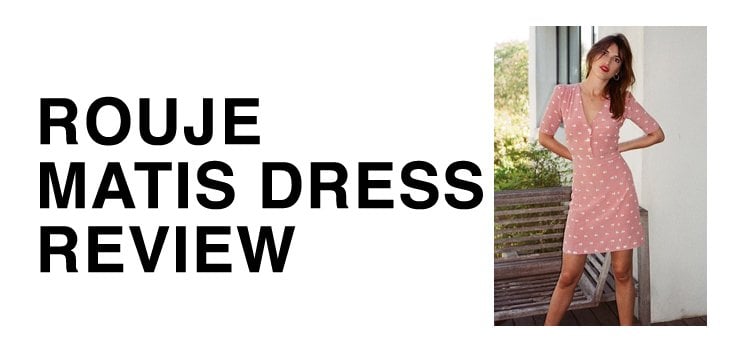 … basically, hands up if you're obsessed with Jeanne Damas' effortless Parisienne style.

Same.
Good news for us Jeanne Damas fangirls, because in 2016, Jeanne put out her very own French girl clothing label, Rouje.
Like you, I've been obsessed with Rouje since its inception. However I've missed out on most of it due to sizing concerns and, well, the fact that it sells out pretty fast.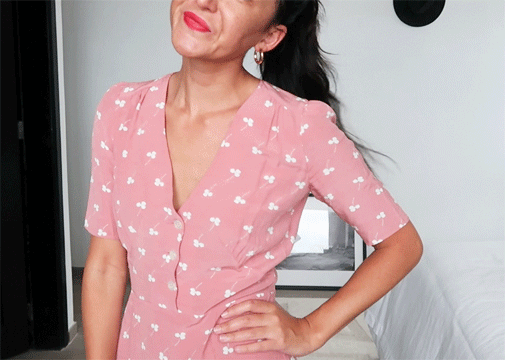 Enter eBay: Rouje's Matis dress popped up on eBay (from a reputable seller) a few days ago. I hemmed, hawed, and did some Googling. I found a picture of Emily Weiss (AUNTIE!), Selena Gomez (SIS!), and Jeanne Damas (MOM!) in the dress.
The Matis dress looked equally cool on each of these brunette beauties, so I decided pourquoi pas?, put in an offer (it was listed/inflated for $265 USD and I offered $195 USD — $10 over retail price, I probably should have offered less. But I saved on shipping and import duties.), paid, received it and you know what happens next: my Rouje clothing review.
---
ROUJE SIZING
Since I found my Rouje dress on eBay, I couldn't choose my size. But since I'm basically always a FR 36 and the listing was for an FR 36, I was very happy.
For reference's sake, I'm 5'5.75" and weigh 115-117 lbs.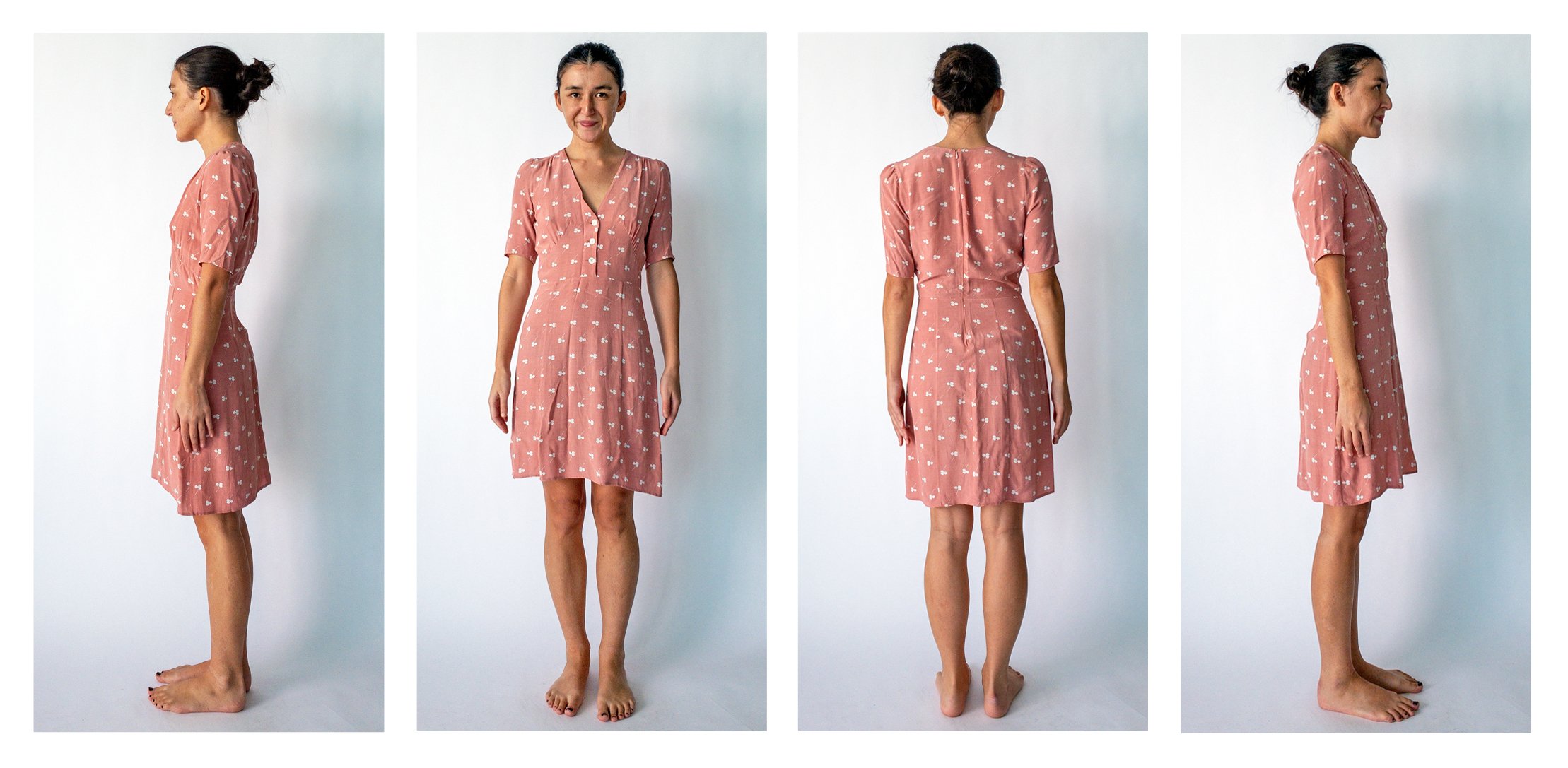 My sizes run below:
–Réalisation Par, XS or S
–HVN or Reformation, US 2 or S
–ALEXACHUNG, UK 8
As for my other Rouje clothing, you can find their reviews here:
–Gabin dress
–Gabinette dress
–Gino trousers
–Lena dress
–Lolo jumpsuit
This Rouje Matis dress fits relatively true to French size.
… however while the waist fits perfectly, there's definitely room in the bust. You can see how it kind of balloons out a bit. A little bit annoying, but when the dress is in movement, it isn't so noticeable.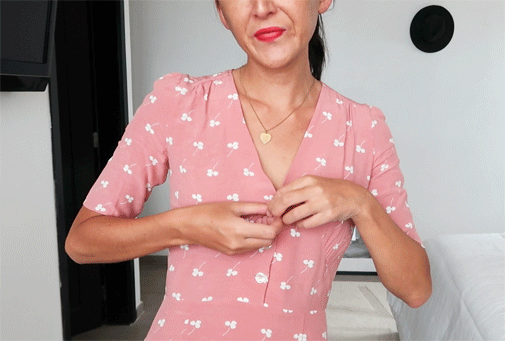 Arm range is limited in this dress, i.e. I can't fully put my hands over my head comfortably, but really, who does that when they're out and about?
It's also a little tough to get over my 90cm hips, but I can still squeeze into it.
TLDR: Rouje's FR 36 is a little bigger on top and a little tight on the bottom for me.
What happens if you order the wrong size and need to return it? Check out my review of Rouje's return process here.
Since Rouje Doesn't Make The Matis Anymore…
These dresses can basically pass for it…

NEED MORE ROUJE SIZING HELP?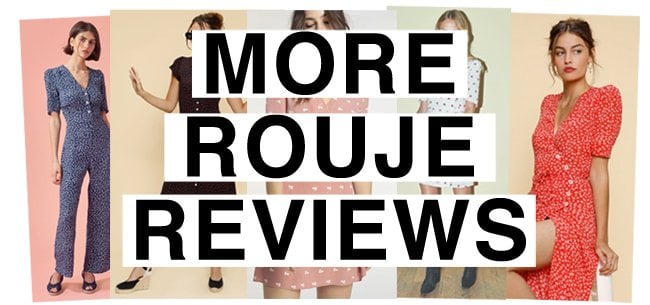 ---
PROS & CONS
Pros
–Colour: A perfect peachy meets coral.
–The shoulders have mini-shaping pads in them: This gives it more shape (obviously).
–Bra friendly
–Length: Sometimes a longer dress is just what you need!
Cons
–100% Viscose: Like my Reformation dress, I really don't love when garments are over $100 USD and made out of synthetic/semi-synthetic fibres. Viscose isn't a long lasting material. It's poorer quality and wrinkles pretty badly. I can all ready see the fraying/fluffing of the material after a few wears and…
–Zipper on the back could be a bit longer: Because the material isn't amazing quality and my hips have trouble getting into the dress, I've ripped it at the bottom of the zipper on the back.
---
Outfits
I was surprised by how much this dress resembles a 1930/40's tea dress. I thought it would be super easy to style when I saw it on #LesFillesEnRouje (Les Filles en Rouje translates to "The Girls in Rouje"). Now that it's here, I'm not entirely sure how to wear it.
Here are a few outfits that I came up with…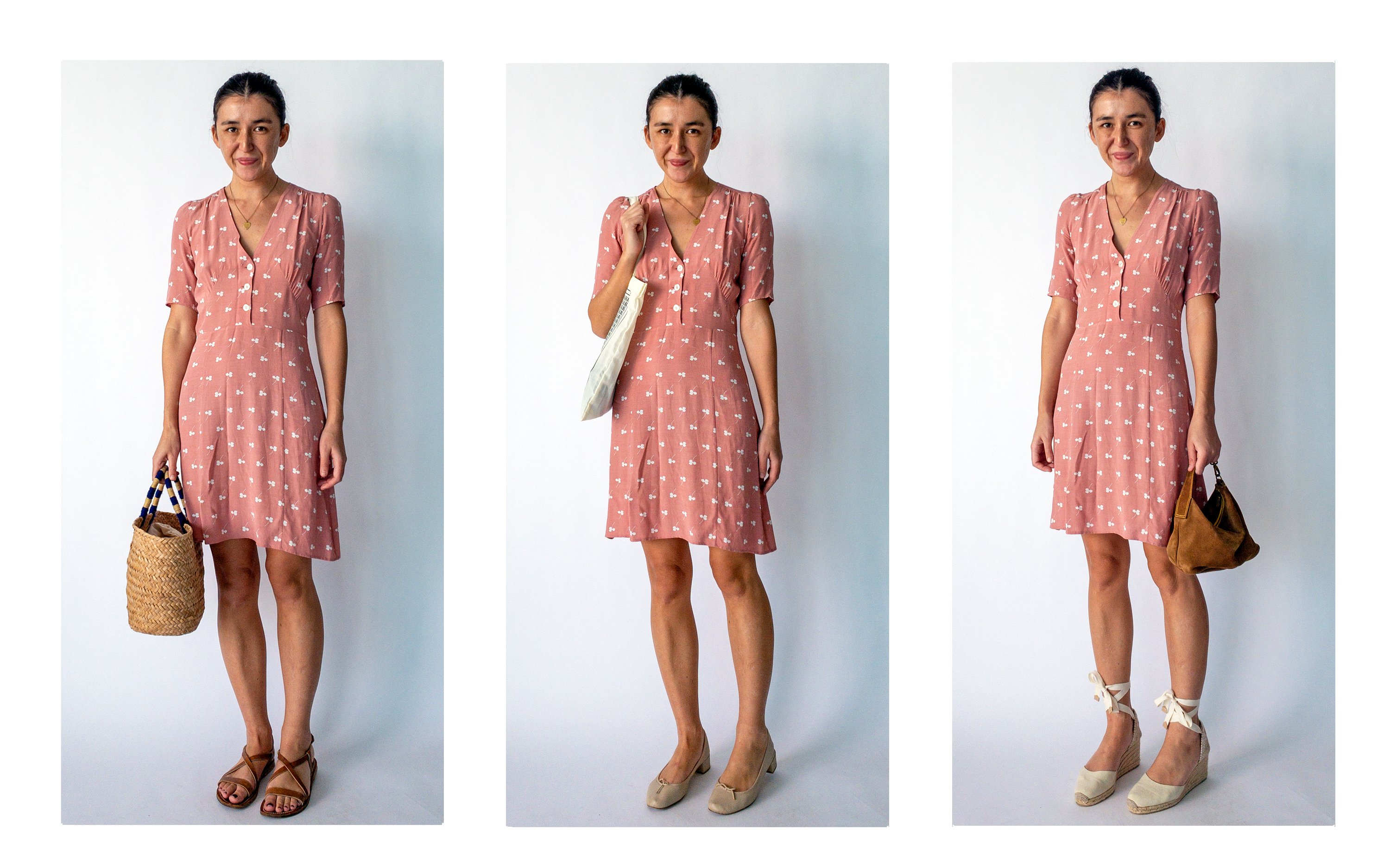 Left to Right: K. Jacques sandals with a Kayu straw tote, Repetto Camilles with a Rouje tote, Castañer espadrilles with a Miu Miu bag.
After getting over my initial reservation, I have to say that it is incredibly comfortable and easy to wear. And at the same time it looks pretty adorable.
Are You Looking For the Rouje Laura Dress?
… same. But since Rouje discontinued it, I found these dresses that look super similar.

---
I think I've figured it out…
Rouje is basically Réalisation Par meets A.P.C.
Super shocking analogy, I know.
… but, Rouje really has Réalisation Par's trendy undertones with A.P.C.'s retro minimalism.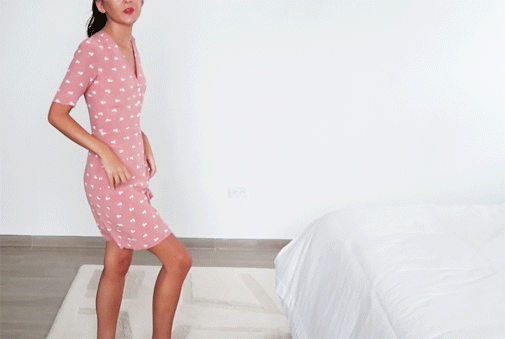 … Add in Jeanne Damas' vintage je ne sais quoi (is there a Rouje review that doesn't include "je ne sais quoi?" or "French cool girl?," je ne pense pas!) and you have her French cool girl brand!
Rouje dresses are available at ~€170 exclusively on rouje.com
For $40 USD off your first order, you can use my link here.
You can also find Rouje pieces on the Real Real, where you can save money and the environment by buying it secondhand.
Let me know if you have any questions about Rouje and how their clothes fit & their quality.
---
Note: newinspired uses affiliate links which costs you nothing… but means a lot to me. When you use these links, the money newinspired earns gets reinvested in blog content. Absolutely nothing on newinspired is "gifted," I purchase each item with my own money. Affiliate commissions are used to purchase new items to honestly & thoroughly review. If you found this review helpful, consider using them to support newinspired.
---
TIPS
-Rouje has seasonal sales (generally in February, end of August, and November), but by the time it happens the it-items (i.e. cute dresses) are sold out in most sizes.
–Rouje discount codes don't really exist. I haven't seen any, so don't hold your breath for any flash sales.
–eBay can be a great way to purchase Rouje clothing if you live outside of the EU. You skip out on the high shipping costs and save on import duties. However, make sure that you purchase from a reputable seller (i.e. I tend to avoid those that have multiple sizes & colours "in stock").
YOU MIGHT ALSO BE INTERESTED IN…