Day 2/7 of my Chanel slingback challenge!… Not sure why I'm calling it a challenge because it's moderately fun.
I say moderately because making flat lays is actually kind of tricky. Making sure everything is straight, enough white space but not too much, getting the lighting… It's probably the hardest part of this process.
ANYWAYS, yesterday kicked off with my take on Emmanuelle Alt's Chanel slingback outfit. After last night's dream where I had swishy 60's bangs (my dreams are super boring), today I'm going for a Jeanne Damas vibe.
Yes, Jeanne Damas' style is heavily influenced by Jane Birkin. But Jeanne Damas picks up where Birkin left off (actually, Jane Birkin never left off) takes Jane Birkin's 60's style and takes it right up to the 2010's.
Unlike Emmanuelle, I have not been able to find a photo of Jeanne in the Chanel slingbacks. This makes today's dressing that much harder…
But with classic Breton stripes and red lips in mind, I present my Jeanne Damas inspired Chanel slingback outfit: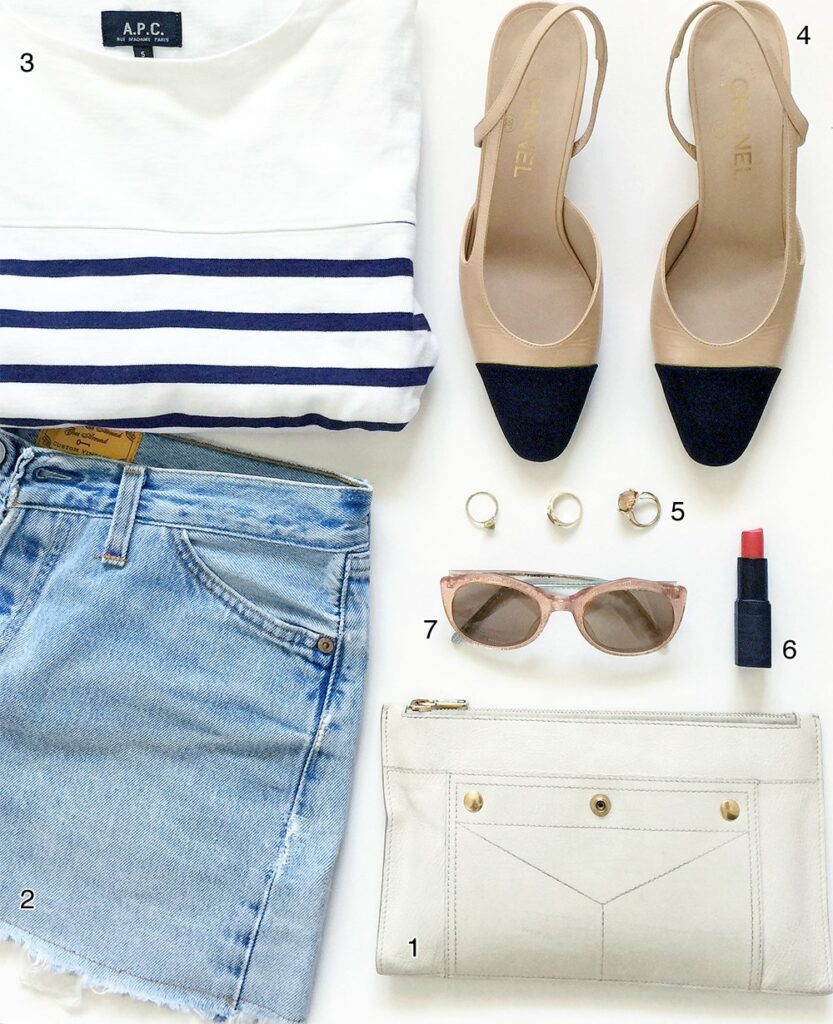 Yves Saint Laurent White Pouch , purchased in Paris 8 years ago as an add on for the Downtown purse I don't have… A great little pouch to throw the days' necessities in without being weighed down. Jeanne hardly ever carries a big bag, so this pouch it is!
What Goes Around Comes around NYC Vintage Denim Skirt, this skirt is everything to me. While those new APC denim skirts that Jeanne Damas wears are fab and all, this skirt has staying power. Made from a pair of old Levi's I've only had to get it patched last year for the first time in seven years… Also it offers a more rustic, vintage vibe to offset the Chanel slingback's elegance.
APC Breton top , because you gotta have stripes, right?
The Chanel Slingbacks
An Assortment of Old Gold Rings, one is my high school grad ring, another from Verameat in the East Village (CUTEST stuff), and the last I totally forget
Nars Heatwave , according to an interview with Garance Doré Jeanne wears "Sheen Supreme Venomous Violet, Diva matte, and Viva Glam 3." But I love Nars' Heatwave.
Vintage Sunglasses , another pair of sunglasses that I have no idea when they're from… Purchased in Rome 11 years ago (fuck, was that trip that long ago now?!), they're adorable and add that certain bit of character
Did I do it?
Did I manage to pull off a modern day 1960's Jeanne Damas outfit?
Let me know in the comments!
YOU MIGHT ALSO BE INTERESTED IN…