"She could be a farmer in those clothes."
-Amber to Tai, Clueless (1995)
"Farmer," basically the one word you don't want to hear when you wear overalls (read: dungarees).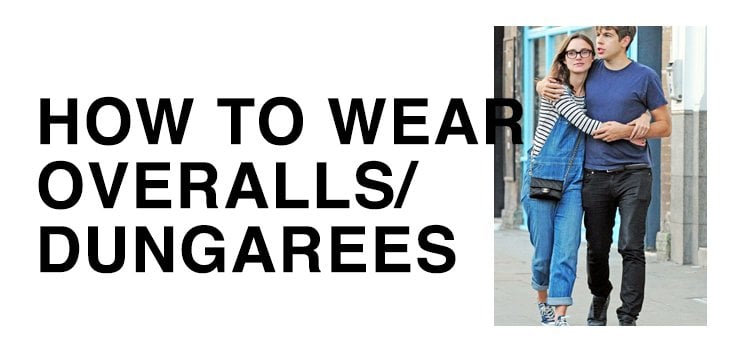 To play the devil's advocate, when you look at (arguably) one of the most famous farmers in "American Gothic" by Grant Wood (1930), his outfit is pretty stylish.
… another ten words you don't want to hear?
"Her outfit isn't even creative, she's just copying Alexa Chung."

It's easy to let your creative guard down and lean on Chung for inspiration.
The woman has won the "most stylish woman ever award" like ~100 times (maybe that's an exaggeration, but really, who's counting?) — why not lean on her for some outfit inspiration?
At the same time, wouldn't it be fun to contradict Amber and sow some authenticity with a nod to Grant Wood in your overalls outfits?
… so, why not be a contrarian and see what would happen if Chung went to Iowa with these overalls outfits?
---
How To Wear Overalls in Summer
Similar to styling button down shirts, the first thing to do is to roll up your sleeves hems.
Roll up the bottom hems just past your ankles — it'll look less like your mom forced you to wear your sister's oversized hand-me-downs and more like you chose to wear them.
My ideal overalls are loose in the legs and top and are not sexy at all.
Let's go a bit deeper on specific tops & shoes before we get into some overall outfit pictures…
What Shirts To Wear With Overalls
To keep it (relatively) simple, most tops work with overalls.
– Long sleeves
– T-shirts
– Button downs
– Thin sweaters
Neutral tops work best, but prints like stripes, polka dots will look cool — while I do want my outfits to have a farmer flare, plaid should only be used carefully & sparingly.
The easiest way to start an overalls outfit is to think monochrome.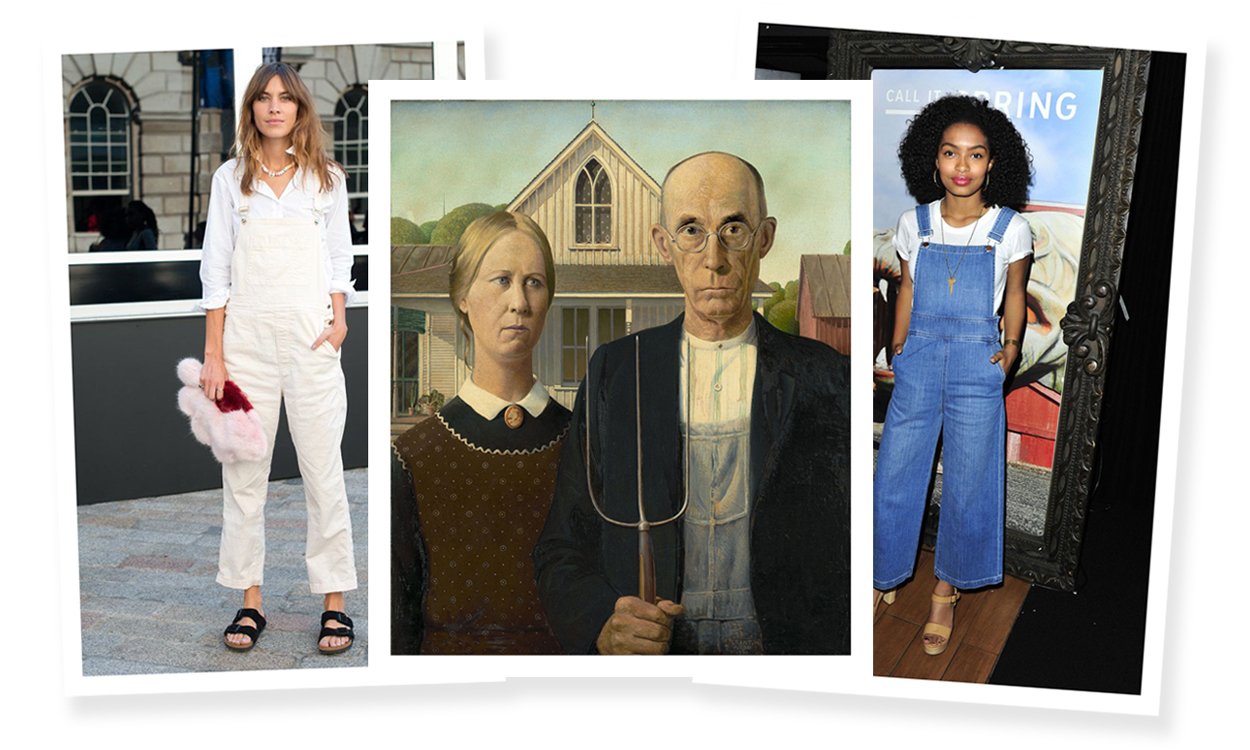 What Tops to Avoid
Some tops don't amazing with overalls — here are a few of them.
– Tank tops: Overalls really shine when you can see your shirt underneath. A tank top runs the risk of just looking like the overalls' straps.
– Crop tops: Personally, just really not into how it looks.
– Tube tops: Ditto to above.
– V-Neck tops: … or tops where the cut is below the overall's bib — it distracts from your overall overalls look.
– Thick knits: Overalls are bulky, so avoid tops that are thick or boxy — they'll only add more bulk to your body. This means avoid things like fisherman sweaters… unless, like, you're actually going fishing.
---
What Shoes To Wear With Overalls
Shoes are where overall styling gets tricky.
Luckily, you've all ready rolled up the bottom hems so that your ankle shows, so half the battle's all ready won!
Shoes that look especially good with overalls include…
– Ballet flats
– Flip flops
– Sandals
– Espadrilles
– Converse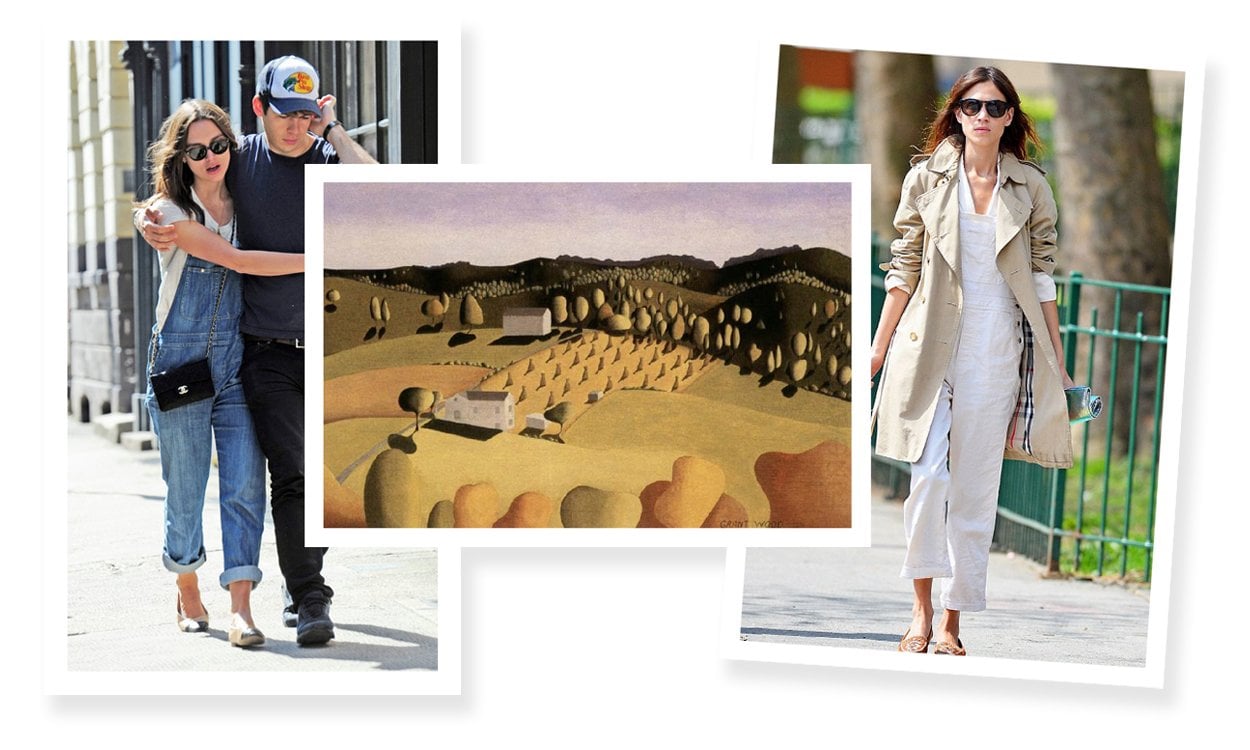 What Shoes Not To Wear With Overalls
~Fashion girl~ sense might whisper, "wear your Chanel slingbacks…" in your ear.
With dungarees, shoes that are too trendy or ~fashion-y~ would run the risk of making these outfits look too styled.
This means, no Chanel slingbacks, no J'Adior mules, no Louboutins, etc…
We're trying to make these outfits look more 1880's (when Carpenter Gothic houses were primarily built) and less 2010's Olivia Palermo at NYFW.
---
Different Overalls Outfits
For these outfits I'm wearing Reformation's Overalls in Cream (size US2)…
Cream overalls look great when you wear them with t-shirts and can be dressed up or down depending on which shoes you pick.
… but my favourite way to wear them? With a white button down and Birkenstock-esque sandals.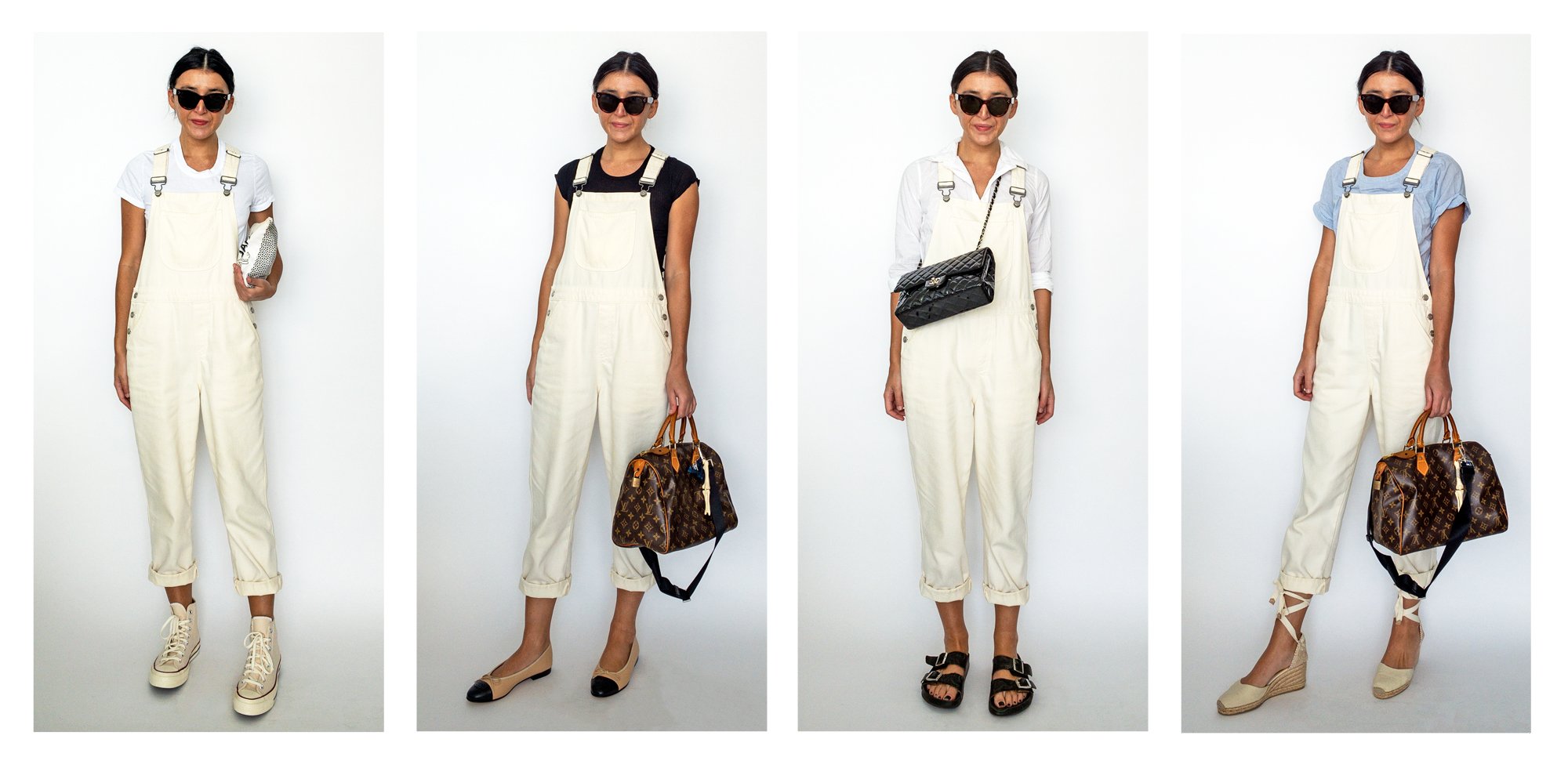 Left to Right: James Perse T-Shirt with Celine sunglasses, Converse and an Isabel Marant clutch; Calder Blake t-shirt with Celine sunglasses, Chanel ballet flats, and a Louis Vuitton Speedy; J. Crew button down with Celine sunglasses, Isabel Marant sandals and a Chanel bag; A.P.C. blouse with Celine sunglasses, Castañer espadrilles and a Louis Vuitton Speedy.
… and for these outfits, I'm wearing Levi's Vintage Overalls (size small).
Blue denim overalls are a bit tougher to style than cream ones, but it's still doable.
Lean on long sleeves to make the outfits work — if you have blue blouses or a navy striped top, they'll help a lot.
… and I know I'm contradicting my "don't wear ~fashion~ shoes" in the first outfit, but, whatever, rules are meant to be broken.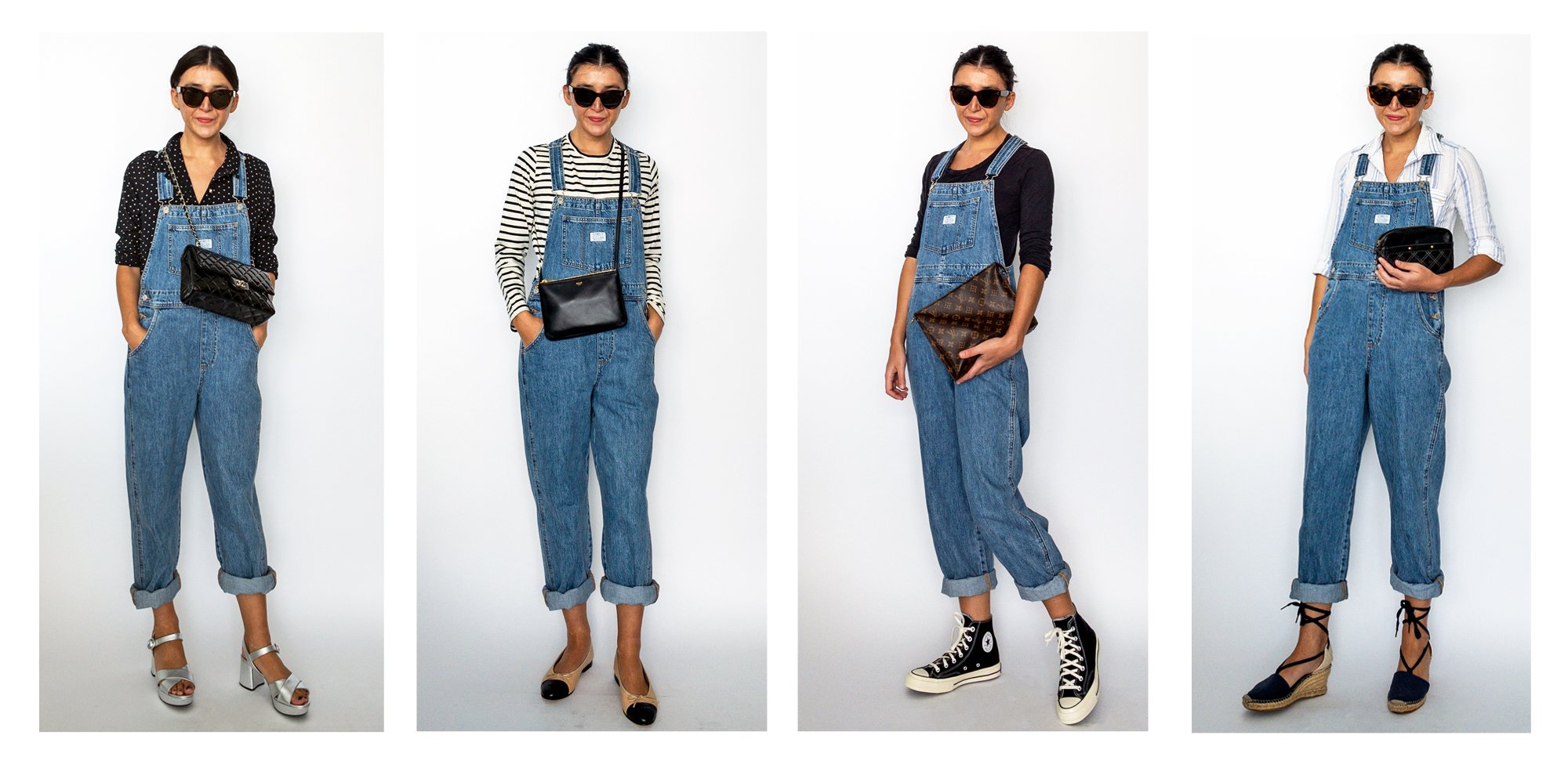 Left to Right: Chinti & Parker blouse with Celine sunglasses, Prada sandals and a Chanel bag; Kule long sleeve with Celine sunglasses, Chanel ballet flats and a Celine Small Trio; Rag & Bone long sleeve with Celine sunglasses, Converse, and a Louis Vuitton pouch; Isabel Marant Étoile Blouse with Celine sunglasses, espadrilles and a Marc Jacobs makeup bag.
---
Ignore fears of Amber calling you a farmer.
Ignore fears of being called an Alexa Chung copycat.
Ignore fears of looking like you're a method-studying History of Art major.
… even ignore my advice.
Wear a croptop, layer as many bulky knits as you can, and slide on your trendy shoes.
… like all things fashion, your overalls outfits will come from you and your personal flare that you bring to them — when you feel confident, you're sure to look good.
Note: newinspired uses affiliate links which costs you nothing… but means a lot to me. When you use these links, the money newinspired earns gets reinvested in blog content. Absolutely nothing on newinspired is "gifted," I purchase each item with my own money. Affiliate commissions are used to purchase new items to honestly & thoroughly review. If you found this review helpful, consider using them to support newinspired.
---
YOU MIGHT ALSO BE INTERESTED IN…