With Chanel's infamous price hikes, Chanel ballet flats are seriously expensive.
Considering that in 2008, they cost $550 USD, it's actually kind of nuts… actually, a ~68% price increase for a pair of shoes is all the nuts (and especially includes "premium" cashews).
… but here's something even nuttier, in 2008 I skipped my high school prom for a pair of Chanel ballet flats.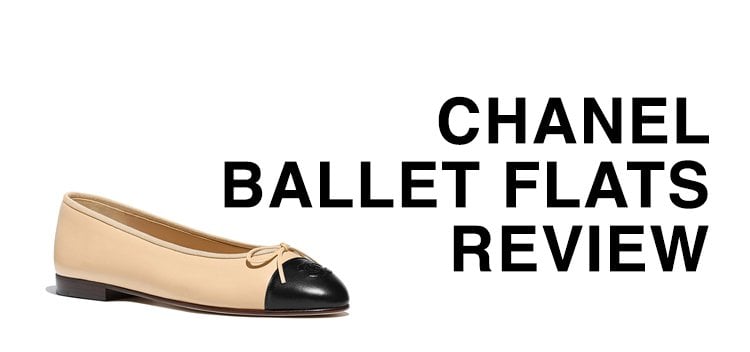 While the girls in my grade were fussing over prom dresses, dates and makeup appointments, I was tracking down a pair of two-tone Chanel ballet flats.
You see, the average price of prom is apparently like $800… then on top of that, you have to spend the night with a bunch of obnoxious "popular" girls who spent the year comparing you to your beloved pet goldfish (who always looked a little sad) and helping themselves your raspberry lemonade Ice Breakers without asking (who knows where Lauren's grubby paws had been??).
Sure, I may have had fun that night with my friends, but I'd see them in the summer… Instead, I could save time & money and get a pair of shoes that would last me forever.
My parents (who said, "if you don't want to go to prom, it's up to you") ended up buying those two-tone Chanel flats for me as a high school graduation gift. In that 2008 moment, I don't think my parents or I realised how "forever" these shoes would end up being.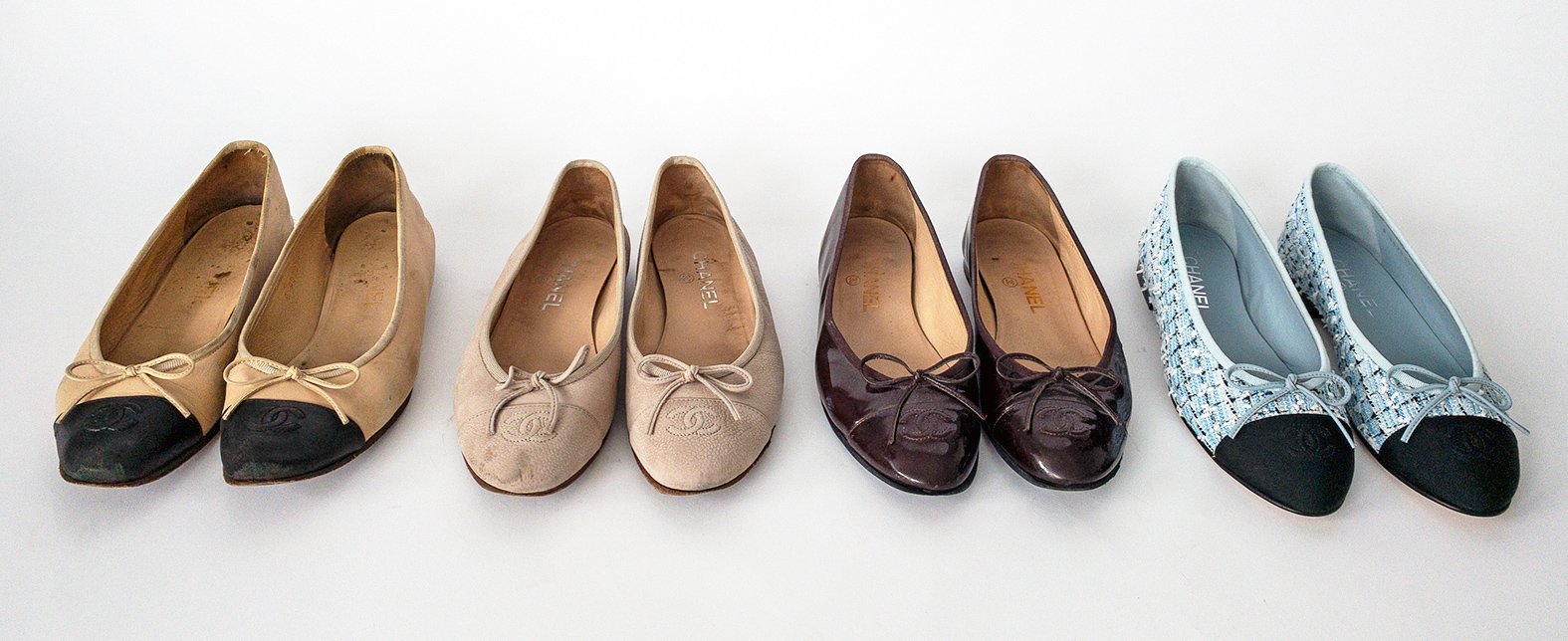 Despite the "I swear this is the last pair I'll buy" empty promises, I've collected seven pairs of Chanel ballet flats into my pseudo-adult life. Three of which have gotten too "loved" and had to be "retired" (read: thrown out).
After over a decade of wearing and loving these shoes, it's time for a comprehensive Chanel ballet flats review.
Let's start with sizing then move onto why I've bought so many and end with, gulp, prices.
---
How do Chanel ballerina flats fit?
Chanel ballet flats run true to French size. There is minimal sizing difference between the different materials.
For comparison's sake, my other shoe sizes are…
-Adidas Stan Smiths, US 8
–Chanel Shoes, FR 39
–Christian Louboutin, IT/EU 39.5
–Golden Goose, IT/EU 39
–Hermès, FR 39
–Isabel Marant, FR 39-40
-Nikes, US 8.5
–Repetto, FR 39.5-40
Tweed Chanel ballet flats: Run a pinch large, but in a 39, they still fit just fine…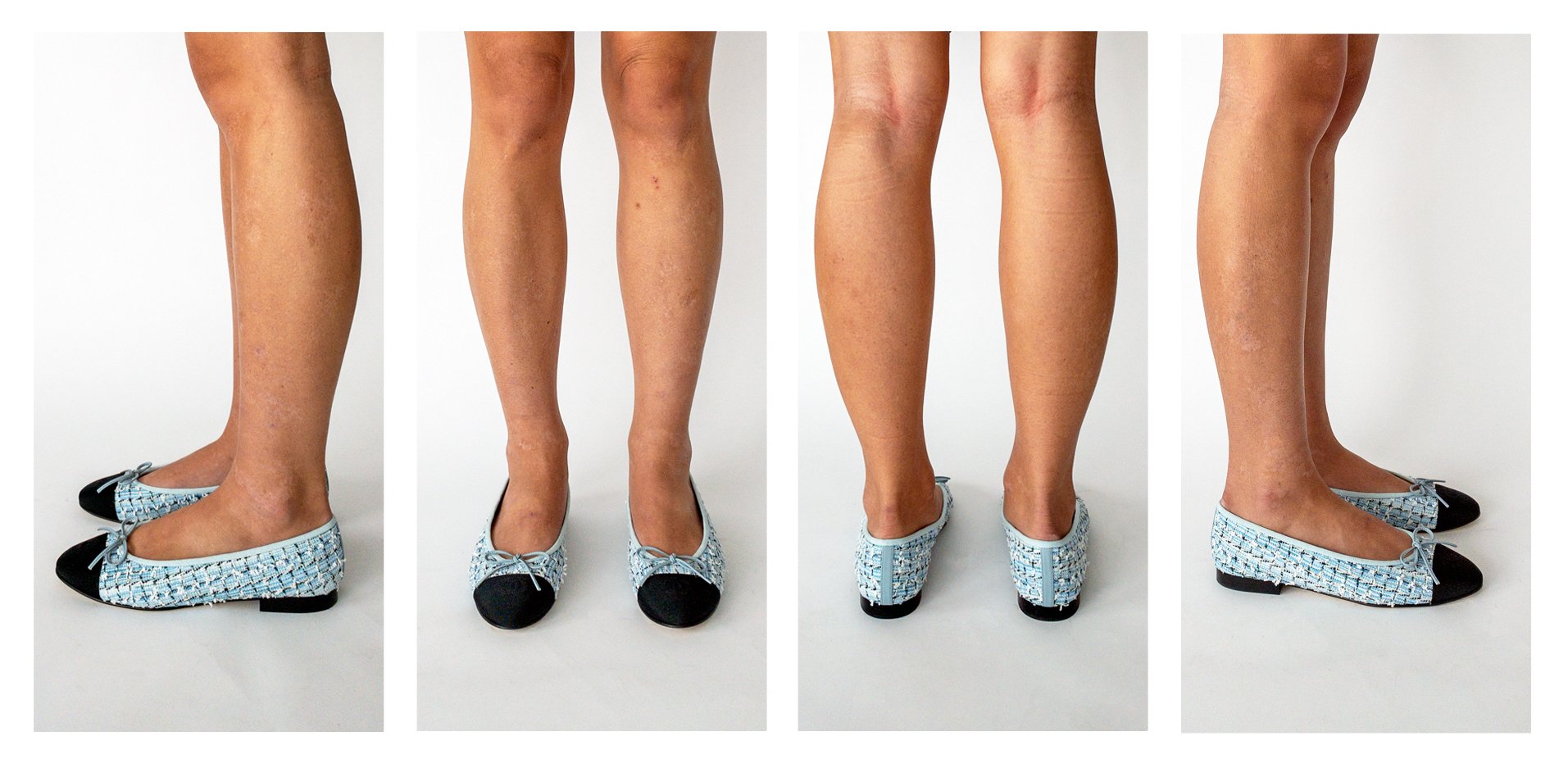 Lambskin Chanel ballet flats, like the classic beige and black ones: These run true to size and are sometimes available in a "C" size, which means they were created to accommodate wider feet…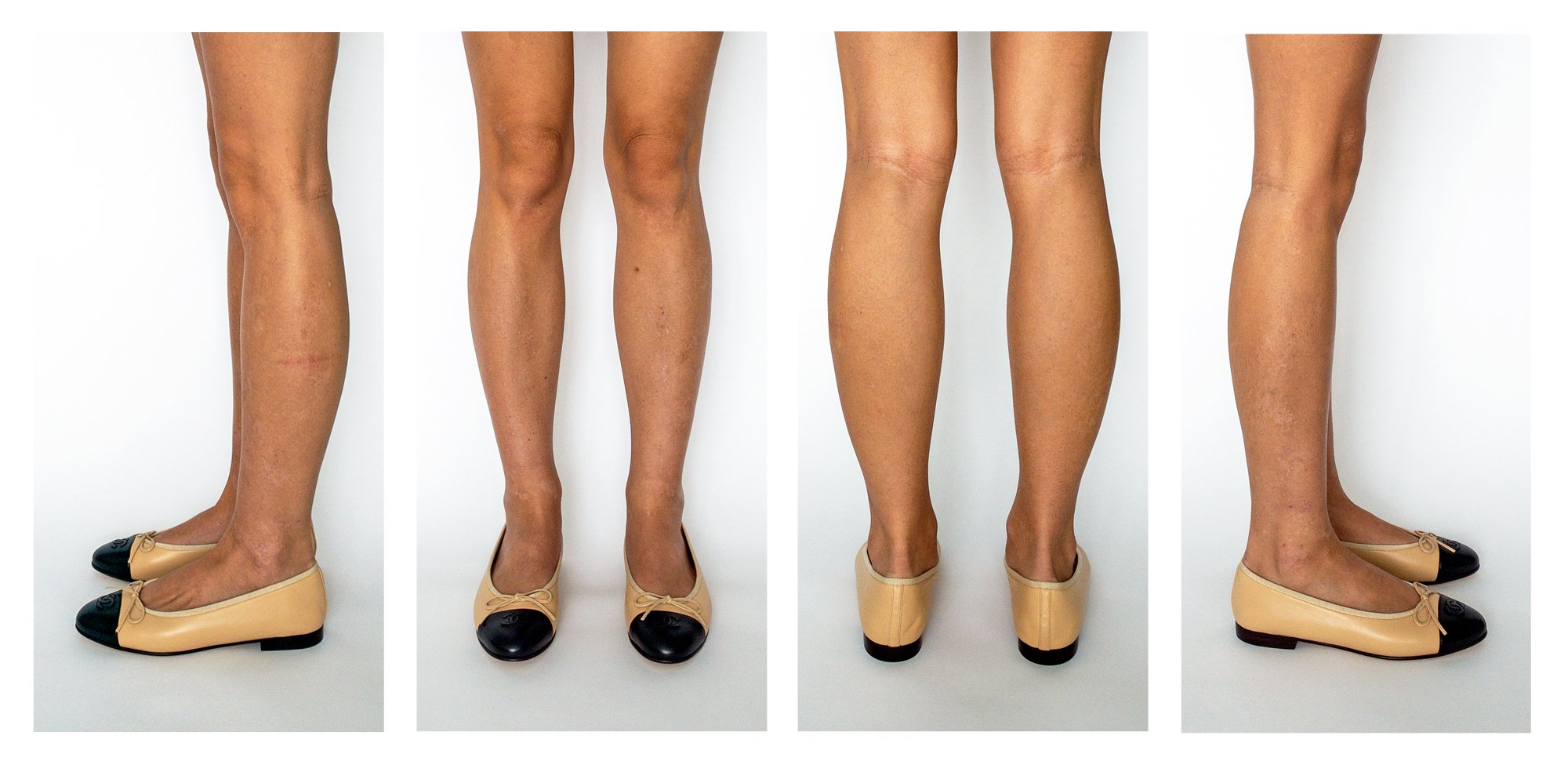 Patent Chanel ballerina flats: Do not run small or large, they are also true to size.
… all six of my Chanel ballet flats (including suede goatskin) are a size FR 39.
From the back of the heel to the tip of the toe, Chanel's size 39 ballet flats measures roughly 10.5 inches (including the heel in the measurement).
In comparison, my foot measures ~9.25 inches from the back of my heel to the tip of my big toe.
The little heel measures 0.4 inches or 10 mm, which adds the smallest height… but it does add a bit more arch support versus walking in a totally flat shoe.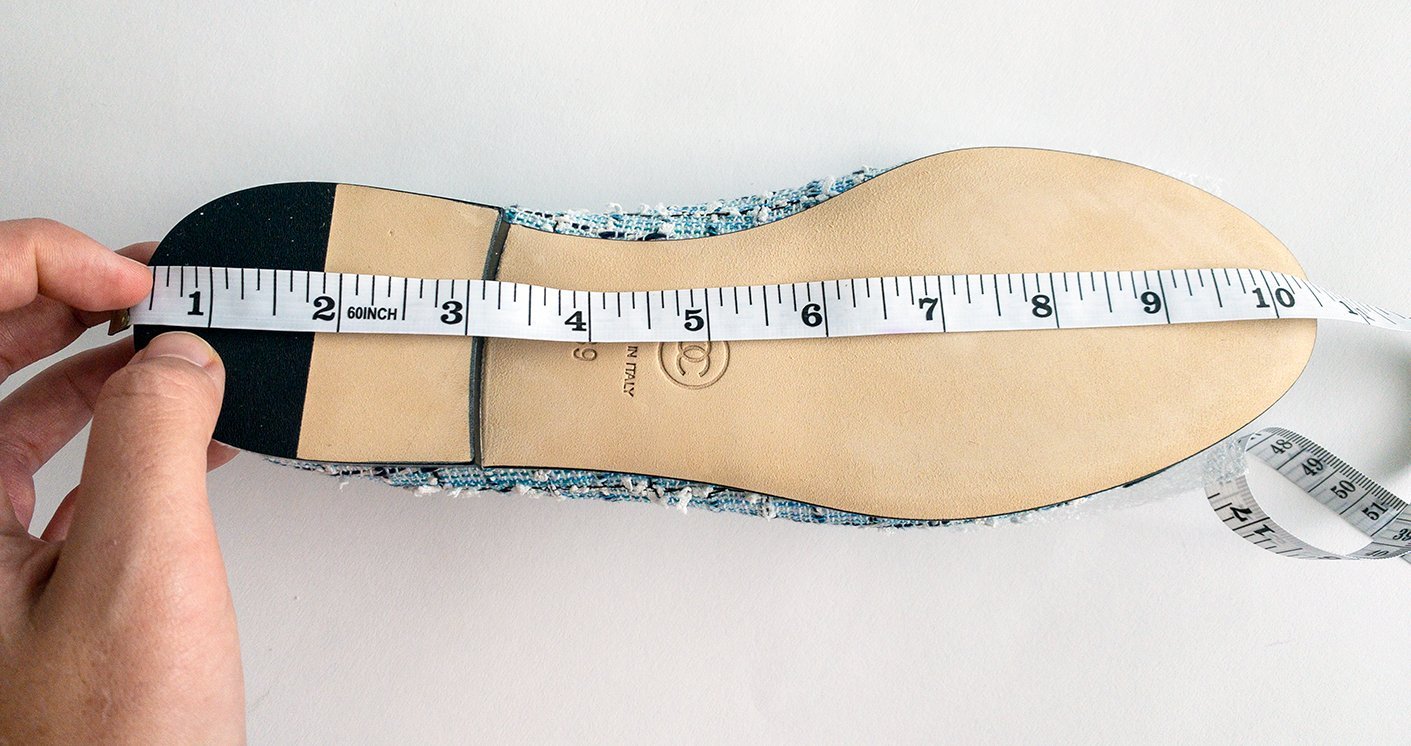 It might take you a few wears to get really comfortable, but you shouldn't experience anything more than a light blister on your heel and maybe your baby toe (if you're like me).
---
Are Chanel ballet flats worth it?
Chanel ballerinas are definitely expensive (I'll share pricing after this), but here's why they can be worth it…
Classic
Chanel ballet flats have been popular since 1957, when Audrey Hepburn first wore them in Funny Face.
It can be argued that Alexa Chung brought them back to the fashion forefront in 2008… but I'll go a step further to argue that Vampire Weekend orchestrated that return with their eponymous debut album which centred around an ironic preppy look.
… while a two-tone beige flat may have looked grandmotherly country club before, now they were cool.
These shoes are almost like the entrance to a somewhat secret club where the floor is sticky and they play the music loud — your grandmother would never go to that club.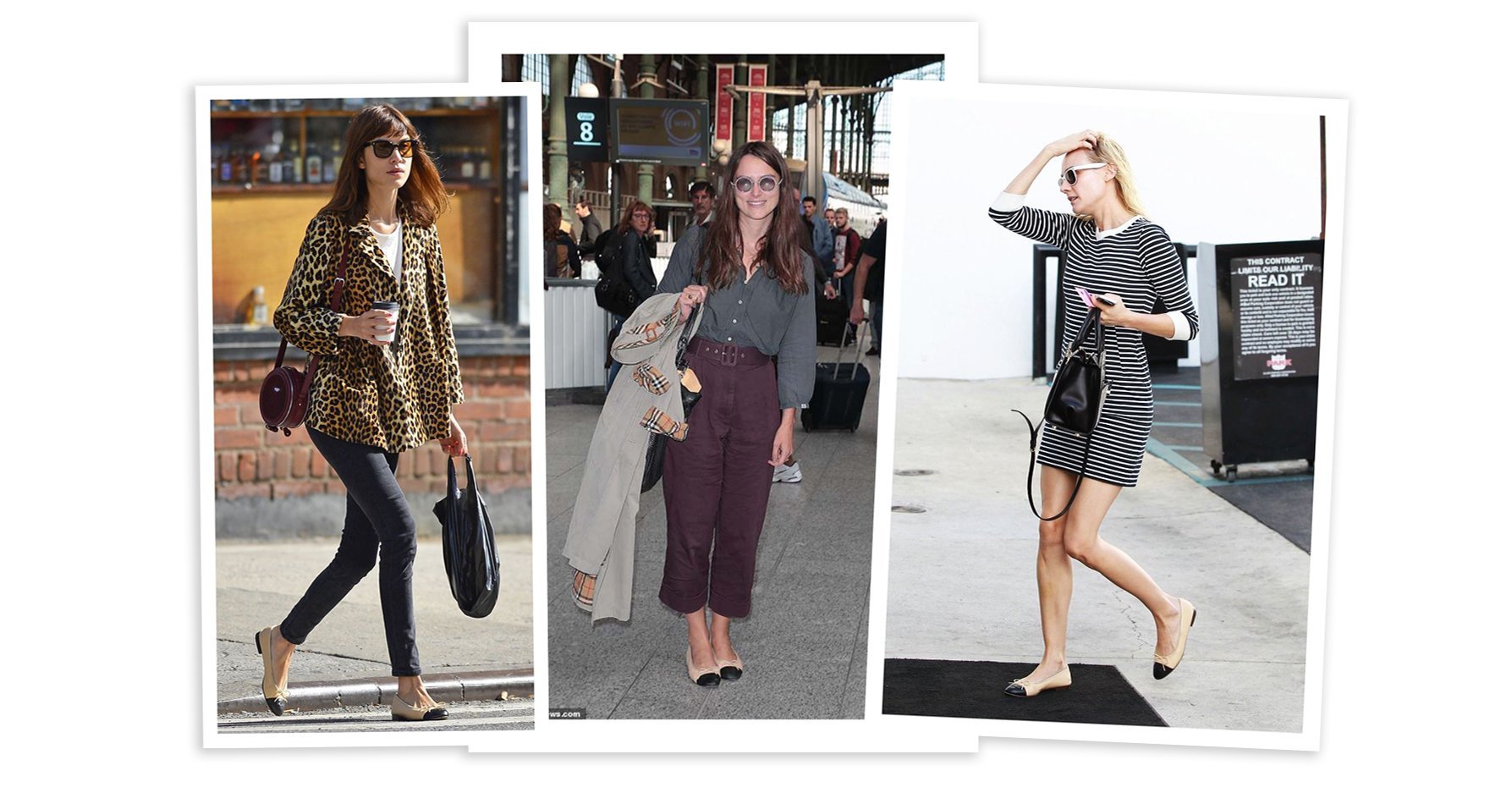 Once a much higher up lady at the TV show I was working on pointed at her Chanel ballet flats and said "hey Yuki, I think we have the same shoes on…" That's not a reason to buy these shoes, but you know that pushed all those high school nightmares out of my head and finally made me feel accepted.
Ballet flats, let alone by Chanel, will never go out of style and will always be a subtly stylish choice.
When you wear them you have an extra coat of armour that protects you against the mean girls. While they're calling you names in a pair of fake Chloé boots, you're ensconced in the safety of these classic yet stylish shoes.
Material
Material and colour combinations change with each season. But two materials come back every season: lambskin and patent calfskin.
The lambskin is the softest leather you have ever felt. It feels like cutting a knife through hot butter in a cold kitchen. You could run your hands over it forever — if only you weren't nervous about finger grease transferring.
You will be terrified of scratching it, but will soon realise that it's harder to do than you thought. I'm a clumsy walker who trips on her toes and only have a few scuffs on them.
Quality
I've walked to and from the East Village to the Fashion Institute of Technology in Chelsea for my college classes (3.6 miles), pounded cobbled promenades in Paris (4.2 kilometres), and lazed on terrasses in Montreal (… uhh, 0 kilometres) in these shoes.
During my "New York years" from 2009-2015, I quite literally (no hyperbole) wore them every single day… my Chanel ballet flats have endured a lot of wear.
After all these years of wears, I've learned to take precautions, like…
-Bring them to a good cobbler and add a rubber sole (these shoes have a leather sole which isn't the sturdiest)
-Resist running your foot on the fuzzy part of escalators (trust me, it's dirty)
-Avoid denim that could transfer on them (that's how I started to ruin my first two-tone beige pair)
-Don't wear them while traveling (my suitcase accidentally kept hitting my flats and that's how I totally ruined my second two-tone beige pair)
-Don't wear them in the rain (that's how I ruined my black lambskin with a patent black toe pair)
-If you're wearing them to work, wear sneakers on the subway and change when you get to your desk (that's how I somewhat preserved my other pairs)
My Chanel ballet flats might look dodgy (read: look disgusting) on the inside, but when you put them on no one can tell how much you've worn them… I hope!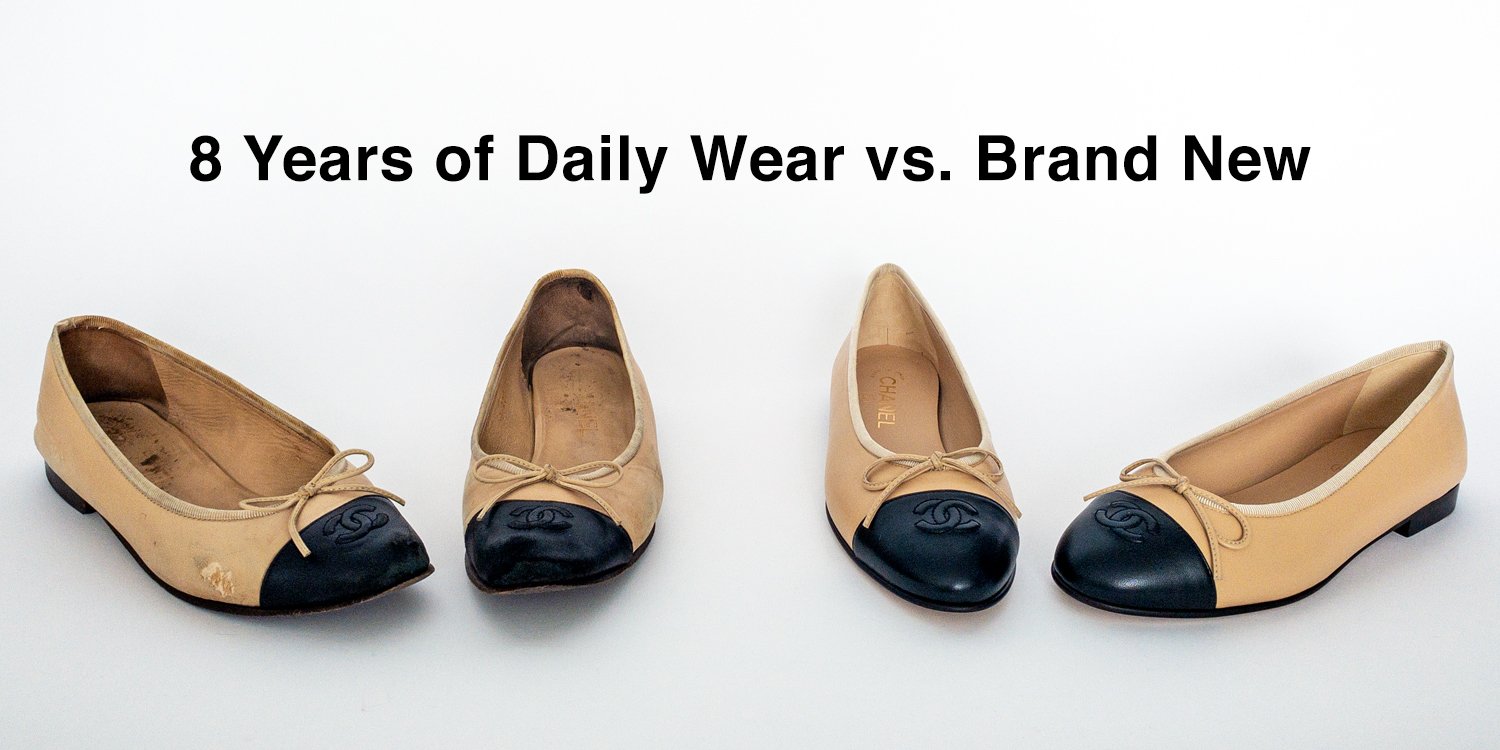 Structure
These flats keep their shape and shape your legs.
They have an almost magic way of pulling it all together, which lets you put your best foot forward.
… actually, Coco Chanel initially made two-tone shoes so the light beige part blends into your skin tone and elongates your leg.
It seriously works.
---
Chanel Ballet Flats Price
These shoes are expensive, there's no two ways about it.
As of 2023 classic Chanel ballerinas run from $925 USD to the thousands, depending on material.
Classic Lambskin Ballerinas: $925 USD
Tweed & Grosgrain: $950 USD
Quilted Lambskin: $975 USD
In 2008, a lambskin pair cost $550 USD, in 2022 they started at $875 USD… and now, in 2023, Chanel lambskin flats are $925 USD.
In 15 years, that's a 68.18% price increase, whoa.
Sometimes folks list their Chanel ballet flats on Vestiaire Collective, The Real Real, or The Luxury Closet for much less than retail.
With either retailer, just make sure that you're totally comfortable that they're authentic first.
Depending on where you are, Chanel prices can fluctuate and it could be worth waiting if you know you can get them for less while traveling. The PurseBlog has a helpful list of the cheapest places in the world to buy luxury items.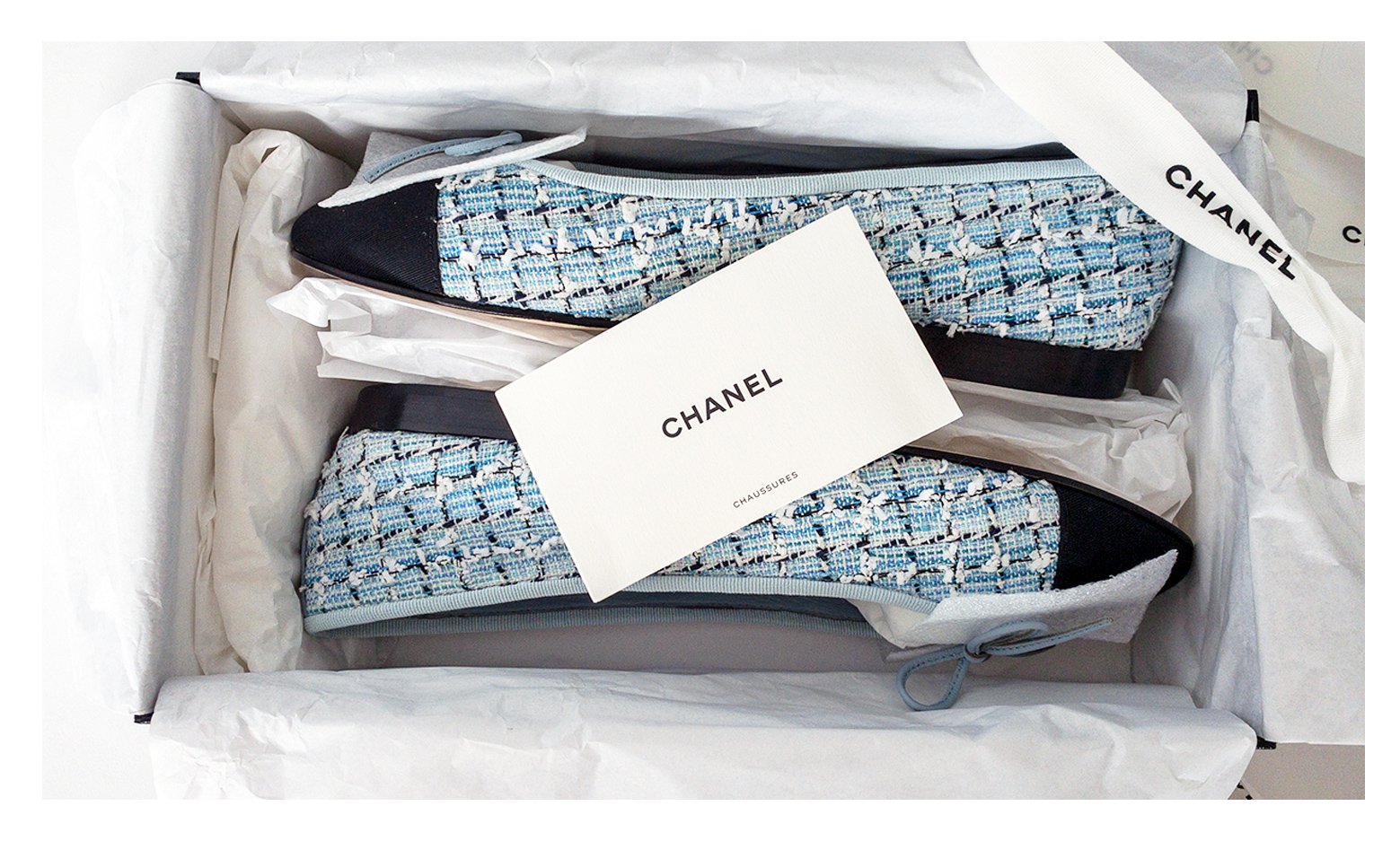 ---
The ballet flat price increase pales in comparison to this though…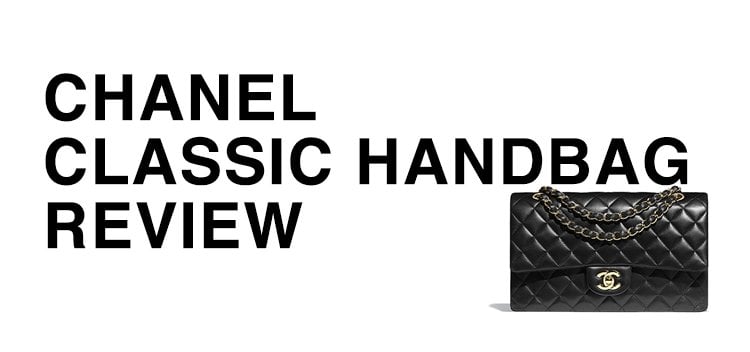 ---
How To Style Chanel Ballet Flats
Chanel ballerina flats complement any style.
If your look is preppy, they can be preppy.
If your style is laid back, they can be laid back.
… and if your style is 2008-Alexa Chung mixed with Kate Moss and Emmanuelle Alt (ahem, like mine), they can be 2008-Alexa Chung mixed with Kate Moss and Emmanuelle Alt.
See what I mean?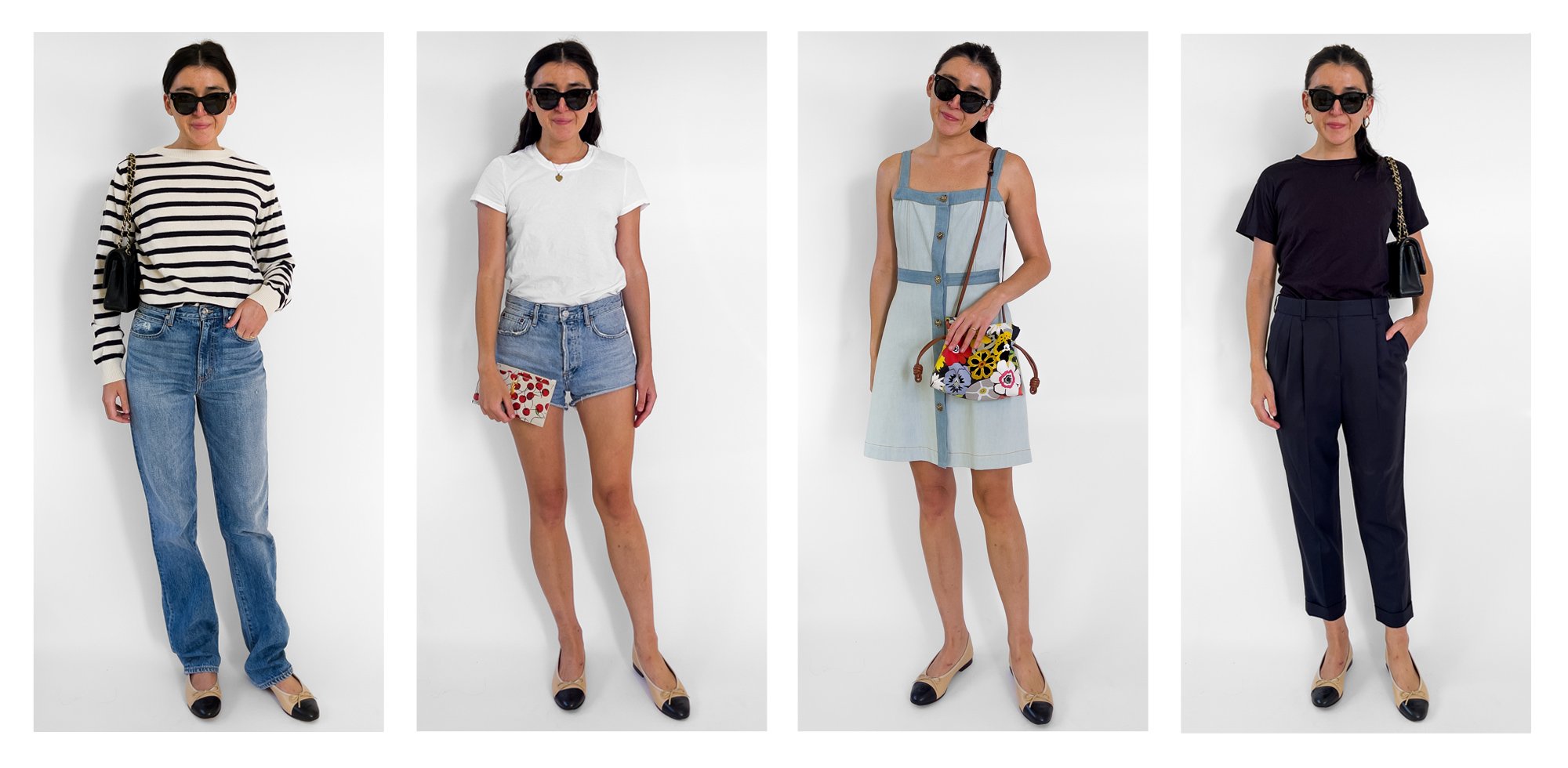 From 1957 to now, Chanel ballet flats are always stylish. The little bow on the toe ties any outfit together…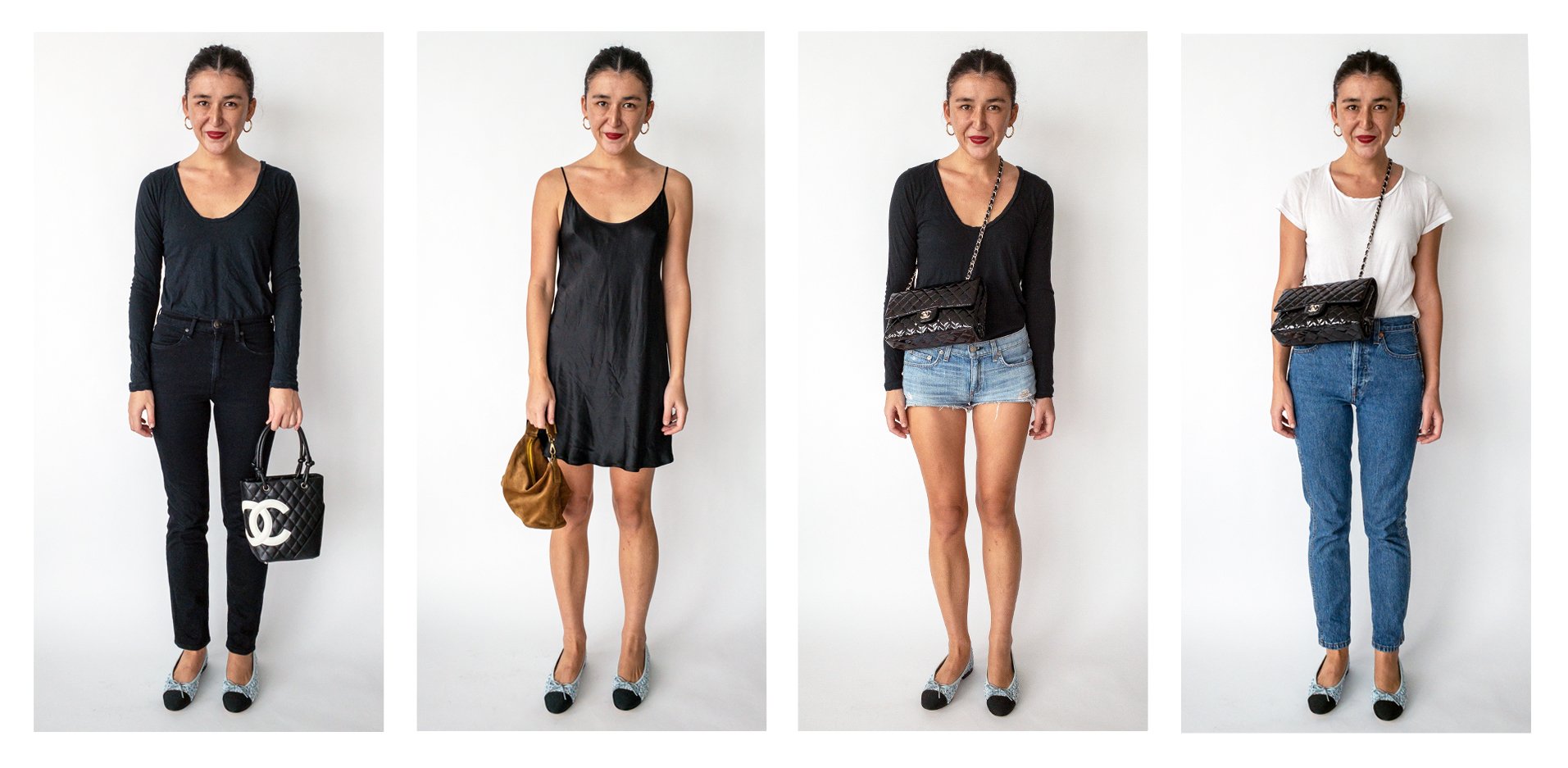 ---
Curious About These? I was too…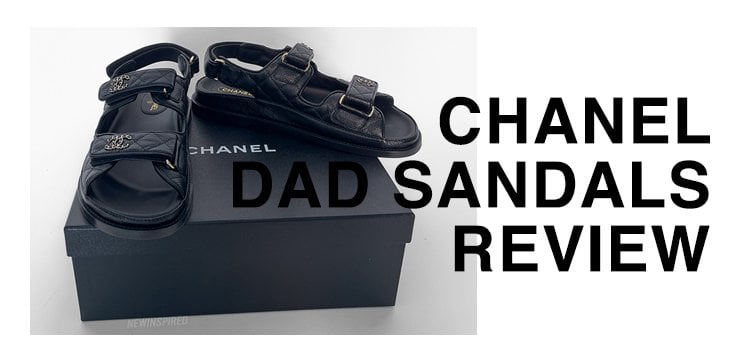 ---
A Few More Outfits
As seen on my Instagram…
---
Pros & Cons
Pros
–Classic: Name a more classic shoe, I'll wait.
–Resale Value: Historically, second-hand shoes don't fetch for that much… but of course, since they are classic, Chanel ballet flats hold a high resale value. Depending on how well you take care of them, consignment shops & sites will list them from $345 to $745 USD.
–Sizing: Some brands change their sizing now and then, Chanel's ballerina flat sizing has been consistent for the last decade.
–Structure: These flats are more structured and less floppy compared to a pair of Repettos. As a result, they pull your foot in more and slim your leg.
Cons
–Price Raises: Every year, Chanel raises their prices. Sometimes the price increase includes ballerina flats, sometimes it doesn't. Either way, get it while they're still somewhat affordable.
---
When you slip on a pair of Chanel ballet flats and your foot meets the floor for the first time, you can't put a price tag on the feeling.
… you can physically put a price on these flats, I guess, but that price tag somehow feels more reasonable when your foot is swathed in buttery lambskin.
In that first moment, you feel how "forever" these shoes are.
You feel how these flats are so well made & flattering that it's worth it over and over and over again…
… well, until you run out of multiples of $925 USD.
If you have any questions, feel free to ask in the comments below or follow me on Instagram and send me a DM.
Chanel ballet flats start at $925 USD and are available from your local Chanel boutique.
You can also find them on Vestiaire Collective, The Real Real, or The Luxury Closet for less than retail — just make sure you're comfortable that they're authentic first.
Note: newinspired uses affiliate links which costs you nothing… but means a lot to me. When you use these links, the money newinspired earns gets reinvested in blog content. Absolutely nothing on newinspired is "gifted," I purchase each item with my own money. Affiliate commissions are used to purchase new items to honestly & thoroughly review. If you found this review helpful, consider using them to support newinspired.
---
You might also be interested in…