Every time I open my closet, scan my eyes down to the shoe section, I have to ask myself how to wear Chanel espadrilles. Because these Chanel espadrilles have been sitting in my closet for two years. And I have no idea what to do with them.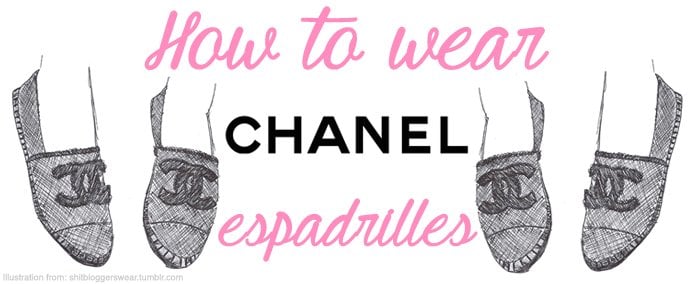 My sister asked for them for Christmas in 2014. I got on the waitlist at the Chanel store in Toronto and managed to get her a pair. A month later, my sister decided that Chanel espadrilles weren't for her. This has happened before, with the Céline Audrey sunglasses. I'm a lucky sister, I know.

And even luckier?


The Chanel espadrilles were a half size too big for her. Which meant, they moderately fit me! The Chanel espadrilles sizing is weird. Because these espadrilles are made from canvas they stretch. So they're a size 38, but I normally take a 39 in Chanel ballet flats. Do note, that they are a bit tight in 38, but they're workable.
I hate seeing things go to waste. Food, drinks, makeup, candles, shoes… So now, how to wear Chanel espadrilles? They're a summer fashion style blog staple after all. And I like to think this is one too…
My favorite way is on the left. With black torn denim shorts (One Teaspoon), a khaki T by Alexander Wang t-shirt dress tucked in, and a Kate Moss x Longchamp Glastonbury bag. You gotta do what you can to offset the high-maintenance feeling behind these espadrilles. Torn denim is perfect for that.
Here are a few more Chanel espadrille outfits that I've come up with:
I think I'm slowly making these Chanel espadrilles work and solving that question of how to wear Chanel espadrilles…
How do you wear your Chanel espadrilles?
YOU MIGHT ALSO BE INTERESTED IN…