Where do cool girls buy their swimwear?
A question that's rattled around for years.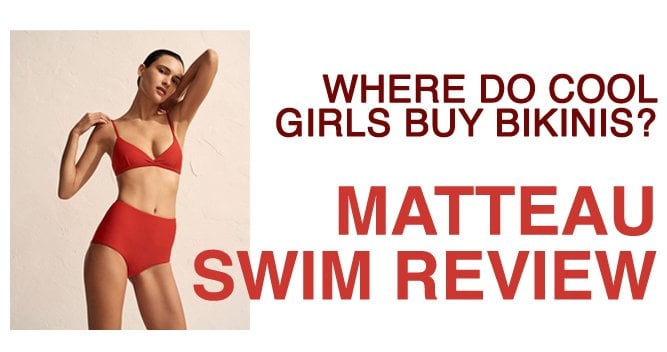 … then Rosie Huntington-Whiteley, Jeanne Damas, and Sabina Socol popped up in Matteau swimwear and the wheels started turning.

Is this the swimwear brand that I've been searching for?
I hopped on Matches Fashion, spent a week deliberating which bikini to buy, paid $30 for express international delivery, and what follows is my Matteau swim review…
---
MATTEAU SWIM SIZING
THE #1 tip for buying bikinis is to size down for your top and take your regular size for bottoms.
I'm 5'5.75 and weigh 111-113lbs (I give my measurements because it's useful!). In other swim brands, like MIKOH and Acacia, I take an extra small or small on top and a small or medium for bottoms. You can find more clothing based reviews (like my Réalisation Par reviews) from a lot of different brands here.
In Matteau's Tri Crop Top I took a size 1 and for their High Waist Briefs I took a size 2.
I wish I had better words to describe this swimsuit's fit other than "perfect…" but the Tri Crop Top and High Waist Briefs fit perfectly.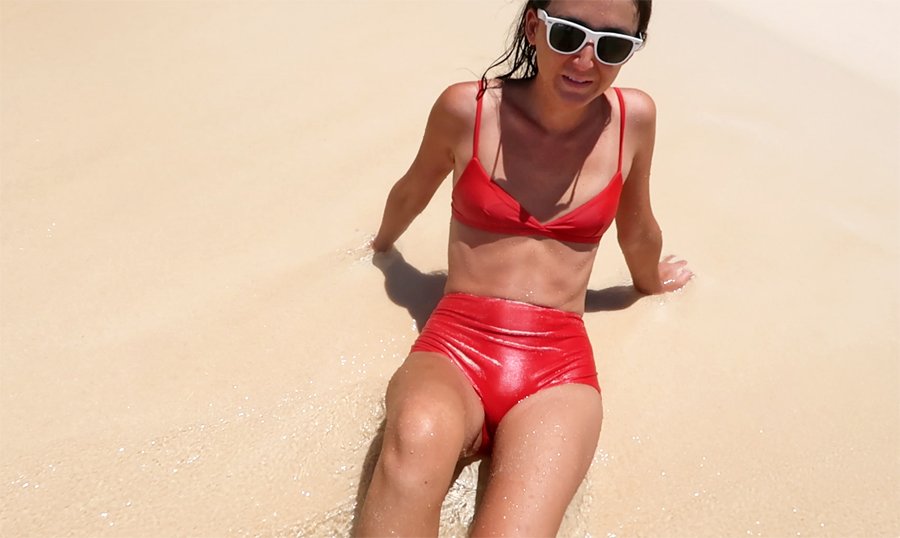 Matteau's size 1 is equivalent to an XS, while the size 2 is equivalent to an S.
The top lifts my small chest (~32A) considerably. At the same time, there are no unsightly malfunctions (ex. underarm skin bulging over the sides).
The bottoms fit comfortably and do not run the risk of sliding down. Unlike other bikini bottoms they don't need constant readjustment. However, they could be cheekier… these bottoms offer full bum coverage.
---
HOW I CHOSE WHICH MATTEAU BATHING SUIT TO BUY
Color
There are tricks about looking at the underside of your wrist to sort out if you're warm or cool toned, but I never understood how to do that.
All I know is that red bikinis look incredible whether you're an autumn or a summer.
So while their sweet floral print and demure leopard print called out, vermillion cried the loudest.
Top
As a smaller chested girl, I need a top that makes the most of what I have.
A top that connects fully underneath, like Matteau's Tri Crop Top, provides more lift than other tops.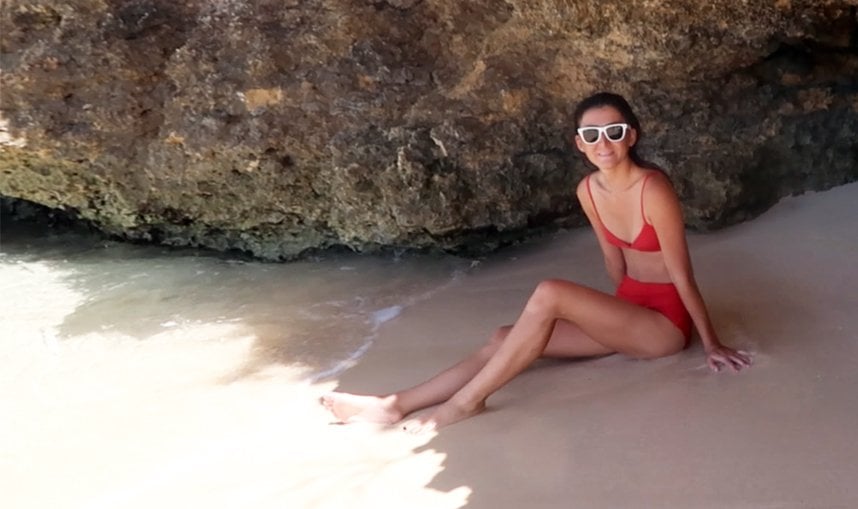 Bottoms
This is my first pair of high waisted bikini bottoms. It feels weird not to show much stomach at the beach, but it sure does make my legs look longer.
Instead of pretending I'm a Hawaiian beach babe, I'm now adopting an Alexa Chung beachy-cool persona (she favors high waisted bottoms).
Since red is a super out-there-look-at-me bikini color and the bottoms are high waisted (i.e. more conservative), they balance each other out.
From the bright red to high waist bottoms that lengthen legs and a top that lifts, it all creates one stand out bikini that looks killer with white sunglasses.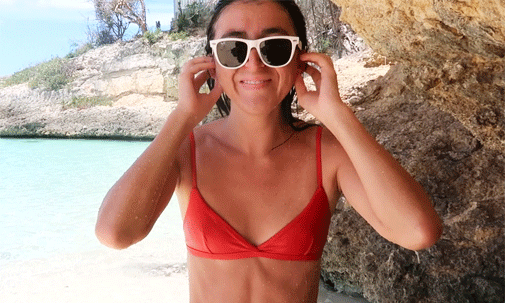 ---
QUALITY
Matteau swim is 80% Nylon and 20% Elastane. The suit is lined, which means that there are two layers of material.
This is the same composition as MIKOH, a brand known for their high-quality and sturdy feel.
After several beach days, this suit has held up. There's no sand pilling and no stretching.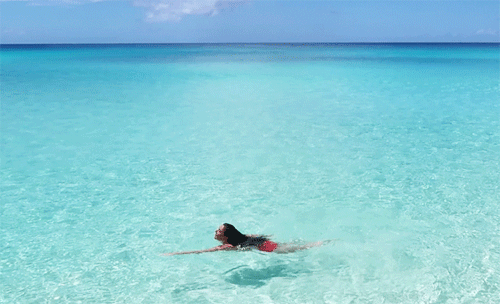 ---
PROS & CONS
Pros
–Luxe Feel: Don't you hate it when you shell out a ton of money on something and it feels flimsy? This swimsuit doesn't feel flimsy.
–Made in Australia: It's cool to see a young brand manufacturing in their home country.
–Adjustable Straps: Need it higher on one side than the other? No problem!
–Clasp on the Back: No more awkwardly wriggling in & out of my top!
Cons
–None: I wish I had some nit picky thing to complain about because they're so expensive… but I got nothin'!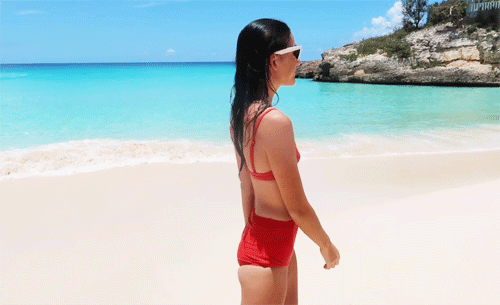 ---
It makes sense that two Aussie sisters, one of whom was a Junior Fashion Editor at Vogue Australia, would make the coolest and most flattering swimwear brand.
Matteau meticulously mixes a barefoot beach day with an inherent ~fashion~ feel.
Your swimwear should be an extension of your personal style.
… and Matteau swim is the perfect extension of mine.
Let me know if you have any sizing or quality questions in the comments!
Note: newinspired uses affiliate links which costs you nothing… but means a lot to me. When you use these links, the money newinspired earns gets reinvested in blog content. Absolutely nothing on newinspired is "gifted," I purchase each item with my own money. Affiliate commissions are used to purchase new items to honestly & thoroughly review. If you found this review helpful, consider using them to support newinspired.
---
YOU MIGHT ALSO BE INTERESTED IN…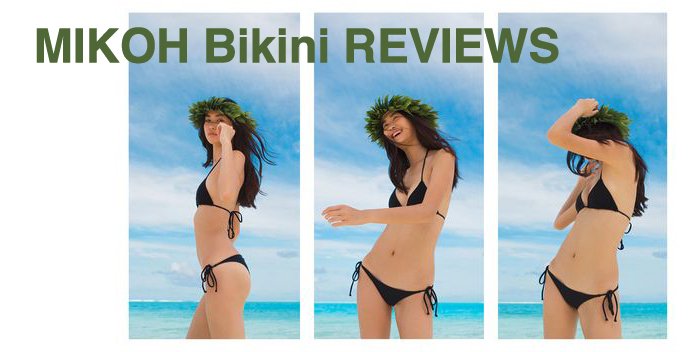 TIPS
-Size down for the top (if you're smaller) and take your regular size for the bottoms.
-No flash sales on their site like a lot of bikini companies do, so don't hold out for one.
-Act fast, Net-A-Porter gave me a "low stock" warning. I ended up grabbing it on Matches as a result.