Scroll through your Instagram feed on a Thursday and I bet you can't go 10 posts without a 90's Kate Moss style throwback.
Sure, those posts are totally overplayed on Tumblr and Instagram, but for good reason.
So let's just take a second to indulge in Kate Moss' 90's looks (OK and one look from mid-2000's), because this Mikoh Corsica dress has got me thinking…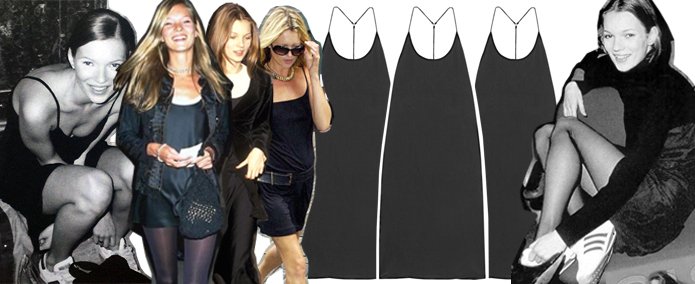 How 90's Kate Moss!
Mikoh is best known for their swimsuits. The bottoms make sure you have as little tan line as possible, while their tops keep everything in place while you frolic in the waves…
For me though? It's all about Mikoh's cover-ups.
You can dress 'em up or you can dress 'em down.
They're classy, but they're cool. And by cool I mean 90's Kate Moss kind of cool. But also cool like they will breathe when the Caribbean sun is high in the sky.
This Mikoh Corsica dress takes coverups to new heights though. The washed silk material and high side-slits make it even more transferable to night than their normal cotton cover-ups… A strappy sandal (or even the Chanel slingbacks — be still my 90's heart!) and some subdued jewelry compliment the delicate silhouette while bringing a dash of Kate-cool.
As easy as it is to dress it up for the evening, it's just as simple to pare down for day. A denim jacket, straw bag, a pair of Adidas Stan Smiths, and you're basically a 90's Kate Moss. All you're missing is your Johnny Depp!
For the 90's weak of heart… A black slip like this one is a solid foundation for anything you want. Ditch the sneakers and jacket, throw on your favourite bathing suit and flip flops! Everything and anything goes with a staple silk slip.
Speaking of foundations, for a dress like this (if you aren't going to the beach with your bathing suit underneath), you kind of need Fashion Forms*. It's essentially backless so a coverer instead of a strapless bra is 100% recommended. Unless you want to 100% commit to the 90's Kate Moss thing and go bra-less. Then kudos to you!
This Mikoh Corsica dress is what 90's Kate Moss style dreams are made of and is now on Net-A-Porter!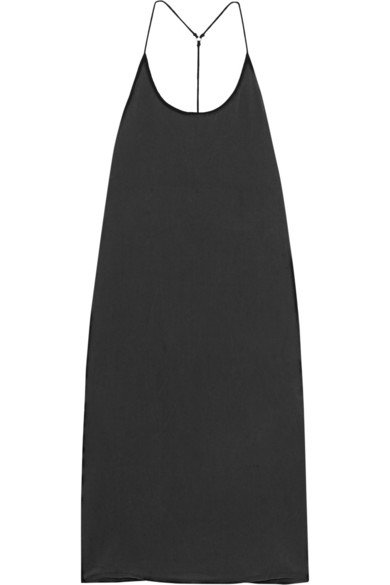 *Side Note: I just purchased a pair of Fashion Forms for an Étoile Isabel Marant dress. I was blown away by how well they work — comfort, coverage, and a decent amount of lift.