I know, the Mikoh Hermosa bathing suit top is actually named for the beach in California, Hermosa Beach — not the actual Spanish word, "hermosa"… But the Mikoh top es muy hermosa.
A few days ago I wrote a super comprehensive review of 20 Mikoh bikinis. But a few days ago was also my birthday and I received a new Mikoh bathing suit for it!
The Hermosa top in lychee and the Zuma bottoms in lychee!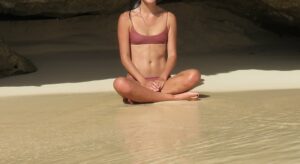 My mass review was very flip floppy "this one is perfect!" "No, THIS one is perfect!" I couldn't make up my mind which of my Mikoh bathing suits I liked the most. That was pre-Hermosa though.
So I would like the record to show that…
The Mikoh Hermosa top, out of the many Mikoh tops that I own, is my #1.
Let me say that differently: Hermosa top is Mikoh's best top.
Actually… This is my favorite bikini top. In general. Ever.
It's not even because I'm bias since "lychee" is the best color Mikoh has ever put out (ok, maybe if I had gotten "kava" that would be my favourite), but the Hermosa top is just amazing.
1- Straps: This means that you can swim around to your heart's content without any fear of slippage.
2- Cleavage: It lifts everything up more subtly than the Honolulu top, but still gives a super great lift (I took an extra-small).
3- Subtly Different: How many bathing suits look like a ballerina bralette? I hadn't even thought of this until a friend said something. She's right, it is really different, without trying to be different.
The Hermosa top is so sleek.
The top is small but pulls everything in and it makes you feel so confident…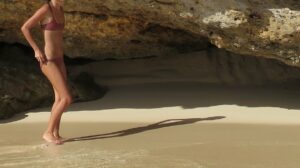 You can dress it up with some earrings and Céline sunglasses. Or with a snorkel and some fins you can take it snorkeling and not look out of place.
TLDR: ⭐️⭐️⭐️⭐️⭐️/⭐️⭐️⭐️⭐️⭐️
Note, I use affiliate links, but I would still recommend this top even if I didn't!