Last week was fraught with drama surrounding Taylor Swift's The Eras Tour.
The Verified Fan presale felt like the Hunger Games (with nosebleed tickets akin to Peta's pity bread tossed at Katniss in the rain), and the Capital One presale was like a WWE fight (except it wasn't supposed to be rigged)…
Then the week culminated in a massive "WTF?!" when TicketMaster cancelled the general public sale.
In any case, with ticket prices going all the way up to thousands of dollars on resale marketplaces, we might as well go all out by dream casting imaginary outfits with prices that are in line with (resale) ticket prices.
Since the tour is called "The Eras" tour (and Tay will presumably perform her re-recordings) all of the outfits have a subtle nod to her different eras, so here are some outfits ideas to wear to a Taylor Swift concert…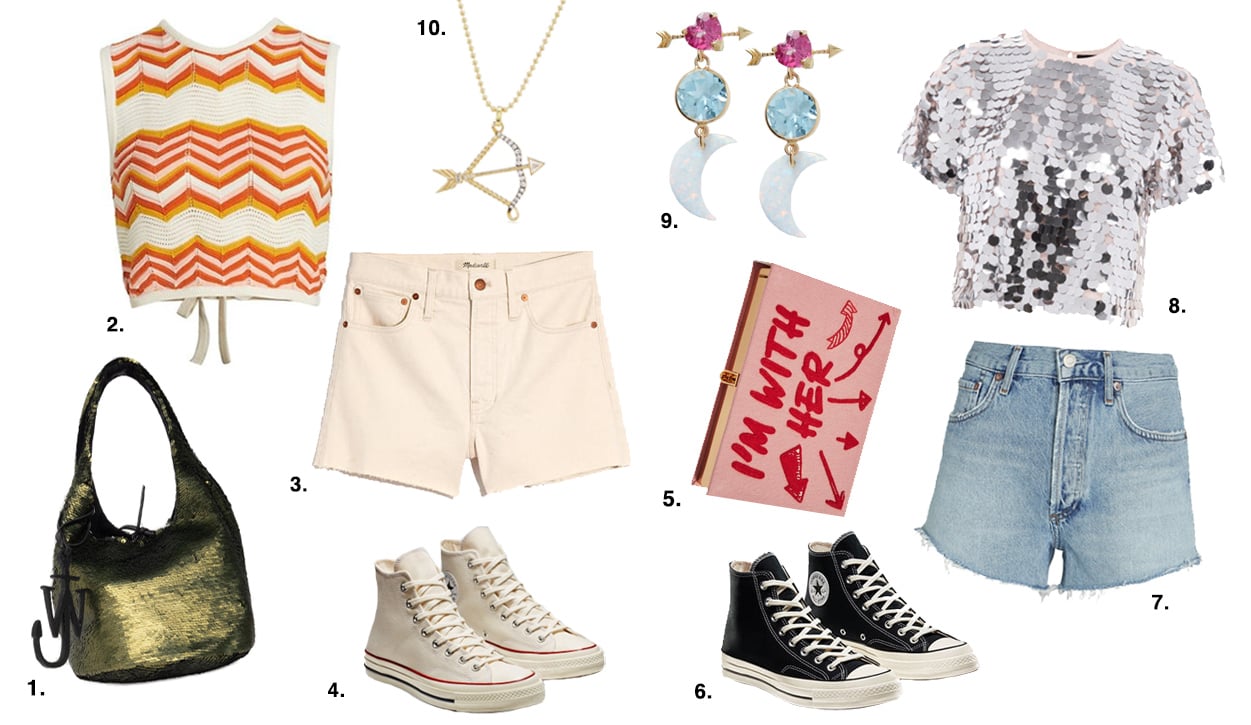 Item(s):
1- Sequin bag, J.W. Anderson
2- Crochet top, MOTHER
3- Perfect Jean Shorts, Madewell
4- All Star Sneakers, Converse
5- I'm With Her clutch, Olympia Le-Tan
6- All Star Sneakers, Converse
7- Parker shorts, AGOLDE
8- Limelight Sequined Tee, Le Superbe
9- Eros earring(s), Loren Stewart
10- Bow and Arrow Charm Lover's Necklace, Sorellina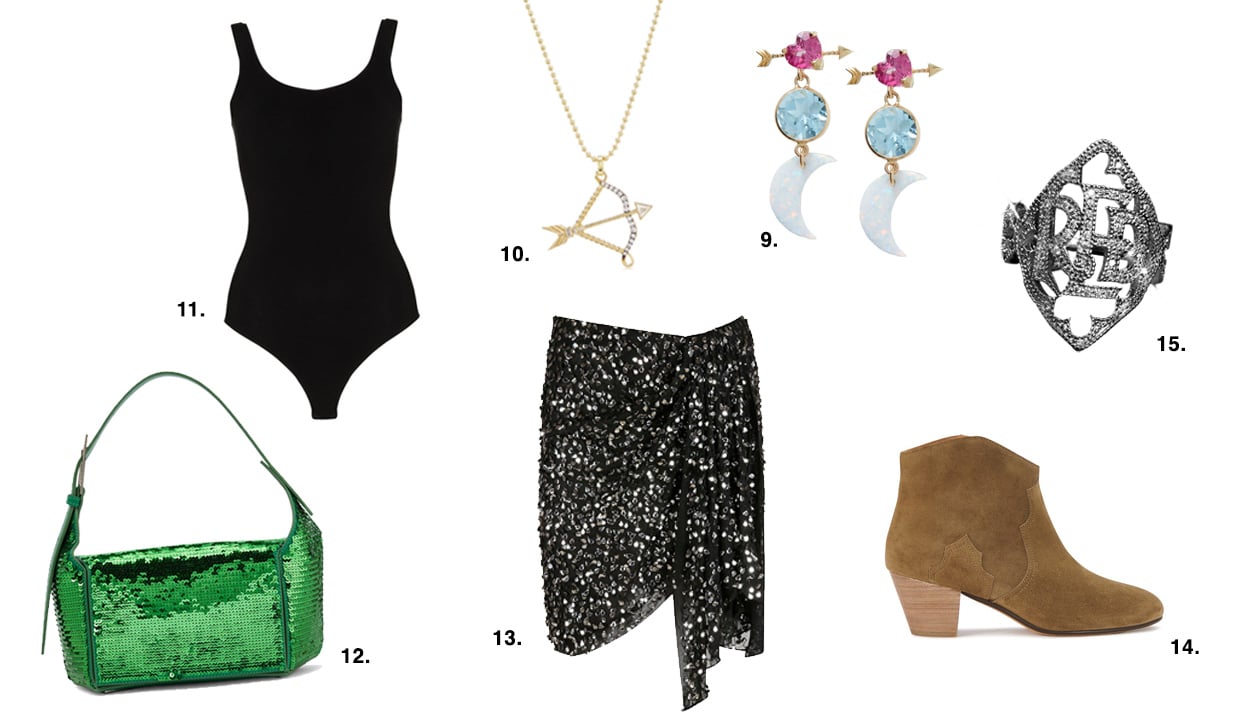 11-Jamaika Bodysuit, Wolford
12- 7/7 Sequined Leather Shoulder Bag, The Attico
13- Gissolya Sequined Mini Skirt, Isabel Marant
14- Dicker Boots, Isabel Marant
15- Red TV ring, Cathy Waterman x Taylor Swift
Reason(s):
1- Kicking it off with Tay's debut album, Taylor Swift, with this JW Anderson green sequin bag. One bag ticks off 2 eras, since the sequins kind of resemble snake scales (reputation).
2- The top Tay wore while explaining "Anti-Hero" to us, obviously this has to be included and is obviously a nod to Midnights.
3- These shorts are great, no wonder Tay wears a lot of shorts from Madewell. They have a youthful feel that mirrors Taylor Swift or Fearless, but since Madewell also is kinda a mall brand, it can also echo the lyrics "meet me behind the mall" off "august" on folklore.
4- "She wears high heels, I wear sneakers" be like 2008/2021 (gotta include Fearless TV) Tay and opt to wear Converse sneakers to her concert.
5- From the 2009 VMAs to reputation to TicketMaster-gate, we've basically all proven that we're with her no matter what.
6- See #4 — still applies, but wearing sneakers is also so much easier to dance the night away in.
7- AGOLDE Parker shorts not only have an A+ fit, but the light denim wash combined with the light distressing of the denim remind me of her debut album's daydreams of "riding shotgun with your hair undone" on a backcountry road (at night).
8- Just "shake it off" all the TicketMaster drama — you got tickets and you'll be "Bejeweled" at the show, the sequins are also kinda "Shake It Off-y."
9- 1989 (light blue topaz), Lover (heart with the arrow), Midnights (the moon), AND evermore ("crescent moon, coast is clear") in one earring… you'd be crazy not to wear these, right?
10- Even if you're not a Sagittarius like Tay, you were ready for combat to fight for tickets like in "The Archer," so this necklace is totally apropos.
11- OK, there's not a lot for this one except that I all ready own Wolford's bodysuit… except that, sure, it's black like reputation.
12- Debut country pop star glitz & glam.
13- We've got another "bunch of eras in one piece" here… this Isabel Marant skirt is like Taylor Swift (the sequins are shaped like teardrops (on my guitar)!), 1989 (there's a "Shake It Off" factor here with the way that the sequins are sewed to hang from your body), reputation (like the bathtub in the "Look What You Made Me Do" music video), and Midnights ("Best believe I'm still bejeweled") — plus, I just generally love Isabel Marant, so we could make it a five-fer and add Lover into the mix.
14- While photographed outside the Isabel Marant store with Lily Aldridge once in 2016, Tay doesn't wear that much Isabel Marant… however, she has worn Dicker boots once or twice in public. Dickers, much like most Isabel Marant boots, are my favourite. Since she wore them in 2014, this can be a nod to 1989 and also Taylor Swift, Speak Now (the Dicker is based on a cowboy boot, so I'm clearly pulling out the eras that she wore cowboy boots), and evermore ("You're a cowboy like me…"). Plus, they're super comfortable and wearable.
15- "There will be no further explanation. There will just be reputation Red (TV)"… my favourite era(s).
---
If you got tickets, what would you wear to Tay's The Eras | Tour?