From Acne to Re/Done, with some pitstops in between, my efforts have been up and down.
It's like the past 5 years have revolved around finding the perfect pair of denim shorts.
Some look great, but pinch my crotch.
Others don't look great, and, well, is there a point in going on about those?
So, when Madewell names their denim shorts the "Perfect" Jean Shorts, you know that will pique my curiosity.
… and that I'll put them through a rigorous pseudo-scientific review.
---
Madewell Denim Shorts Sizing
For reference, I'm 5'5.75" and weigh 115-117 lbs.
My other denim shorts sizes run below:
–Acne Studios denim shorts, size 25
–AGOLDE, size 25
–Citizens of Humanity, 25
–Levi's 501 shorts, 26
–Re/Done, size 26
-Rag & Bone Mila shorts c. 2010, size 25
My Madewell Perfect Jean Shorts, in Burnett, are a size 26.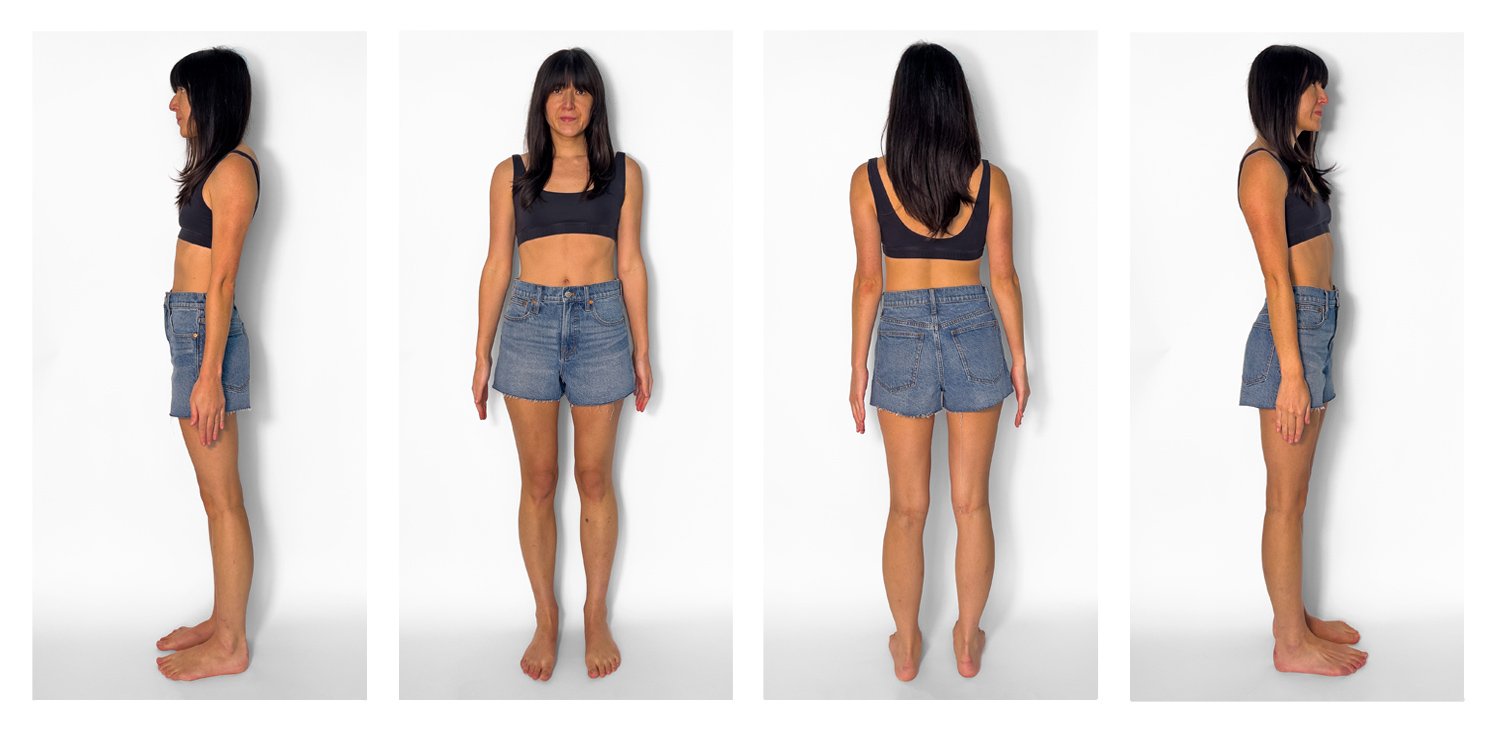 This pair are made from 74% cotton/25% lyocell/1% elastane and as a result…
The size 26 pair look and feel a little too big.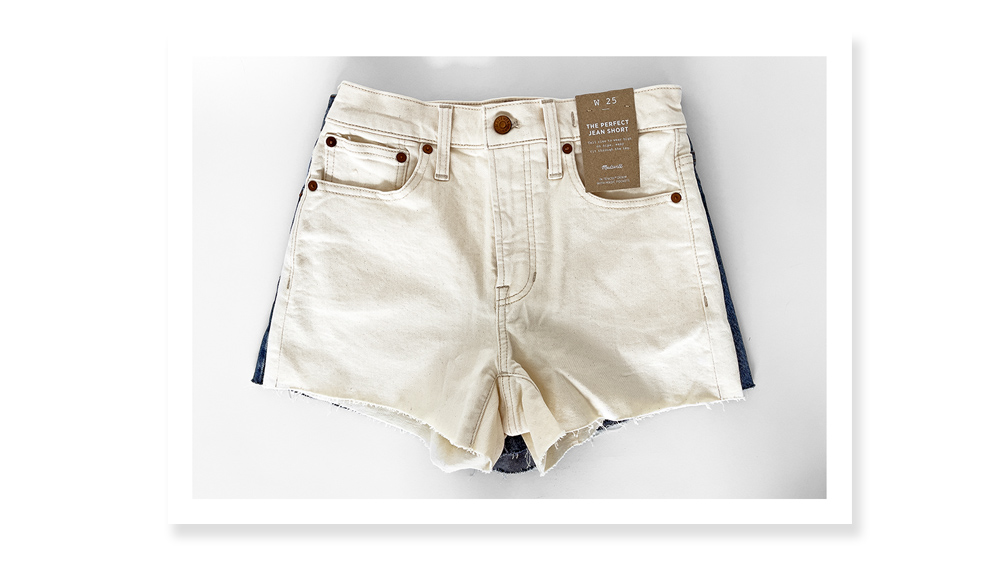 You can see here how the blue Burnett pair are definitely bigger, which makes sense since it's a size 26 vs. 25 for the Vintage Canvas pair.
… and then, to compare sizing, I also got a pair of Perfect Jean Shorts, in Vintage Canvas, in a size 25.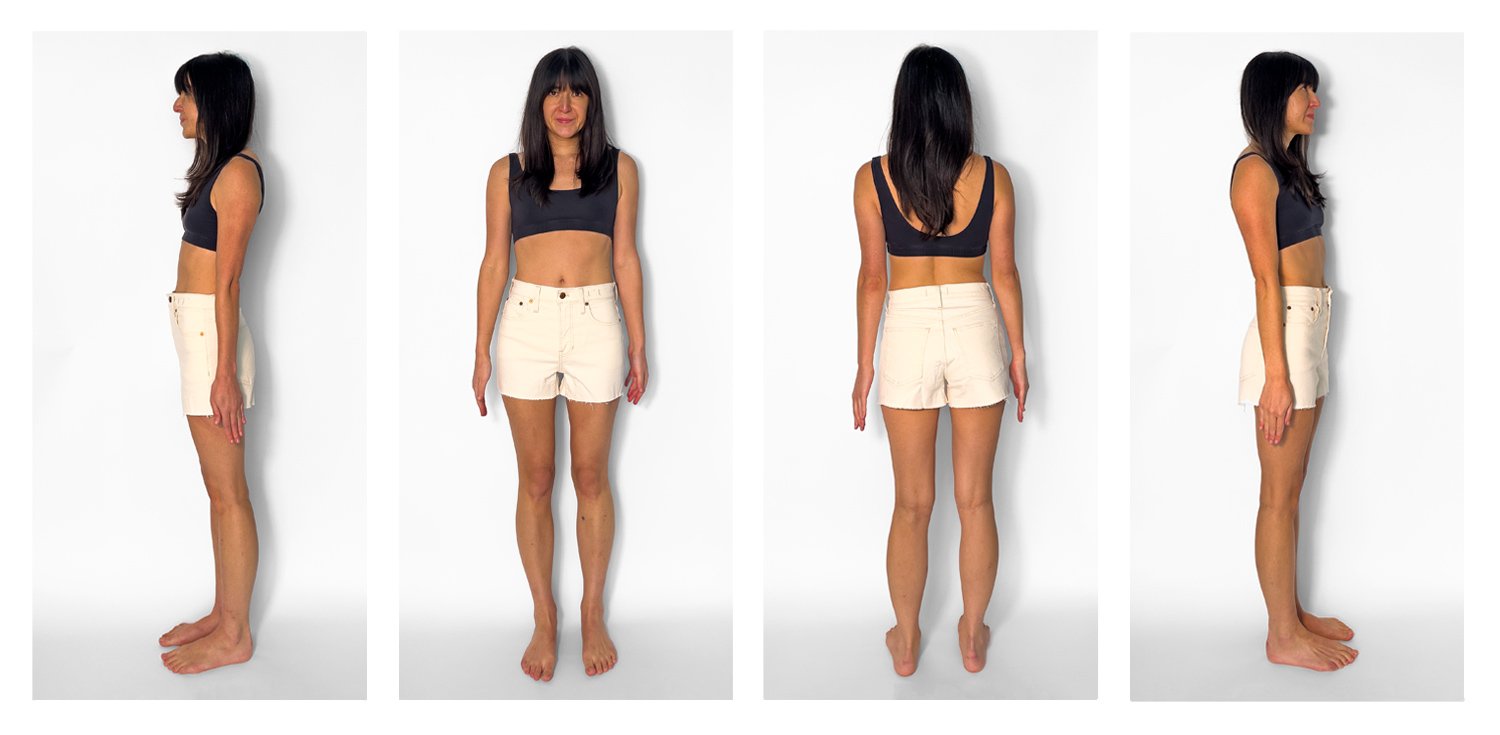 Bingo — perfect size.
At 98% cotton/2% elastane, Madewell's Perfect Jean Shorts fit just right.
While they don't particularly flatter your bum, they're super comfortable and stretchy around the waist.
Madewell's Perfect Jean Shorts also have the perfect amount of looseness around your thighs, which can be tough to nail with denim shorts.
TLDR: Madewell Perfect Jean Shorts run true to size — take your normal denim or denim shorts size for these hot pants.
---
Madewell Perfect Jean Shorts Quality
Let's put Madewell's denim shorts to a "pseudo-scientific lab report" test!
For the sake of fun, this denim series is called "The Denim Cut-Off," because we'll go everything you want to know about the wear & tear for this pair of denim cut-offs over a 5-day period.
Note: These are my opinions, yours could differ.
Hypothesis
I hypothesize that these Madewell Perfect Jean Shorts will get a ton of loose threads after washing and generally not hold up.
I'll also bet that Madewell's shorts will get way too loose after multiple wears, but will regain their prior fit after washing/air drying.
… and, not to sound like an elitist snob, that the cheap feel that they have (due to how much stretch they have), will get on my nerves.
Materials
-x1 pair of Madewell Perfect Jean shorts (I tested the Vintage Canvas pair, since they fit better)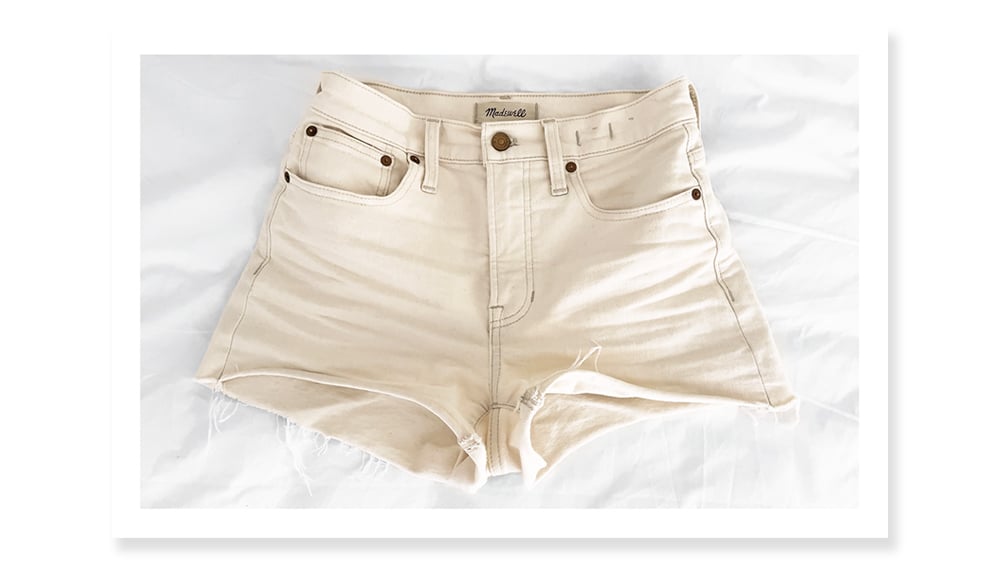 Method
1- Shorts must be worn for 5 days
2- Shorts must be washed at least once
Results
These denim shorts were a true surprise.
After washing them, they somehow got a "perfect" lived in look.
… see how the hem naturally rolls up now like the AGOLDE Parker shorts?
It's perfect and exactly what I want from a pair of denim shorts.
Meanwhile, a few threads became loose in random parts of the short's stitching, but the edges didn't fray that much after washing/air drying them.
Conclusion
Yes, Madewell's Perfect Denim Shorts thoroughly impressed me.
Finding a perfect and affordable pair of shorts is tough.
Aside from the minimal loose threads, these could very well be the perfect denim shorts — especially considering their relatively affordable price ($69.50 USD).
---
Pros & Cons
Pros
–Comfortable: Madewell's Perfect Jean Shorts have enough stretch to make them quite comfortable (and not have any crotch pinching).
–Lived in feel: What matters most is if they can get an inherently ~vintage~ lived in feel while wearing — and they did (you can just snip off the loose threads from washing like I did).
–Different inseams and "regular" or "curvy" are also available for some: Could actually be the perfect denim shorts for you if you are taller or curvier (for what it's worth, mine are regular) — you can find those pairs on Madewell or Zappos.
–Some pairs can benefit a Community Development Fund: Like the Vintage Canvas pair that were made at a Fair Trade Certified™ factory.
–Price: I try to not single out price in my reviews, however at $69.50 USD, these denim shorts are very well priced, but…
Cons
–Kinda feels cheap: Due to the amount of stretch in these jeans shorts, they slightly feel like any denim shorts from a major international retailer.
---
Nothing is ever "perfect."
The "perfect" sole meunière might cause someone else's death.
The "perfect" lazy afternoon may be super boring to an adventurer.
The "perfect" Taylor Swift pop record could sound like finger nails on a chalk board to someone with an indie record that's much cooler than mine.
What matters most though is if it's "perfect" for you.
… and considering their fit and price, these denim shorts are pretty perfect tbh.
You can find Madewell's Perfect Jean Shorts from Madewell, Nordstrom, Shopbop, or Zappos from $69.50 USD.
Note: newinspired uses affiliate links which costs you nothing… but means a lot to me. When you use these links, the money newinspired earns gets reinvested in blog content. Absolutely nothing on newinspired is "gifted" or sponsored, I purchase each item with my own money. Affiliate commissions are used to purchase new items to honestly & thoroughly review. If you found this review helpful, consider using them to support newinspired.
---
You might also like…