What do you get the girl (or boy) who idolizes Kate Moss?
You can't get the obvious gifts…
Like the Rimmel makeup, because that's slightly boring.
So you want to dig a little bit deeper like these gift ideas for a Kate Moss fan…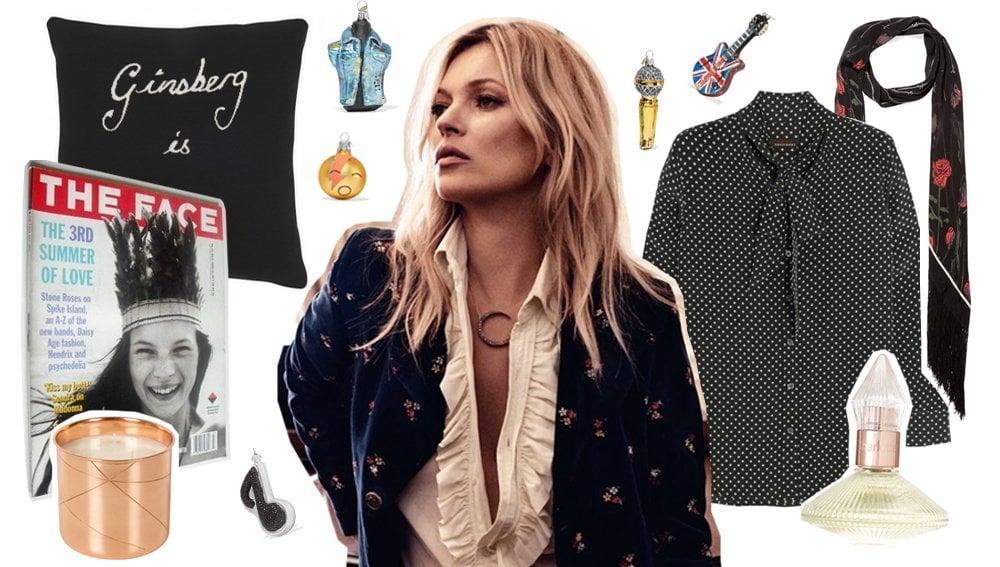 Merchant Archive Copper Potted Candle, this is an extremely clever gift for a Kate Moss fan, because it's hardly talked about. But when British Vogue went inside Kate's home two years ago, this candle was there!
The Face July 1990, one of the most, if not the, iconic Kate Moss magazine cover. Any Kate Moss fan would covet this and know the importance. It's one of those super thoughtful gifts that are a pinch indulgent ($200+ for a magazine, that's an indulgence!) and definitely desired (because how cool would this look casually on your coffee table?). Find it on eBay, if you can…
Bella Freud Ginsberg is God Cushion, Kate basically popularized Bella Freud's jumpers, your recipient probably all ready has one, so get them the cushion!
Bombki Little Rockstar Ornaments, can you tell I'm obsessed with these Bombki ornaments? They're so sweet and these are so rock and roll, like Kate.
Rockins Rose Scarf, just throw it on and get that ultimate rock and roll cool look.
Kate Moss for Equipment blouse, of course you need a little Kate Moss x Equipment for Christmas! It's a fab collaboration, I love my pieces.
Charlotte Tilbury Scent of a Dream, an obvious gift for a Kate Moss fan, but it needs to be said anyways! A gorgeous flacon and Kate mesmerized in the advert. Plus, I don't hate the scent!